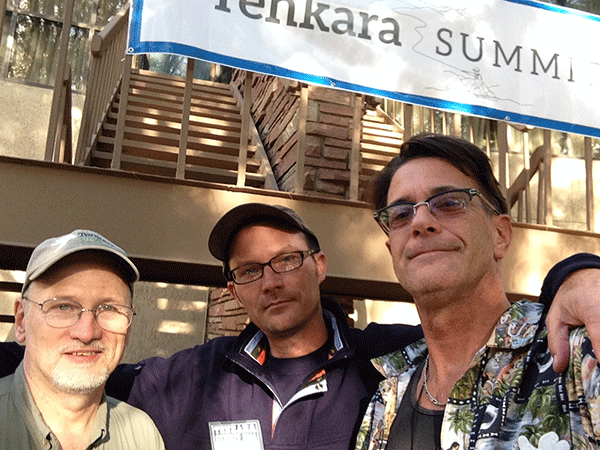 I just returned from the 2014 Tenkara Summit in Boulder. This only the second Summit I've attended but I was amazed not only by the turnout, but by how strong our community has grown.  We may have our squabbles on social media from time to time, but at the Summit, it's pure camaraderie with people trading stories, swapping flies, and having a good laugh over drinks. These gatherings really make me feel proud to be part of the tenkara culture.
For those who couldn't make it, I thought I'd share a few pictures. I apologize for some of them being blurry. As with all conferences, the lighting wasn't very camera friendly.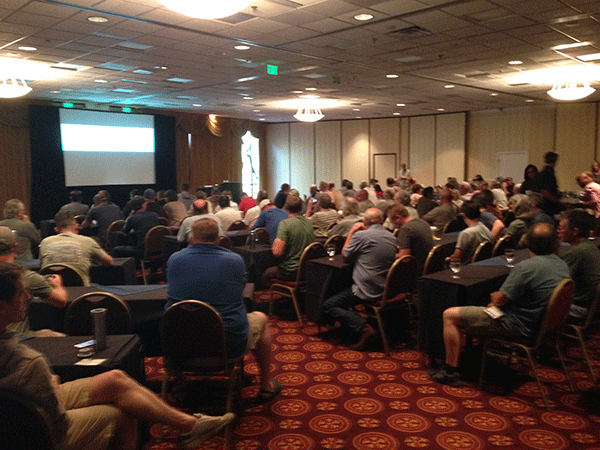 Things were kicked off with a short speech by Daniel Galhardo of Tenkara USA. who explained the purpose behind the Summit as being to strengthen and unite the community.  In a kind of surprising statement, he acknowledged the fact that new tenkara companies are cropping up almost every week and that he actually welcomes the competition because it helps spread the word. I thought that was an integrity move in an industry that's historically been fairly sensitive.
Next up was a presentation by renowned tenkara angler Dr. Ishigaki and his translator, Eiko. He explained the history of tenkara, and described the gear he uses for different situations followed with a Q & A for the audience.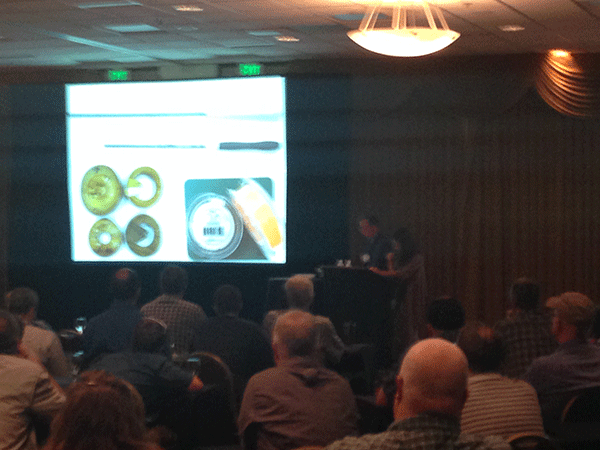 The next few hours were kind of a free-for-all where you could wander by vendor's booths or check out casting demos, rigging clinics and fly tying demos at your leisure. I really liked the fact that this part was unstructured so you could just go to whatever interested you the most. Zimmerbuilt showing off their tenkara-specific packs …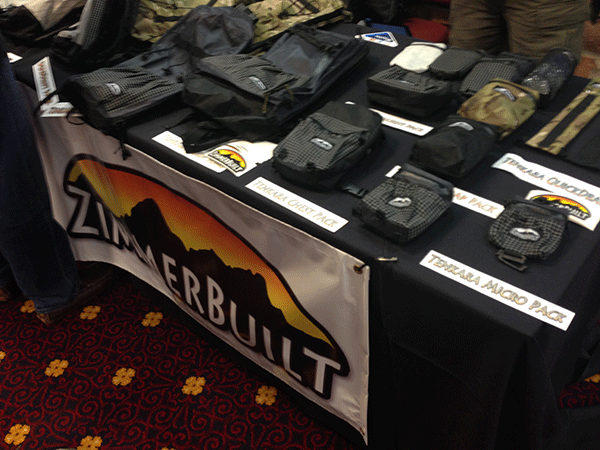 Tenkara USA silent auction for wooden line spools, net blanks, and other gear …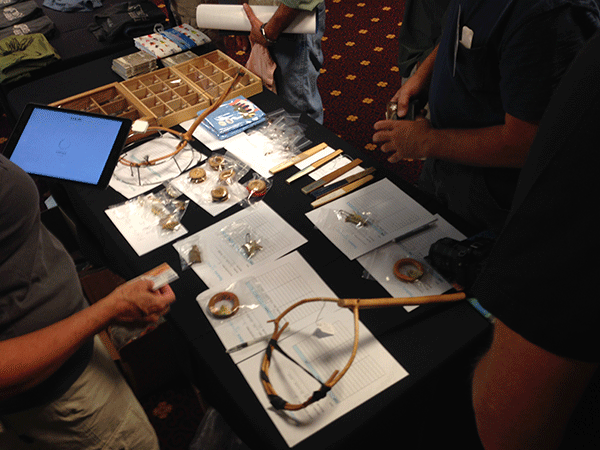 Vedavoo's booth …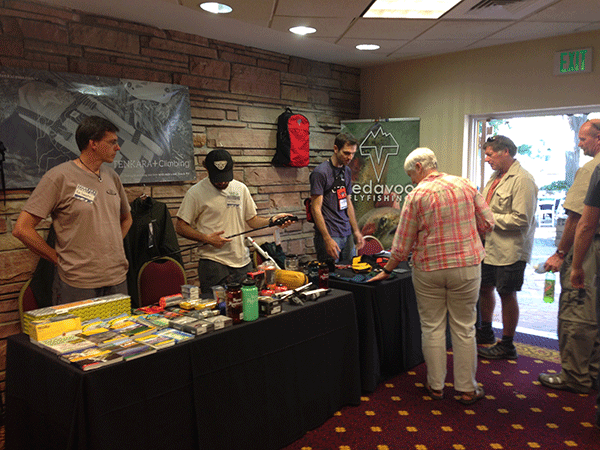 By Far, the most impressive vendor this year was Flyfishing Artwork with a mind-blowing display of beautifully crafted bamboo tenkara rod cases.  Every time I see one of Richard's latest designs, I'm schocked by how he continues to find new ways to innovate. These cases are truly works of art and no picture can do them justice.  You really have to hold them in your hands to appreciate them.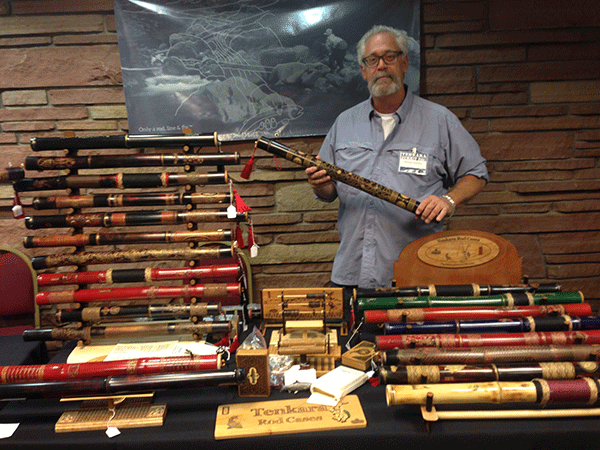 Dr. Ishigaki's fly tying demo …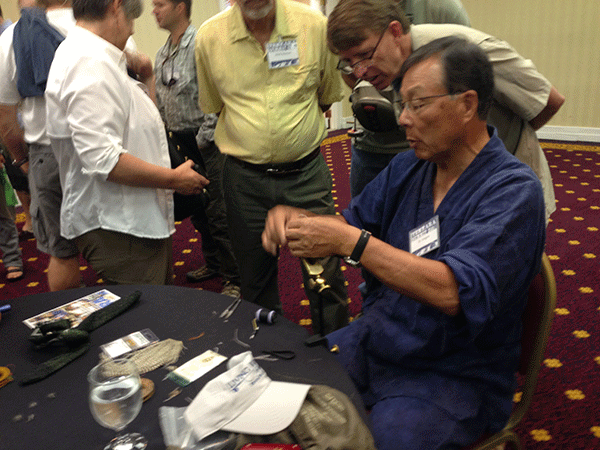 Graham Moran from Tenkara Grasshopper giving a fly tying demo …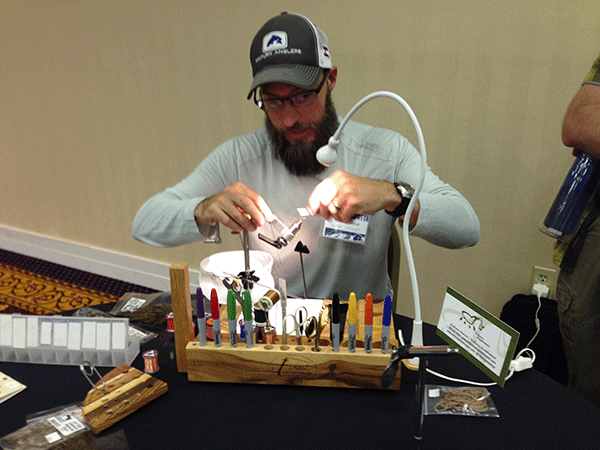 Daniel Galhardo giving a casting demo …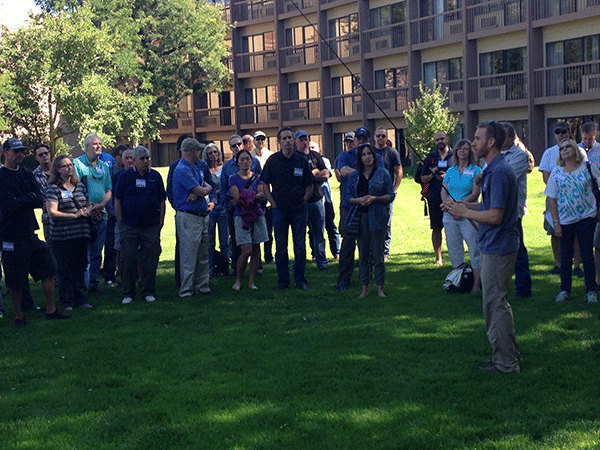 Dr. Ishigaki giving an on-stream demo …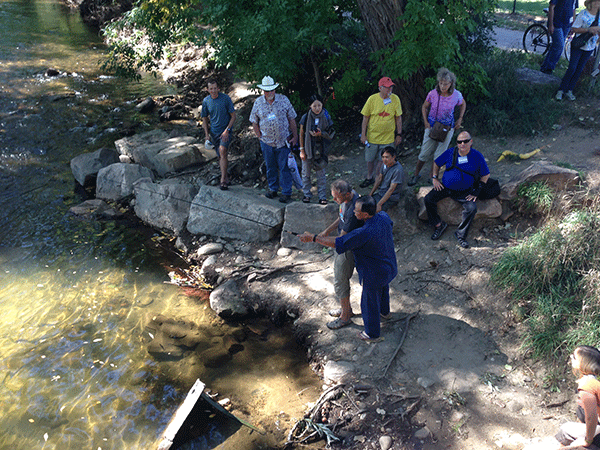 Talking tenkara rigging techniques …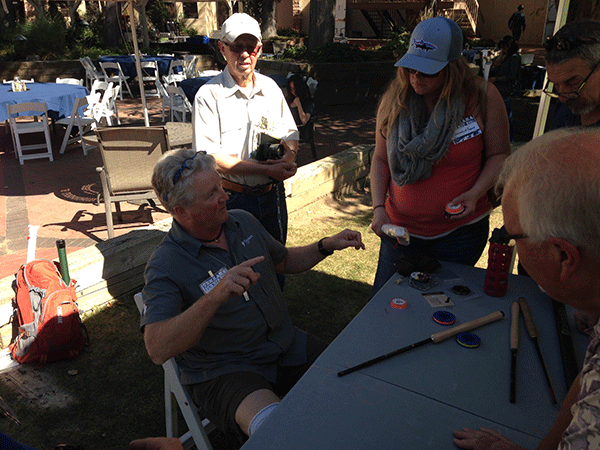 Good friends & titans of tenkara – Karel Lansky from Tenkara on the Fly and Mike Agneta from Troutrageous …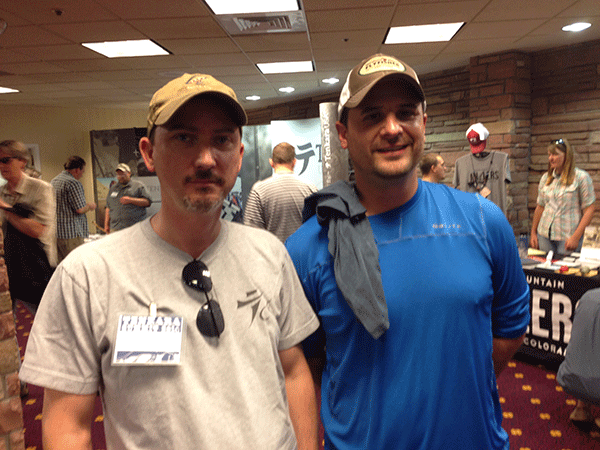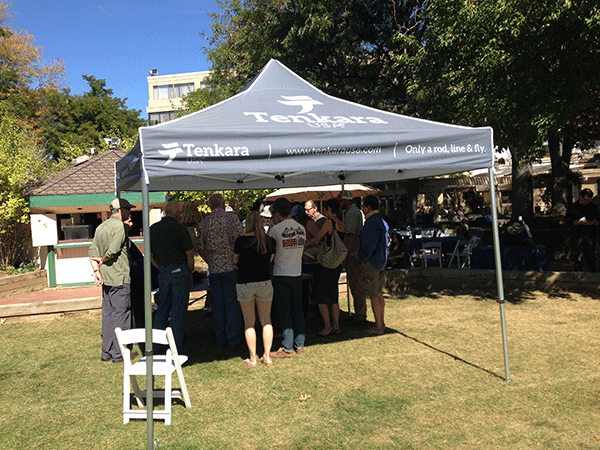 Day one was topped off by a Trout Unlimited presentation about the effects of the recent floods and a tenkara-related magic show by Dennis Michael. I'll post the full video of the magic soon, but here's a sneak preview of how Dennis combines his passion for tenkara with his expertise in illusion.
On day two, the family and I went out for breakfast at the iconic Dushanbe Teahouse and I did some very casual urban angling on Boulder Creek just yards away.  I was surprised to see fish pretty much everywhere. One of the very few things I like about Boulder is that you can catch trout right in town.  One of the things I hate is that everyone wants to talk to you while you're fishing, bum a cigarette, ask directions, or just generally distract you from your reverie.  But, one guy who watched me catch a fish while standing on a bridge at least asked, "is that tenkara?" I said,"yep".  So that was pretty cool.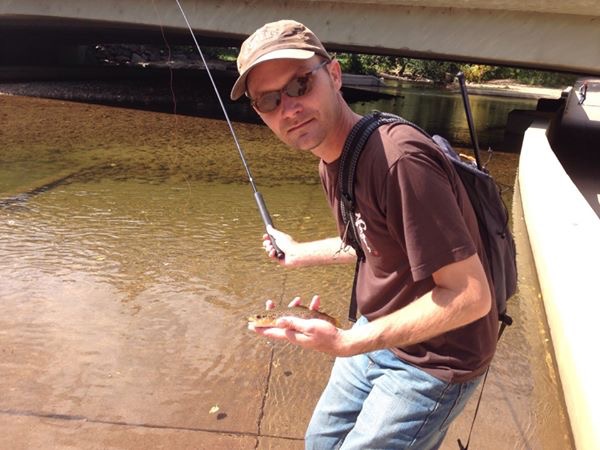 Anyway, it was a great event this year. This simple writeup doesn't even come close to capturing what the overall experience is like. If you haven't been to a Summit yet, I highly encourage you to make the effort to attend the next one. You won't regret it. Hope to see you in 2015!