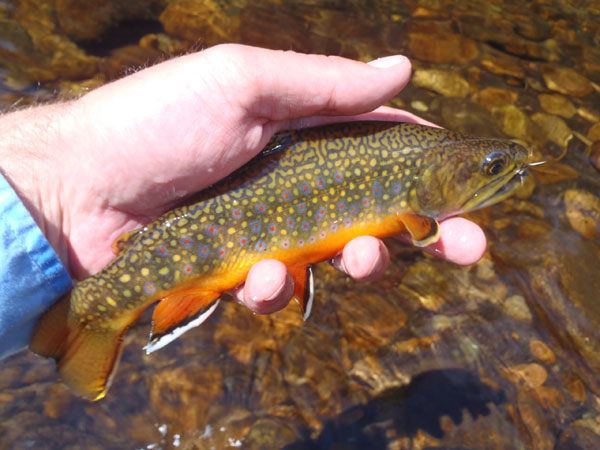 This question isn't new. In fact, it probably arose on day one when tenkara first hit the U.S. Over the years as I've watched tenkara go from an underdog in the flyfishing community to a tour de force, I've heard many anglers tout that its efficacy is what won them over. This got me to wondering–was it true for me? After more than 5 years, do I really catch more fish with tenkara than I did with my 4 or 5 wt.?
Without any serious qualitative or quantitative analysis, I can at least say anecdotally: no. Intuitively, I don't feel like I catch more fish than I did in my pre-tenkara days with a rod and reel. But what I can definitively say is that tenkara has allowed me to catch at least the same number of fish in a more enjoyable way.
Firstly, it's just easier. I can get a drag-free drift without the hassles of mending, sink a fly without pausing to add and adjust split shot, etc. I still get the fly where I want it to go–only without all the complications of modern terminal tackle. It just gives me a freer cadence on the stream. And I really like not having gear get in the way.
Secondly, it affords me a "stress-free" preparation experience. The excitement at the mere prospect of a fly fishing outing was always somewhat dampened by the daunting task of gathering all my gear. But now, I literally have everything I need for every outing all packed up into one sling pack that's always ready to go. I just pick it up and head out. Nice and simple.
I feel like in the early days of tenkara's debut in the West, there was a culture that wanted to somehow validate it by saying that it catches more fish than other fly fishing methods. I think this was an overstatement. Thinking back, I was probably guilty of it too. But now, I feel like tenkara has already proven itself and there's no need to over-compensate. Tenkara catches fish. But (at least in my experience) no more than I used to.
It works. Does it work in every situation? No. But it excels in what is was designed to do. And for me, it's the right one for most of the small streams I fish here in Colorado.
Do you catch more fish with tenkara?