Not too long ago, I wrote a post about how I rediscovered the Teeny Nymph and why I think it's a good pattern for tenkara. While I have a fairly long history fishing this venerable pattern, I wanted to hear more about it directly from its creator, fly fishing icon Jim Teeny. Here is my interview with him about one of fly fishing's most productive and versatile flies.
Jason: Hi Jim, thanks for agreeing to do this interview! I know you're not a tenkara angler (yet), but as I recently posted on my blog, I see a lot of correlation between your legendary Teeny Nymph and the sakasa kebari (reverse hackle) flies used by tenkara anglers. They're both simple to tie, impressionistic, and versatile in presentation. I don't know if you know this or not but there are many tenkara anglers in Japan that tie and fish only one pattern exclusively–no matter the conditions. I know that you've pretty much fished the Teeny nymph (and its variations like the sparkle nymph or leeches) exclusively for over 40 years, so I was curious what gives you so much confidence in this pattern and what characteristics make it so effective? If you were a fish, why would you eat a Teeny Nymph?
Jim: When I first tied the Teeny Nymph fly I had no idea if it would work or not until I took it fishing. It looked buggy and had no real eye appeal to the angler which was me! The first cast ever at Oregon's East Lake proved to be a winner and hooked a large Rainbow trout. This is a simple fly pattern that suggests many things therefore working year around in all waters. The body style and profile are near perfect for fooling most fish that see it. I have not used anything else to fish with but my pattern since July 1, 1971.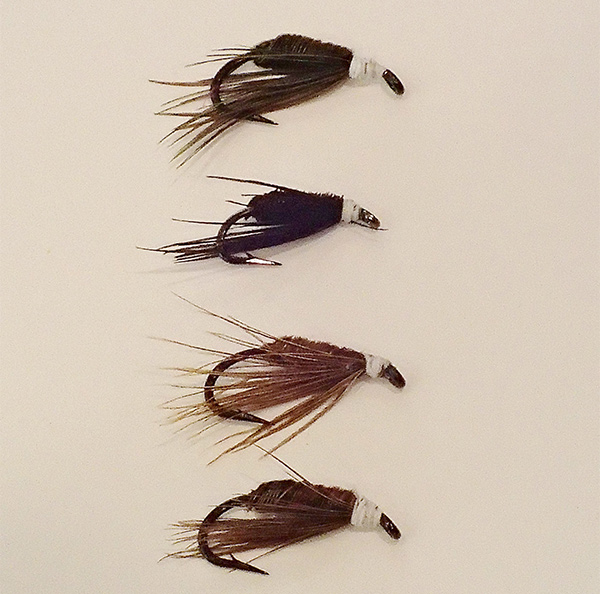 Jason: Do you find specific colors to be more effective on specific species?
Jim: Colors are very important to some fish and this is what we have found out. For trout, we normally stay with the darker colors of Natural, Black, Insect Green and Antique Gold. There are times that Ginger is also very good and it is the best color to see in the water. Many times we can watch the fish take our fly. In Alaska the best colors are Hot Pink, Ginger, Black, Hot Green, Chili, Purple and Flame Orange. These 7 colors will not fail you in Alaska, British Columbia and West Coast waters when chasing Salmon and Steelhead. Sockeye Salmon prefer Hot Pink, Hot Green Chili and Ginger colors. They do not care for Flame Orange! We fish sizes #2, #4, and #6's for Salmon and Steelhead.
Jason: Just focusing on the Teeny Nymph itself (not its variations), there are essentially two versions: the original with just one bunch of pheasant tail folded along the bottom of the hook shank from the eye, and then the "double" version with two bunches of pheasant tail fibers—one folded back about mid-shank and the other near the eye. Do you find one to be more effective than the other?
Jim: The original Teeny Nymph fly was a single body style tied on a size #8 hook. That was back in May 1962. In may of 1963 I tied the #4 double body for the larger fish. It has been my experience that when fish are more selective, the smaller sizes produce better. When they are hungry and more aggressive, the #4 or Leech style work awesome! Since my first cast ever with this fly it produces time and time again in all types of Fly Fishing.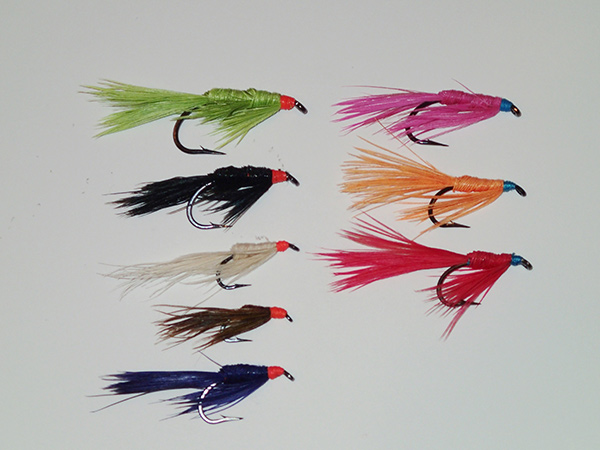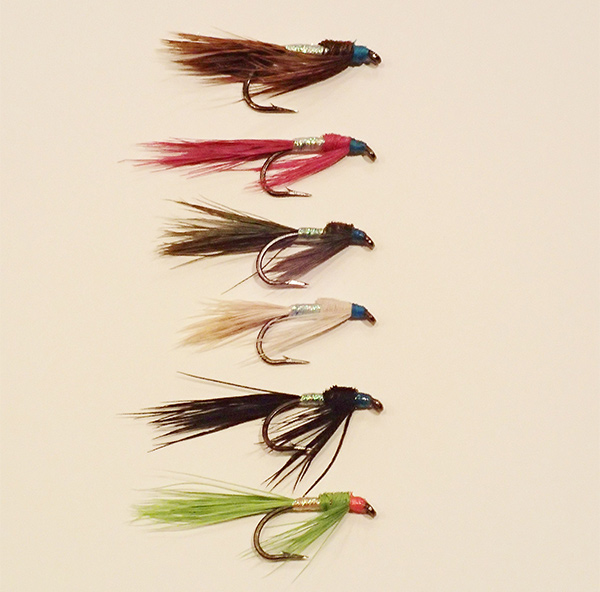 Jason: For those that want to tie their own, which hooks would you recommend?
Jim: Back in the early 70's I designed our custom Teeny fly hook by Eagle Claw in Denver, Colorado. They are the best hooks for our Teeny patterns and are extremely strong and sharp. They can also be re-sharpened. Many of the guides and outfitters use our hooks for their own patterns because of the quality.
Jason: In traditional tenkara, flies weren't weighted. Instead, anglers would cast ahead of plunge pools or other techniques to sink the fly. I've seen that in some of your saltwater versions, you use bead chain eyes. Do you ever weight your Teeny Nymphs for trout or other species with wire or beadheads?
Jim: I have always preferred a non-weighted fly because of the natural movement it makes in the water. When needed, we use our Teeny Sinking Tip lines to deliver the fly at the correct depth. Weighted flies are also more difficult to cast and you do not want to hit and fracture your rod. When I need to get my flies to sink I always use our sinking tip Teeny lines and sometimes fish a short leader of about 4 feet.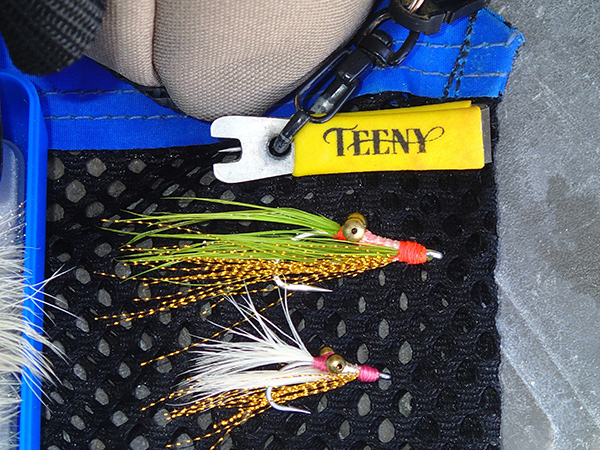 Jason: I've experimented with some materials that deviate from the original ringneck pheasant tail recipe including turkey tail, golden pheasant, peacock, etc. Do you ever do that or have you pretty much stuck to ringneck pheasant tail for the main material?
Jim: The Teeny fly pattern can be tied in many different colors, sizes and styles. We have 13 colors of feathers, our custom hooks from sizes #10 to #2. Different colored threads that change the appearance of the flies head color. We use Orange, Blue, White, Red, Green size A thread to make the Teeny Nymph and the thread is quite strong. On the Sparkle Nymph, we start with a body braid that we wrap over the colored thread and then add our pheasant feathers, wrapping and then bending under for legs or feelers. The pattern is truly deadly for all types of fish. The selection of fly line is also important for proper delivery of your fly to the fish.
Jason: So we all know that the Teeny Nymph is easy to tie, but what about fishing it? Earlier, I mentioned its versatility. I've had good luck presenting it a variety of ways: dead drift, wet fly swing, Liesenring Lift, etc. But in your experience, what tips or tricks can you give us on presentation?
Jim: The Teeny fly pattern works equally well in lakes as it does in rivers or streams. Normally in moving waters I dead drift the fly. But there are times that a movement or twitch of the fly is all that is needed to entice a strike from a fish. I line watch and follow the drift of the fly with my rod tip for the best action detecting more strikes. The bottom line for all of us is how we present the fly to the fish. Selecting the right color and size and then making a proper presentation to the fish is quite rewarding when you feel the take!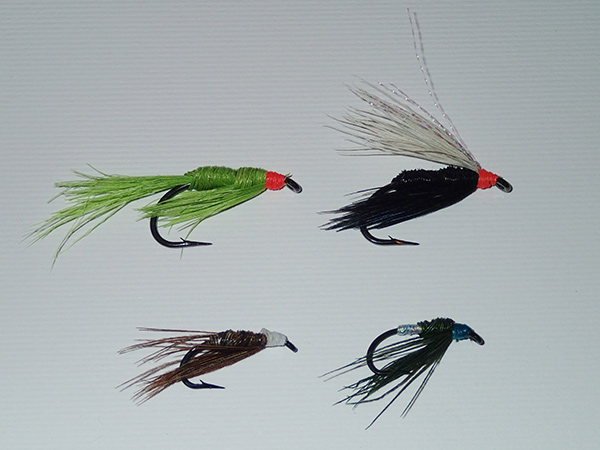 Jason: Thanks again Jim–not only for doing this interview but for all of your contributions to the fly fishing community over the years including the Teeny Nymph, Teeny Lines, DVDs, books, and more! I've had a lot of success fishing the Teeny nymph on conventional fly fishing gear for steelhead, trout, bass and more and, this season, I'm making it a point to incorporate in more into my tenkara fishing. Speaking of which, if you ever want to give tenkara a shot, let me know and I'll hook you up with a rod. I think you'll find the combination of a tenkara rod and the Teeny Nymph to be deadly.