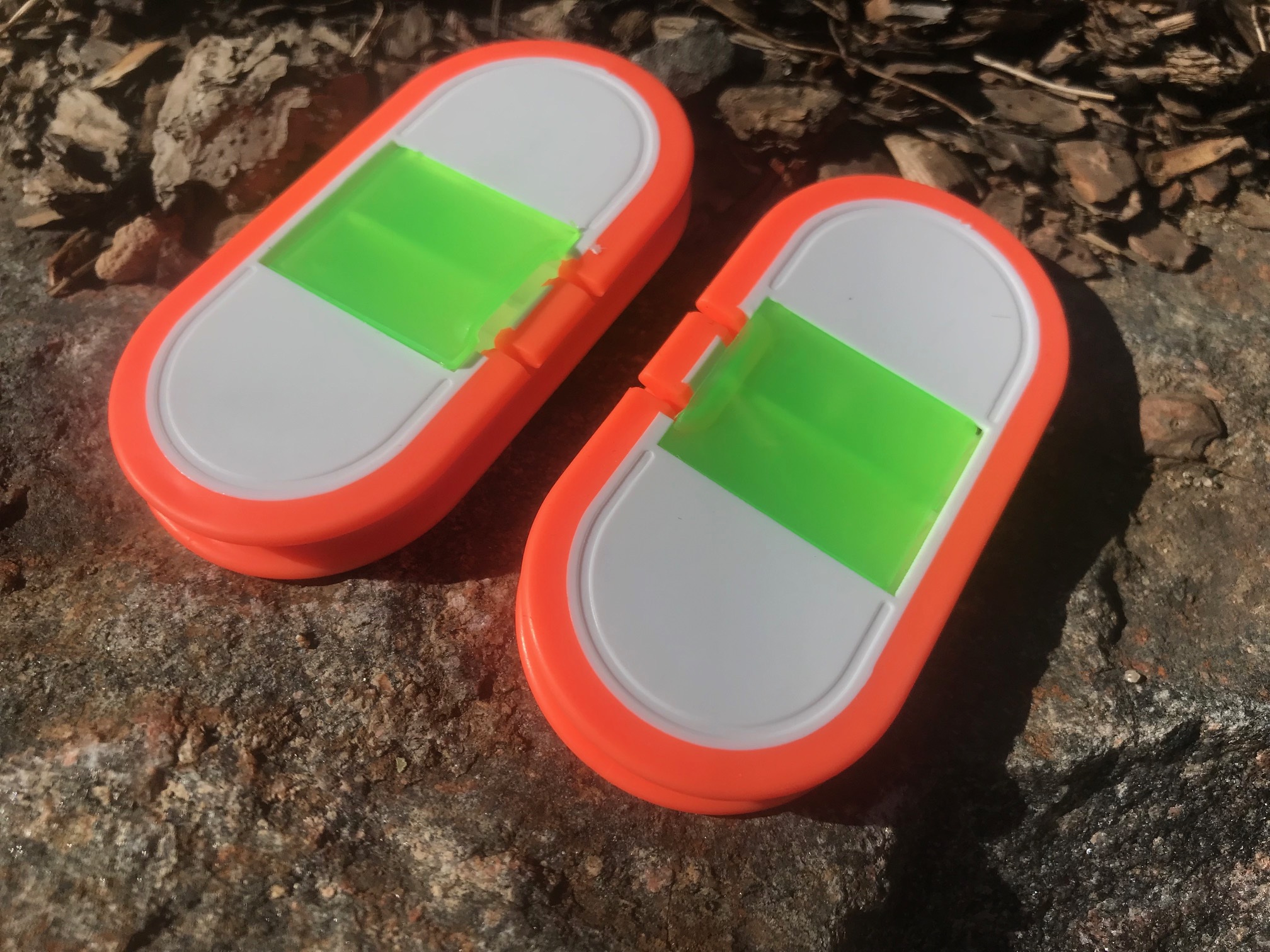 Ever since I can remember, I've always been attracted to oddball gear–those esoteric things you discover off the beaten path that you'll never find in the chain stores or mainstream fly fishing catalogs. It's akin to treasure hunting and you need to be diligent–scouring thrift stores, searching eBay, and talking to unknown artisans. But once in a while, you find something interesting and unique, and to me, it's a real eureka moment. I recently found a small treasure that I want to share with you.
In the last few years, there have been several gear makers producing some really innovative tenkara line winder/fly box combos–basically, a line spool that also has compartments to store flies. Of note, there are The Keeper from Tenkara USA, the Zen Tenkara 3-in1 Spool Box, and the Open-faced spools from Tenkara Path. These are all really well-thought-out designs that are of the highest quality. But I found some that are a little more "down & dirty".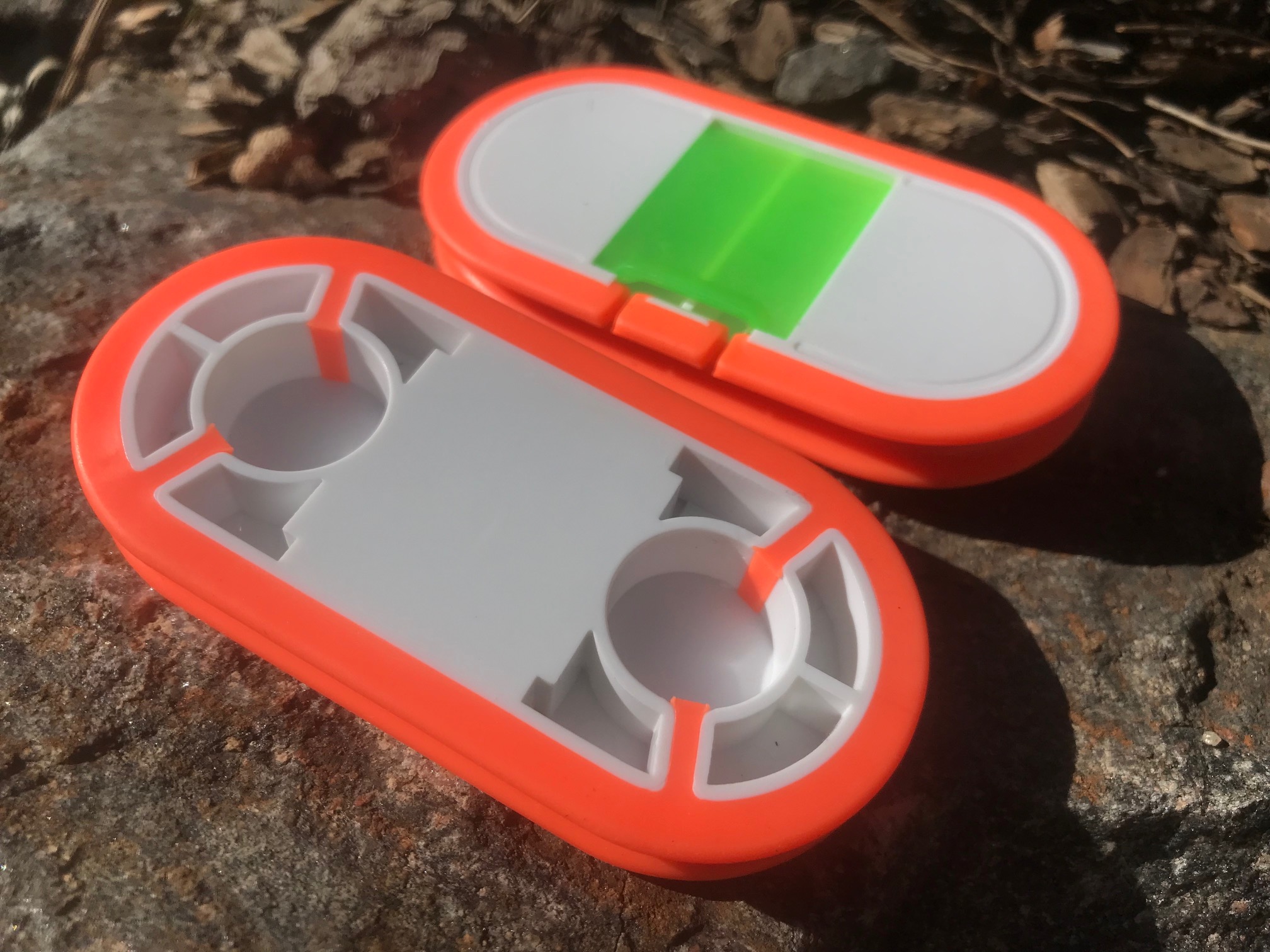 I came across these orange line holder/fly box combos on eBay that looked interesting and had never seen them before so I thought I'd buy a couple and give them a shot. At about $5 a piece with free shipping (at the time of this post), it seemed like I didn't have much to lose. There is little information on these. On the eBay listing, the manufacturer is listed as "OLB" and that's about it. The eBay seller is hobbysource_4u and they've been selling since 2009 with all positive reviews so they seemed reputable. They're based in Singapore and I got the package in about 10 days.
Unlike most line holders on the market, these are pill-shaped rather than round. The center is ABS plastic with an outer ring of silicone where you wind the line. In the center, there are two small compartments which can be used to secure your fly while it's attached to the tippet before winding the line and also to store a few extra flies. The compartments are small and will really only comfortably fit flies size #12 or smaller.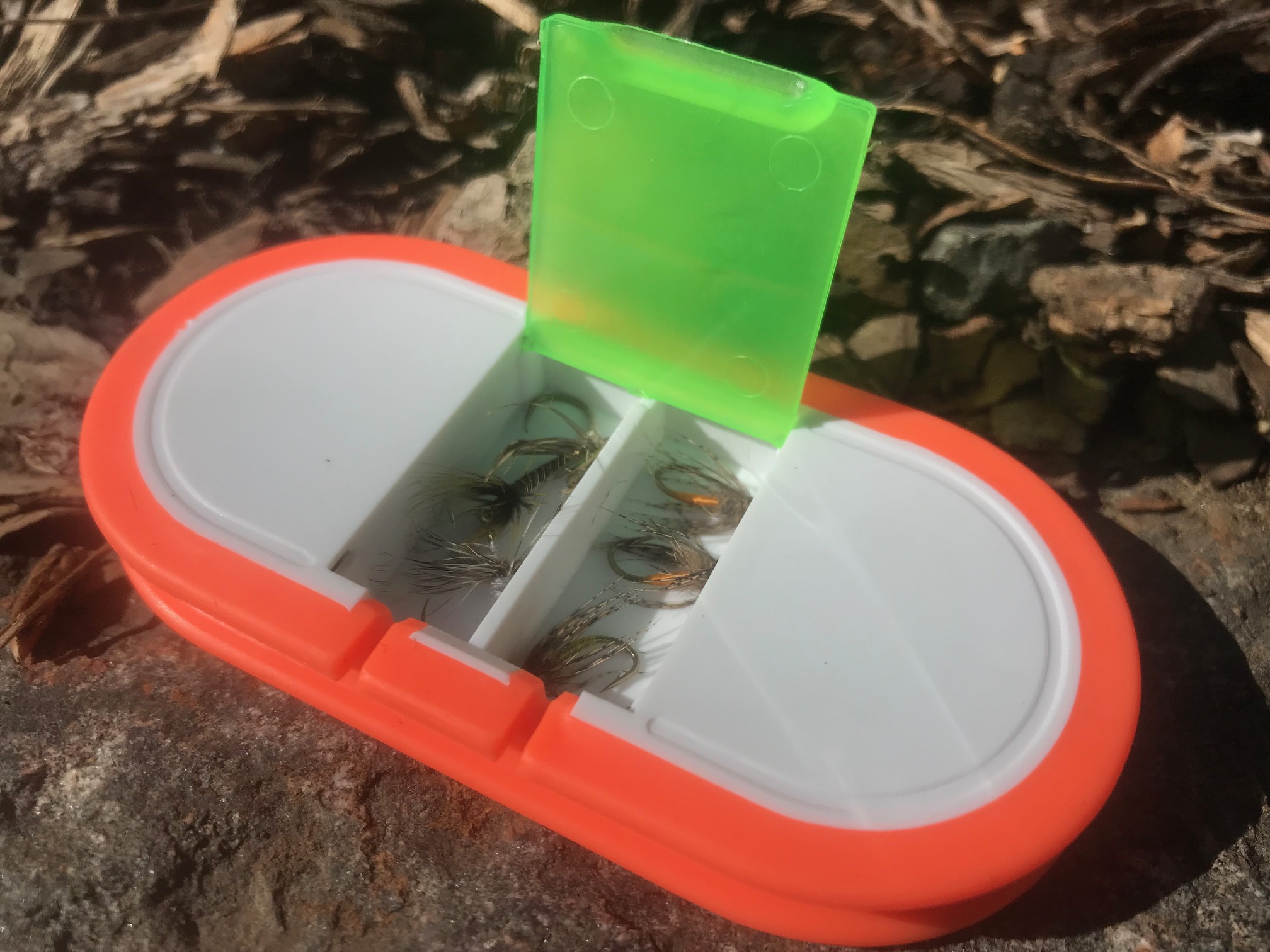 While there are notches at the edge of the compartment to secure the butt end of the line, they're too big to effectively secure a thin fluorocarbon line. But this is easily remedied by cutting your own slit into the edge of the silicone with an X-Acto knife.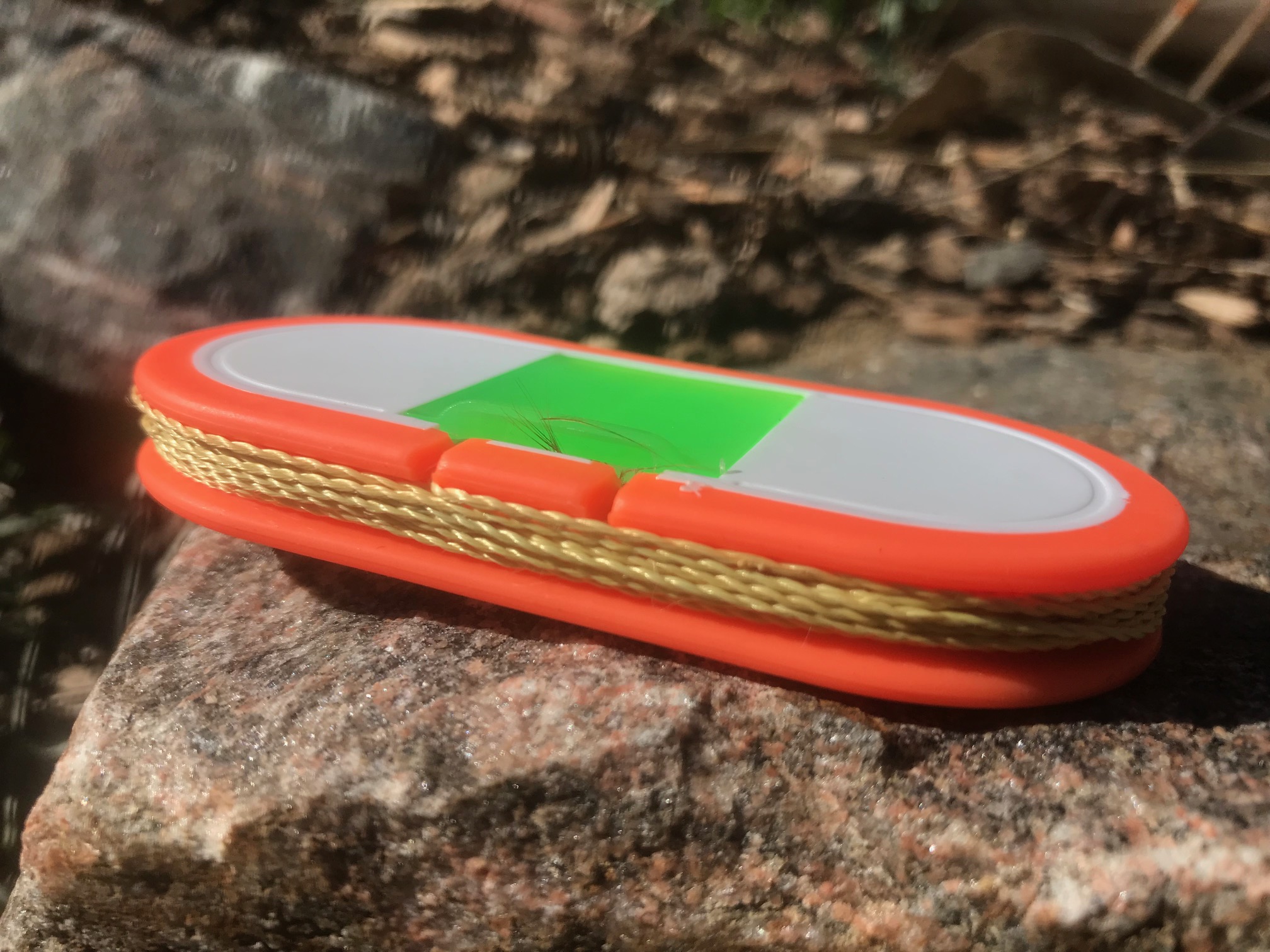 On the backside, there are two finger holes which facilitate winding.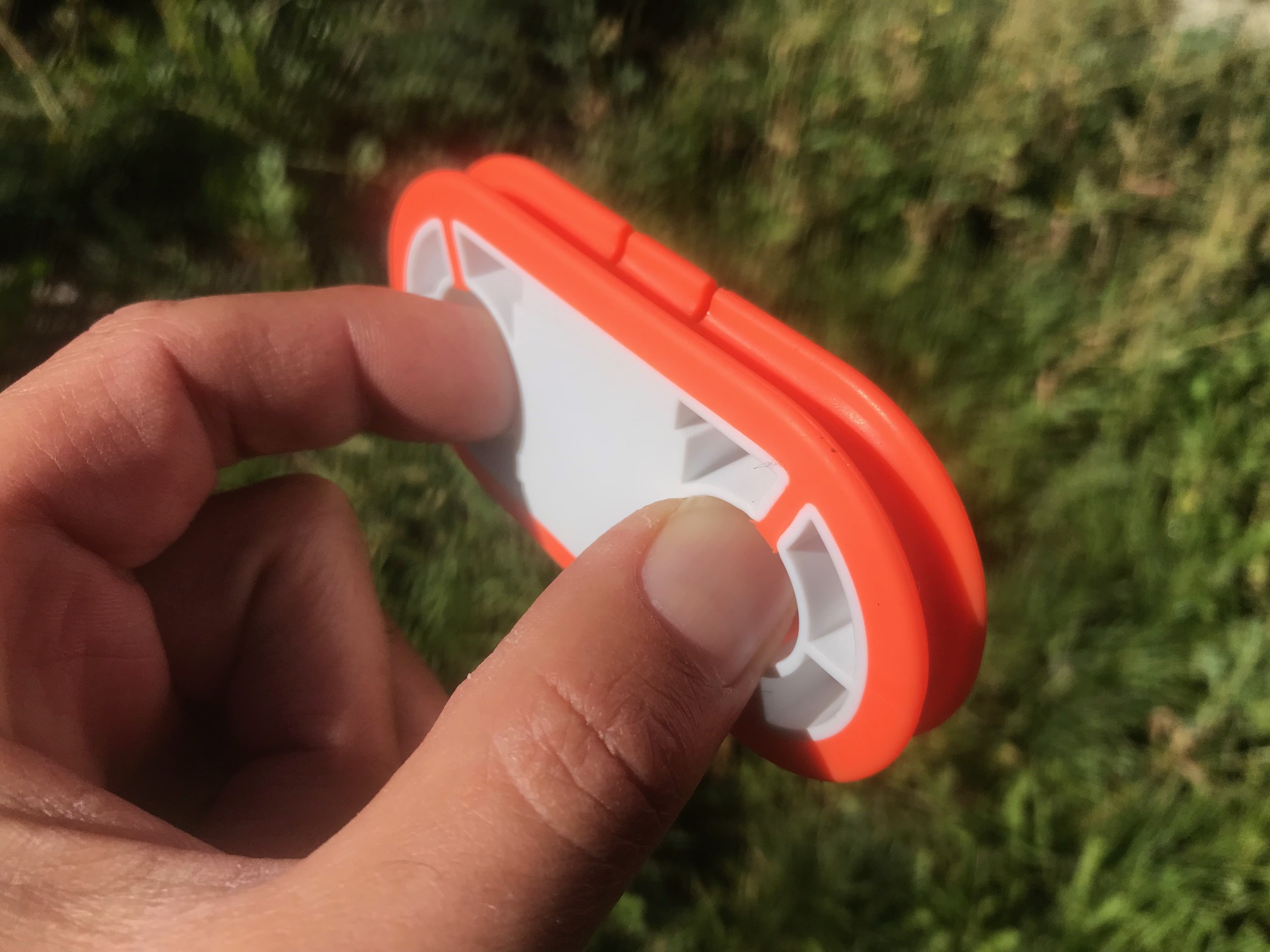 The one disadvantage of these line holders is that unlike most designs out there, they do not have a center hole to stow it on the rod for transport. But, they do have many other advantages:
They're cheap
They're light
They float
They're hi-vis
Also, I like the ergonomics. The shape fits well into the hand and the silicone gives you a good grip even when wet (not to mention giving the line good purchase).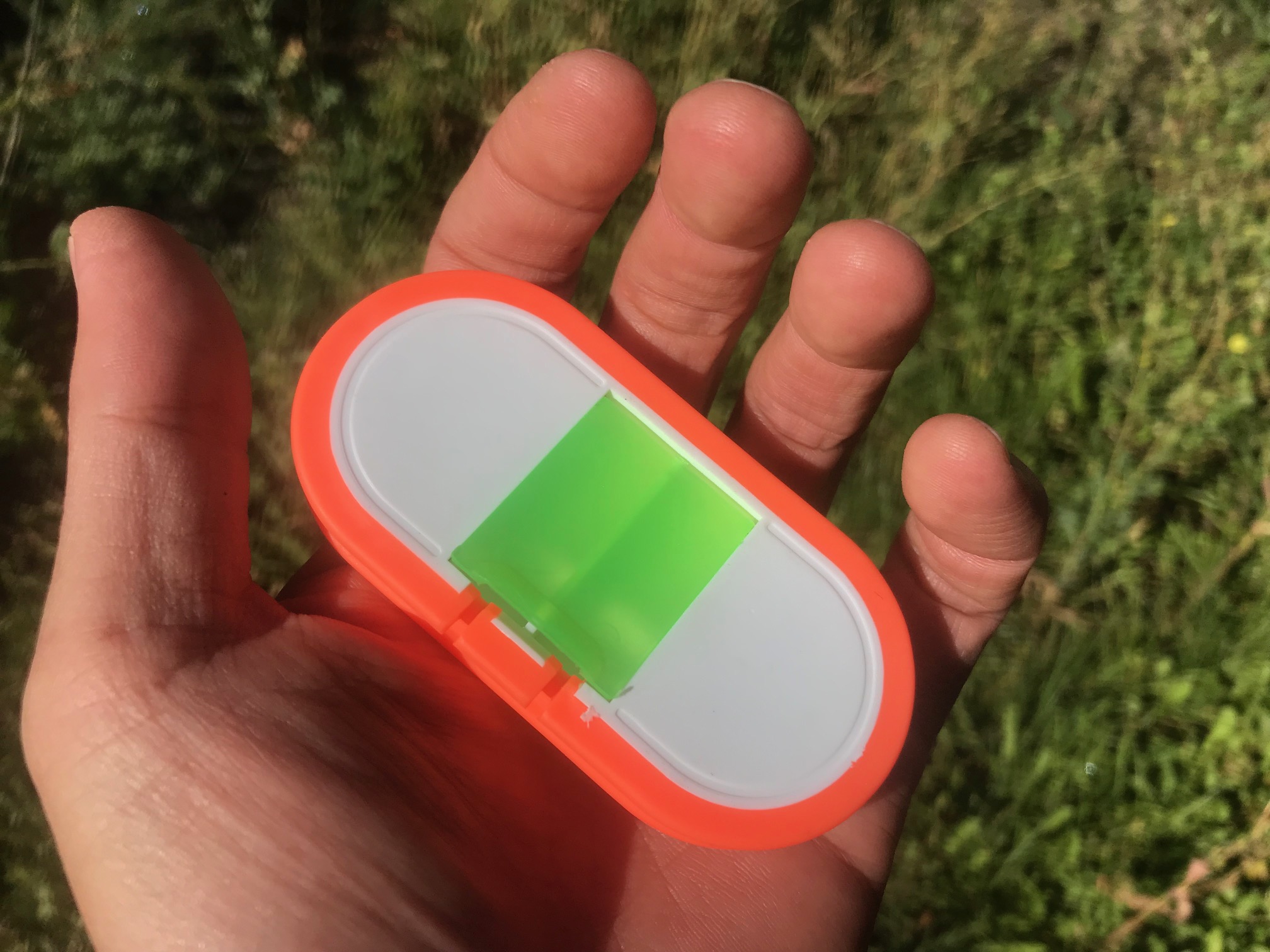 These are by no means the best line holder/fly box combos in the world. But they're very practical and I can see many applications for them. Since they're so cheap and have a "nifty" factor, they'd be ideal if you want to give someone a gift or stocking stuffer with a line and a few flies. Or, you could buy them in bulk and create your own line system to handle varying conditions. Four of them take up about as much space as a small fly box and the white plastic in the middle will take a Sharpie so you could mark them with the weights and lengths of different lines–even put specific flies matched to each line in the compartments.
Again, nothing earth shattering here–it's just a design I thought was neat. If you try them out, please share photos or any hacks you come up with for them. I'm always interested to see fellow tenkara anglers show their ingenuity. Now, back to eBay to find the next little gem …