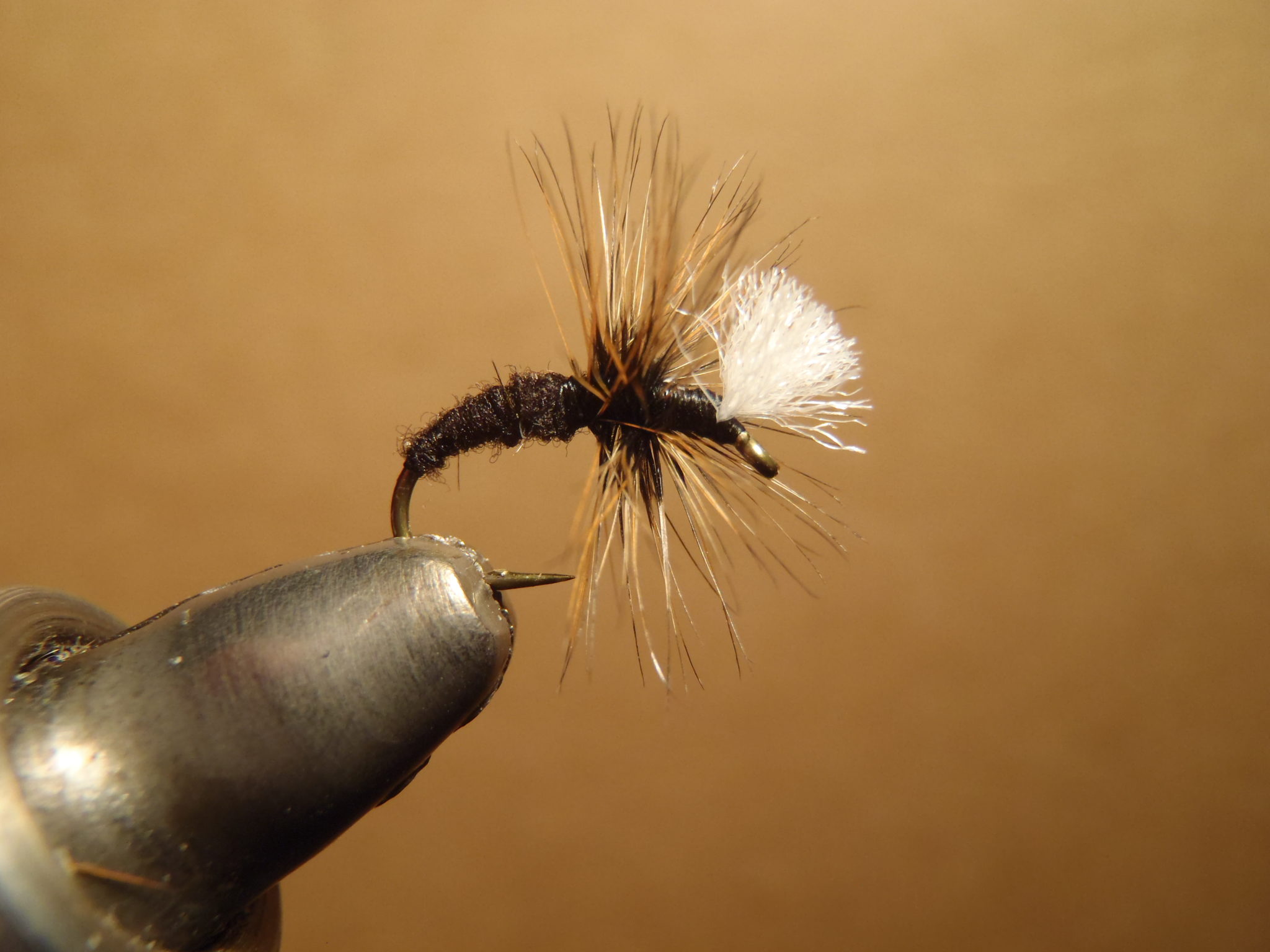 [/caption]
I almost exclusively fish dry flies for trout—not because I'm a "purist".  I just love to see fish rise to a fly.  I don't think there's anything wrong with nymph fishing and I don't look down on anyone who fishes nymphs.  It's just not my style.
I've been thinking a lot about the "one fly" concept many Tenkara anglers adopt and have been thinking if I could carry only one dry fly what it might be.  I mostly fish small streams for small fish in pocket water so if I could bring only one pattern, it would have to be:
Relatively small (#14 – #18)
I think I have come up with a pattern that meets the requirements above which still gives a nod to traditional Tenkara fly patterns:  The Japanese Hammer.  I call it this because the pattern blends some elements of Tenkara flies with the Klinkhamer Special (a pattern that has been a big producer for me).
Basically, I took the colors of the famous Dr. Ishigaki fly, used the hackle style of the Gujo Kebari, and incorporated the hook style and white yarn post of the Klinkhamer Special for visibility.  The result is a fly that gives me a small, high-vis. fly that I am going to try for my one fly for pocket water fishing in the Rockies next season.
Recipe:
Hook: TMC 2487 (#14 – #18)
Thread: Black 8/0
Body: Black dubbing
Hackle: Furnace
Post: White polypropylene yarn
Of course, the Japanese Hammer could be tied in any color combination.  I plan to experiment and at least carry some in the darker color above as well as some lighter variations with a cream body and ginger hackle:
My resolution this year is to give the "one fly" concept a try and see what happens.  Do you practice the "one fly" philosophy?  Have you chosen/modified/invented your one fly?  Tell us about it!

Like this article? You might also like these ...