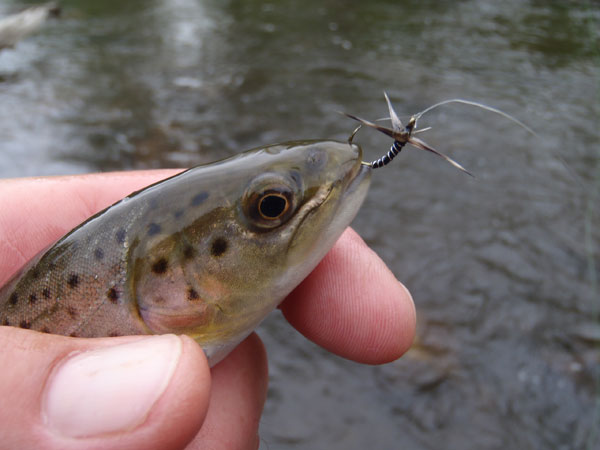 It's pretty simple math:  a heavy wire hook + a soft-tipped rod =  a lower hookup ratio.  Physics is physics after all.  Yet, for the longest time, this obvious formula eluded me (or, rather, deceived me).  When I first started fishing the tenkara method (the "real" tenkara method), I was getting plenty of strikes, but only positively hooking and landing about 50% of my fish.  In western fly fishing, we would call these "refusals".  But they're not refusals when you can feel them on the line but fail to hook up.  The fish obviously wanted the fly but I was doing something wrong.  So, I thought there must be some other explanation.  I had some theories and tested them.  Here is what I experimented with and what eventually worked…
Suspect #1: Thick Wire Hooks
Anyone who follows this blog knows that I generally prefer heavy wire hooks because they help flies sink without adding extra weight (which is typically considered antithetical to traditional tenkara fly design).  And while they do sink well and get the fly in "the zone", they pose the problem of being difficult to set with tenkara rods that have relatively soft tips (compared to western rods).  Some will say that fish hook themselves.  I'd refine that to say the fish "try" to hook themselves but our choice of hook and rod can influence how successful they are in their suicide.  I was having plenty of fish hit my flies, but just couldn't stick them for some reason.  So, naturally, I assumed that maybe the thickness of the hook was to blame.  Maybe switching to a lighter wire hook would make a difference? Octopus Hook (left) vs. Ayu Hook (right) …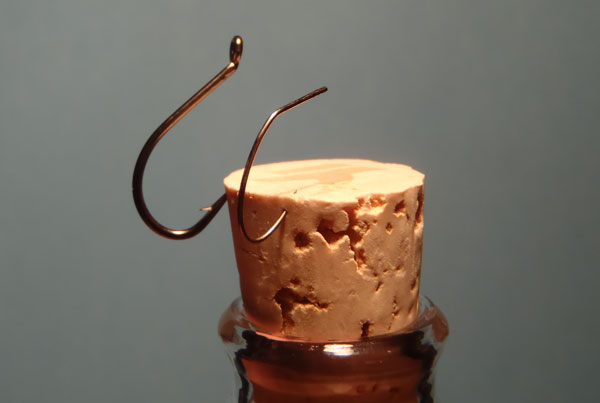 In Japan, many anglers use Ayu hooks because they're made of a very thin wire that you'd think would get much better penetration with a soft tipped rod.  It seems to make sense but it doesn't pan out in reality.  This is because no matter how good the quality, thinner wire is just "springier" than thicker wire by nature.  If you consider that fish can potentially hit a fly from an infinite number of angles when presented to in the traditional tenkara way, there are lots of ways to not get the hook point in just the right position for a solid hookup.  So even if you set the hook by lifting your rod, a springy hook can very effectively push it right back out of the fish's mouth.  In my experimentation, switching to thin wire hooks didn't increase my hookup ratio at all.
Suspect #2:  The barb
There's no doubt that a barbed hook makes it more difficult to get a good hookset.  It's a piece of raised metal whose friction has to be overcome in order to securely hook fish in the mouth.  I can automatically exonerate this suspect since I've only fished barbless hooks for as long as I can remember for both fresh and saltwater species and haven't lost a single fish because of it.  But, it was good to throw the barb in the lineup just to get a more objective ID from the witnesses.
Suspect #3:  The Presentation
So, what else could it be if we eliminate friction and hooking power?  My next guess was that maybe I was moving the fly too fast and didn't give the fish a chance to really take it.  I've got a lot of experience pulling the fly out of the mouths of bonefish, trout, bass, and other species so maybe my typical M.O. was a good suspect.  When I first started fishing sakasa kebari, I showed Daniel from Tenkara USA my technique.  I was catching fish but he told me that I was moving the fly too erratically and that it would only get the attention of smaller fish.  Once I slowed it down a little, I found this to be true.  I was "getting the attention of "bigger fish" but my hookup ratio was still at about 50%.  I had a way to go.
The Perp!
After a lot of experimentation, I finally figured out what it was.  Me!  I was moving the fly too fast.  I've found that gently pulsing the fly down or cross stream one to two times per second gets the fish interested enough, yet also gives them enough time where the fly is "dead" to take it.  There's a rhythm to it that you can fid if you are willing to just play around with it enough.  And I'm sure there are different rhythms for different rivers and different trout.   This has made a big difference in the fish that "I feel strike" vs. "I land".  If you're having the same problem I did, I suggest slowing down your presentation a little and see if it makes a difference.  It sure did for me.