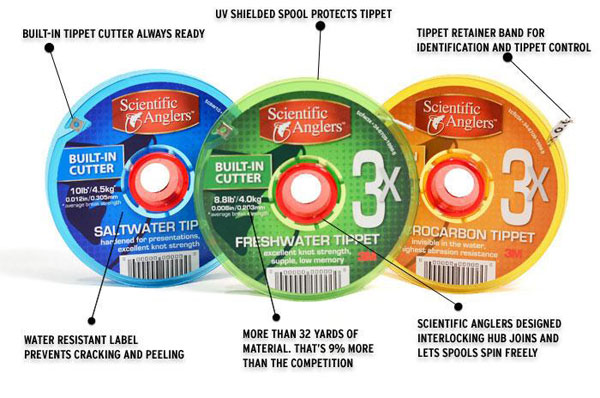 It's hard to imagine how you could improve something as simple as a tippet spool but the geniuses over at Scientific Anglers have done just that.  They've added a built in line cutter, a rotating hub that allows the spools to rotate freely (which will work very nicely with my DIY tippet spool holder system), and UV inhibitors that prevent the tippet from degrading in sunlight.
The color-coded spools are available in freshwater mono, fluorocarbon, and saltwater hard mono and unique interlocking system.  You'd think with all of these extra features, they'd jack up the price.  On the contrary, the price is the same as I pay for Rio Powerflex (a mere $5 for the freshwater mono) for a generous 32 yards!
They've even decked out the spools with waterproof labels to prevent peeling so you'll never have to guess if that old spool in the bottom of your gear bag is 5x or 6x.  These spools are so well designed, it's hard to consider them disposable.  In fact, I might end up reusing them by respooling them once they're empty.  Well done Scientific Anglers!