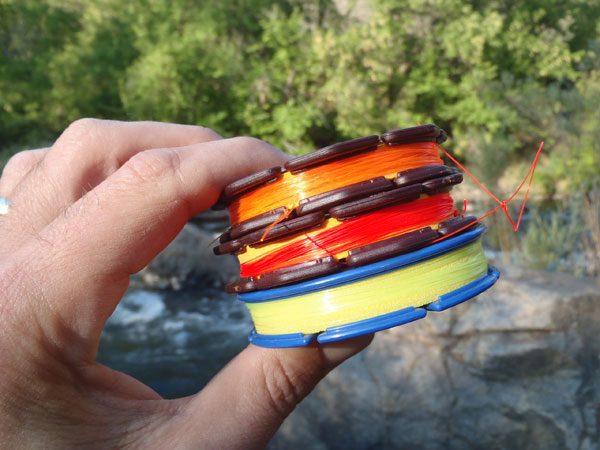 Not too long ago, I wrote a post about using Red Amnesia as a sighter for tenkara level lines.  Having fished it for a while now, I can say really like it.  The bright red Amensia is easy to see in all lighting conditions and makes it much easier to follow your fly and detect strikes.  But it got me thinking…why not try a full line made of Amnesia?  Today, I got a chance to put it to the test on the stream and here are the results.
I opted for the 12 lb. Amnesia since its diameter is 0.330 mm (a line size I frequently fish).  As soon as I made the first cast, I knew my suspicions about its visibility were right.  These pictures don't do it justice.  The line almost glows neon in the sun and is highly visible against a variety of backgrounds: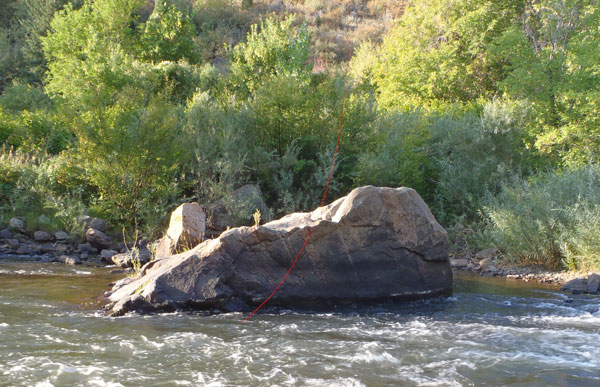 I was absolutely thrilled with the visibility.  There was only one problem:  the line doesn't cast well.  Most tenkara anglers use fluorocarbon for their level lines and there's a reason.  Fluorocarbon is denser than monofilament and transfers the energy of the cast better.  Amnesia is monofilament and it just doesn't turn over anywhere near as well as the fluorocarbon lines I normally use.
Don't get me wrong:  you can cast it.  It just takes a little more effort and you kind of have to adjust your casting stroke a little to get it to work.  But even then, the lack of power is noticeable and it's almost useless in the wind.
I can't fault Amnesia for not being a great material for a tenkara line.  After all, it's a shooting line that is designed to be pulled through guides by the momentum of a heavier line in front of it.  It's not meant to be cast and turn over a fly.  And although the visibility is tempting, I won't be switching from my fluorocarbon lines.  It was worth a try though.
If only someone could make a fluorocarbon line that was the color of Amnesia, but cast as smoothly as the Tenkara USA lines (and also had low memory), then we'd have the ultimate tenkara line.  I don't think that's asking too much, do you?