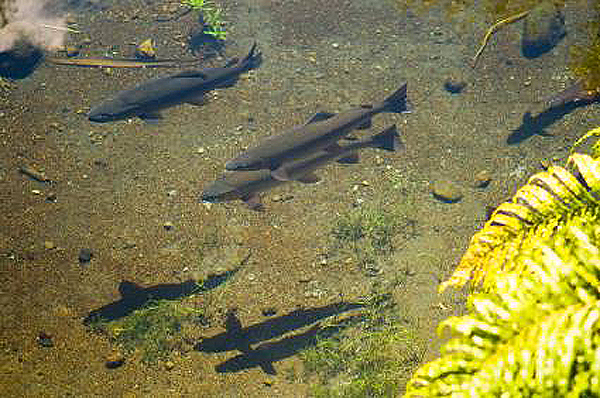 It happens to even the most experienced angler.  You come across a magazine-perfect pod of trout in crystal clear water.  Your eyes become laser focused on them. Anticipation builds. Your adrenaline kicks in.  You plot the first and and can almost feel the trout in your hand already. But then, they scatter as if someone threw a bowling ball into the water. What happened?
While trout have fairly poor vision, they are very tuned into their environment. They have to be on constant lookout for anything amiss that might indicate a predator is near. Many anglers might approach a slow, clear pool full or wary trout with trepidation, but there are some things you can do to avoid causing a mass exodus…
1. Blindfold the fish.
Fish have a cone of vision that changes in diameter depending on how deep they are holding in the water. If you're outside of this cone, then you're invisible to trout.   If you're in it, they're gone.  While fishing with Dr. Ishigaki (who happens to be a vision specialist), I asked him if he preferred to fish upstream or downstream. His answer was an emphatic upstream.  When I asked him why, he said that was the best way to stay out of the cone of vision (because the fish cant see behind themselves).  Here is a great diagram from Flyfishing Devon Illustrating this:

But sometimes, you have no option but to fish across stream. In these cases you can lower yourself by kneeling, or by using the next tip.
2. Wear an invisibility cloak.
Hide behind rocks, brush, or other structures that will conceal your presence. Only poke your head out enough to see your target (and do so slowly).
3. Use stealth technology.
Some anglers like Chris Stewart of Tenkara Bum wear camouflage when they fish. While it's probably not necessary to deck yourself out if full military garb, wearing muted, natural colors will help you blend into the background better while bright colors will make you stick out. I had a friend who always wore a light blue shirt because he thought it would help him blend into the sky (he was a tall guy). I suppose it depends on what type of stream you're on, but on most of the streams I fish, the trout see me against a background of rock or foliage so darker earth tone colors are better.
Chris Stewart (left) and Jason Klass (right). Whose garb is more likely to spook fish?
Also, use a rod with a matte finish to avoid rod flash.  And if you have tools like zingers, forceps, clippers etc. hanging off your vest or chest pack, use matte black ones instead of shiny silver. Always choose dull coated stream tools over shiny ones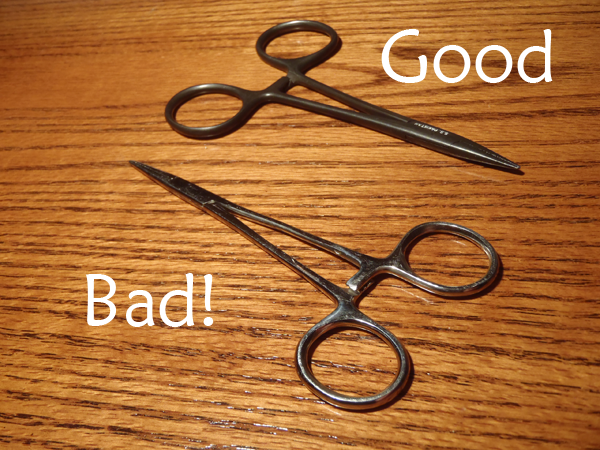 4. Fish like a ninja!
It's just as important to not be heard as to not be seen.  Move slowly and be mindful of every footstep.  Avoid splashing. If you have metal studs in your wading boots, grinding them over rocks is going to send out a warning signal. Is there a softer, quieter place you can step instead?  Move like you're a teenager sneaking into your bedroom three hours after your curfew.
5. Be a turtle.
In nature, some animals camouflage themselves by moving in slow motion. This works because their surroundings have a natural cadence. Streams flow, branches wave, leaves flutter in the wind. But if something moves faster than that cadence, it is seen as abnormal–a threat. When approaching trout, take it slow (really slow). There's no rush. The fish will still be there in five minutes (but they won't be if you come charging in).
6. Mind your doppelgänger.
To a fish, there's no difference between you and you shadow (or a blue Huron swooping in for the kill for that matter). Always pay attention to where your shadow is being cast. Avoid having the sun directly at your back if possible. Really, you're paying attention to the position of two anglers–your physical self and your shadow. Both are equally capable of spoiling a nice pool.
With a little mindfulness, you can approach and catch skittish trout in clear water. The key is to become part of the surroundings, rather than being an intruder.
What other tips do you have for not spooking fish?