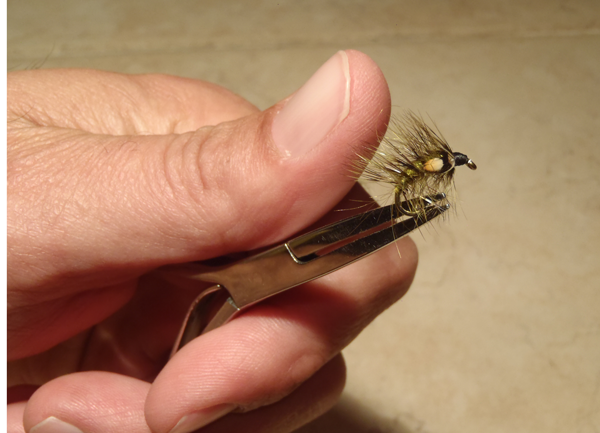 For over 20 years, I've been fishing exclusively with barbless flies.  And not just for trout–for bass, panfish, steelhead, salmon, and even saltwater fish.  In fact, even before I started fly fishing, I used to crimp down the barbs on my spoons, spinners, and crankbaits too.  Why?  3 simple reasons…
1.  Better Hooksets
A barb creates resistance that makes it harder for the hook point to penetrate.  That increases the likelihood of getting a bad hookset and losing fish. Go take a piece of paper and try to hook it with both a barbed and barbless hook and you'll see what I mean.  I've seen hooks that had barbs twice the diameter of the hook wire. That's a recipe for a lost fish!  It's much easier to penetrate the fish's mouth all the way to the bend if the hook is more like a smooth needle than a barbed harpoon.
A de-barbed Oki Kebari. Getting rid of the uphill ramp barbs create makes it much easier to get a good hookset–especially with softer tenkara rods …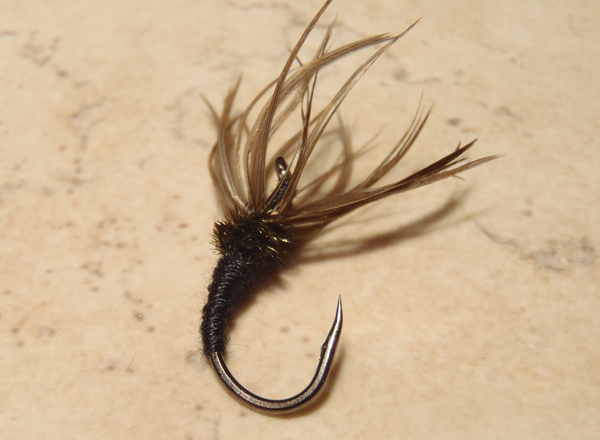 2. Less Injury to fish
I would guess that most people who fish barbless flies cite this as their main motivation.  A barbless hook causes less damage to the fish (especially if foul hooked).  And since it's a lot easier to remove than a barbed hook, you can get the fish back to the water faster, further reducing the trauma.
3.  Less Injury to YOU!
If you ever accidentally hook yourself, you will be glad you had a barbless fly on (trust me on this one).  Just as they're easier to remove from fish, they're also easier and less painful to remove from a human hand, leg, or ear if the wind has it in for you.  But if you decide to ignore this post and continue to fish with barbed flies, here is a tutorial on how to remove them.
But don't you lose more fish with barbless flies?
Nope.  And if you don't believe me, I've got 20 years of evidence to prove it.  This myth is a carryover from the world of conventional fishing (where you actually can lose fish on barbless lures).  The reason is that lures are much heavier than flies and give the fish leverage to shake the hook out.  I have lost bass that jumped out of the water and with a couple of head shakes, threw my spinnerbait like they were pitching for a major league team.
But with flies that weigh next to nothing (like trout flies), the fish don't have this leverage. Of course, they potentially could with heavily weighted flies like Clouser Minnows, but in my experience, as long as you keep tension on the line, you won't lose fish.  I've landed plenty of bluefish, stripers, jacks, bonefish, tarpon and snook on barbless flies with weighted eyes.  And to the astonishment of my guides, I still crimp down the barbs on my Crazy Charlies, Clouser Minnows, and Deceivers every time I go saltwater fishing. Haven't lost a fish because of it yet.
Get in the habit!
No fly ever leaves my vise before the barb is crimped down (unless the hooks were barbless to begin with).  I have a small pair of spring-loaded pliers I use but you could also just use your hemostats.  If I'm "assembly-line tying", I lay out all the bare hooks and crimp their barbs before I put them in the vise.  If you don't tie, try to get in the habit of crimping down all the barbs on the flies you buy right after you get home from the fly shop.  That way, you won't forget and won't have to do it on the stream.
Here are the pliers I use and a bunch of octopus hooks about to be circumcised …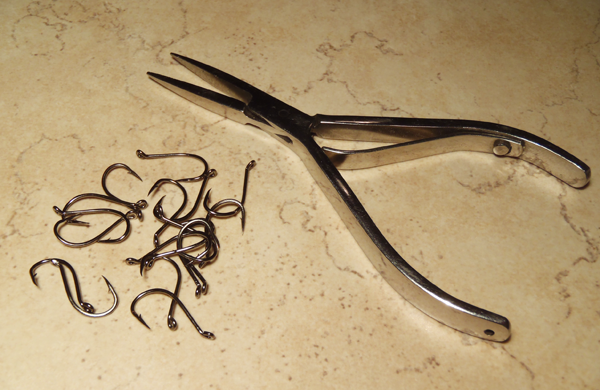 Barbless is better!
To me, barbs are barbaric.  They're relics of the days when people fished for sustenance and before the advent of sportfishing.  Given the popularity of catch-and-release, I feel they have no place in modern sportfishing and as I point out above, can actually be an obstacle to landing a prize catch.  If you haven't tried it yet, give barbless fishing a try.  If you give it a fair shake, I think you'll find that barbless really is better.