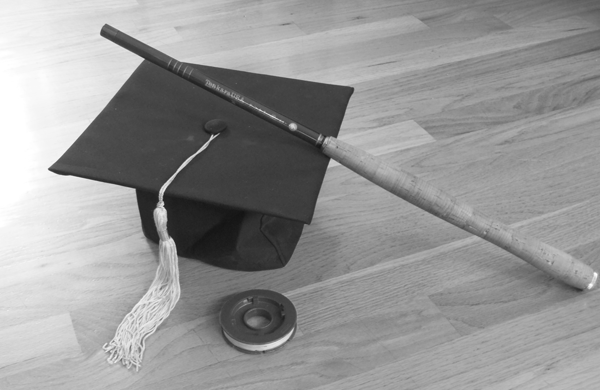 Every once in a while, I like to step back and take a look at the state of the tenkaraverse. This week, a couple of things in social media really made me pause and think. And I think it gave me a couple of insights into the current state of tenkara outside Japan.
The first was a Youtube video by an employee of an American fly rod company that many tenkara anglers (both Western and Japanese) found offensive (see some of the reactions here). In one online discussion about it, some people even claimed that the video could set the progress of tenkara in the West back years and make people not take it seriously. At first, I thought the same thing. But then, someone chimed in with a very interesting response. They said that tenkara has been around for centuries (long before Western fly fishing) and can't be undone by a 3-minute internet video. That really struck me.
Then, I thought about how different tenkara in the West is now compared to when I first started. I remember a time when I was starved for information. I had my Google Alerts set up to catch anything related to tenkara and eagerly devoured whatever little new content was being created. There was literally no writing on tenkara that I hadn't read within minutes of it being published. And I was still left wanting more.
But today, I can't keep up. There are so many new blogs, Youtube videos, forums, Facebook pages & groups, and articles that I find myself more and more answering "no" to the question, "hey, did you read that XXXX on XXXX?" It appears many others feel the same way.  And, of course, the number of tenkara gear sellers has exploded. No retail industry could grow like that in 4 years if it didn't have a strong and growing audience.
After pondering all of this, it seemed silly for me to be so upset by a stupid Youtube video. Clearly, tenkara is stronger than that. It occurred to me that we're standing on the shoulders of countless generations of tenkara anglers who not only knew tenkara was valid, but staked their very livelihoods on it.  And that allayed my fear of whatever damage this video might cause.
But I said there were two things. The other was a post on the Tenkara USA forum asking whether people think tenkara is growing or not. This question has come up a few times before and it's something I keep a close eye on. I suppose there are other ways to measure the growth of tenkara, but in the information age, there's probably no better way than to turn to the omniprescience of Google.
Using Google Trends, I ran 2 reports. The first is interest over time for the keyword "tenkara":

Clearly, interest has steadily grown since its introduction to the West by Tenkara USA in 2009. The dotted line indicates Google's prediction for continued interest in the future. And as you can see, that also rises.
The second report is for interest in "fly fishing". It's often said that fly fishing is a dying industry and this report would seem to confirm that (That's a whole discussion in itself). Also, notice that Google predicts future decline:

Of course, the overall search volumes are vastly different, but there's one clear takeaway: interest in tenkara is rising while interest in fly fishing is falling. So for anyone who thinks tenkara is stagnating or shrinking, Google has a very clear response: "no it's not."
So, what does all this really mean? It means that tenkara is standing on its own two feet. It doesn't need the validation from the Western fly fishing industry. It's already valid. Tenkara has faced it's fair share of criticism and bullying in its short time outside Japan. But like a freshman who used to get beat up and crammed into lockers, then ends up hanging out with the cool kids senior year, tenkara has persevered. And it's finally graduated.