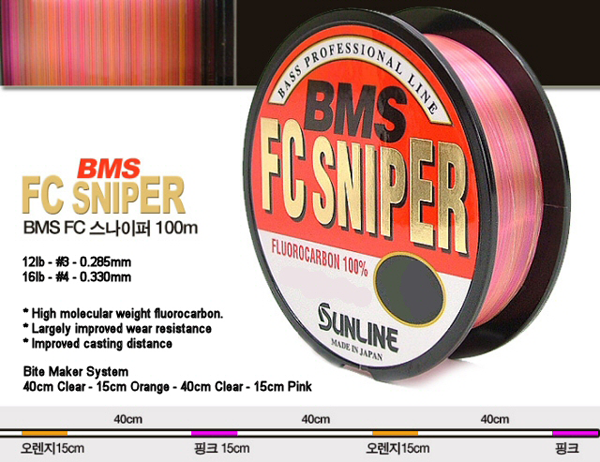 Hello.  My name is Jason and I'm a level line addict.  So when Gary, a Tenkara Talk enabler reader offered to send me some Sunline Fluorocarbon Sniper BMS line, how could I refuse?  Even though there are already plenty of good fluorocarbon lines out there, I love to try out as many as I can in the interest of being able to provide the best advice to tenkara beginners.  Here are my brief thoughts on this line.
The unique feature of the Sniper BMS is that it is dyed in alternating colors of clear, orange, and pink in 15 cm (5.0 in.) segments.  You can probably already see the appeal of this.  Not only does it make the line more visible, but the contrasting colors make strike detection easier.  In fact, "BMS" stands for "Bite Marker System".  And although the line is intended and marketed for bass fishing, since it's fluorocarbon and comes in just the right diameters, it's also a good choice for tenkara.
So, the big question with any level line is always, "how's the visibility?"  Personally, I did not think this line is very high vis.  It's not invisible.  But the dye seems a little pale and the line is transparent making it a little hard to see in some conditions.  I prefer the new Tenkara USA level lines in pink and orange (see my review here) since they're opaque and are easier to track on water with a lot of glare (my nemesis).  The photo below shows #4 Sunline next to #2.5 Tenkara USA line.  Even though the Tenkara USA line is much thinner, to me, it's still more visible on the water.
Sunline FC Sniper BMS (left) and Tenkara USA Orange Level Line (right) …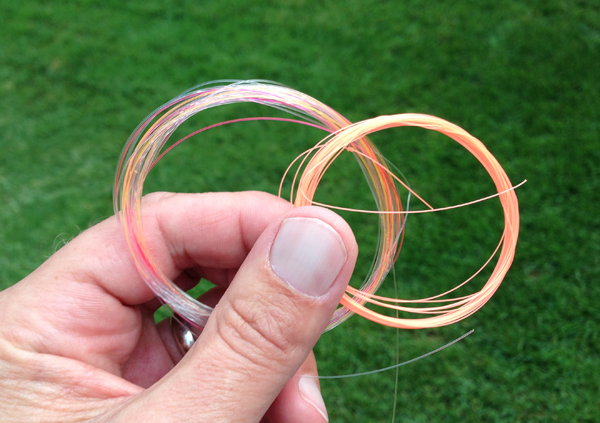 Having said that, the line casts about as well as any other line I've tried.  I suppose I can't say there is a huge difference in the cast-ability among most fluorocarbon level lines.  I've never cast a "bad" one.  The differentiating factors usually seem to be visibility and memory.    Here, memory seems on par with the orange Sunline fluorocarbon we're so used to.  But I'd give it a B+ on visibility.
What about those alternating colors?  Do they actually make strike detection easier?  Well, yes….but only if you can see the line in the first place!  If I were designing this line, I would make the alternating sections opaque for better visibility.  Hmmmm, I bet that just gave someone I know an idea. 😉
Luckily, this line comes in diameters that translate well to the rating system tenkara anglers are familiar with.  I got samples of 12 lb. which corresponds to a #3 line and 16 lb. which corresponds to a #4.  though, they offer thicker and thinner diameters as well.
If you'd like to try the Sunline Sniper BMS line, it's available here.  It's good.  Just not good enough to pull me away from my Tenkara USA line.
Like this article? You might also like these ...