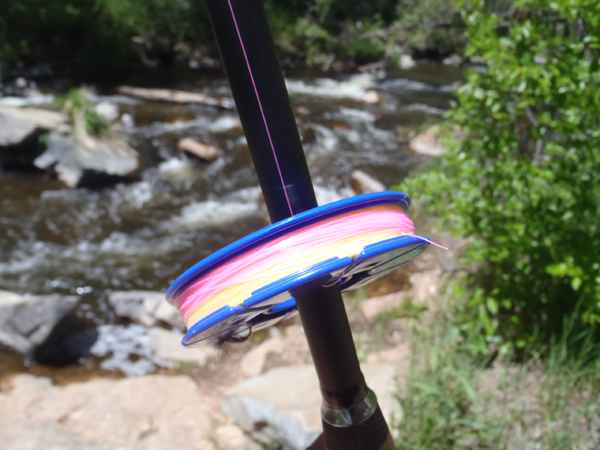 A while back, I wrote a review of Tenkara USA's "new" yellow line.  It was supposed to have less memory and be more visible than the company's previous level fluorocarbon lines (and it was).  But Tenkara USA recently came out with a new line of lines that is supposed to be even better (and it is).  Here's my quick review…
For about the last 3 years, I've been searching for a level line that I can see all the time.  I've tried a lot of level lines for tenkara since then and most of them have had good visibility, but not in every lighting situation.  About 99% of my fishing here in Colorado is done in bright sunshine on streams with a light substrate and lots of glare on the water.  Many lines I tried were easily visible against a dark background (like streamside foliage or darker water in the shade) but basically became invisible on water with glare or against lighter colored rock.
As soon as I saw the new orange and pink lines from Tenkara USA, I thought they might be a candidate for my holy grail of tenkara lines.  Unlike most tenkara-specific fluorocarbon lines, they are opaque rather than transparent.  I thought this might make them easier to see in situations with a lot of glare, since the line wouldn't be backlit or throw its own shine to blend in with the glare on the water.  This was the concept behind the painted tenkara lines I experimented with.  While those lines worked because they were completely opaque, the paint quickly flaked off after a few hours on the water making them too high maintenance for me.  I needed a line that was inherently opaque, not just a surface coating that would require frequent reapplication.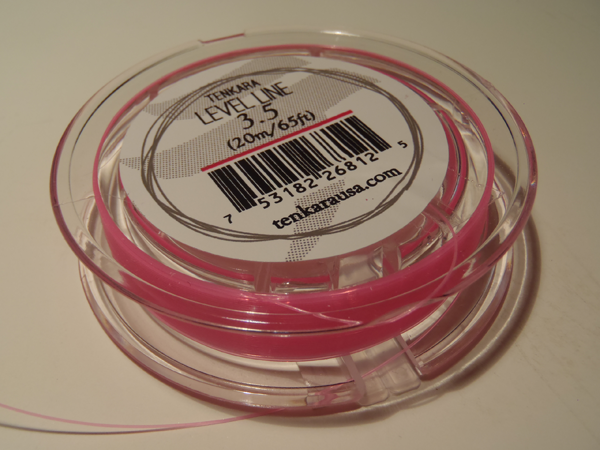 While the line is available in both orange and pink, I bought a spool of the pink just because it looked brighter.
One very sunny day, I took the line out for the first time. Within minutes, I could tell it was more visible than the previous Tenkara USA level line. I was able to easily track it against a variety of backgrounds (even in glare). In fact, this is probably the easiest line to track I have used to date. I didn't lose sight of it once!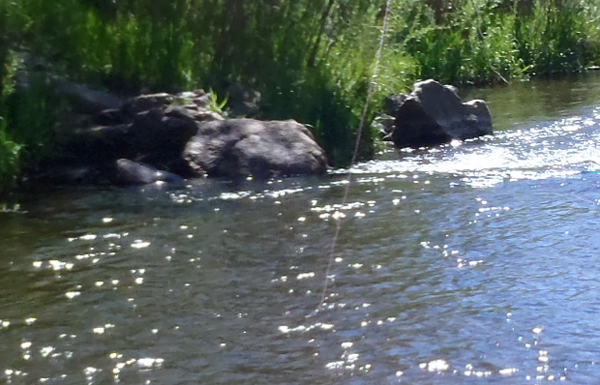 The company claims that this new line is a slightly different formula from its predecessor and has even less memory. While I can vouch that the old yellow line definitely did have low memory, I can't really say this new line has less. It does have low memory, but if  it's less than the old line, I don't notice it. At the very least, it's the same. I didn't even stretch my line after taking it off the spool and there were no coils. I like that because stretching my line has always seemed an awkward ritual to me.
One thing I like about this line is that it's very supple. Casts just feel smoother than other fluorocarbon lines I've tried. I don't think it makes me cast any better, but it just feels nicer.
With this new line, Tenkara USA has also expanded its range of diameters. Previously, they only offered their level lines in 3.5 and 4.5. But now, they also offer a thinner 2.5 diameter for more delicate presentations. I chose the 3.5 because I feel that's a good all-around size for the type of fishing I do.
Without a doubt, this is the best tenkara level line I have ever used.  It has all the right qualities:  good visibility, low memory, and it casts as smooth as silk.  While I'm happy with the pink color, I'll probably order a spool of the orange as well just to leave no stone unturned in my quest for the holy grail of tenkara lines.
Learn more about these lines on the Tenkara USA website.