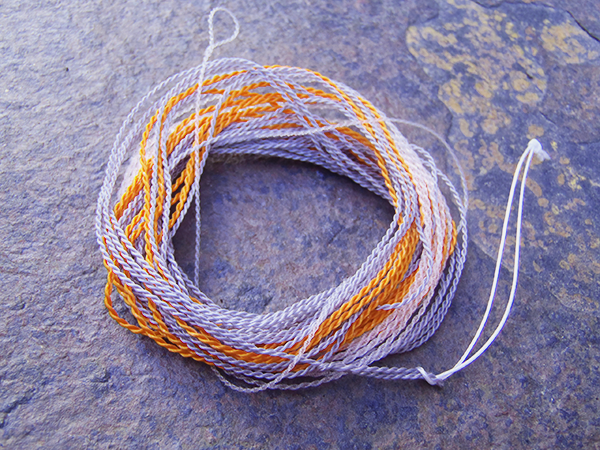 I've tried many furled tenkara lines and most of them are pretty similar: a single-material, single-color, line that tapers from butt to tip. But the new Oudachi line from Moonlit Fly Fishing is a whole different animal.
The Oudachi is billed as a "nymphing" line and I'd say that's accurate.  First, rather than a consistent butt-to-tip taper, this is a "weight forward" line, similar to WF PVC lines (more mass toward the tip). This generates more momentum during the cast to help turn over larger flies or weighted nymphs like beadheads.
Another thing that makes this line good for nymphing is that there is a bright orange section near the tip to aid in strike detection. Since this section is thicker than the rest of the line, the combination of bulk and color make it extremely easy to see under any lighting condition and eliminates the need for a clunky strike indicator.
But perhaps the feature that really makes this a great line for fishing subsurface is the fluorocarbon tip. The main line is made of grey polyester but the last section is made from denser fluorocarbon tip help sink the fly (and it really does work).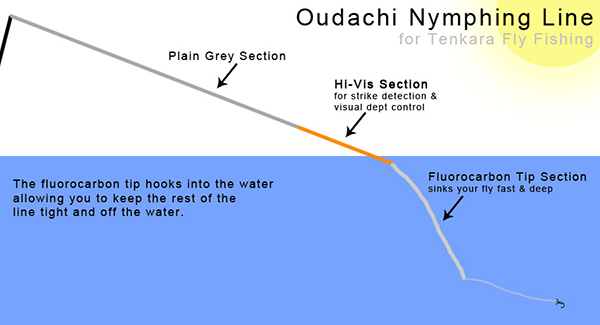 While I'm really a level-line angler, I like this line a lot and am not only very impressed with the clever design, but also like the way it casts. It turns over very easily with minimal effort and fishes better in the wind than other furled lines. I found the hi-vis section extremely easy to track and the length of the fluorocarbon section perfect for the deeper pools of my local rivers. Since this line is a weight-forward, I'd recommend a slightly stiffer rod with a 6:4 or 7:3 action.
While marketed as a "nymphing line", I think the Oudachi has many other applications. I fished it with regular sakasa kebari using a variety of presentations and it performed well in all cases. Also, I think stillwater anglers will appreciate how this line can turn over larger flies like streamers, defeat wind, and get the fly down quickly. About the only thing this line can't do is fish dry flies.
The Oudachi is available in lengths from 12.5 to 20 feet (I got the 18 ft. version) and you can choose between a tip ring or micro swivel (to reduce line twist) for the end connection (I requested a shorb loop on mine). The butt section connects to the lilian with a standard girth hitch loop.
In my opinion, the Oudachi is a true purple cow, and if you like nymphing with tenkara, you owe it to yourself to try one out. To get more info or buy one, visit Moonlit Fly Fishing.