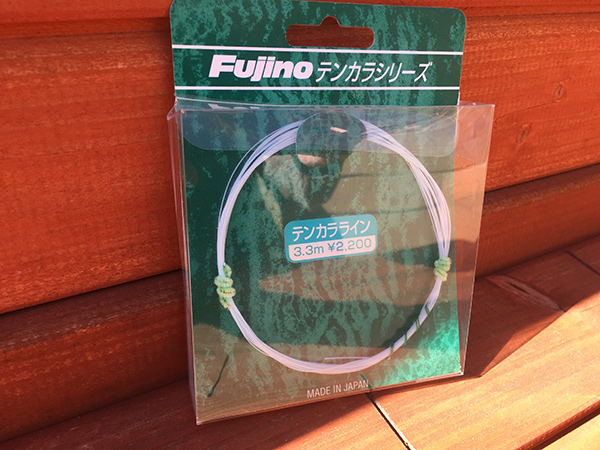 A couple of weeks ago, Chris Stewart from Tenkara Bum told me about a new line he was thinking of carrying. It was a nylon tapered line similar to those used in conventional fly fishing. This type of tapered line is nothing new in tenkara. There are many tapered nylon lines available today such as the Fujino Soft Tenkara that I've already reviewed. But two things intrigued me about this one: First, it was a "hard" nylon (unlike the "soft" Fujino line), and second, it was blue!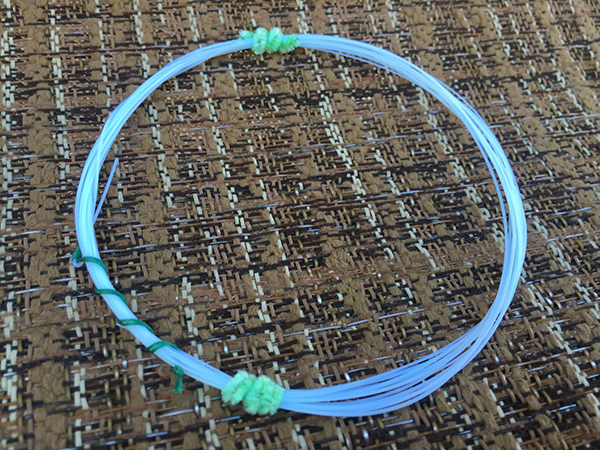 The combination of a fairly aggressive taper plus the hard nylon construction conspire to deliver an excellent turnover. This is a very easy line to cast and because of the thick butt section, especially excels in the wind or with weighted flies. I haven't fished it enough to know, but I'd also imagine the hard nylon gives added durability.
The line comes in both orange and "ice blue". I got the ice blue version to review. While impressed with its cast-ability, I was skeptical about its visibility. I'm used to brightly-colored orange, pink, or yellow lines so I wasn't sure how well this line would track on the water. But after my first on-stream test, all doubts were cast aside.
It's highly conspicuous on the water and against most riparian backgrounds (almost like a PVC line compared to most level tenkara lines). It's more opaque than semi-transparent fluorocarbon lines and I think that accounts for its visibility. The only exception is glare. The line looks blue when coiled up, but off the rod, really looks more white so it blends in with surface glare. But overall, I was pleased with how easy it was to see.
One advantage to a nylon line like this is that it's lighter than fluorocarbon, making it a little easier to keep off the water and avoid drag. But, the caveat to that is that nylon has more line memory. A hand stretch doesn't remove the coils as easily as with a fluorocarbon line (see picture above) so you'll probably want a good leader straightener.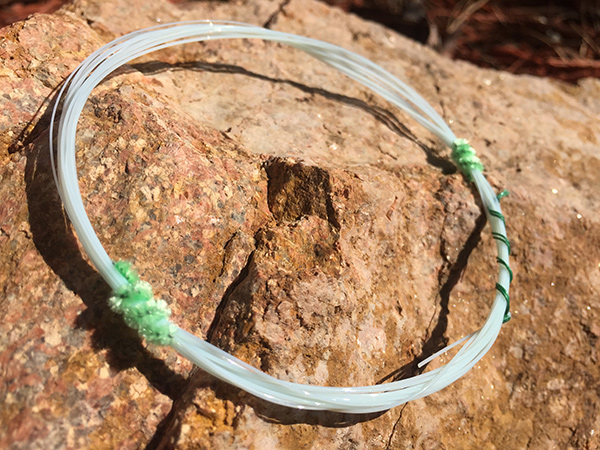 One other nitpick is the lilian connection. This line is equipped with a girth hitch loop, but for some reason, they decided to leave a ridiculously long tag of the nylon butt section in the knot. I tried several times to connect it to my rod before getting frustrated and just cutting off the tag. It kept getting in the way and preventing me from cinching up the knot. I'm not sure why on Earth they did this, but it's a quick fix.
I found a couple of other curiosities in the packaging. First, there is no model name. It's simply called "Tenkara Line". From a branding perspective, this is strange. How do you differentiate it from the Fujino Midi and Soft Tenkara lines which are also "tenkara lines"?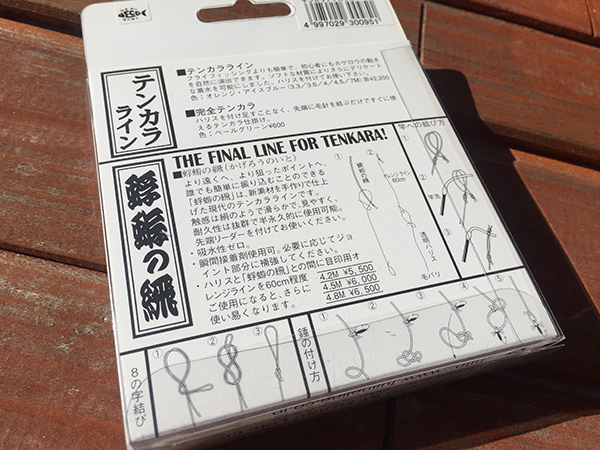 Also, on the back of the package, they recommend some strange knots to rig up the line. For example, they have a diagram suggesting using a loop-to-loop connection to the tippet rather than the more common stopper-knot connection. They also show the girth hitch connection without a stopper knot in the lilian. I would never use a girth-hitch without a failsafe stopper knot. Again, strange, and like so many things Japanese, a quirky mystery.
Overall, this is one of the easiest lines I've ever cast and I was impressed with its visibility. I got the 3.3 meter version but would love to try out some longer ones (they supposedly make them up to 7 meters). I think beginners would find it easier to cast than level fluorocarbon lines and experienced anglers who just need an extra punch in the wind or with weighted flies would appreciate its turnover.
The Fujino Tenkara Line is available at Tenkara Bum in both orange and ice blue in a 3.3 meter length.
Like this article? You might also like these ...