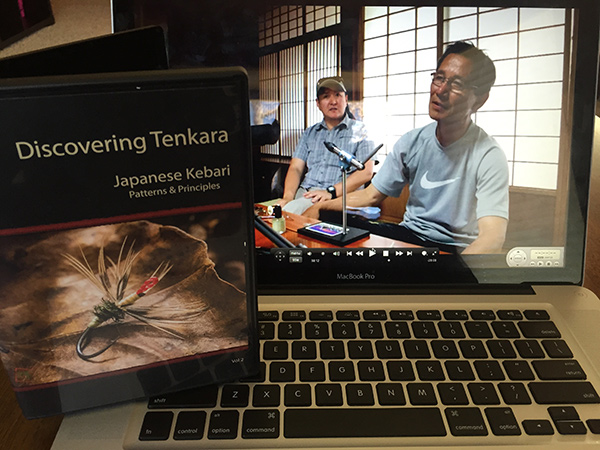 I just finished watching volume 2 of the DVD series from Discover Tenkara: "Discovering Tenkara: Japanese Kebari Patterns & Principles". When I heard of the video's release, I had pretty low expectations. I thought, "just what the world needs … another video showing you how to tie the exact same flies 500 other videos on YouTube have already shown." After all, how many times do you need to see a sakasa kebari tied before "getting it". Once you've seen one, you can time them all–just switch out the materials.
But this video turned out to be so much more. First, let me say that the production value was extremely high. The video quality and editing were all top notch and I could tell a lot of time and effort went into making this DVD.
The video is the work of two prominent tenkara anglers from the UK: John Pearson and Dr. Paul Gaskell of Discover Tenkara. If you're in any of the tenkara groups on social media, you'll probably recognize the names.
The DVD starts out with Dr. Ishigaki giving his standard fly demo and speech that I've already seen 100 times. I thought, "yep, same old same old." But soon, things got really interesting. I don't want to give too much away, but, this is far more than just a tying video. Of course, there are demos, but the patterns they chose are more interesting than the typical thread-and-hackle flies. They go into much more detailed information about fly design, tying tips, trout vision, origins of regional patterns in Japan (and their myths), and much more.
There are also several interviews and demos with some of Japan's tenkara heavy-hitters including Tenkara no Oni and Makino (Himano) san. I think my favorite segment was the one with Go Ishii where he talks about some of the differences in philosophies between Western and Japanese angling.
Another thing I really liked about this video is that it had a great variety of footage and a good pace. There was a good mix of footage from Japan, stream shots, good closeups of flies, etc. There's nothing worse about watching an hour and a half tying video where it's nothing but a closeup of the fly and the voice of God in the background. But this video really keeps in moving with diversity of footage and different camera angles.
I think this is the first video I've watched in a log time where I actually felt I learned something (a lot actually). So many tenkara videos are geared just towards beginners and aren't always relevant to more experienced anglers. But I think the content of this video (while still being accessible to beginners) will also be interesting to seasoned tenkara anglers. I'm eagerly awaiting the next in the series.
The video is available on both DVD and Blu-ray here from Fish On Productions
Also, check out Anthony Naples' review at Casting Around