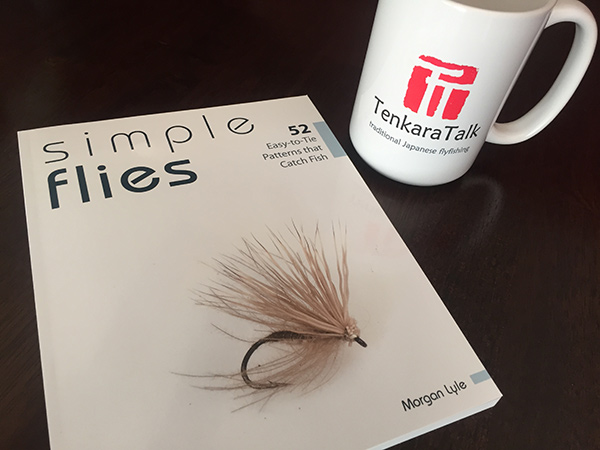 For many, just dipping their toes in the sport of fly fishing is daunting enough–forget about getting into tying their own flies. I imagine it's something like trying to rewire the Space Shuttle before learning to actually pilot it.  And if you peruse the fly selection at your local fly shop, you can see why. There are literally thousands of base patterns and many more variations thereof. To the uninitiated, trying to reverse engineer the anatomy of any given fly can boggle the mind. How did they make those wings? How did they get the tails to split like that? How did they make something so small with so much detail?
These were some of the questions I had when I first started tying. I knew I wanted to learn how to tie, but looking at the masterpieces in the Orvis catalog, I also knew I was facing an uphill battle. There was no way I could replicate those perfectly proportioned, perfectly tied patterns with perfectly sized hackle and such neat heads. But I tried.
The first fly I ever tied was a monstrosity. I cut off the monofilament from a snelled hook, crimped down the baitholder barbs on the shank, and used my mom's sewing thread and some feathers I tore off a Mepps spinner. I can't remember if I ever actually caught a fish on it or not, but the process intrigued me and I knew I was hooked for life.
For the next few years, I grew my library of "real" tying tools and materials. I studied up on entomology and focused on tying the most realistic imitations I could. I got pretty good–not Charlie Craven good, but pretty good. Enough to fool some of the tough customers that swam in my local spring creek. And that was the test. I became obsessed with realism. For me, it was the essence of fly tying and I soon amassed box upon box with every shape, color, stage, and size of every species of every aquatic insect you could name. And I was proud of my arsenal.
Then, slowly (and without any volition) I found myself fishing the same handful of patterns over and over–and usually, the simpler ones. I noticed redundancies. An Elk Hair Caddis worked during both a Caddis hatch and a Sulphur hatch. A Griffith's Gnat worked during both a midge hatch and a Trico hatch. A Stimulator worked pretty much all the time–whether the fish were keen on hoppers, stoneflies, or just not even actively feeding at all and it worked as a searching pattern.
More and more, I found myself relying on the same 5 or 6 simple patterns in my box and shunning all those gorgeous, realistic flies I had painstakingly tied. Years before discovering tenkara and before ever hearing about the "one fly approach", I was already beginning to recognize that impressionism could be just as effective as realism in fooling trout. It seemed to go against the mainstream philosophy, but it worked, and that was all I cared about.
Back then, most of the tying resources trended toward fairly complicated patterns. In certain circles, it didn't even matter so much if you actually caught fish on them or not. Around the water cooler in the fly shop, your worth as an angler sometimes depended more on if you could actually tie them well enough to convince an angler.
But the introduction of tenkara in the West has ushered in a new way of thinking about fly design. Now, "simple" has become a compliment rather than a patronizing remark. "Realistic" has been replaced with "buggy". More and more, beginners and tenkara anglers seem to be letting go of the concept of perfect proportions and neat heads and are focusing on the action and overall impressionism of fly design. It's the perfect timing for the recently released book "Simple Flies" by Morgan Lyle.
This isn't a tenkara book (though it is given a treatment). It's a book that will appeal to both western and tenkara anglers alike. Simple Flies outlines 52 patterns that anyone could tie with just the most basic materials and tools. I'm not going to give away the specific patterns it covers, but I can tell you that I have tied most of them and have caught fish on all of them. It spans everything from dries, nymphs, and wet flies for trout to streamers for bass, panfish, and even saltwater species.
In the opening pages, there's a good primer on basic materials, tools and techniques that beginners should read first since they'll be referenced later. After that, there are clear step-by-step instructions, recipes, and pictures that even a novice should be able to follow with ease.
But Lyle takes it a step further. He not only shows you how to tie the flies, he gives you their background. Recipes aside, this book could stand alone as a good read on the history of famous fly patterns, their origins, and inventors. At your tying desk, you can look up the materials for Walt's Worm. On the airplane, you can read about how and why he created it. This is a book you'll be coming back to again and again for different reasons. The end of each chapter even features tips and tricks for effectively fishing each style of fly.
In addition to all the great info. and Lyle's pithy, yet accessible writing style, Simple Flies has high production value. The 160 pages are thick and glossy, the pictures are high quality, and it's professionally done all around. It's rare to see a book of this quality for twenty bucks.
Even if you don't read it cover to cover, Simple Flies would serve as a great reference then next time you sit down at the vise. I wish a book like this had existed when I made my first attempts at fly tying. If you're thinking about getting into it, you need to get a copy of Simple Flies. It will make your foray much easier, more entertaining, and more rewarding. This book belongs in every fly tier's library. Get your copy here.