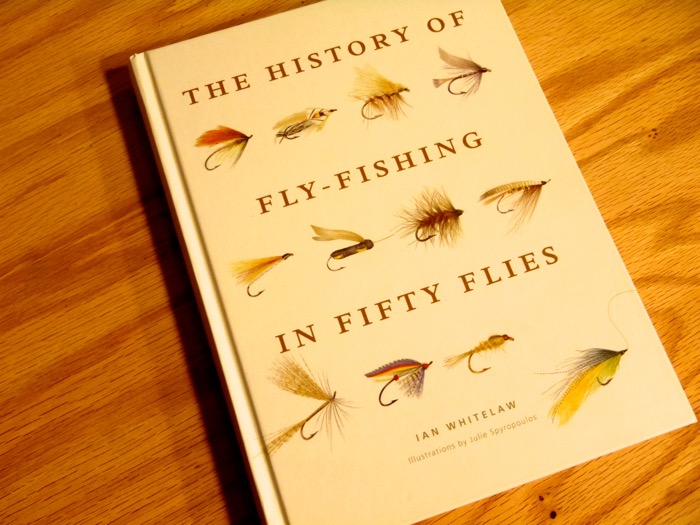 If you're looking for a good book to curl up with this fall, I highly recommend "The History of Fly-Fishing In Fifty Flies" by Ian Whitelaw with Illustrations by Julie Spyropoulos. Not only does this masterpiece trace the development of fly fishing in the West through innovations in fly design and materials but also spins a great narrative on the evolution of rods, reels and lines.
Whether you tie flies or not, you will find a raft of interesting facts about some of the world's most famous flies (as well as some interesting trivia behind the interesting characters who invented them). No doubt, you'll probably get some revelations about the flies you have in your box right now, and probably fish them with a newfound appreciation.
In addition to Whitelaw's outstanding writing style, Spyropoulos' illustrations are gorgeous and really inspire you with a sense of pride in the history, art, and tradition of our sport. There are also lots of great period (and modern) photos supporting the text–providing a great visual balance.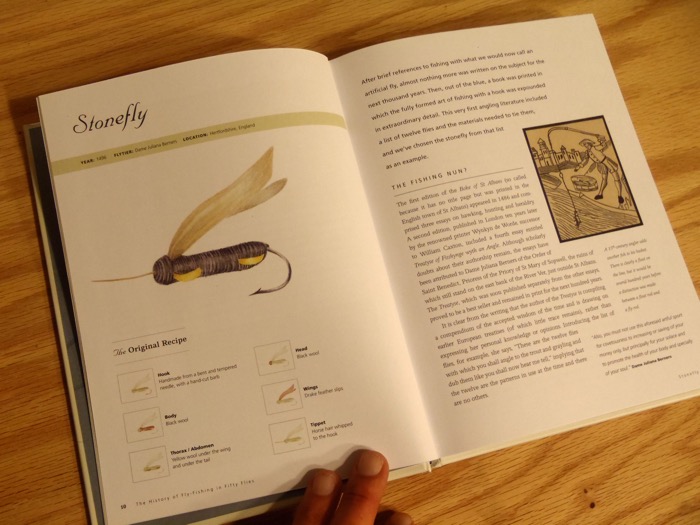 I think one of the things I like about this book the most is the eclectic format. It's not just all text in paragraph format with a few pictures thrown in in between. The main text is broken up into asides about the fly inventor's biography, interesting trivia, and clearly laid out recipes. I really liked how Whitelaw lists the original recipe and then shows you the evolution the fly has taken to the form we recognize today–including the many modern variations.
It begins with the state-of-the-art in fly fishing in the 16th century and journeys all the way up to the present covering everything from trout and salmon flies to saltwater flies. There are even a few pages at the end on tenkara flies and gear …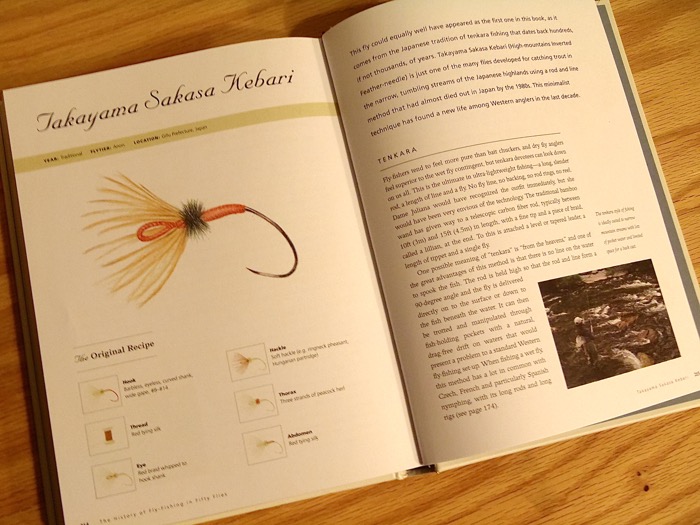 In fact, I was struck by how many similarities there were between early fly fishing in the West and tenkara–fixed lines, simple flies, braided horsehair lines, etc. Essentially, anyone who was fly fishing in the West prior to about the mid-17th century was tenkara fishing. There are many, many fascinating parallels for the modern tenkara angler between these pages and like a good movie that you have to watch more than once to truly appreciate, I'll bet you a beer you'll find yourself re-reading it (or at least parts of it).
"The History of Fly-Fishing in Fifty Flies" is a read both fly tyers and non-fly-tyers alike will enjoy. And if you don't tie already, you'll probably want to after turning the final page.
P.S. In case you're wondering why the photos are slightly blurry, I did that intentionally to give you a sense of what to expect, while protecting the author's intellectual property.
"The History of Fly-Fishing in Fifty Flies"
ISBN 987-1-617-69-146-1
Publisher: Stewart Tabori & Chang
Pages: 223 (including index)
Have you read this book? What were your impressions?