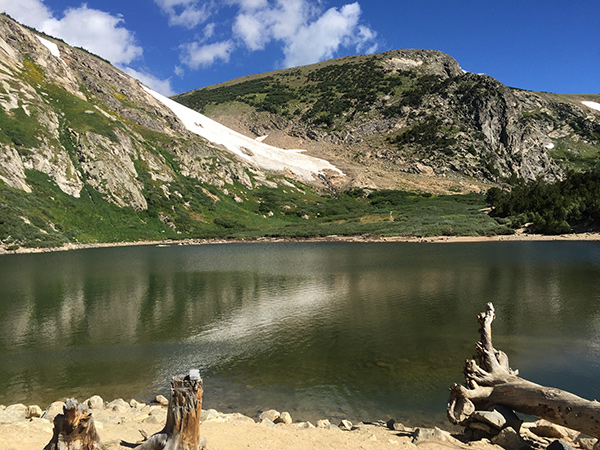 We'd been having a bit of a dry spell–my fishing buddy Dennis Vander Houwen and I (he goes by the pseudonym "Dennis Michael" in the entertainment world). We'd been through more than our share of fishing fiascos and I'd been having less than a stellar year (to phrase it diplomatically). Timing, high water, weather, and a seeming raft of wrath from the fishing gods all conspired against me to make this the worst season in my entire angling career.
To make matters worse, I became so depressed, that even when given a hall pass, I declined, just to avoid the inevitable disappointment I predicted. But, I still gave it a go last weekend and was redeemed! The waters came down and I actually managed to catch some fish on Clear Creek last weekend. Could it be that the curse was lifted by the powers of some magical Disney princesses? Or was it just a hoax by the fly fishing gods to tease me into a false sense of security only to lure me back to fish poverty?
The answer came today when Dennis and I hiked up a steep trail to a lake fed by a glacier not far from Denver. That last weekend, I got a tip from a guy I ran into on Bear Creek about tiger trout there. His name was Pete from Ascent Fly Fishing. He told me to fish the "inlet" for tigers. When we arrived, we didn't know if that meant an inlet of a stream or an inlet of runoff of the glacier. After some exploring, it turns out it was the glacier runoff on the North side of the lake. And unlike a lot of "hot tips" you get in fly shops, coffee shops, or in passing, his info was good.
For those of you who don't know, I should probably stop here and explain what a tiger trout is. They're basically a cross-breed that happens when a male brook trout fertilizes the eggs of a female brown trout. In nature, this usually happens accidentally, but in this case, the tigers were bred and introduced. Still, they're beautiful fish with an unusual "marbling" pattern and colors. And, they live up to their name–even the smallest ones strike aggressively and fight hard despite their diminutive stature. One guy I met on the lake told me he caught a 15-incher one time and another time that he and his buddy caught 92 fish in 2 hours but I'm not sure I believe him because he fished all day beside us and while Dennis and I were pulling fish out consistently, I didn't see him catch one.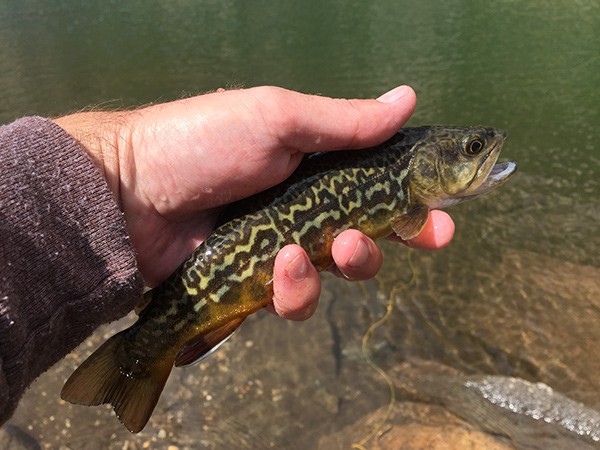 We caught lots of them and a few nice looking brook trout to boot. The previous "curse" was not just broken, it was avenged!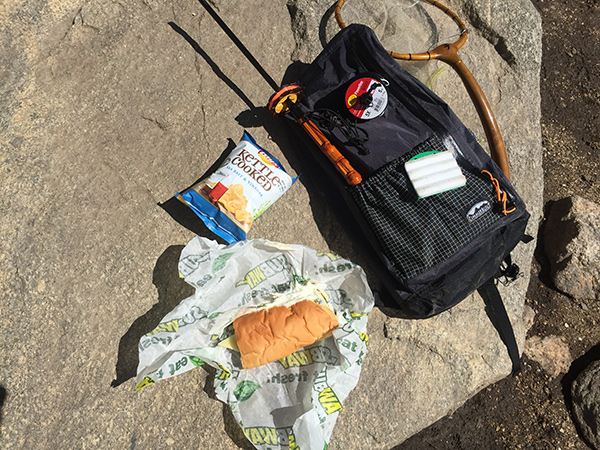 Since this is a fairly large lake (by tenkara standards), I used a my Tenkara USA Ito and a new Fujino tapered 9-meter line from Tenkara Bum (review to come) because the shores were really shallow and I needed the combo of rod/line reach. And it paid off. Most of the fish were caught on a dark-colored sakasa kebari but I caught a few on a a white & natural Teeny Nymph.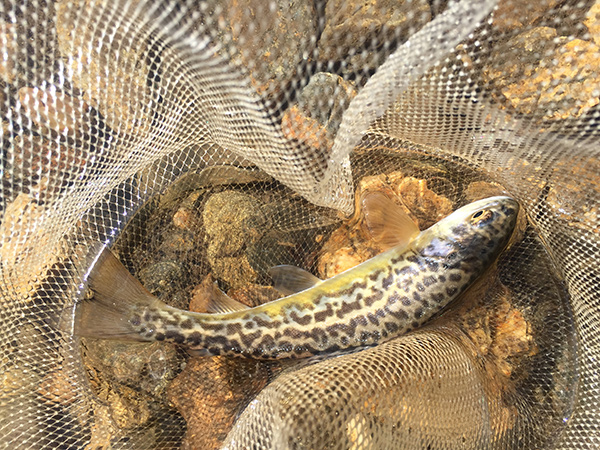 To sum up, it was a great day with a good friend on a beautiful lake. Couldn't ask for more. And, I even got rewarded with a big jar of Dennis' famous home-made salsa at the end. It doesn't get better than that.