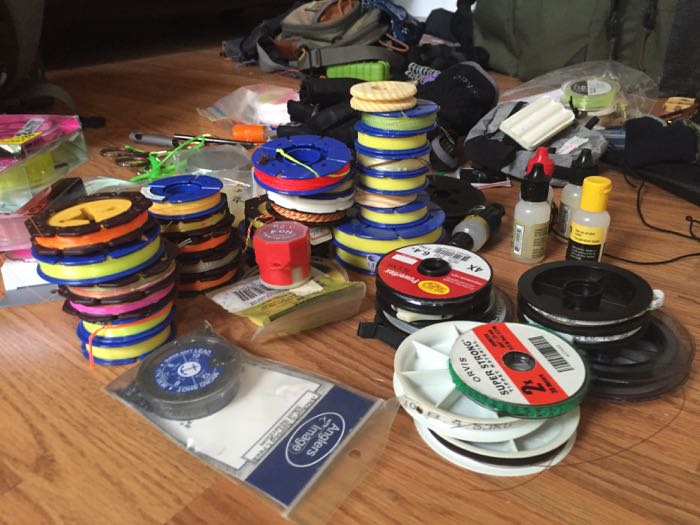 I recently had to send a tenkara care package to a friend and thought it might be a good opportunity to clean up and organize some of my gear while I sifted through what to send–kill two birds with one stone. By the time I emptied the first bag (of several bins, bags, boxes and drawers), I had gear strewn all over the floor, effectively turning the lower level of my house into the set of the End of the World as we Know it video. I thought to myself, "my god, how did I end up with so much gear?" And, more importantly, why have I kept it?
Admittedly, I get a lot of people who send me free stuff to review or just to share because they thought it was interesting–and it adds up. But even if that weren't the case, deep down, I know I would still somehow manage to end up in the same situation. I'm a gear junkie at heart. At one point, I had four Tenkara USA Iwana rods. I've got three nets, dozens of line spools, miles of level line, and who knows how many fly boxes, etc., etc., etc. And that's just the tenkara gear. Don't even get me started on my western rods and reels.
Now, there's a case for having a good selection of gear. You can't fish for tarpon with a 2 wt. (unless you're mad), and fishing for bluegill with a 12 wt. would be no fun. Just like golf, you need different clubs for different situations. But why the redundancy? Why do I have four of the exact same rod? Did I somehow subconsciously convince myself that if three break, I'll have a backup? Why couldn't I let go?
Why do we hoard so much gear?
Any avid hobbyist is likely to be a hoarder of gear; and anglers are no exception. Even in a self-professed "minimalistic" sport like tenkara, people end up with scores of rods, line spools, lines and flies. But why? I think I can identify at least a few main reasons …
1. Gear is sexy
Let's face it, gear is fun to play with. No matter your sport of choice, gear allows the intimate connection between you and your quarry–it's the link and without it, you couldn't pursue your reverie. It's necessary. But on a more primitive level, it's just fun to play with. Hearing the purr of a new click and pawl reel as you pull line off is like a symphony. "New wader smell" is like incense. Extending that new tenkara rod for the first time and feeling the sections lock for the first time is akin to extending your soul and starting a new life. OK, maybe those are exaggerations, but you get the point. It's just plain fun to play around with gear. It's the tool and the toy of our trade. I've seen grown men become giddy over pieces of gear the same way a kid does with a new toy. On some level, no matter how old you are, shiny, flashy things are appealing.
2. Authority
When I was "gear poor", I somehow felt like less of an angler. I would see all these other guys brag about how many flies and rods they had, and somehow, that gave them stream cred. Because someone who has X number of rods must be a pro. I'm guilty of buying into that. Maybe that's why I've held on to redundant gear for so long.
3. The perception that more gear makes you a better angler
The other day, I listened to an NPR segment with Behavioral Science Correspondent Shankar Vedantum. He explained an experiment about the perception of "good" gear vs. "generic" gear and how it affects our perception. There were two groups of golfers (I don't know why I use golf analogies so much since I don't even golf; it just always seems to serve as a good parallel). One was given a club and explicitly told it was a Nike club. The other group was given the exact same club and told nothing–leaving them to assume it might just be a sub par club (there we go again with the golf–get it? "par"). The group that thought they had the Nike club outperformed the group that thought they just had any old club.
The conclusion of the study was basically reaffirming the placebo effect–that if you believe some external aid will help you, psychologically, it will. There have been countless studies in pharmacology on this, but apparently it bleeds over into sport and hobby. Do we fish better if we're using a $300 Oni rod vs. a $10 Chinese knock-off? I think we probably do. Perception = reality. I think there's a tendency for most of us that we always have to have the "latest and greatest" in order to be the best angler we can be. So we buy that new rod, line, fly, or whatever that promises to up our catch rate. Because we believe it. That adds to our arsenal as well.
4. Sentimentality
Finally, I think there's a passionate reason we accumulate gear: emotional connection. I still have my first tenkara rod. I'll never let it go. I caught my first tenkara fish on it, it's how I met Daniel and Karel, and it's what ultimately spawned this blog. While I don't fish it anymore, its purpose is not lost. Every time I look at it, it's a reminder of how my life has changed because of it. I've got a few other pieces of gear like that. The mini tamo Masami Sakakibara sent me that I hang on my Christmas tree every year as an ornament is just one example. But I've got many, many more.
So …
Ironically, in the midst of writing this post, I got a package from the UK with two more tenkara rods, some strike indicators, neoprene shin guards, and some other gear (reviews coming soon). Will I keep it all? I don't know. There's so much good tenkara gear out there today. I was starved for it years ago, but now it's just overwhelming. I try to be judicious in the gear I keep vs. give away to people I know who could really use it. But I'm always grateful for the opportunity to try it out and let others know about it. I guess at this stage in my tenkara career, I'm more interested in gear as a conduit for writing than as totems of prowess. But I do have my favorites. And those are the things I keep.
Do you hoard gear? If so, what and why?