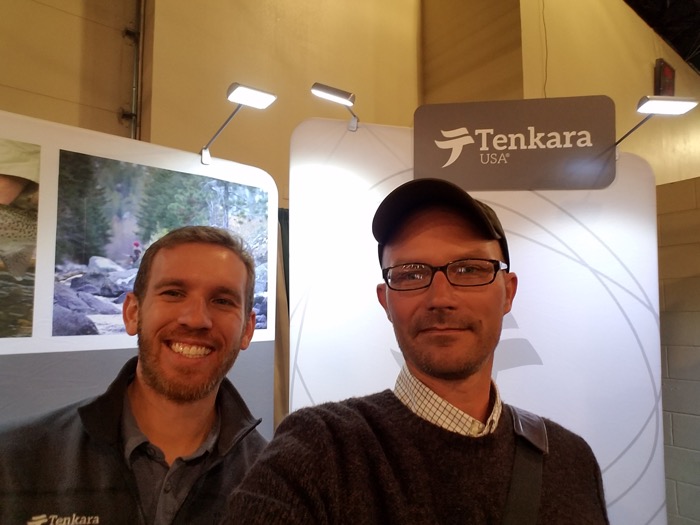 I just got back from my annual pilgrimage to the Denver Flyfishing Show. I think I haven't missed one since I moved to Colorado over 15 years ago, and this year didn't disappoint. Most of the usual suspects were there, but there were a few new faces that you'll recognize from the tenkara community.
Tenkara USA
Of course, Tenkara USA was there in full force–the pioneers of tenkara in the West and this year, back with the biggest crew yet. It's great to see them growing. I remember when it was literally just Daniel manning the booth.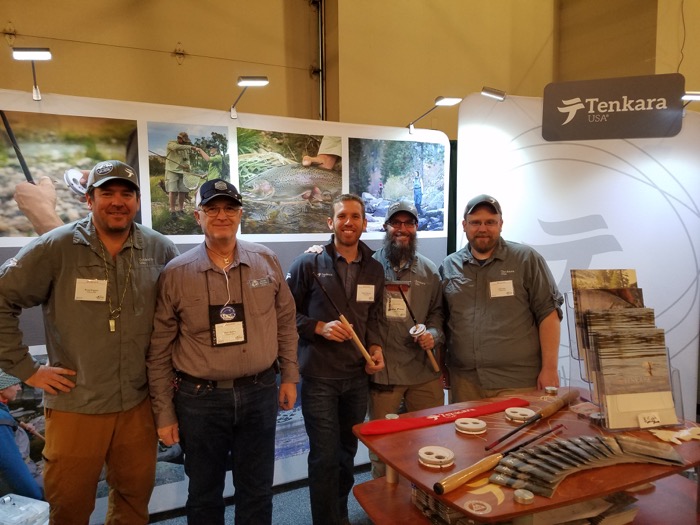 Graham Moran of Tenkara Grasshopper was also there doing some tying demos and showing off some mad sakasa kebari skills …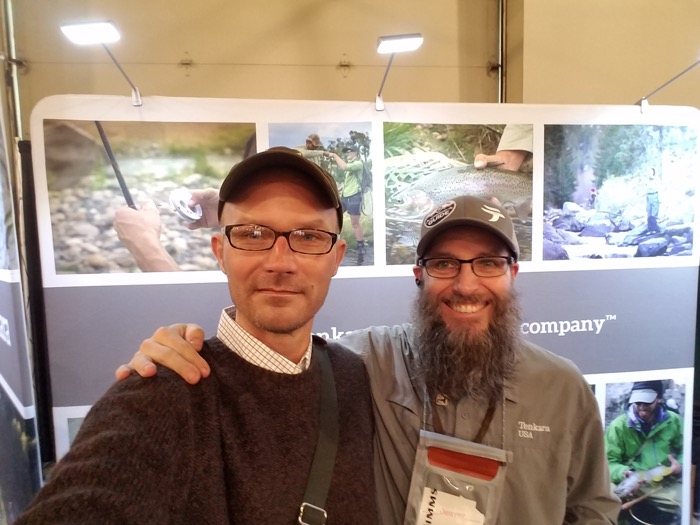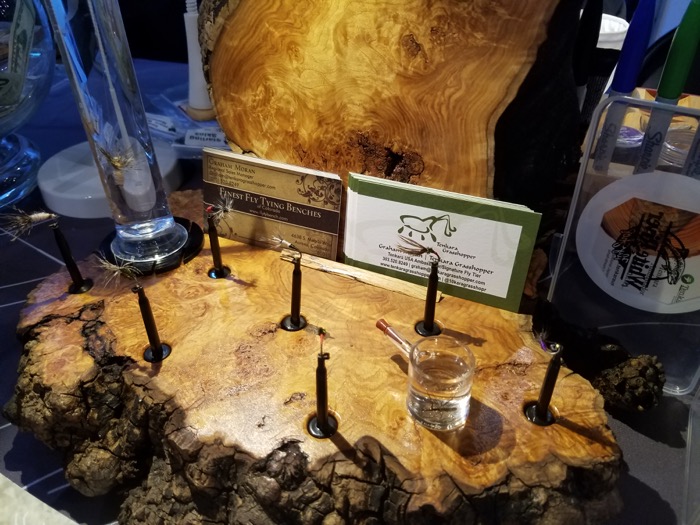 Tenkara USA had some of their new gear on display. Of note is the fact that they're in the process of updating all the graphics on their rods to be more consistent and (rumor has it) there's a new rod in the works. I can't say much now, but am expecting a prototype to test fairly soon and given TUSA's history of innovation, am very excited to see what it will be.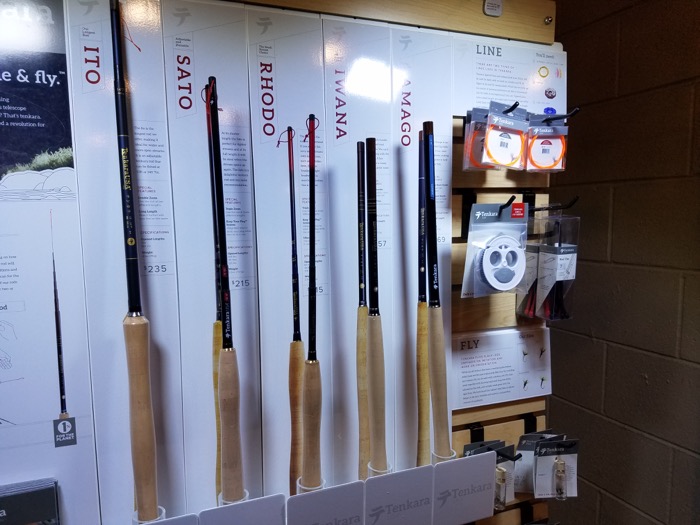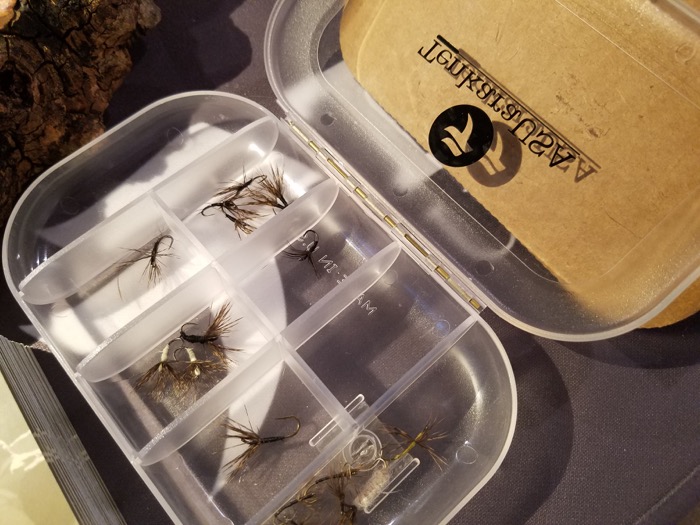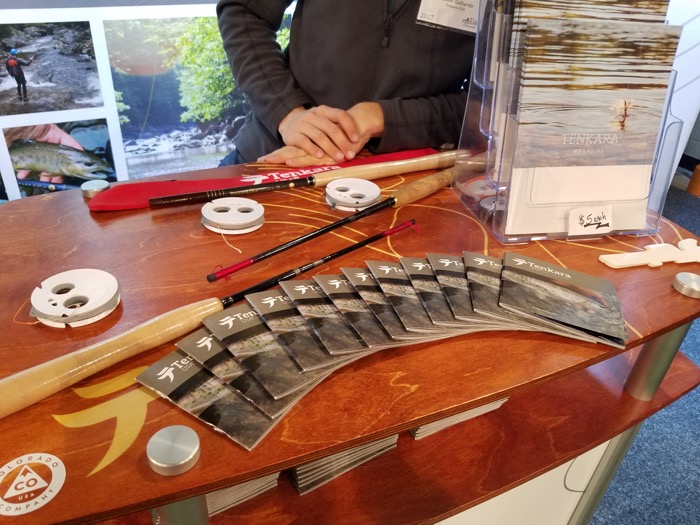 Tenkara Tanuki
One of the highlights of the show for me was to finally meet Luong Tam of Tenkara Tanuki. We've spoken on the phone and via social media about rod design quite a bit, but never in person and I've never held one of his rods in my hand. To say I was impressed with them would be an understatement and he was just a really nice, genuine guy …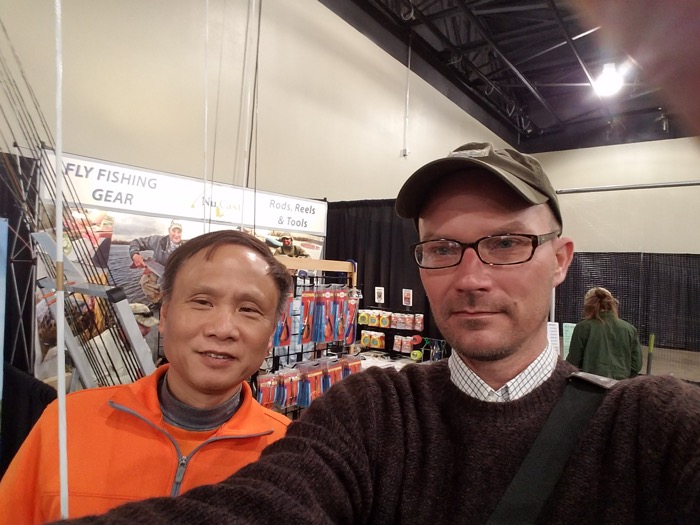 Particularly, his Tanuki 275 and Snow 375 were amazing. They were surprisingly light with a really tight action that tracked well and shot line with almost no effort. They easily rival the Oni Type I and Oni Type III and (I've heard) even Tenkara no Oni himself likes these rods. I can see why. Here are a few pics of us testing the strength of the rods …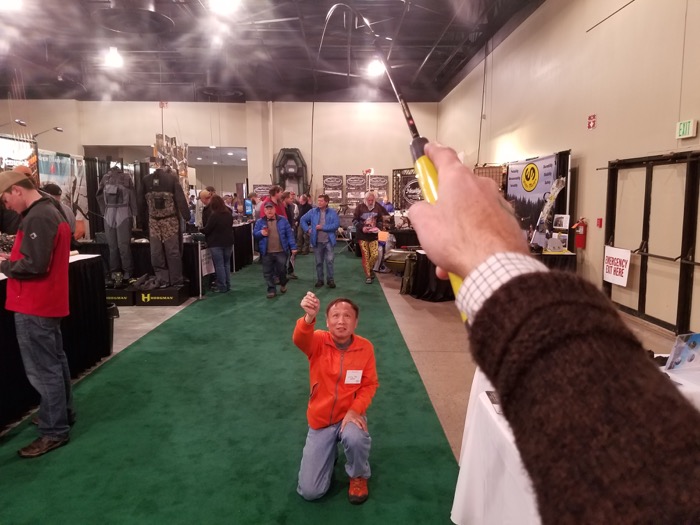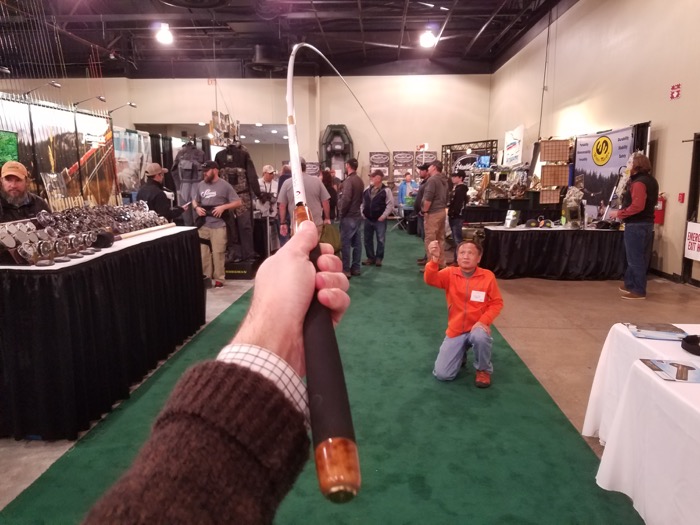 Joe Egry
A permanent fixture at the Fly Fishing Show is Joe Egry. You probably recognize him from the tenkara Facebook groups and forums. He's the owner of Dragon Flyfishing which sells high-quality custom-tied flies and specializes in tenkara flies. Joe is a good friend, an early adopter of tenkara, and it's always great to see him at the show every year.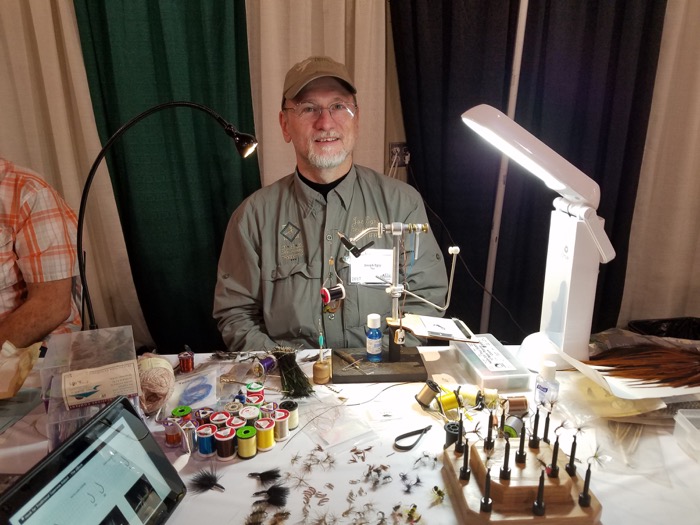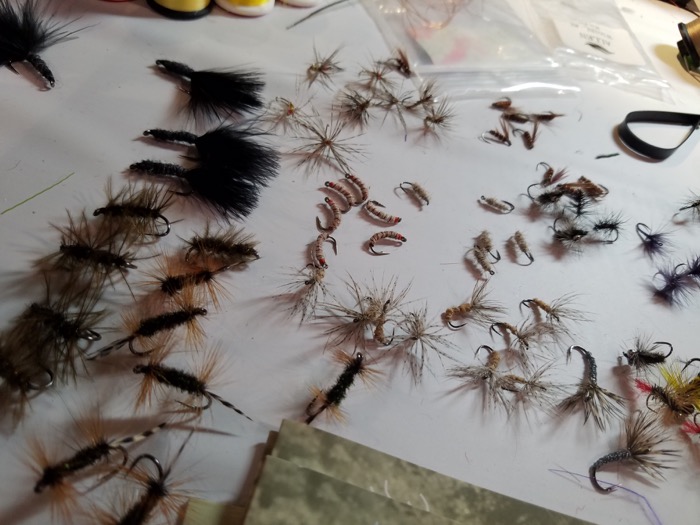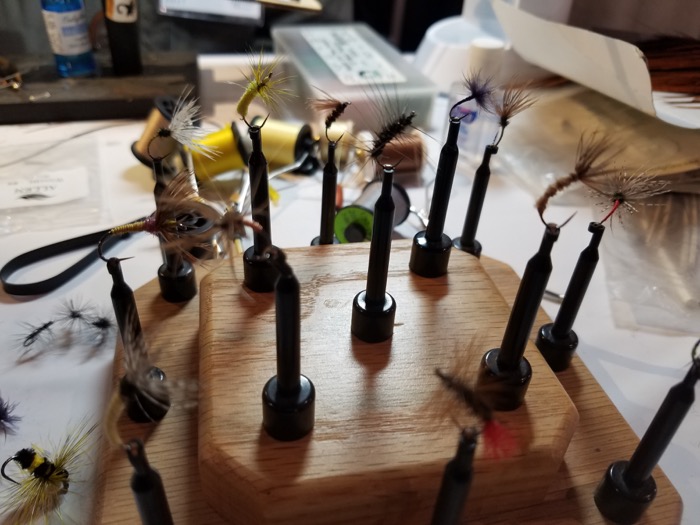 Tenkara Rod Co.
Tenkara Rod Co made a big splash with their Kickstarter campaign a few years ago and according to co-owner Chris Miller, this was their first year at the Denver Flyfishing Show. They seemed pretty busy even on this final day of the show so I didn't get much of a chance to talk to them, but I did get a chance to wiggle their new-ish rod, the Cascade. It's a diminutive rod that seems well suited to small streams with a canopy. I haven't fished it, but I have fished their mainstays, the Teton and Sawtooth.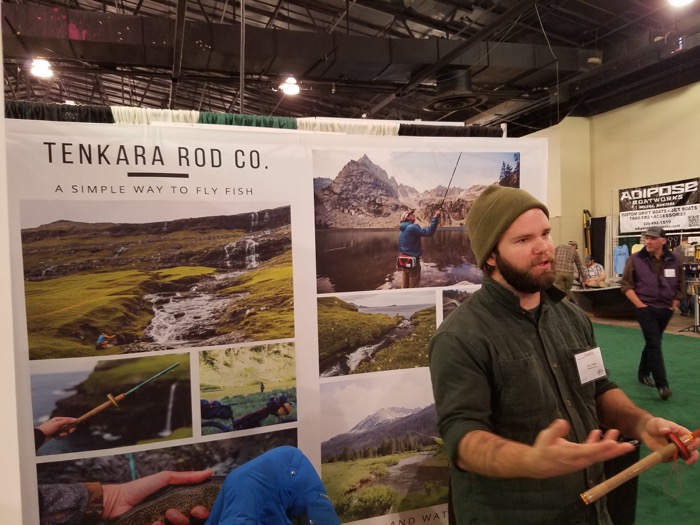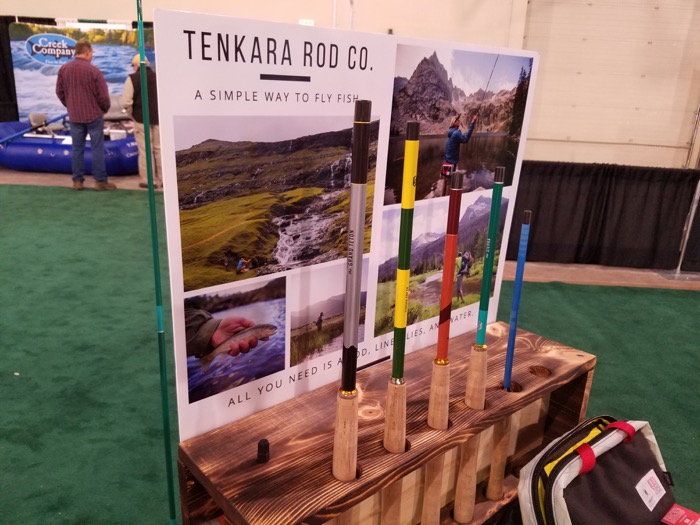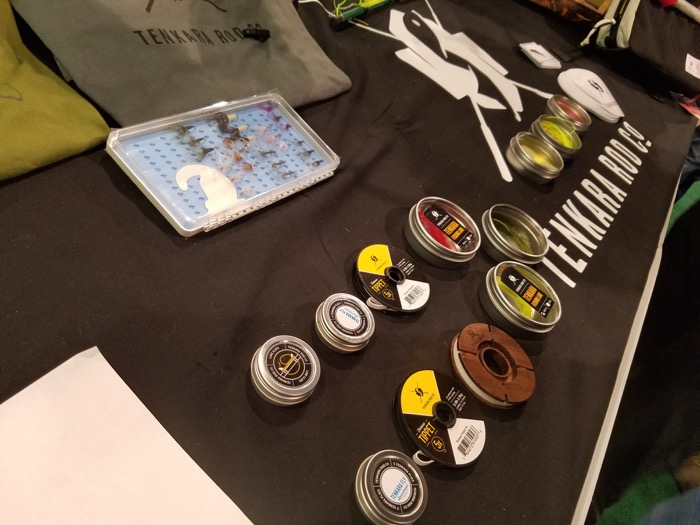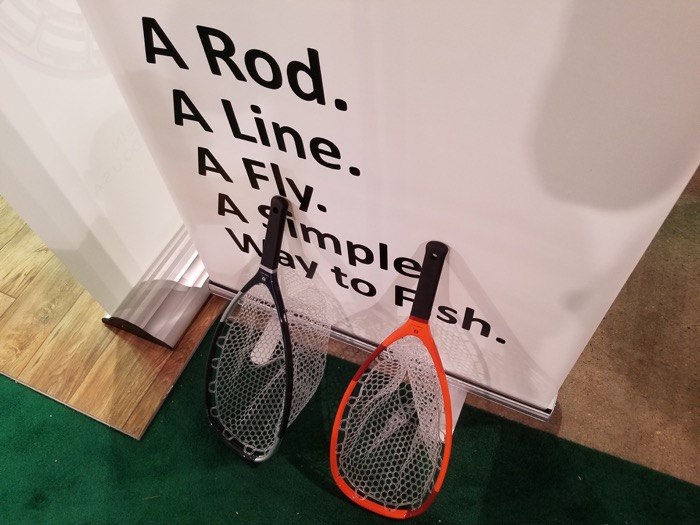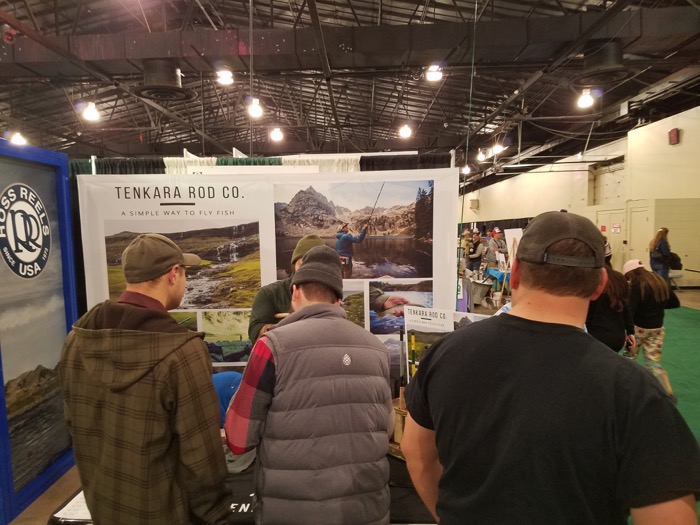 John Shaner
Another staple at the show is my old friend, John Shaner. We have a long history together. Back in the Cretaceous Period when I worked for Bill Reed at The Orvis Shop in Williamsville, NY, John was our Orvis rep. Now, Bill works for Cortland and John works for Hardy's.
We had a long talk reminiscing about "the good old days" before the trout, salmon, and steelhead fishing declined in WNY and mutually decided it was more uplifting to chat about tarpon and bonefish in the Keys and Bahamas.
John has been in the industry forever and is not only extremely knowledgeable, but is also just a great guy. Plus, he let me spin the wheels on the new Hardy Marquis and some other sweet Hardy gear I can't afford.
See you next year!
Overall, the show was great and I was happy to see so much presence and interest in tenkara. Even the kids were getting into tenkara on the casting ponds …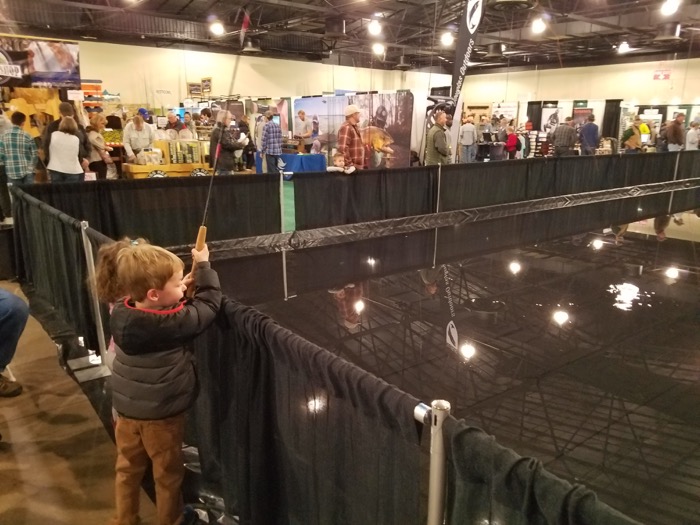 Every year, I'm happy to see tenkara become less of a niche and more recognized. And this year was just one more milestone. I look back to 2009 when the very word "tenkara" elicited "what?". And now, it's "oh yeah, I've heard of it. Tell me more."
That's what I've always been trying to accomplish online, but sometimes, face-to-face still has more of an impact. And I'm thankful to the people who have made the effort to do shows like this to spread the word. Whether it's at a trade show, the bar, or the streamside parking lot, let's all commit to make tenkara something that is no longer a novelty, but just another method as common as any other.