When I was first getting into fly fishing, there were basically three ways fly boxes stored flies: compartments, clips, or foam. There were some other clever designs companies like Perrine experimented with such as coil springs or magnets, but those never really took off and the trinity above dominated.
Compartments were great for dry flies because they didn't crush wings or hackle barbules, but meant you often had to do a little precarious excavation to find the right fly, and if you dropped the box while open, it spelled an epic loss of dozens or even hundreds of flies.
Clips held the flies securely, but really only worked best for wet flies and nymphs as they tended to "flatten" one side of the dry fly by crushing its hackle.
Foam seemed to be the most popular because it allowed for more flexible organization, was cheap, and (theoretically) held the flies securely enough to prevent loss if dropped. The problem was that foam (especially open-cell foam like that used in Scientific Anglers boxes) only held larger-sized hooks well and smaller sizes would eventually wriggle their way loose during transport. Plus, even closed-cell foam eventually wore out (even faster if using barbed hooks).
So, like many anglers, I employed different types of fly boxes for different types of flies: dries went into compartments, wets and nymphs went into clips, and larger nymphs and streamers went into foam boxes.
In recent years, there have been some innovative designs that have tried to solve some of the problems associated with the traditional ones. Among these, the most popular has become slotted foam. Rather than piercing the foam with the hook point, slotted foam allows you to slide the hook bend into a tight slit, thus reducing wear and tear. While in general, this does increase the lifespan of the foam, it still wears out because when compressed, the foam has "memory" and will eventually lose its ability to hold flies securely (especially smaller flies). And, in terms of organization, they're a little limited. All of the slotted foam boxes I've ever seen have had evenly spaced rows–which is great if you're storing flies of a uniform size. But not so great if you want to carry a variety of sizes. Anyone who's ever tried to put a row of Wooly Buggers behind a row of Elk Hair Caddis knows what I'm talking about. Trying to make different sized flies accessible by not burying them in a shroud of maribou often means skipping a row, which just wastes space and limits the box's capacity.
A company in the UK has set out to address some of these problems with their new Ripple Box and I think they've succeeded.
At first glance, the Ripple box doesn't look all that impressive. But once you start using it, the genius of the design quickly becomes apparent.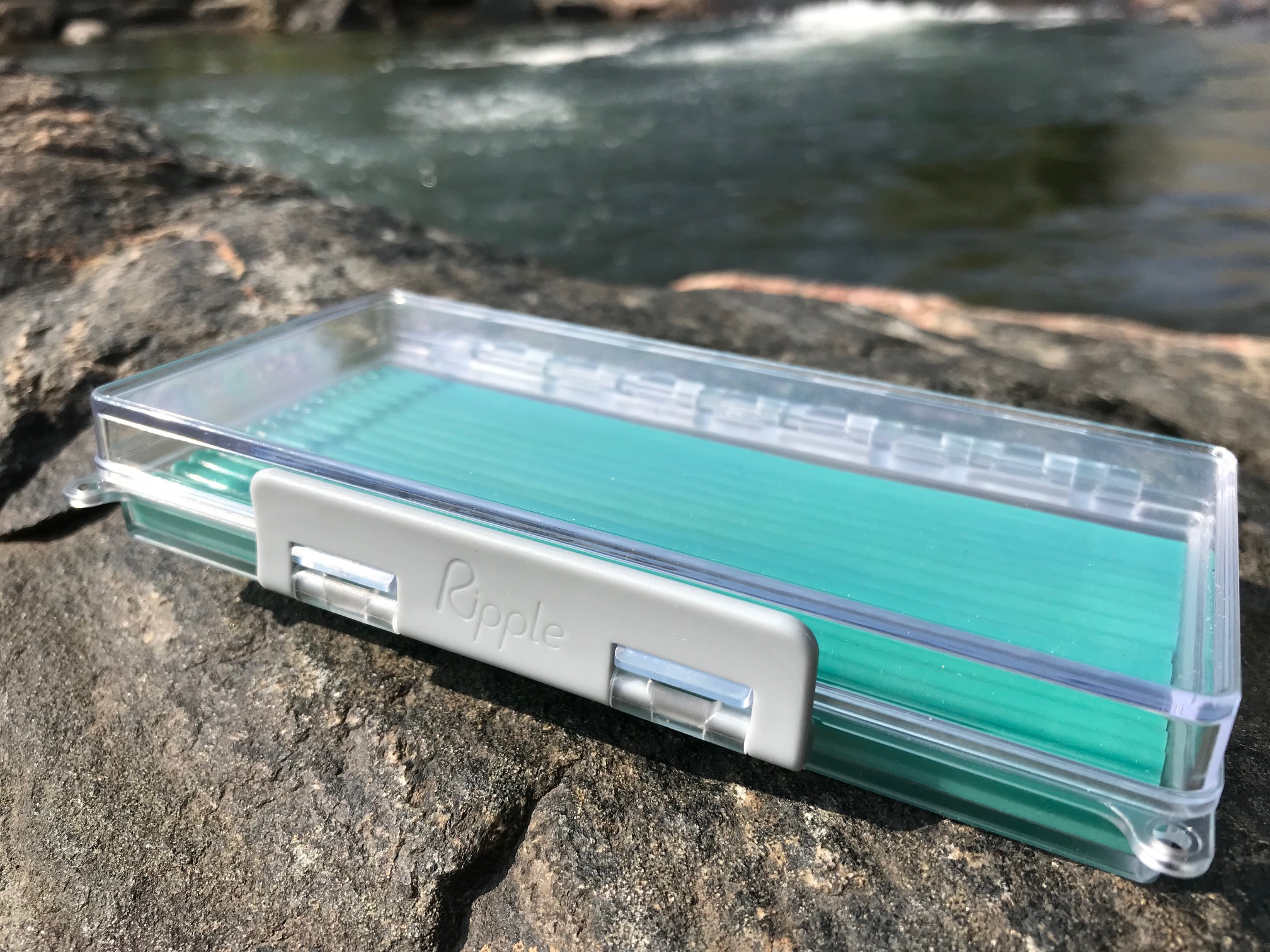 Rather than foam, the Ripple Box uses sheet of silicone that is folded into "ripples" which create slots that you slide the hook bend into the same way you would with a slotted foam box. But this design has several advantages.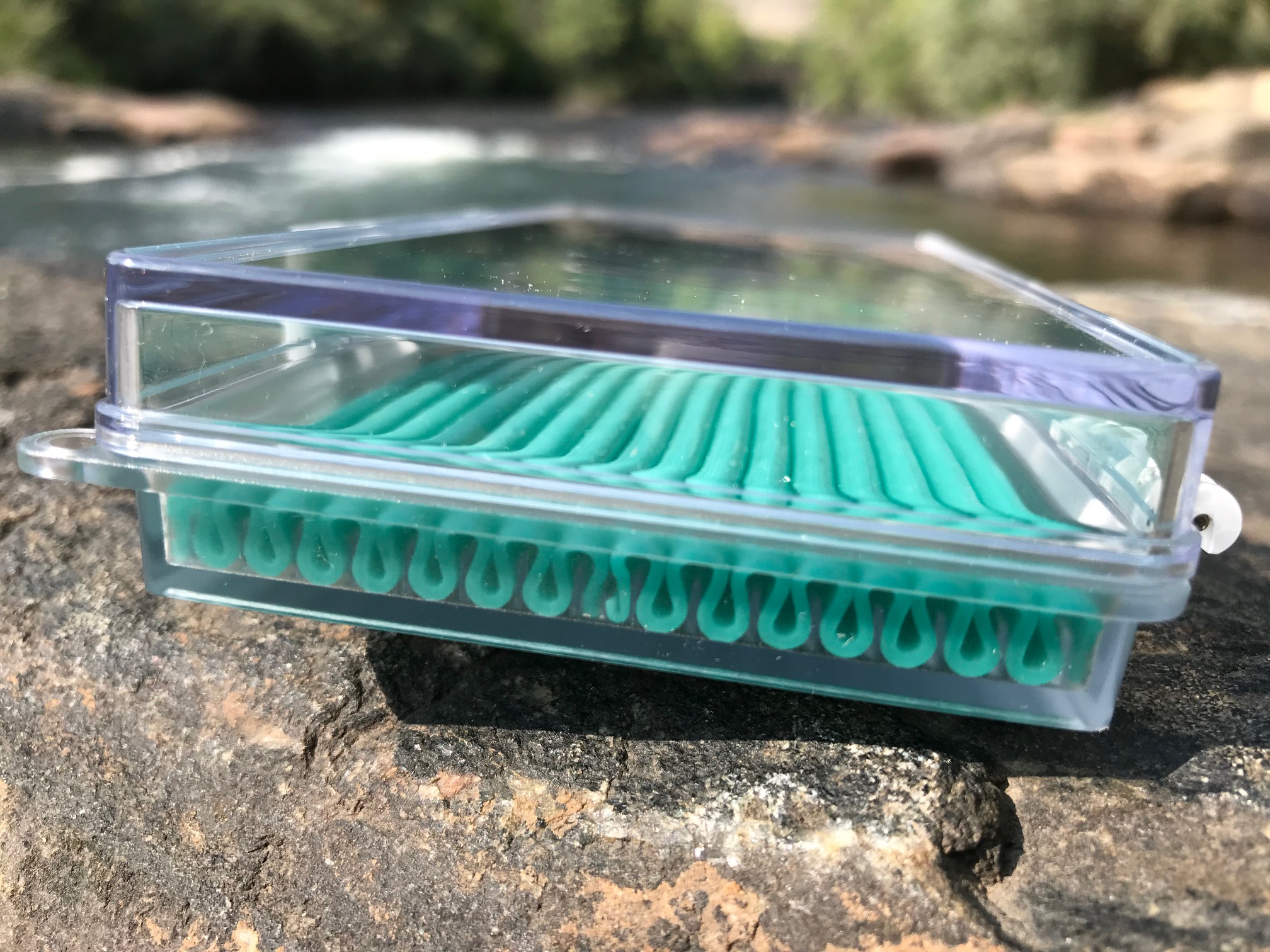 For one, the silicone isn't being compressed–the ripples expand open when the hook is in and contract when it's out. This means it doesn't form a memory like foam and will never wear out. This plus the sturdy polycarbonate shell makes for an extremely durable box that (unless you run it over with your car) will probably last longer than you will.
But another advantage of the design (that I didn't realize until I started loading it up) is that the 15 slots which run the entire length of the box give you carte blanche to organize your flies any way you want. There are no predetermined rows of slots so you can simply slide the flies closer together or further apart to accommodate varying sizes and maximize space. Also, you can organize your flies in either vertically or horizontally, giving you even more options.
Ergonomically, I really like the way this box feels in the hand (it won't jump out and make a run for it like some boxes) and the tall, narrow design fits better into the tall, narrow pockets commonly found on many vests, chest packs and fishing shirts making a more efficient use of space and reducing bulk.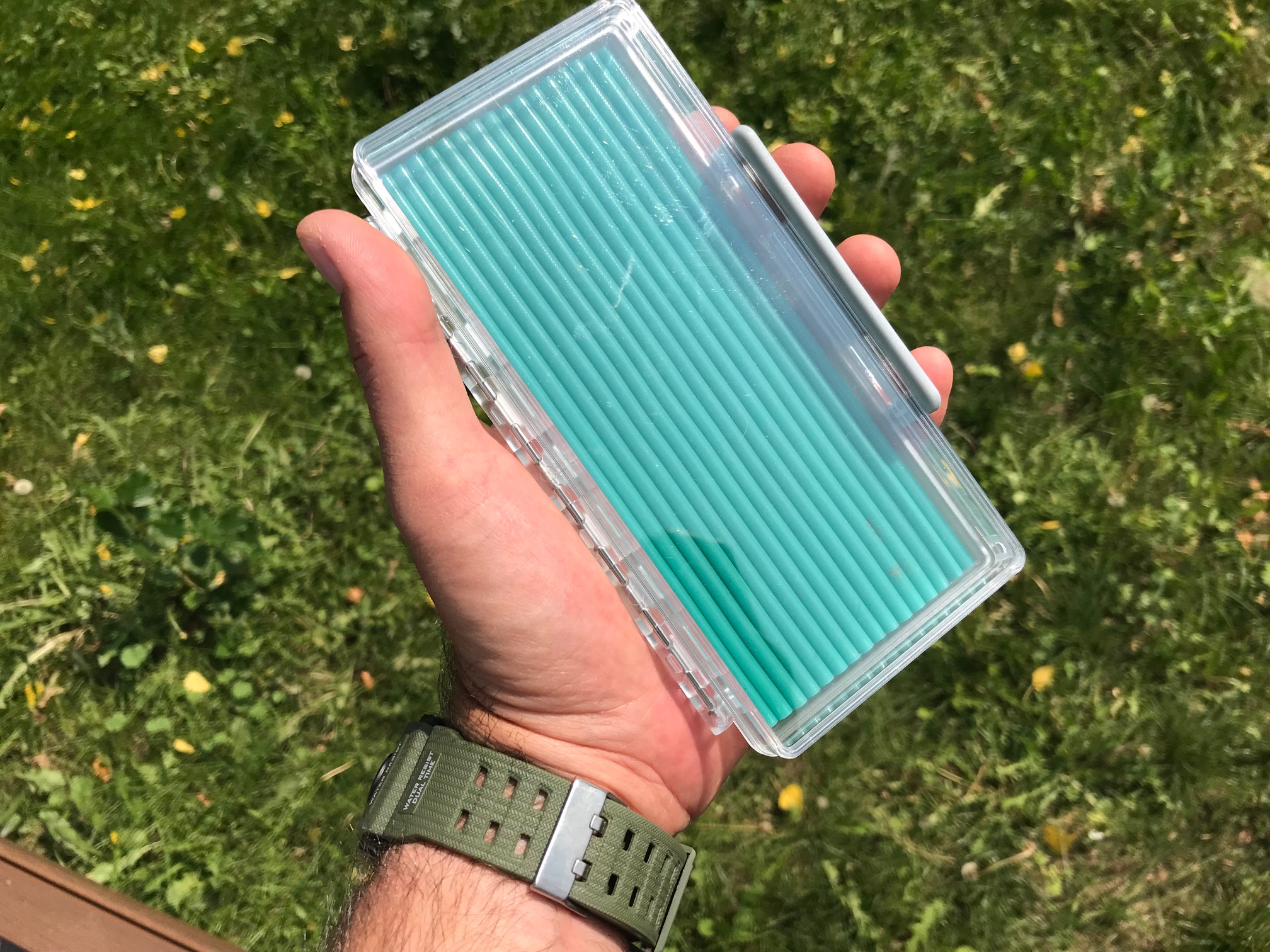 There are other nice accoutrements on the Ripple box, including a sturdy locking latch that will not spring open if dropped with an integrated competition hook gauge …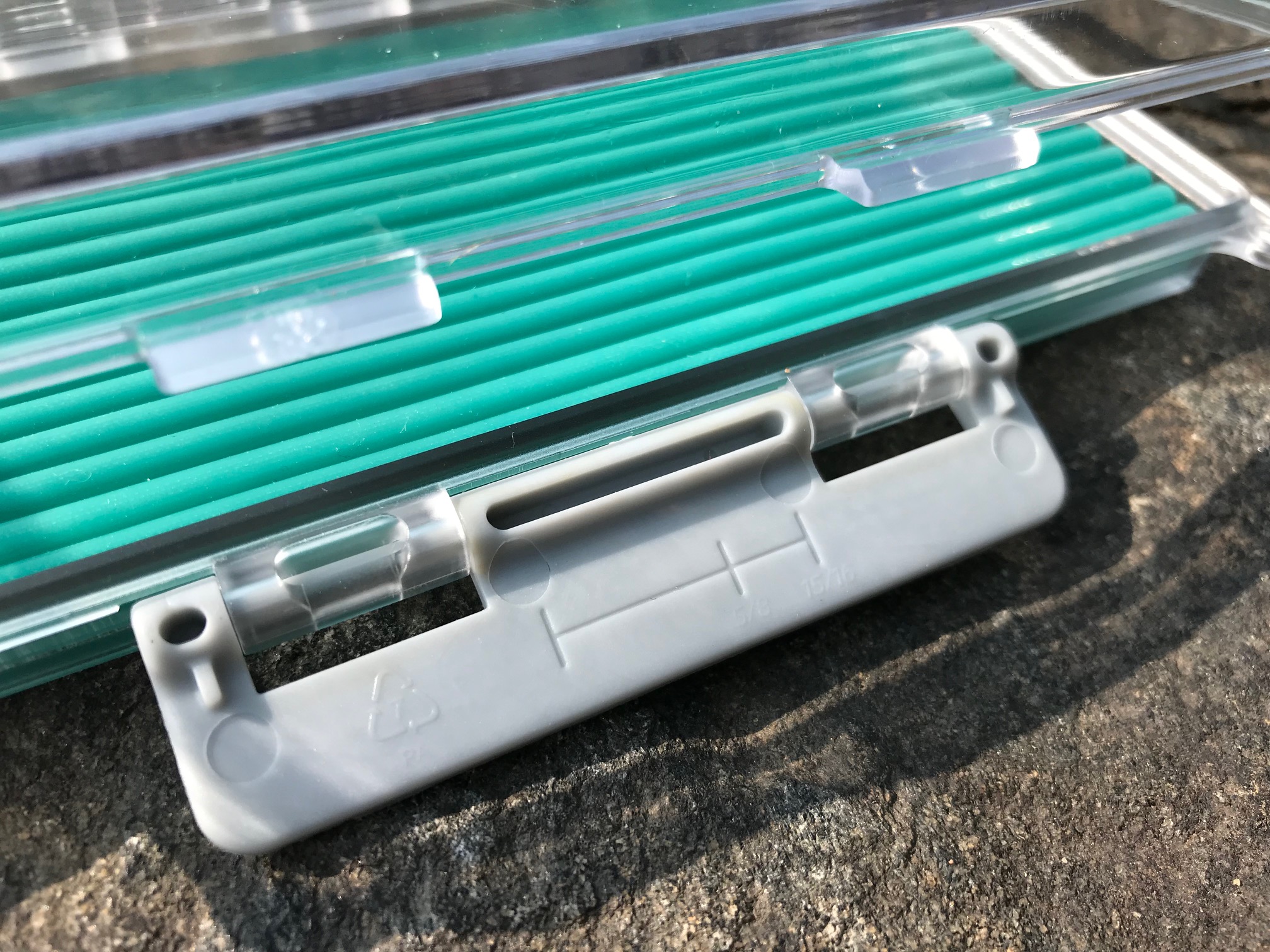 Dual lanyard rings (you can hang it around your neck!) …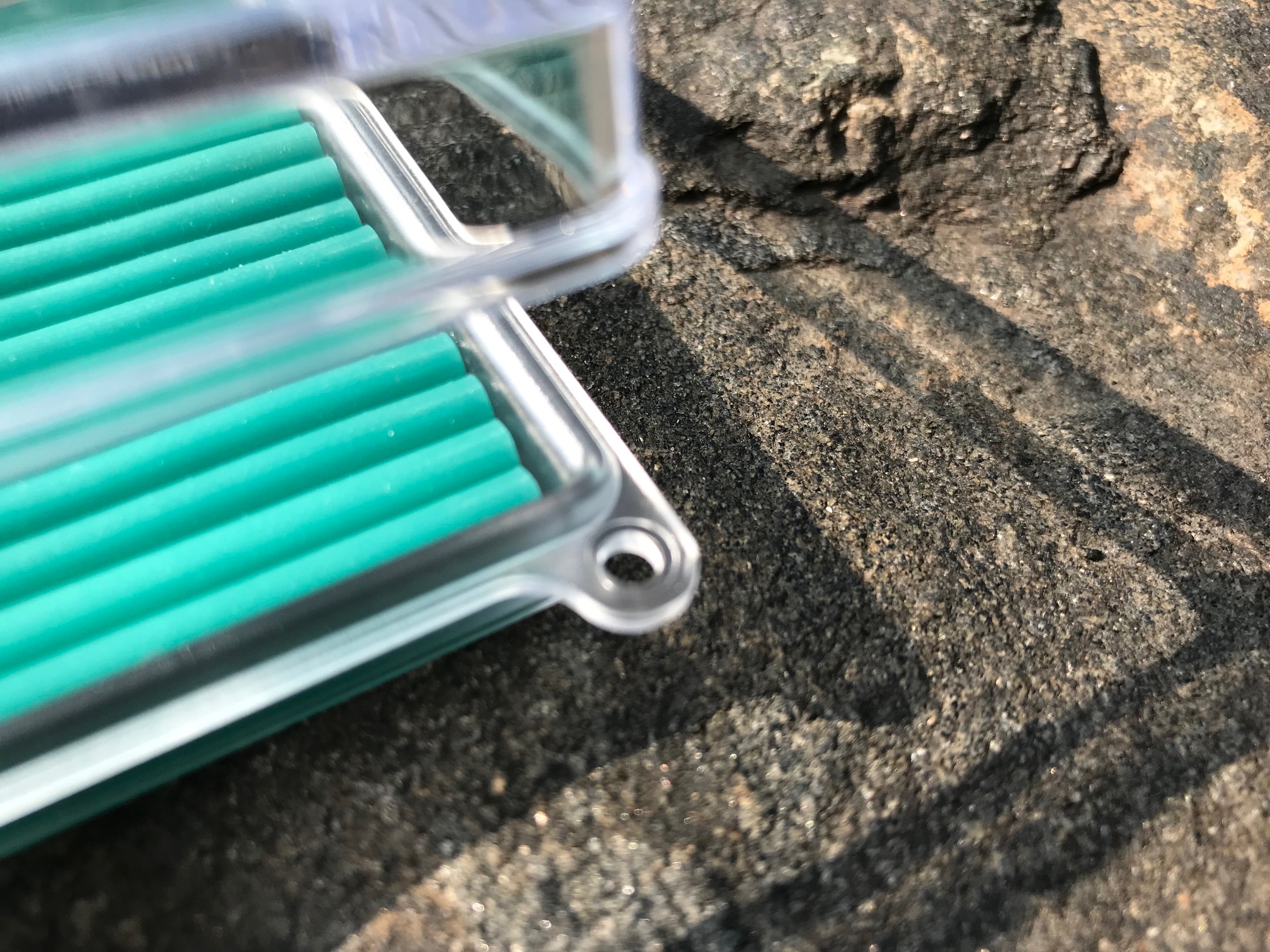 The box isn't 100% waterproof, but it is very water resistant and floats so even if you drop it in the river, chances are your flies will still be dry if you're able to recover it.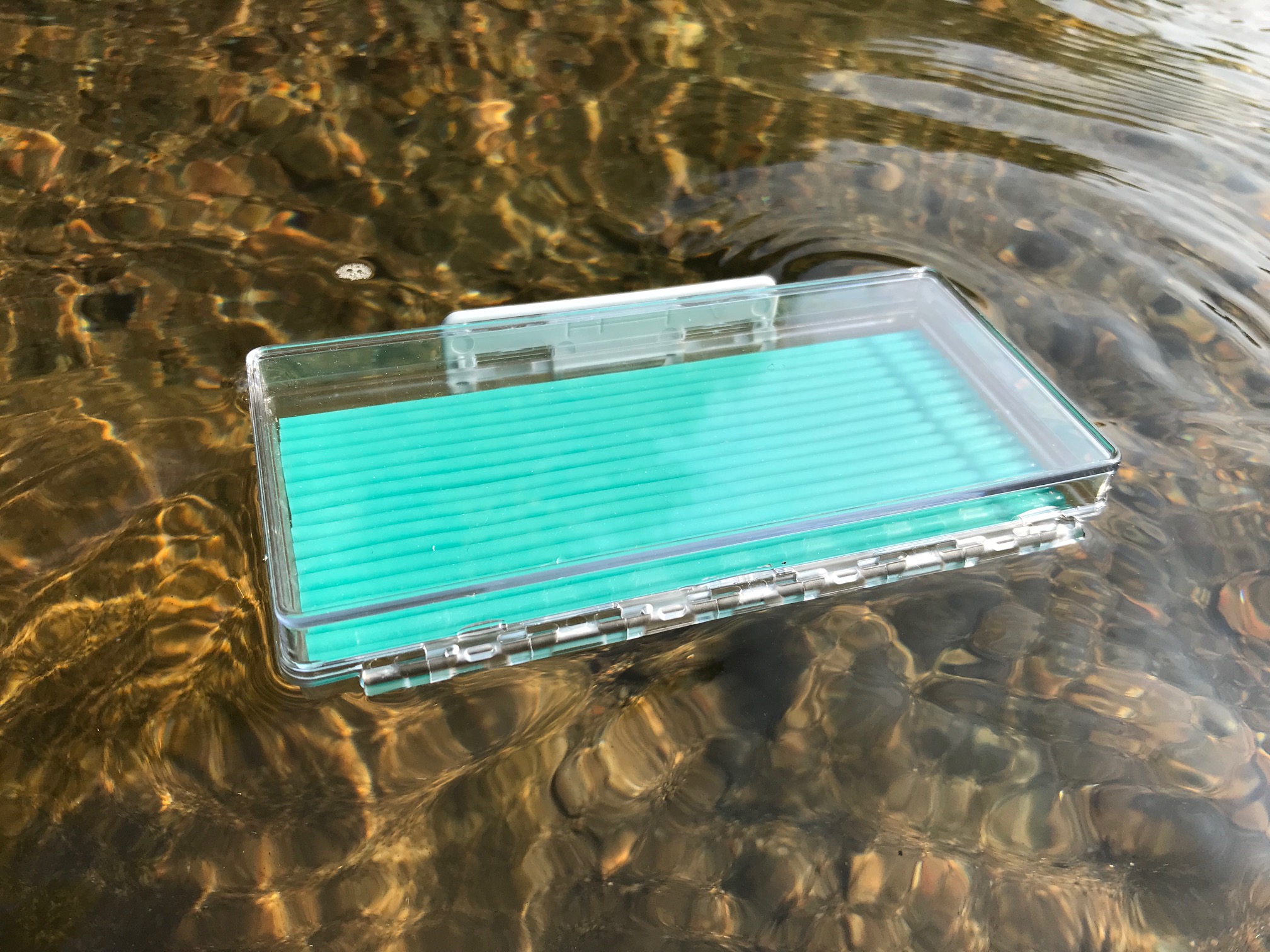 You might be wondering about fly size. While I use this box primarily with larger tenkara-specific flies (#12 – #10), I've tested it down to #18 and the ripples hold them, though not as well. I'd say it works best with nymphs and streamers size #14 and above.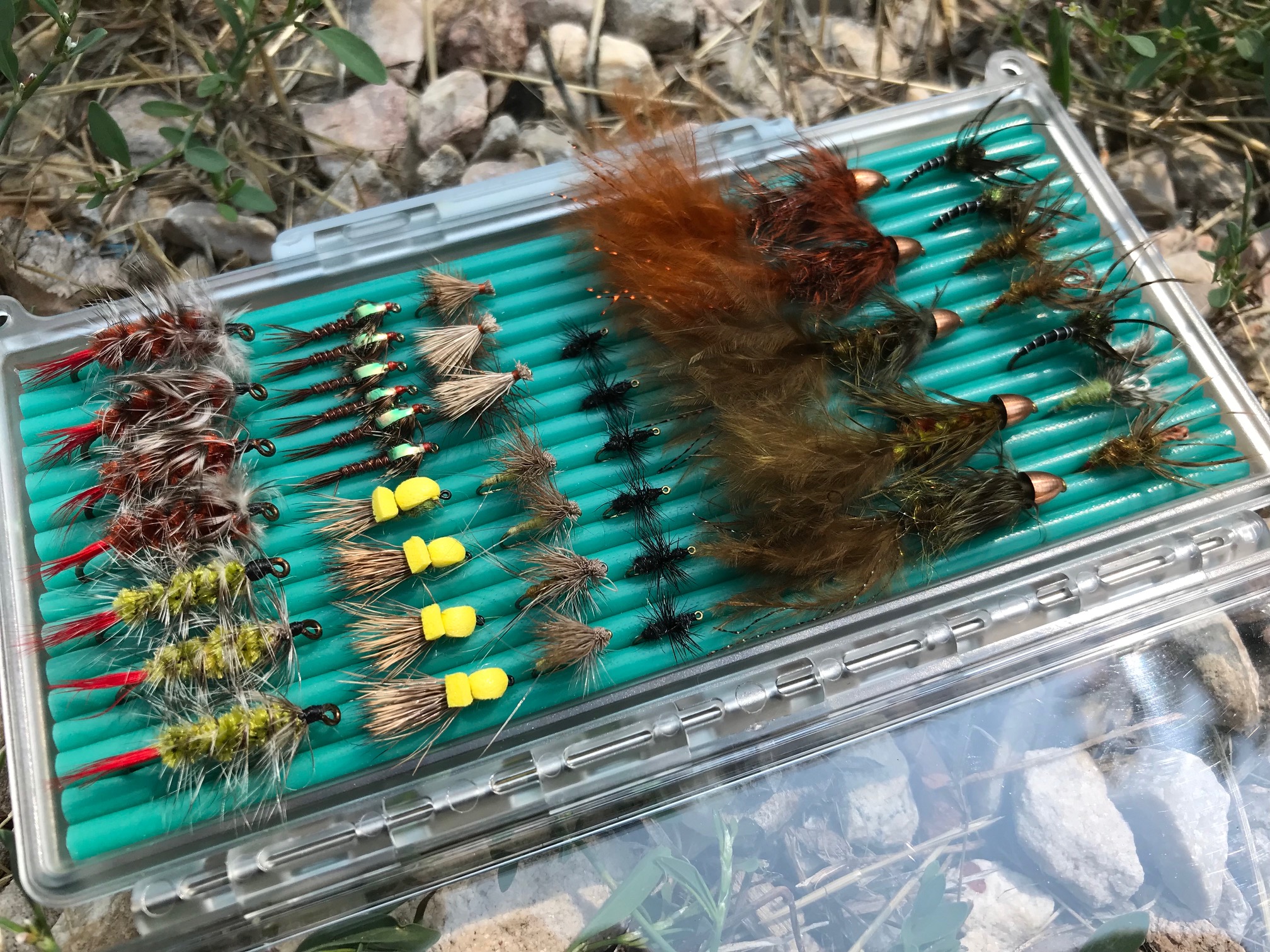 Here are some specs from the manufacturer:
15 full length silicone fly channels – holds up to 150 flies.
Twin front facing lanyards
Secure latch with integrated competition fly gauge – 5/8 and 15/16 measures
'Dunk proof' seal – it floats!
Easy view clear lid
Stacking geometry
Pocket size – 165mm x 90mm x 25mm
Weight: 160g
Some might say the Ripple Box is a little on the heavy side at 5.6 oz. If you're someone who carries 2,000 patterns with you, you probably won't want to stuff ten of these in your vest. But it will easily hold enough flies for a day's worth of fishing and as someone who typically only carries one or two boxes anyway, the trade off for durability and organization is a win. Overall, I like this box a lot and think others will too. It's the most innovative design I've seen in years and I think has the potential to usurp the favoritism of slotted foam.
For more information, reviews, and a great video, check out the Ripple Box here.