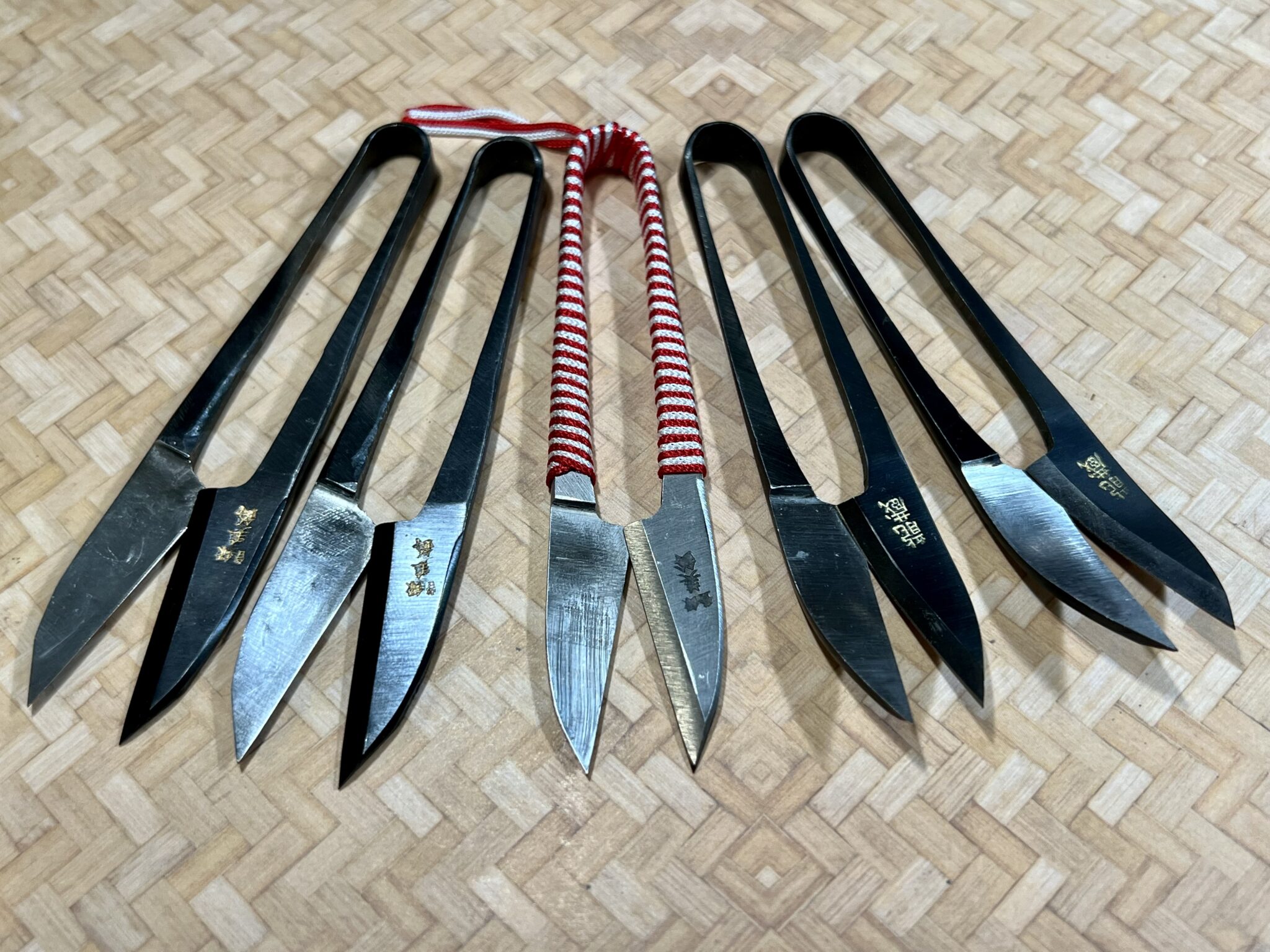 If put to a vote, I'd bet the majority of fly tyers would elect scissors as the most important tool on their desks. There are a lot of other tools you could easily go without, but scissors are essential for sculpting a tidy, respectable fly.
As you might imagine, I've tried dozens of types of scissors in my day and have built up a small stockpile (mostly Dr. Slicks). And I had been content. The one minor annoyance was that it took some effort to pick them up and get my fingers into the loops. But it wasn't a dealbreaker … until I tried these.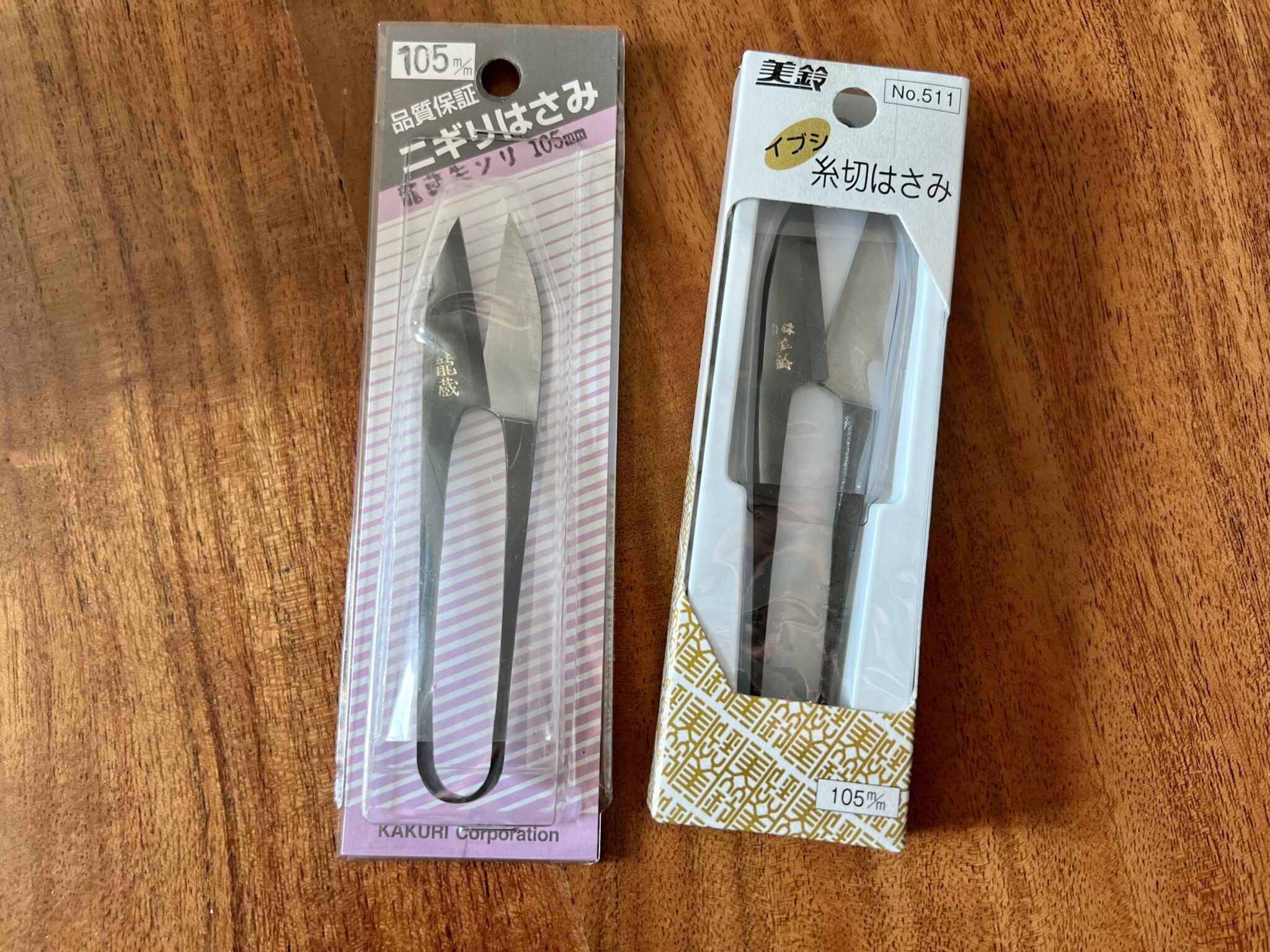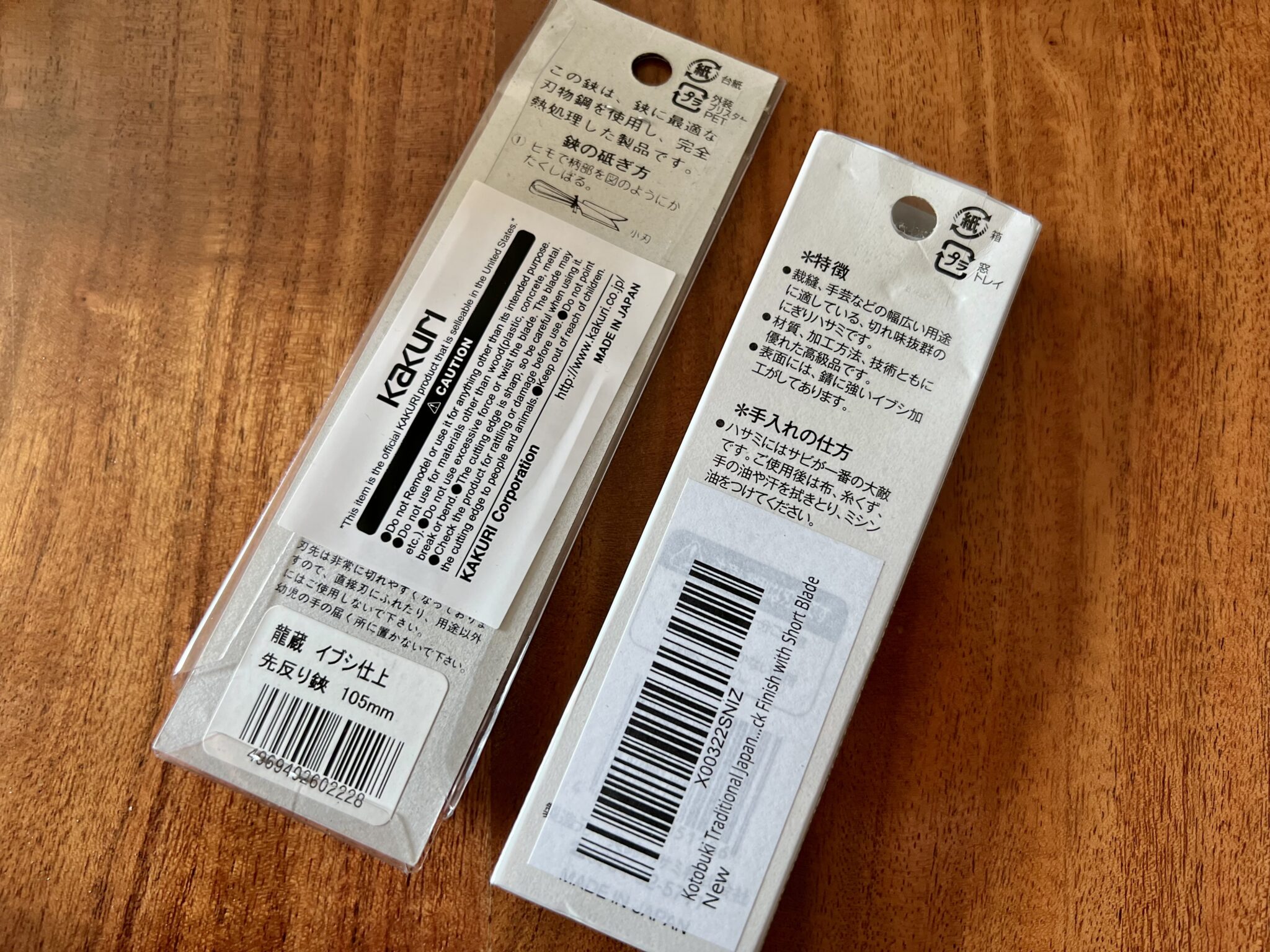 I'd seen traditional Japanese sewing scissors being used for fly tying before and only recently decided to give them a try. And I'm glad I did!
I instantly recognized the advantage of this design. It was much easier to pick up off my desk mid-fly and didn't require me to fumble around trying to get my fingers into the too-small finger loops. Using them just felt intuitive and naturally ergonomic. And so, I've been a convert ever since.
Look at the picture below and you might be able to see what I'm talking about. Which one looks more comfortable to you?

These scissors (also called "thread scissors" or "thread snips" are amazingly utilitarian. Their sharp blades are not only effective cutting tools, but are sturdy–old world craftsmanship sturdy! Being typically a one-piece design made of steel, they'e nearly indestructible. Think heirloom quality. And, many are actually made by hand!
Like many fly-tying specific scissors, these can be found with both straight and curved blades. While the conventional straight blades are perfectly capable for most tying tasks, I own both. Let me explain …
General Purpose – Straight vs. Curved Blades
For an all-purpose, all-rounder, I use the straight. They will handle cutting all of the materials I use most often–certainly for all of my tenkara tying as I'm not harvesting huge clumps of fur or tough synthetics. These are the scissors I reach for most, and the ones I keep at the ready on the base of my vise next to their friendly neighbor, "Higo".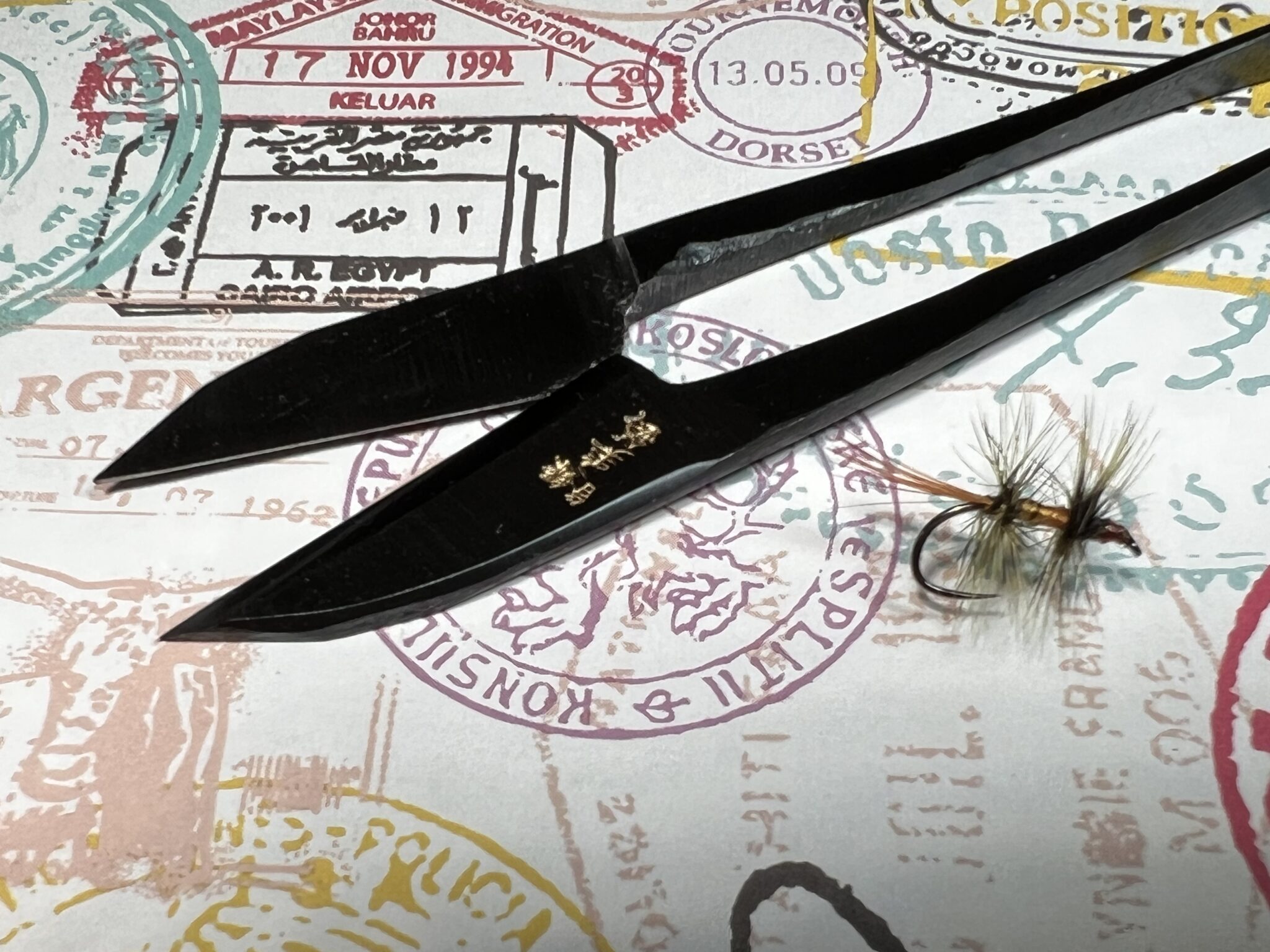 Some of them come wrapped with cord around the handles which improves grip, makes them more comfortable, and just makes them look cool!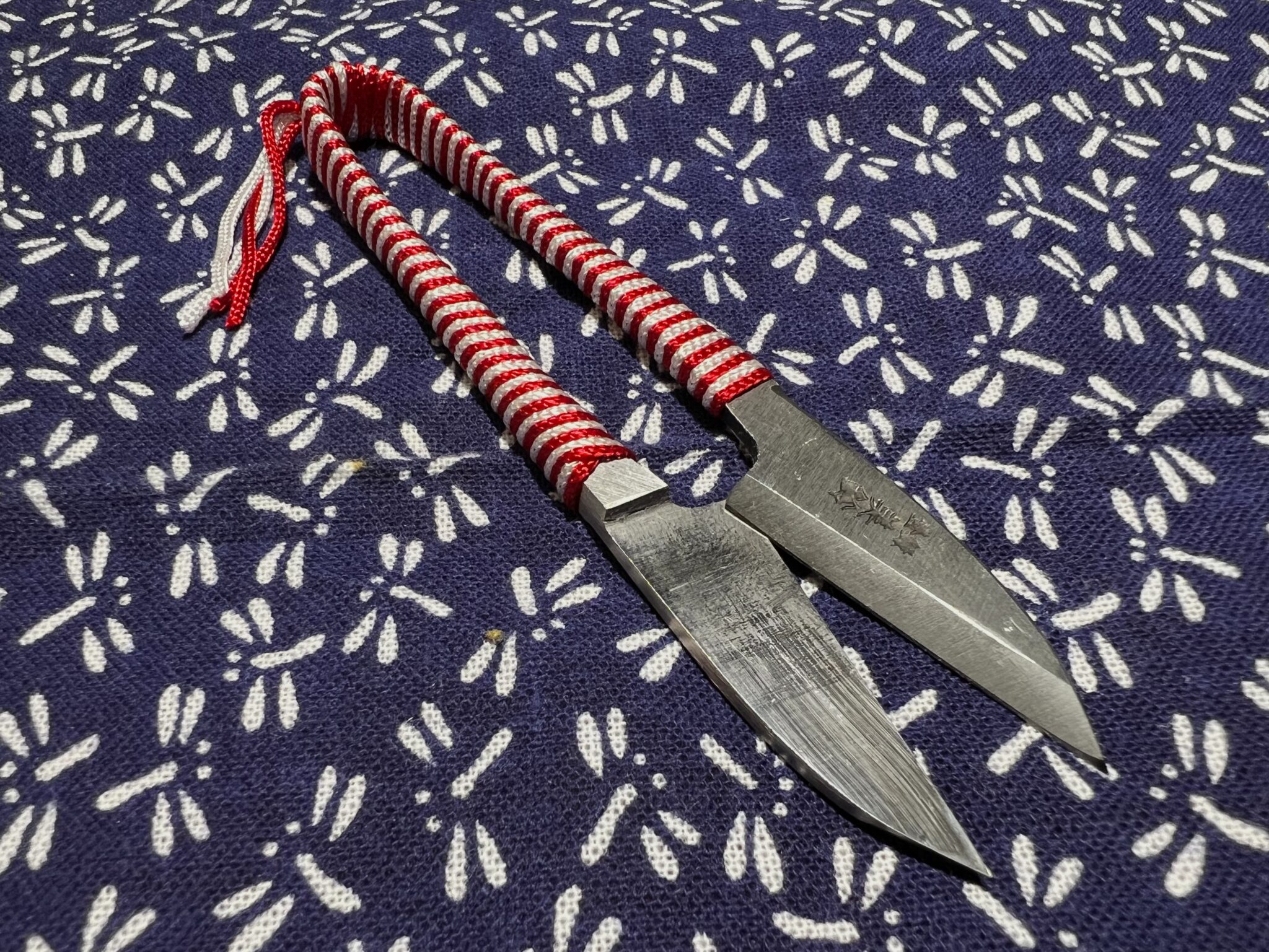 As I said, I also like the curved blades. They make it very easy to get your cutting point right up against the body with the majority of the blades being out of the way so you don't inadvertently cut something you're not supposed to. Cutting thread with these leaves almost no noticeable tag. Just a nice, clean cut.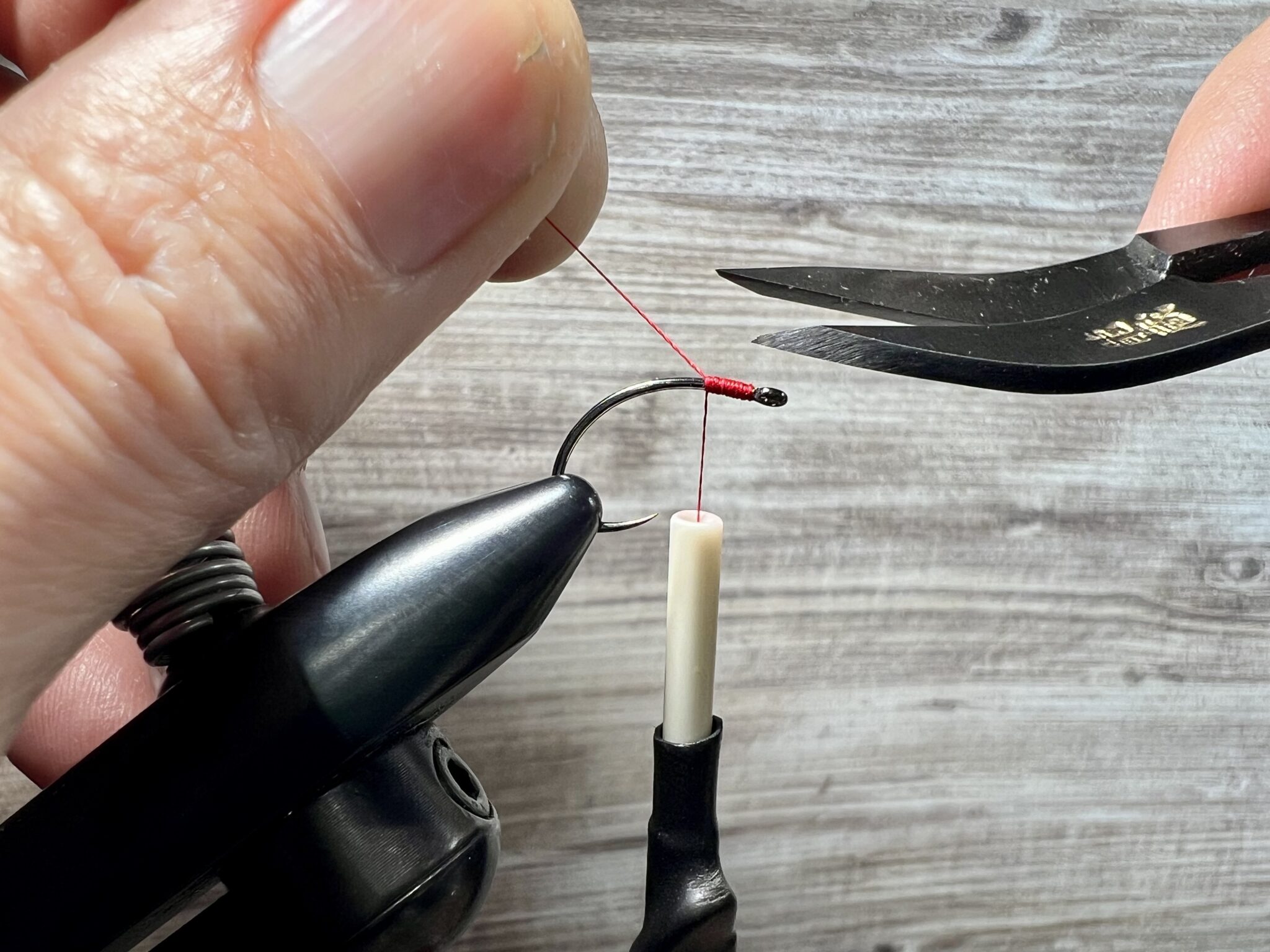 Of course, sometimes you want a straight cut for things like forming a wing silhouette, trimming deer hair, etc. in which case you'd obviously need the straight blades.
Honestly, I could pretty much get away with using one or the other. If you're thinking about giving them a try, I'd recommend getting the straight since they're the most versatile.
Surgical Precision
I also have some different spring loaded styles such as these which are two pieces instead of one and the grip is a "mitten clamp" rather than a fold over. These are used the same as the more traditional designs, but have extra-fine tips for more detailed work. I use these rarely–mostly for midges or other flies smaller than a #20. They're a luxury, not a necessity. But, sometimes it's nice to tie luxuriously.
As with the ones above, these are available in straight and curved blades.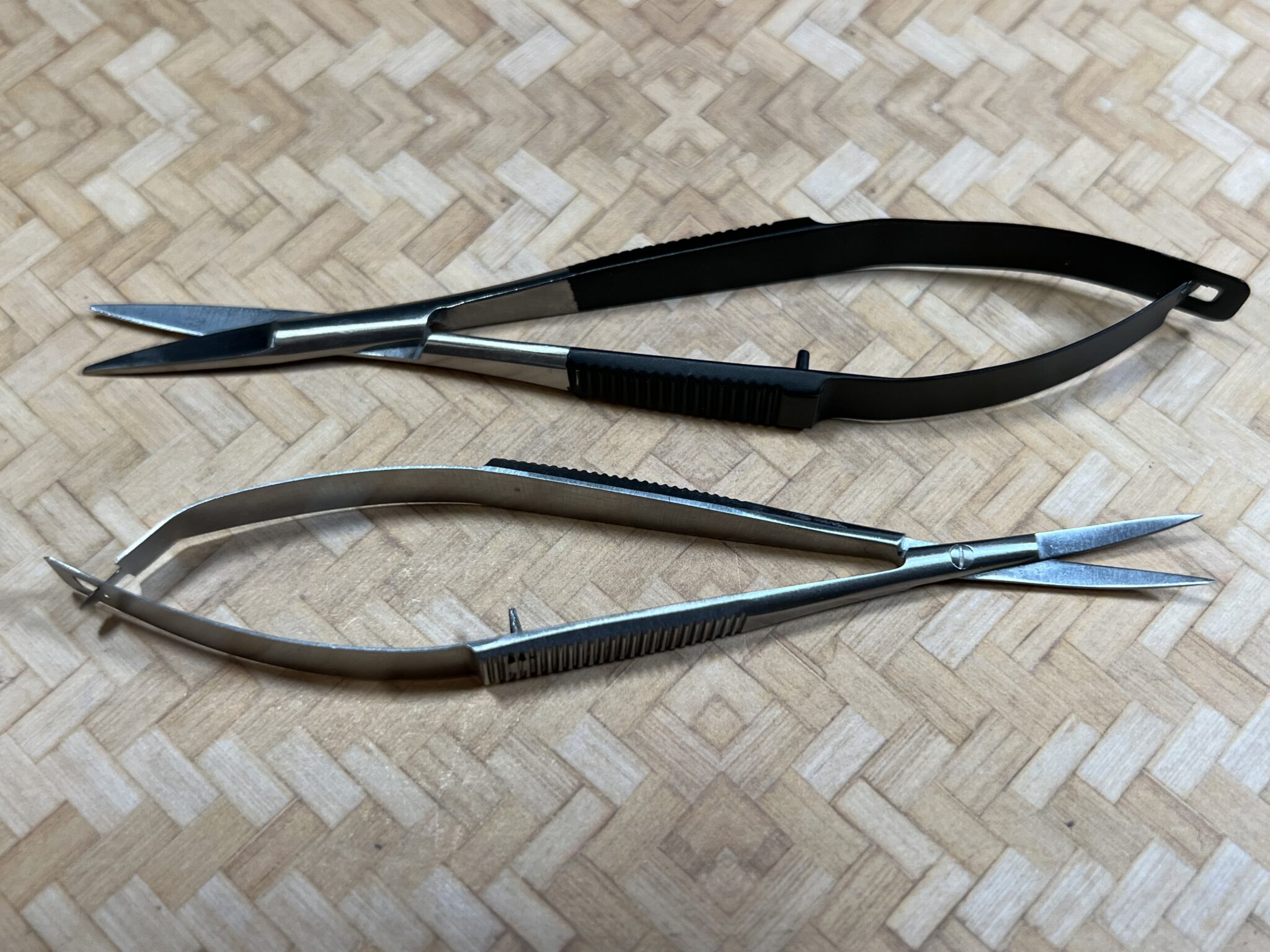 One nice thing about these is that since they're not a one-piece design, there's a screw that allows you to take them apart and make it much easier for sharpening.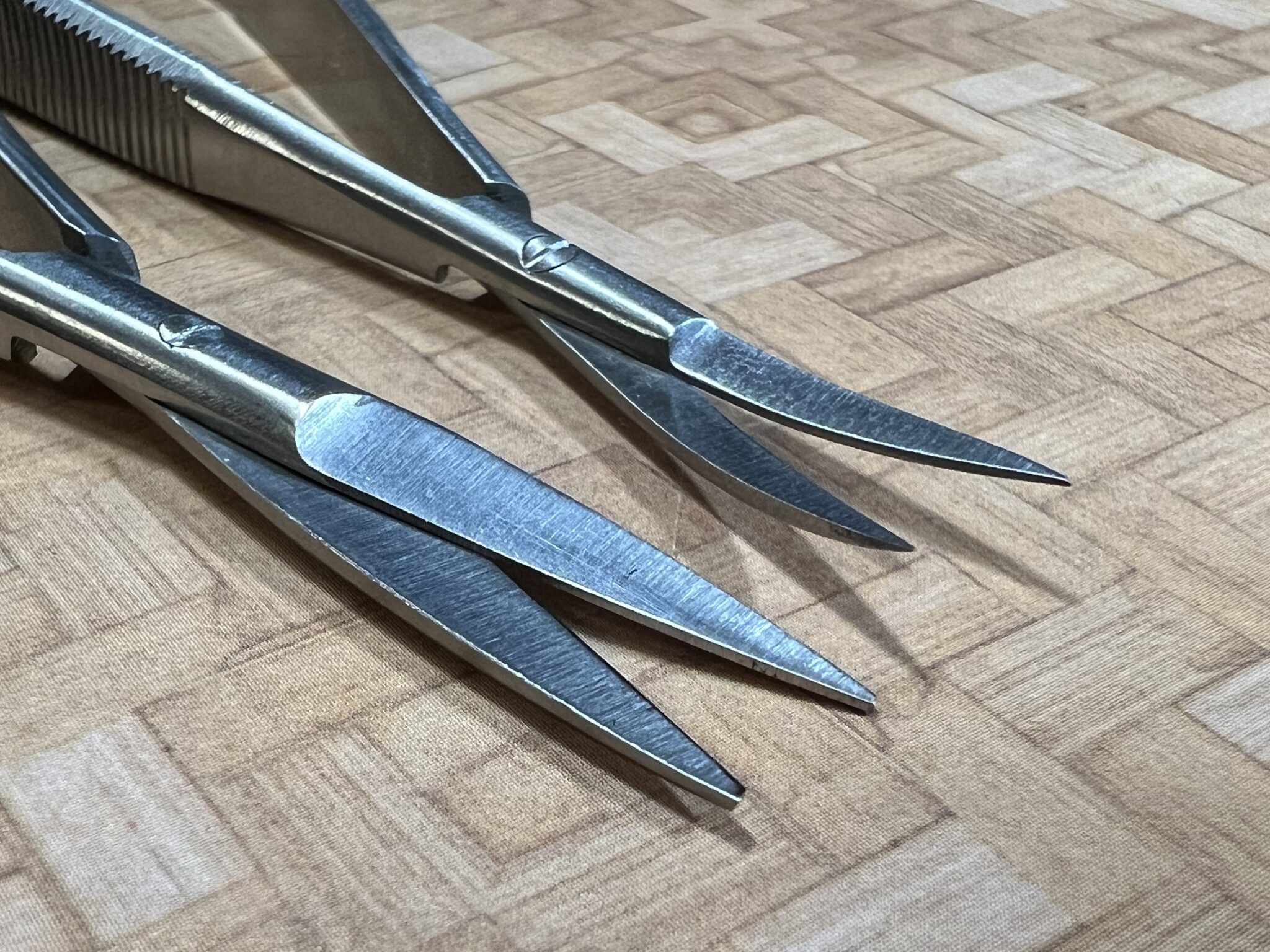 Speaking of sharpening …
All of these are sharp right out of the box and because of the high-quality steel, the edge should last a long time (as long as you don't abuse them). I've never sharpened any of my Dr. Slicks and don't imagine I'll ever have to sharpen any of my one-handed scissors either.
But if they do dull, as noted, being able to separate the blades on the mitten-clamp style facilitates sharpening. On the one-piece, it's a little trickier because you have to hold the blades apart from each other under tension while sharpening. Frankly, these scissors are so inexpensive (which see), I'd probably just buy a new pair rather than invest time at the whetstone.
Setting Sail on the "S.S. Hackle Plier"
I store my traditional scissors by hanging them off the "mast" of a nightstand jewelry holder shaped like a boat along with my hackle pliers. That gives my quick access while I'm tying.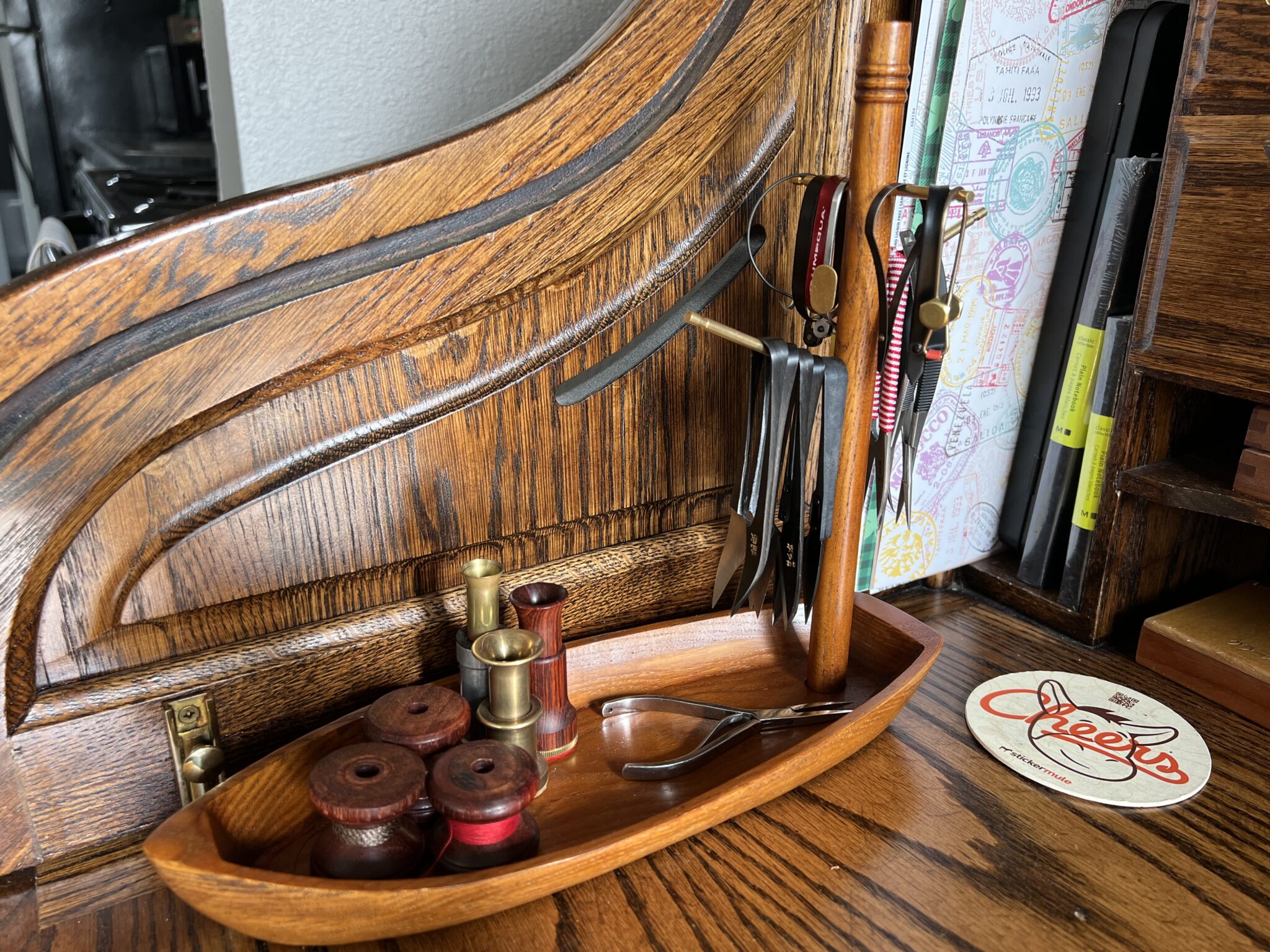 My veteran Dr. Slicks and other finger-loop scissors live at the opposite end of my desk in a tool block I got years ago at the Denver Fly Fishing Show.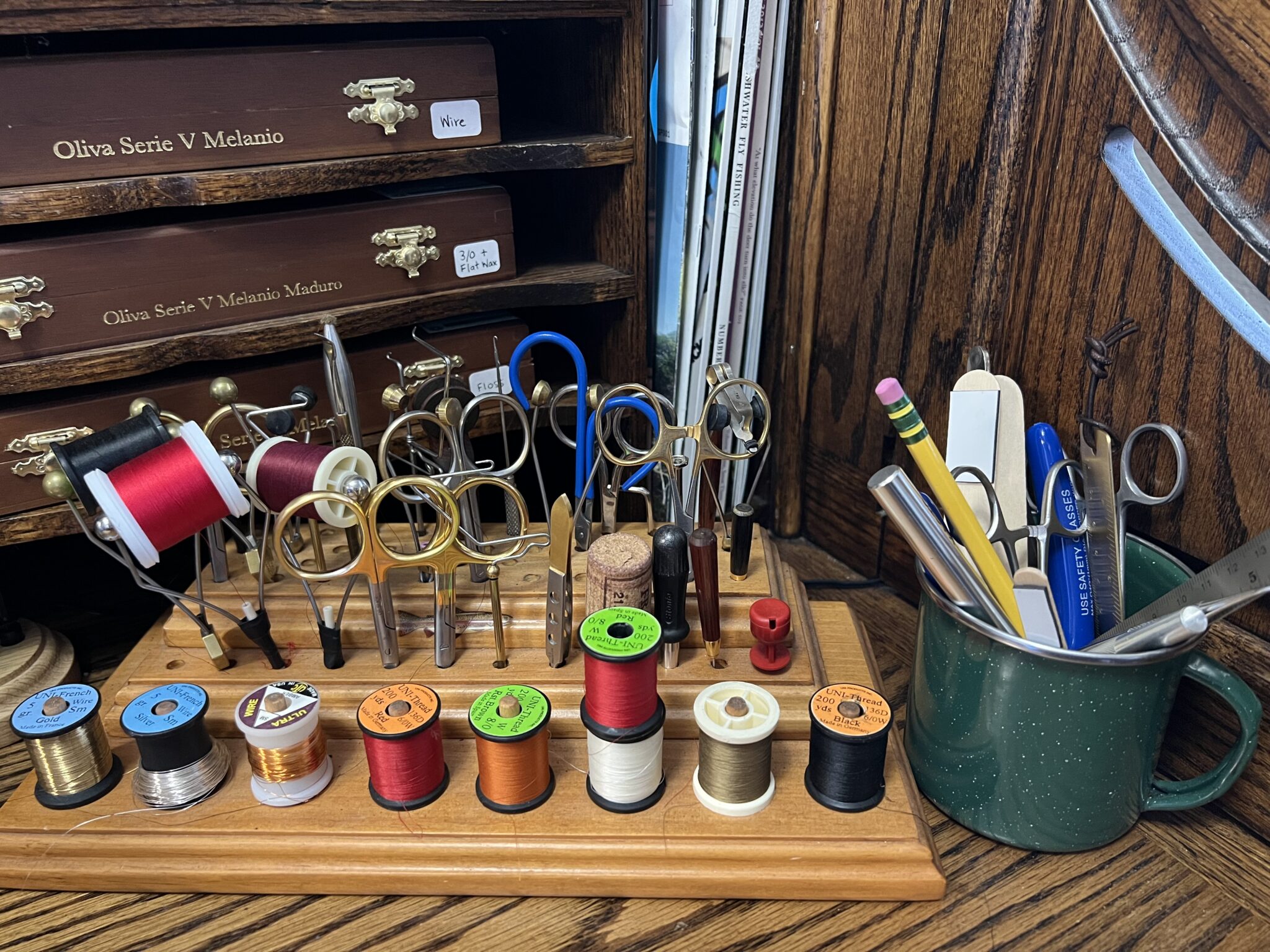 Price & Where to Buy
As with much of my gear, I get my scissors online. Some good ones to look for include Kakuri, Kotobuki, kamesaku, Misuzu, ALLEX, and Misuya-chube.
You can get a very good pair for $15-$25 though there are higher end models that get quite pricey. I think the most I've paid was $26. My advice would be to search around for "japanese thread scissors" or "japanese sewing scissors", research a model you like, then search again in e-commerce stores to find the best price. Often, both Amazon and eBay will carry exactly the same ones but the price can vary significantly. Here are some quick links to get you started:
Amazon
eBay
Google Shopping
Summon your Inner "Tenkara Scissorhands"
These scissors feel like a natural extension of my hand instead of some ill-fitting prosthetic. They're sharp, quick to pick up and put down while tying, inexpensive, and let's not ignore the cool factor. I've always loved unique, nostalgic looking tools. Unfortunately, the fly tying tool manufactures seem intent on making everything high-tech and plastic with gaudy colors and stupid names. I'm glad there are still some things you can get today that reject the latest hyped-up trends and produce quality instruments that perform their task earnestly with understated beauty and a quiet dignity.