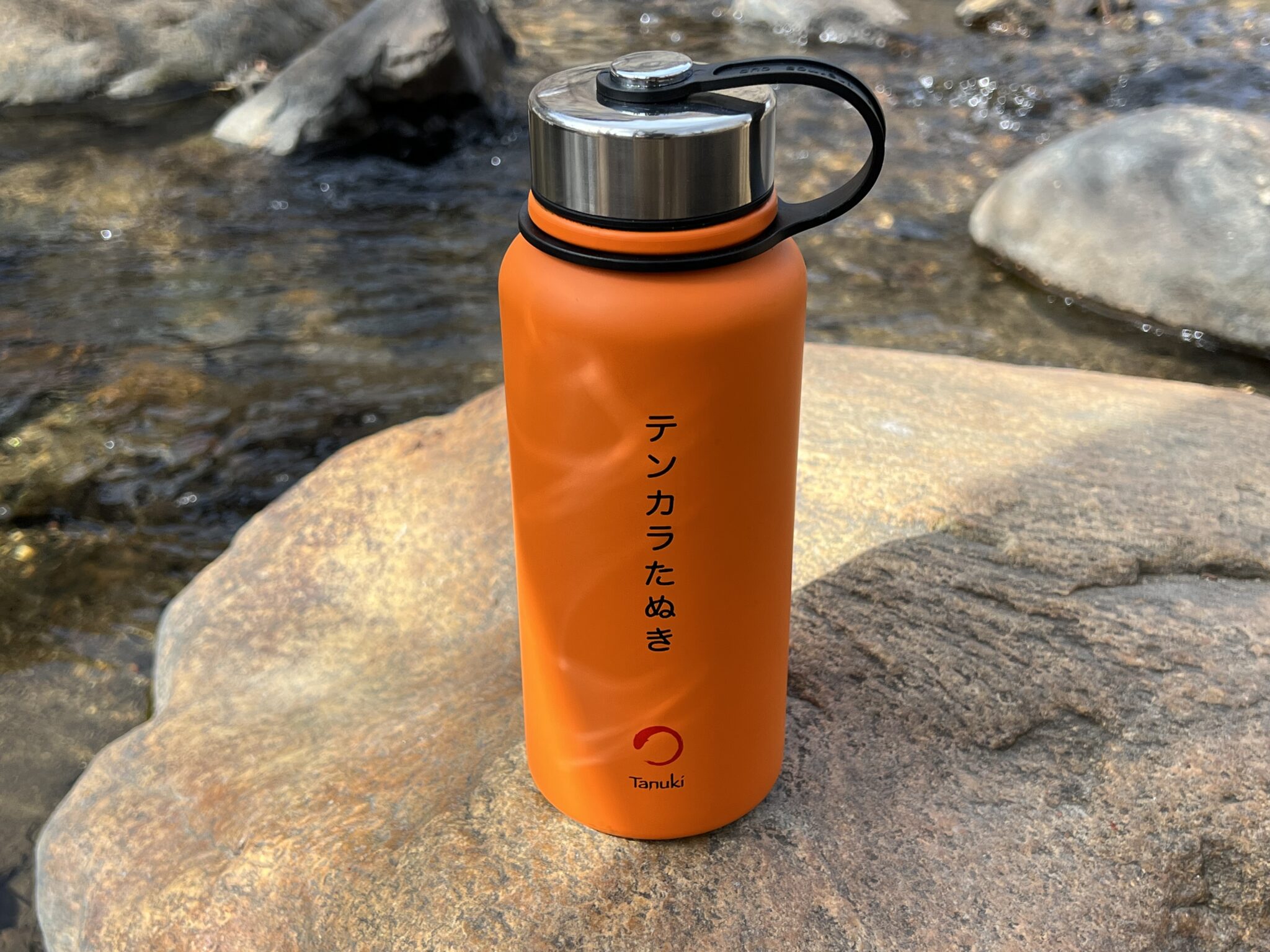 Is a travel mug an "essential" piece of fly fishing gear? It is for me. Coffee gets you going the morning of a trip, makes the long car ride seem shorter, helps you endure your fishing partner, and stimulates creativity at the tying desk. Without apology, I'm one of those people you don't want to talk to before they've had their morning coffee. It fuels my life.
In fact, I'd actually rather get to the trailhead and discover I forgot a fly box or something than that I've left my beloved coffee at home.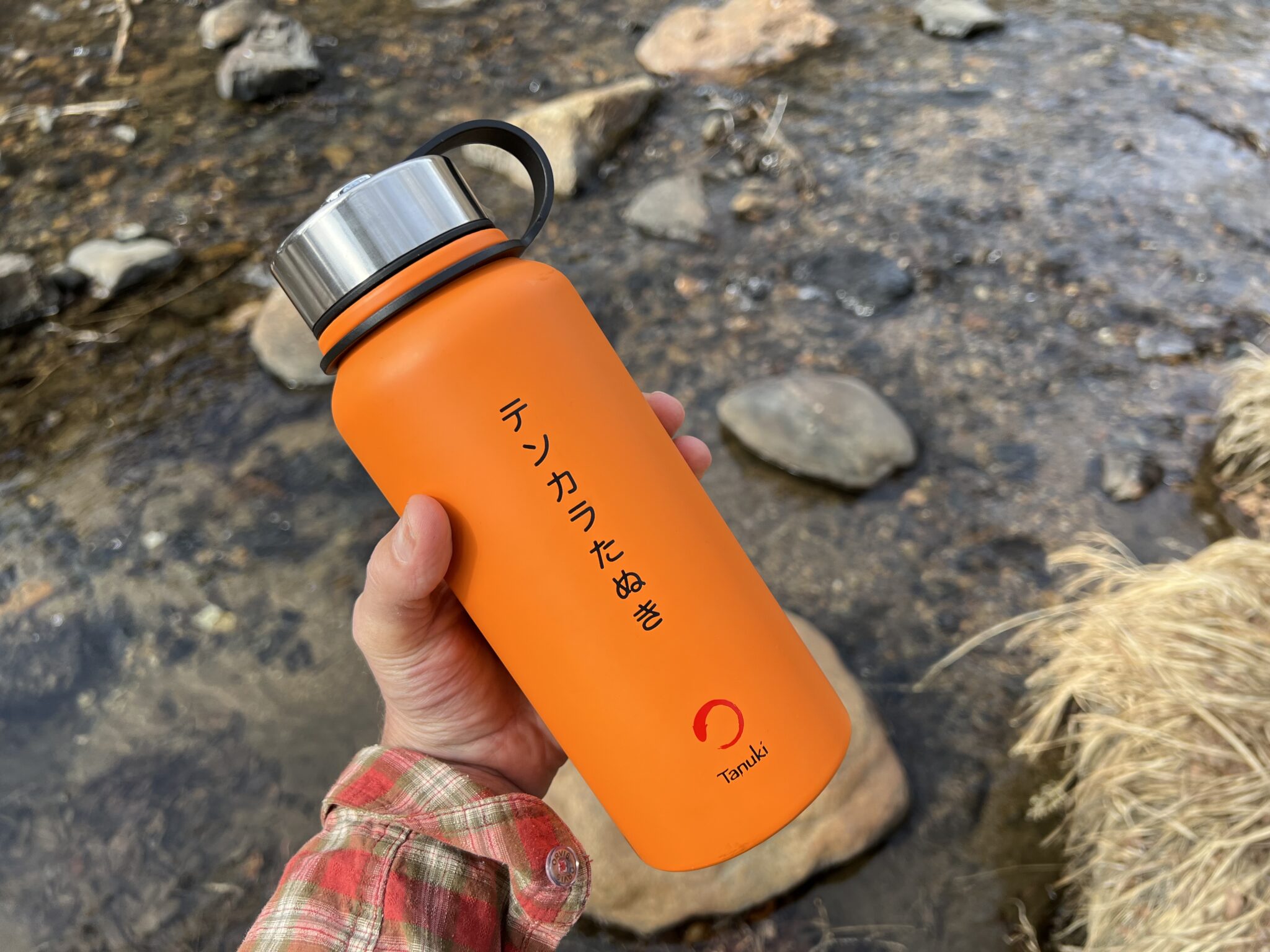 At the recent Denver Flyfishing Show, Luong Tam gave me one of his Tanuki Insulated Flasks and I've been using it ever since.
It's a pretty typical looking stainless steel insulated tumbler in his signature orange with the Tanuki logo and "Tenkara Tanuki" written in katakana and hiragana. While I'm not generally a fan of orange, I have to admit it is striking–somehow appealing. And let's not discount the fact that any piece of outdoor gear that's blaze orange is greatly appreciated as soon as it goes AWOL.
Specs & Features
Capacity: 28 fl. oz.
Weight: 14 oz.
Dimensions: 9.5″ x 3.5″
Material: Stainless Steel
Dishwasher safe? Yes
With a double-wall vacuum insulation, it keeps drinks either hot or cold for hours and features a wide mouth that accepts ice cubes and makes cleaning easier.
The finish is a smooth matte that is comfortable in the hand and provides a non-slip grip. And the cap is stainless steel with a retainer strap similar to a Nalgene bottle.
The bottom features a rubber pad which silences the clanking sounds most metal tumblers make when you set them down and helps prevent accidental slips.  I like this because I don't have to use a coaster like I normally do to prevent scratches on my antique tying desk.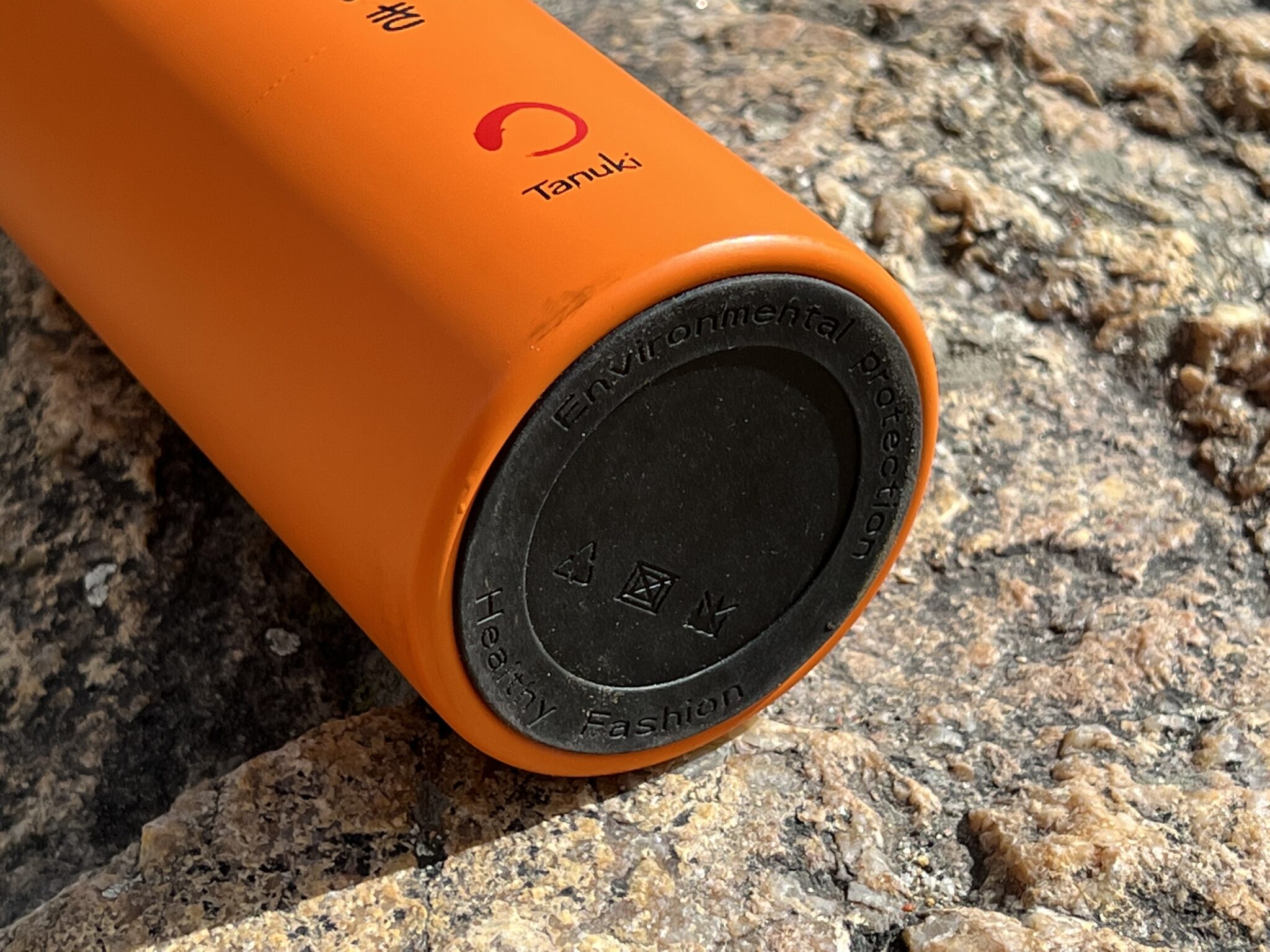 There's even a convenient built-in removable tea strainer for you loose-leaf lovers out there.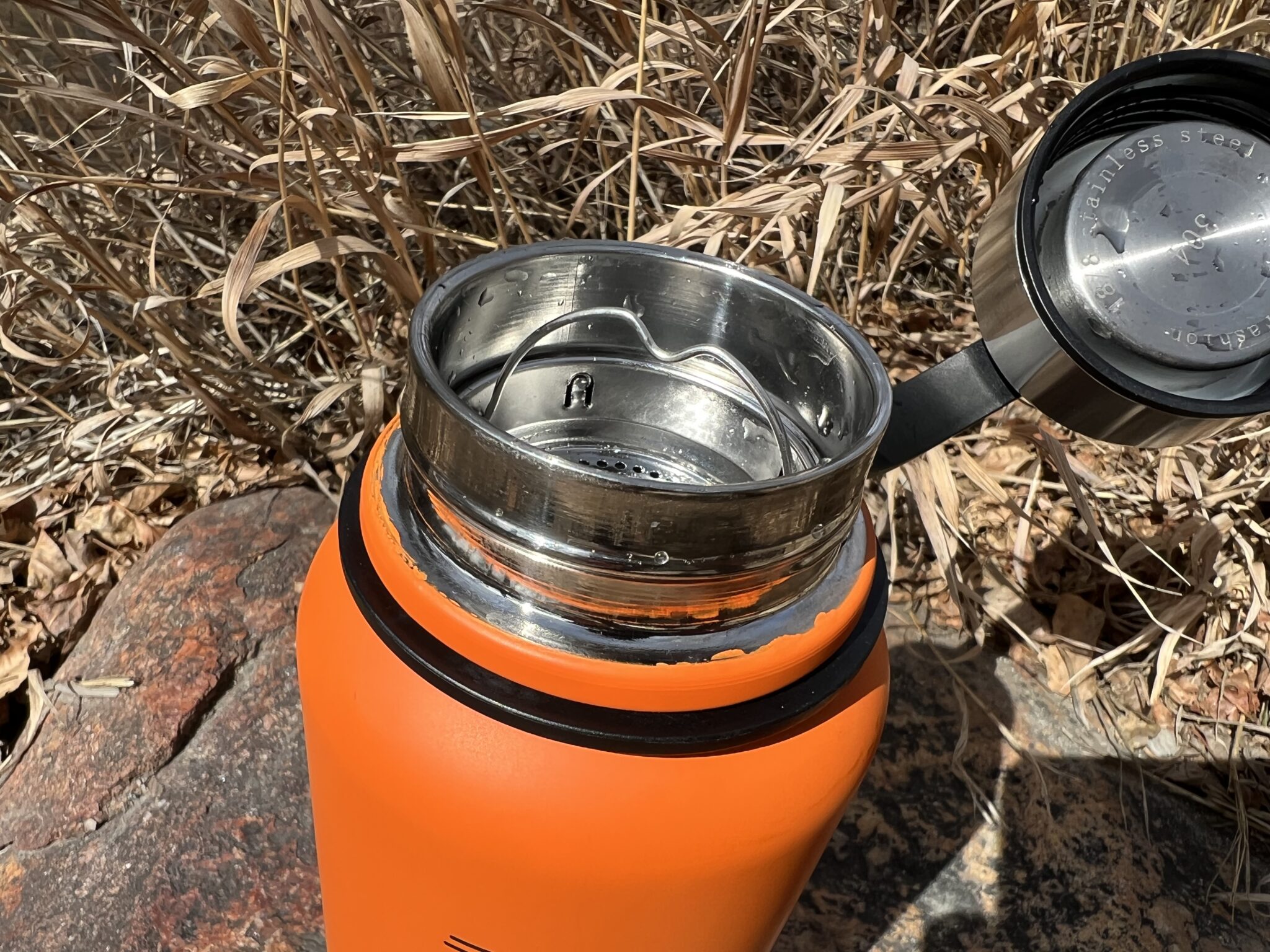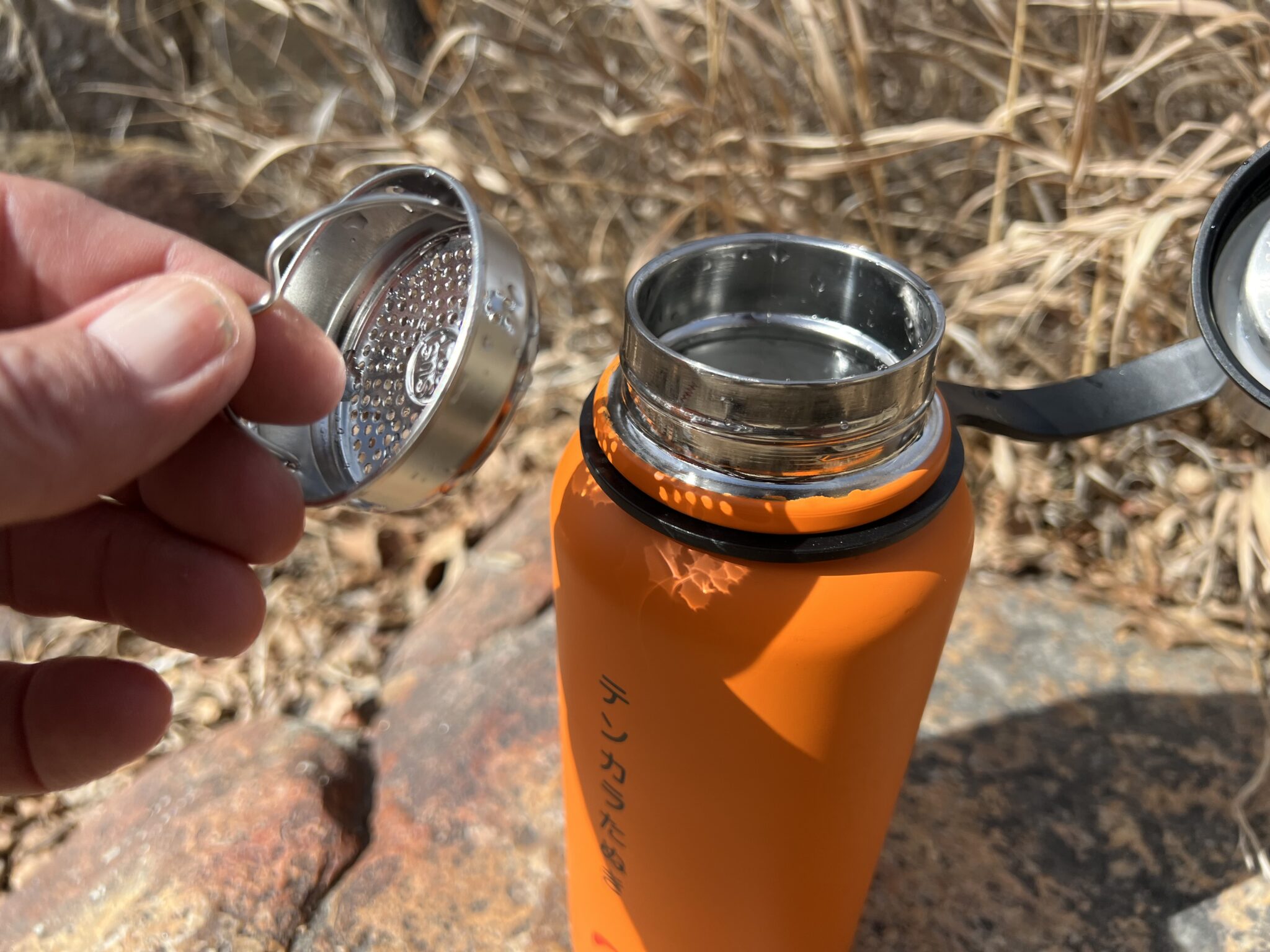 Since it's mostly a stainless steel construction, it's bombproof, but heavy. So it's not something I'd take on a 3-day ultralight backpacking trip. But I don't think it's meant to be. It's meant to be more of a house, car, travel, or coffee shop mug.
Under doctor's orders, I have to drink a lot of water every day and so I've been using this as my daily water bottle. I absolutely must have my water as cold as possible, so I just fill this with ice (its wide mouth makes this easy) and water and it sip it all day.
I can attest to its ability to keep your drink cold. So far, it seems better than my Yeti tumbler and at least as good as my Contigo (though I haven't done any experiments to prove it).
Aside from that, I use it to take coffee on the go. It's totally leakproof so I never have to worry about it spilling in my bag or pack if I just throw it in there haphazardly.
According to the website, it will keep drinks hot for up to 12 hours. I can't verify that because my coffee would already have been consumed about 11.999 hours before that. Sorry, but if you need 12 hours to finish a mug of java, you have no right to call yourself a coffee drinker in my book!
Let's just say that it keeps my coffee piping hot much longer than I would ever need.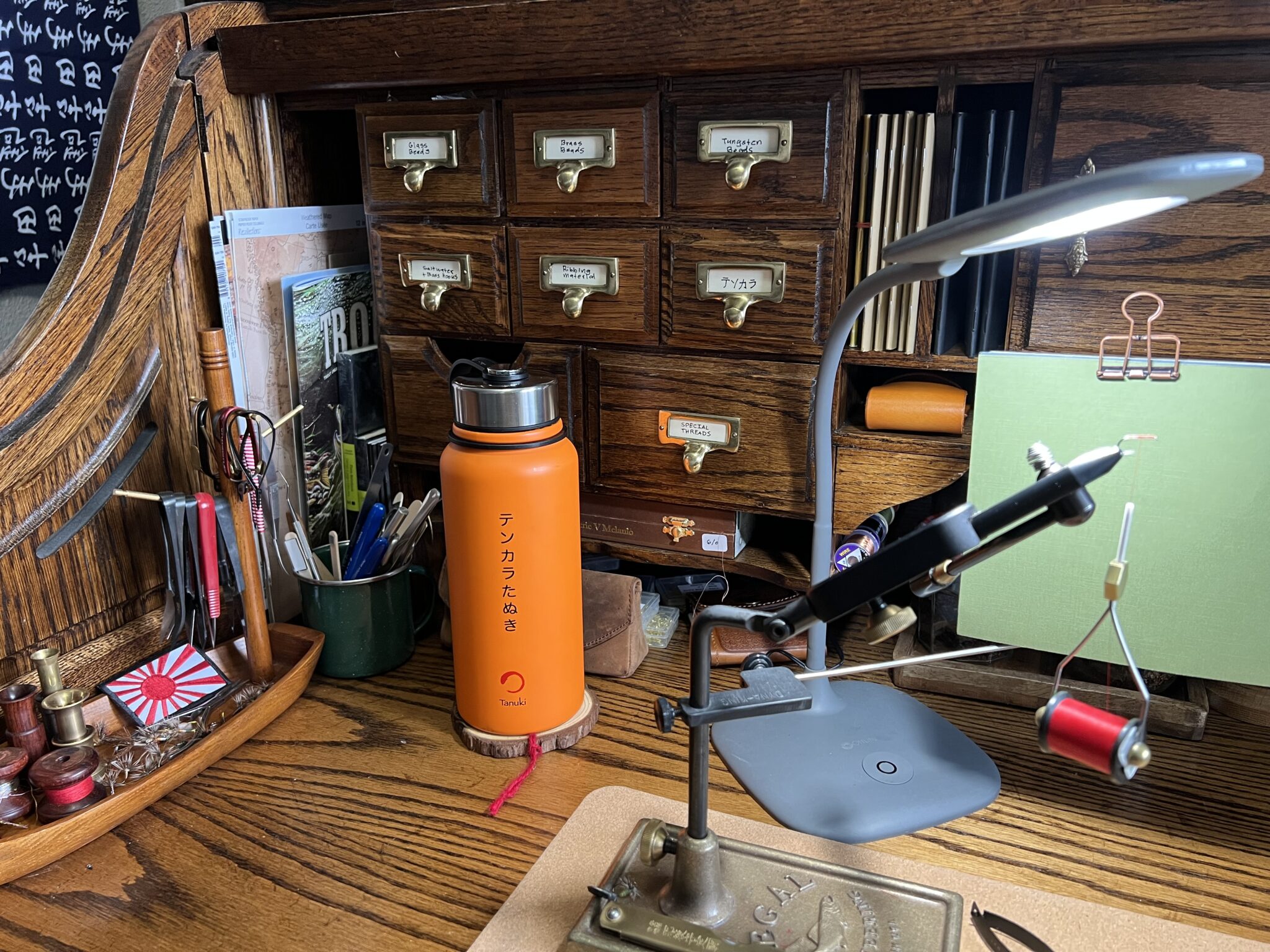 The Tanuki flask is a great tumbler with thoughtful features and I think it would also make a great gift–it's something fishing related and different, but they'll also use it. At first, I didn't think I'd like the orange, but it grew on me. Since it's been a constant companion while I tie, it now seems like a natural part of my desk's landscape.