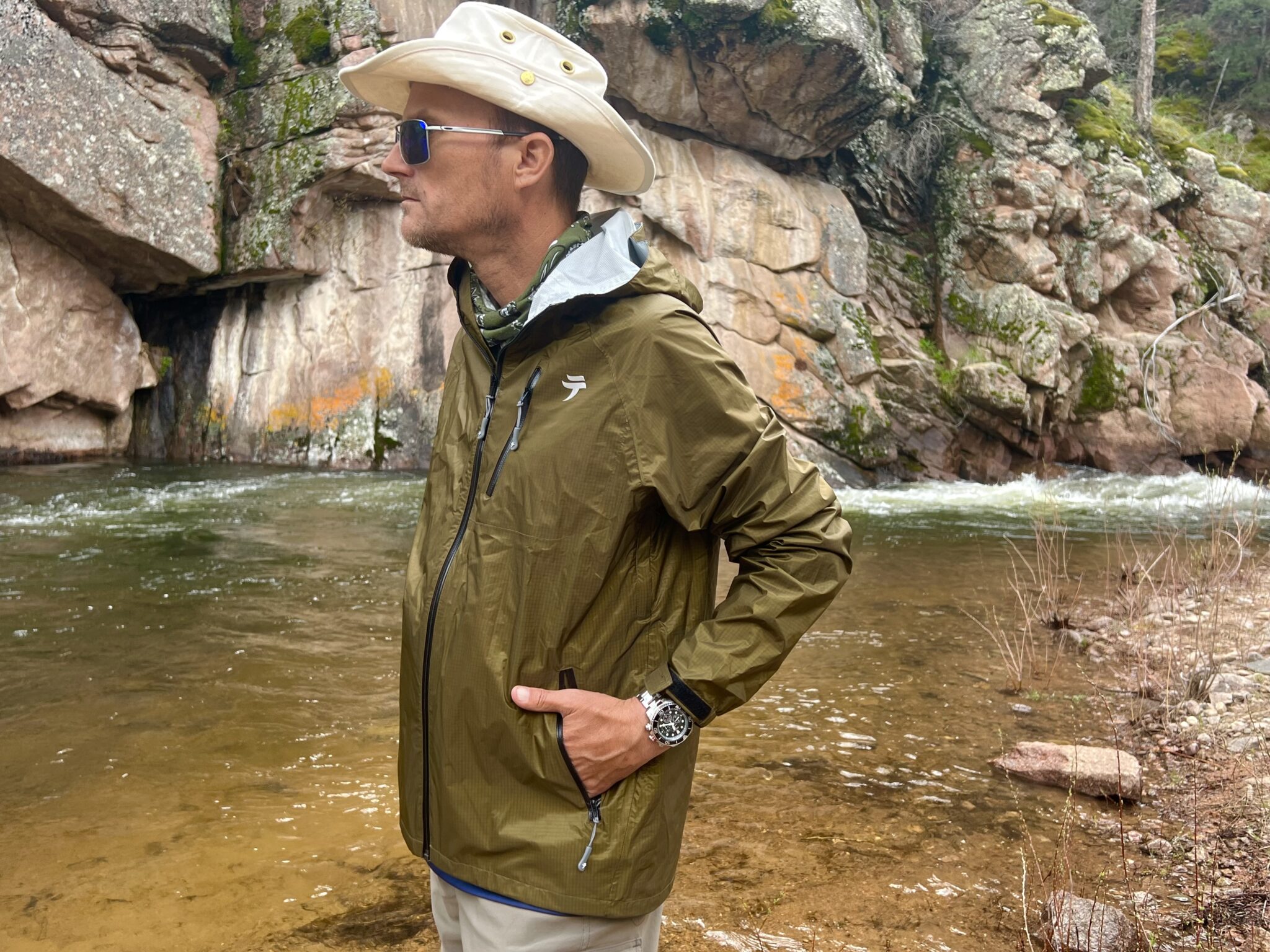 In my book, a good rain jacket is an essential piece of gear. Here in the Rockies, a thunderstorm can come out of the blue and either ruin or make your day (depending on if you're prepared or not).
We all know some of the best fishing is in the rain. And certain insects such as baetis (blue winged olives) even prefer to hatch during cloudy, rainy days when the ceiling is low.
Missing out on the action because you're soaked to the bone, shivering, and miserable is tragic, but avoidable with proper protection.
I lost my favorite REI rain jacket that I've had for years and have been using my Golite to fill in until I found a jacket I liked. It's a good jacket, but it doesn't have as many pockets as I'd like and it's an ugly bright blue. I had been casually looking around but hadn't found anything similar to my old REI jacket (which, of course was discontinued because it was good).
Well, the Universe must have read my mind and felt generous because just as I was browsing different models, I got an email from Tenkara USA saying that they were coming out with a new rain jacket and asking if I'd like to try one. As it's been raining cats and dogs here lately, the timing couldn't have been better!
I've already posted a quick video of my initial impressions on Facebook, but here are some more details.
Construction
The fabric is a lightweight polyester that is extremely lightweight and breathable. Anyone familiar with waterproof or resistant outdoor garments will instantly recognize it (the slick kind with the grid pattern). I have several other garments with the same fabric and from my experience, it's also very durable–branches and thorns slide right off as easily as the water does. The Fly-Weight is available in black or olive. I chose the olive because it's the same as my old REI and is a beautiful color.
Fit
This is a slim-fit cut that narrows in the torso. I'm 5′ 10″, medium build and the size M fits me perfectly. There's no restriction the raglan sleeves to impede casting and plenty of freedom-of-movement for me.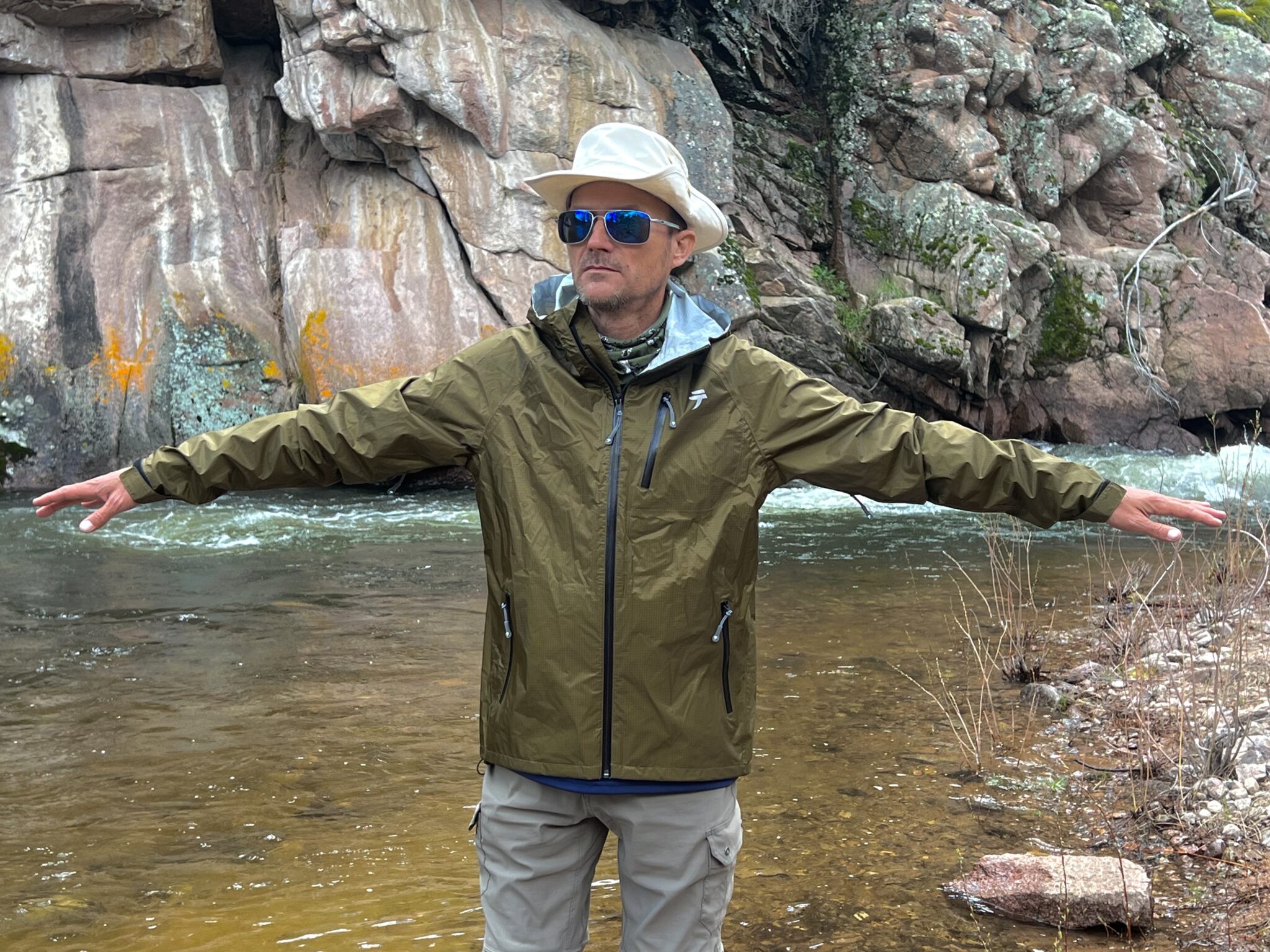 However, I know I'm not the typical body type and I predict some people will find the slim-fit too tight. I'd recommend ordering one size up–especially if you plan to wear insulation underneath.
One thing of note: this is not one of those short-cut wading jackets that only covers you to just below you rib cage (I can't stand those). It's a normal hip-length cut. For me, this is the ideal length for a few reasons.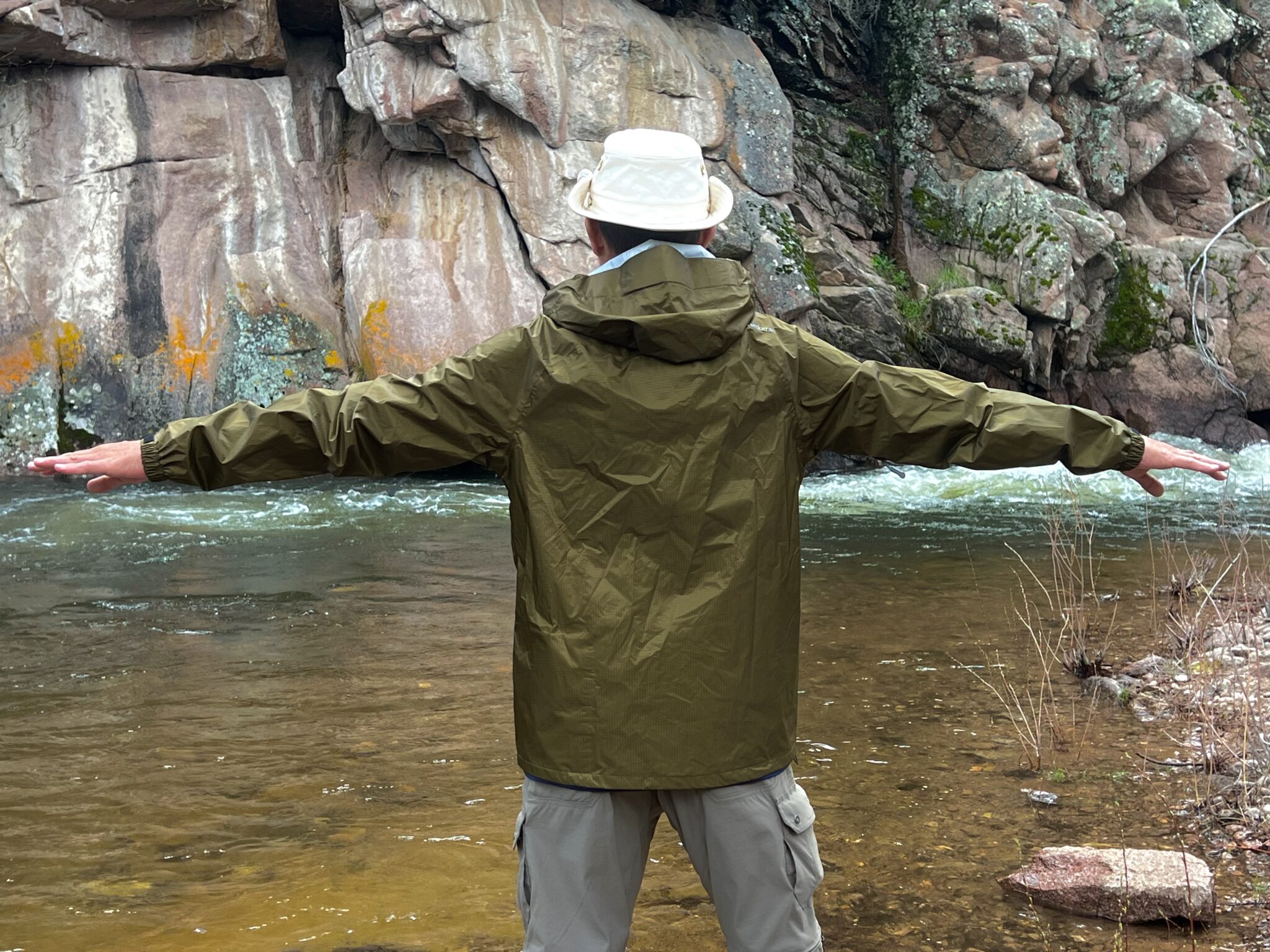 For one, I mostly wet wade and when I absolutely must don waders, I only wear waist-highs so I need the added coverage.
But I also want a standard length because I expect my jacket to be multi-purpose; for hiking, camping, biking, travel, or just wearing around town.
The regular length gives me the versatility one of those "shortie" jackets can't. Plus, can you imagine how ridiculous you'd look showing up wearing one of those at the bar‽
Water Resistance
As luck would have it, it was raining today so I was able to get a sense of its water resistance. I also took it on a bike ride to my local cafe to write this article and it shed the rain perfectly and was a stalwart ally against the wind.
It was a light rain which actually faithfully simulates the kinds of conditions I'd use it in–I won't fish in a deluge.
I'm very familiar with this fabric and can attest that it's great in light to medium rain, but in a downpour, it will eventually soak through. But this is par for the course for UL waterproof/breathable fabrics. I think the Fly-Weight strikes a happy balance between weight and compactness, and water resistance and breathability.
Weight
On my scale, the Fly-Weight is exactly 10 oz. (283.5g) in size medium giving it a high feature-to-weight ratio.
Hood
Every rain jacket needs a good hood, and the Fly Weight's is well thought out. It's generous enough to fit over a hat and features a stiffened brim to keep the rain off your face (and glasses).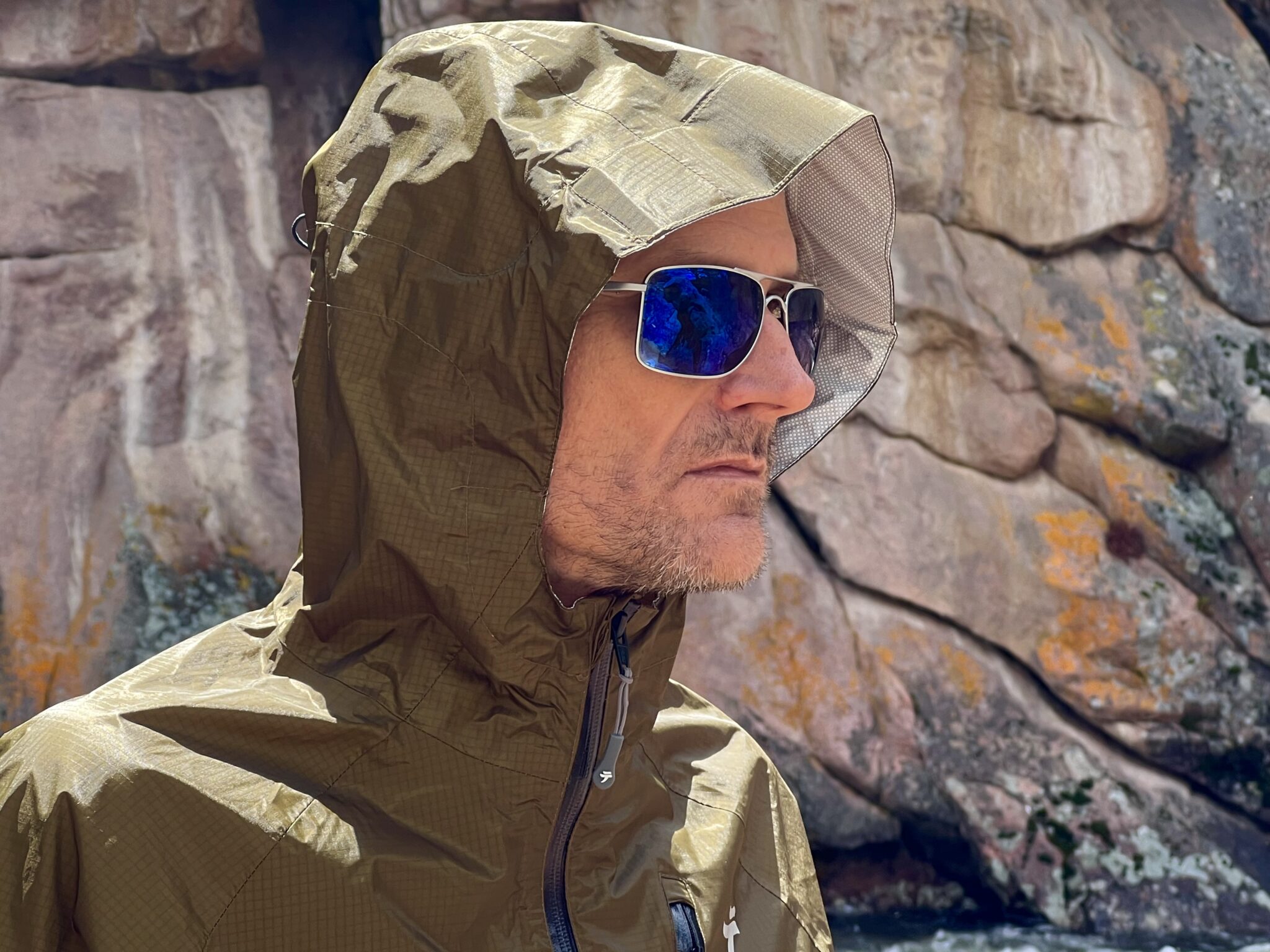 There's a stretch-cord lock at the back to cinch it up tightly to seal you off from the elements.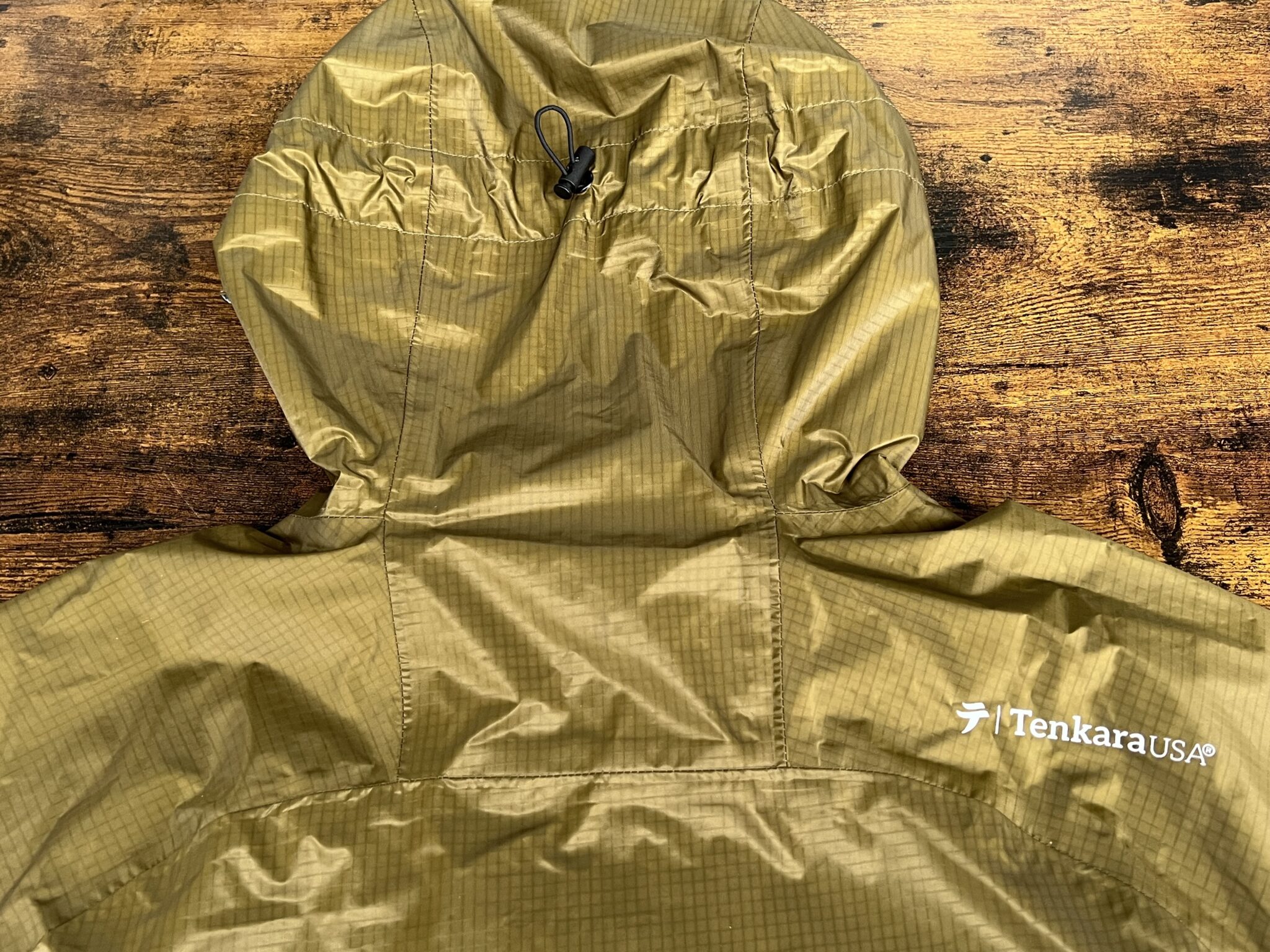 Pockets
Most lightweight or ultralight jackets are pretty stingy in the pocket department so I was glad to see TUSA thought of people like me who appreciate (and need) pockets.
There are two side pockets with water-resistant zippers.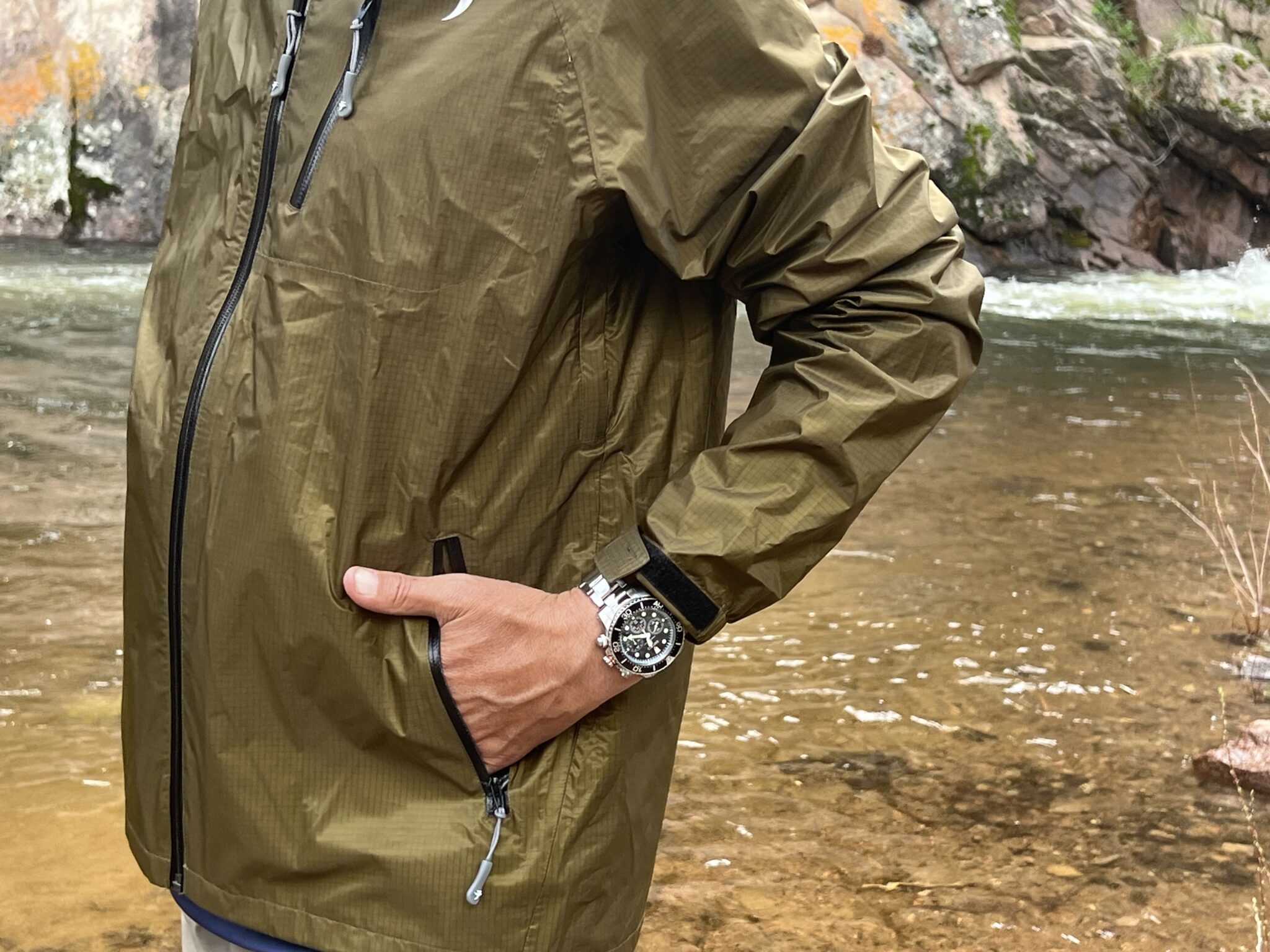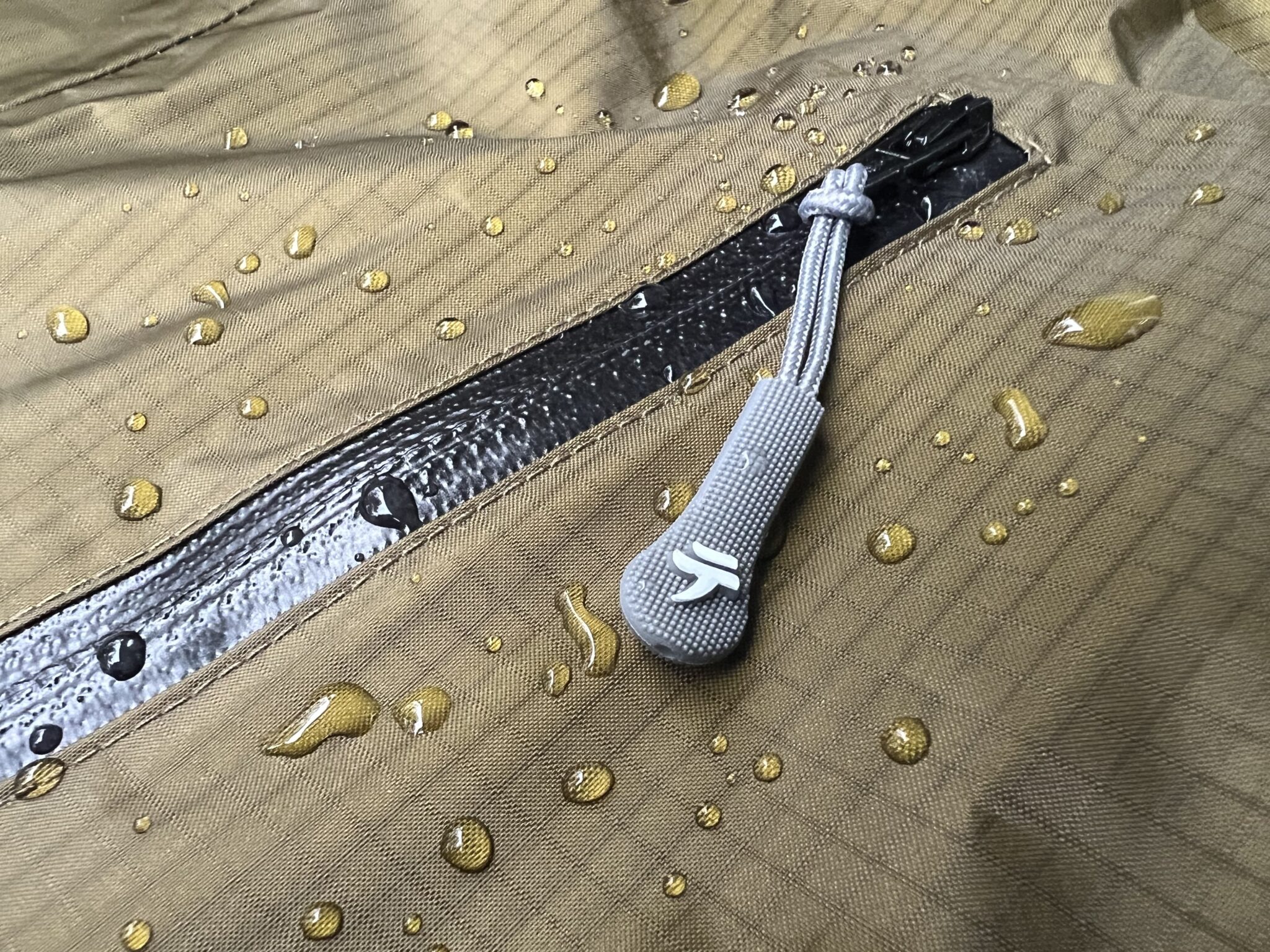 And (my favorite), a chest pocket also with a water-resistant zipper. This is a feature I look for whenever I'm deciding on a new fleece jacket, vest, or rain jacket and I think it's the most useful pocket of all. Since it's higher up on your chest, you can still access the pocket while wearing waders (unlike the side pockets).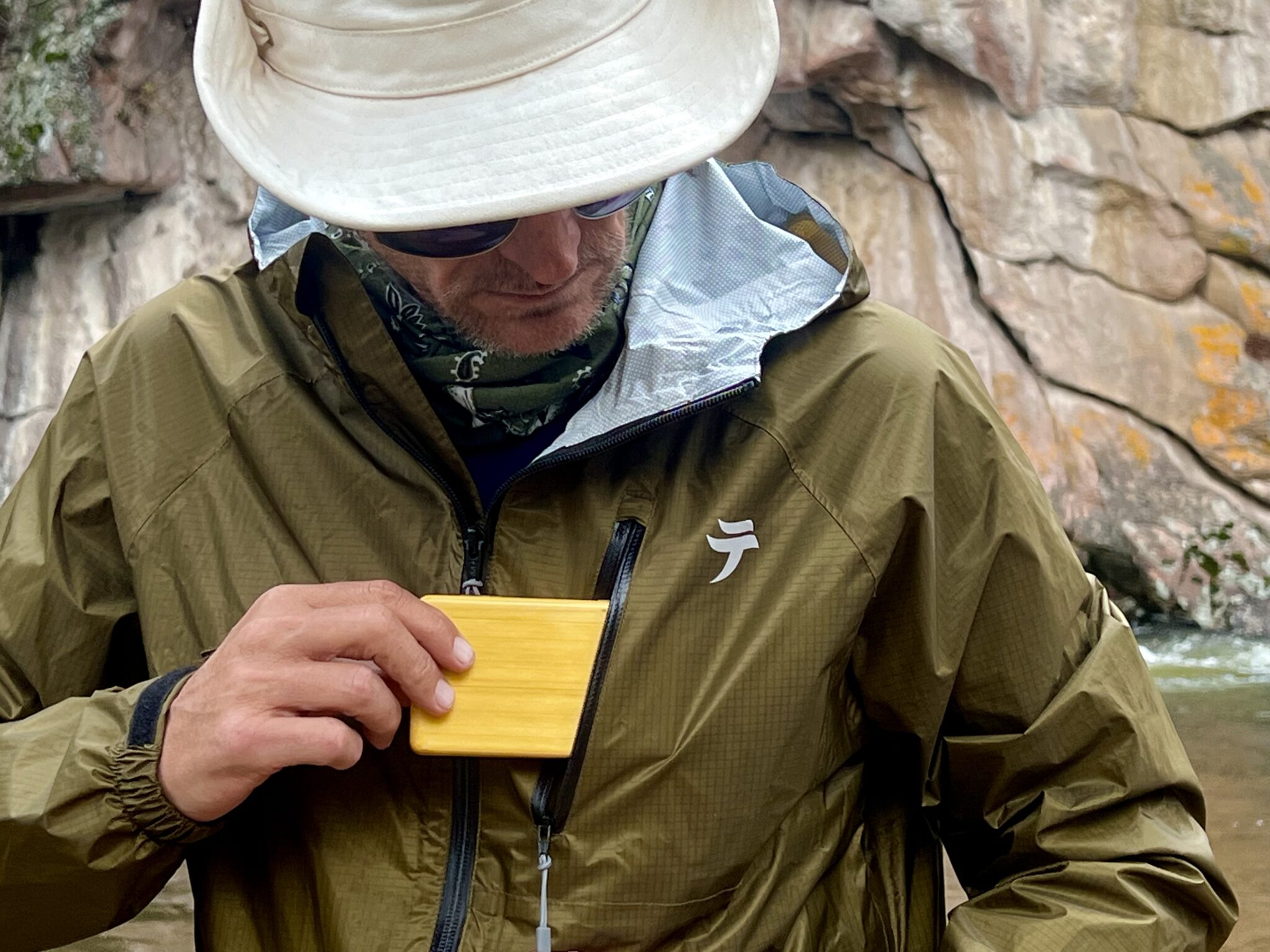 I mostly use it for sundries I want to access quickly such as lip balm, my lens cloth, rod plug, a line spool, etc.. I've literally not bought jackets before because they lacked this type of pocket! Thank you Tenkara USA!
As a bonus, there are two interior pockets! There's no zipper, but they're really big. Picture those goggle pockets ski jackets and fleece jackets often have. To me, additional storage is always a good thing and these pockets are spacious enough to swallow one of those huge old Scientific Anglers grey boxes. Remember those?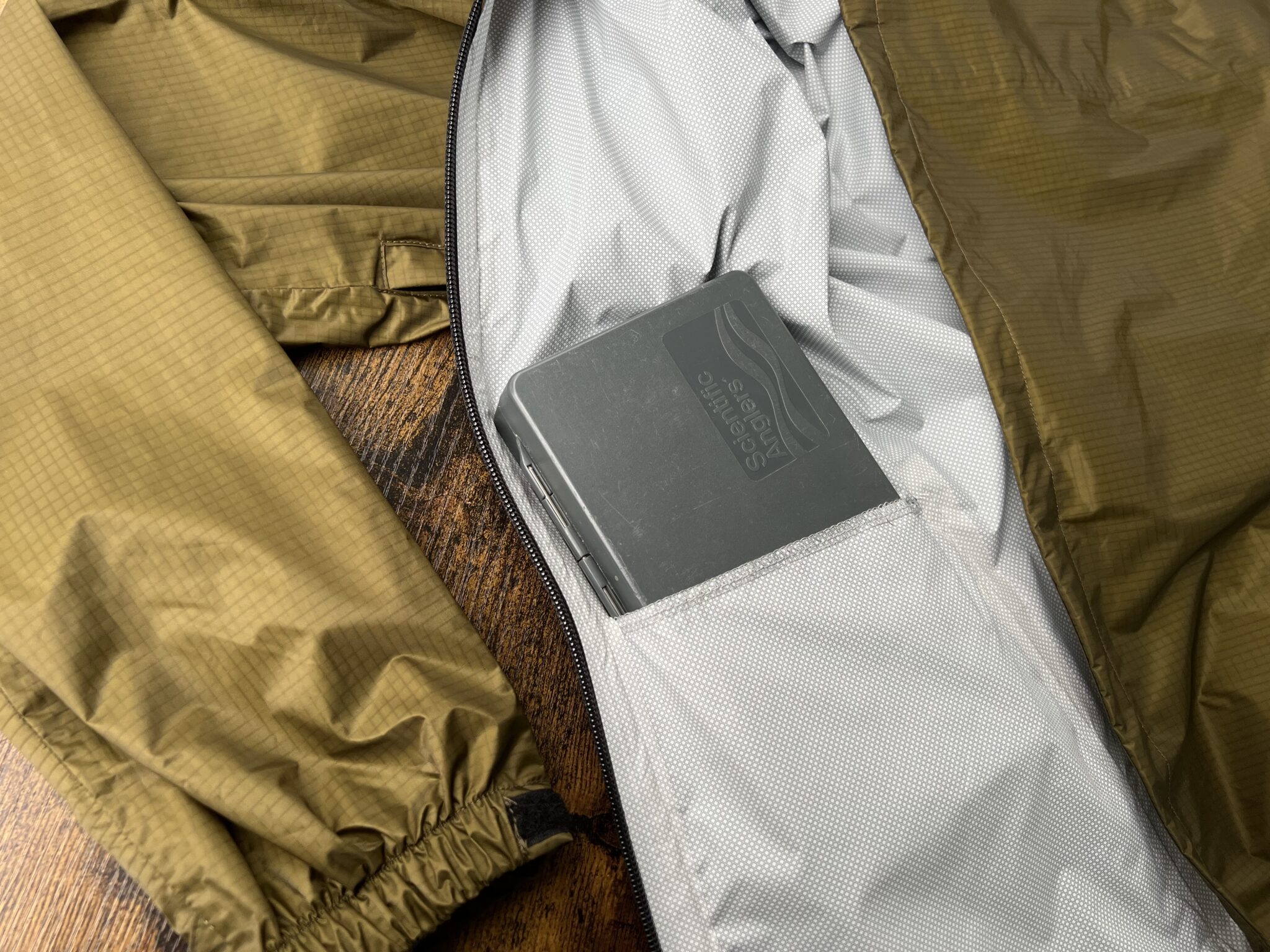 Cuffs
The sleeves taper down to a hook-and-loop closure. Anyone who's cast in the rain knows that if you don't have this, the rainwater runs right down your arm on every backcast. It's a nice touch that you won't appreciate until you don't have it.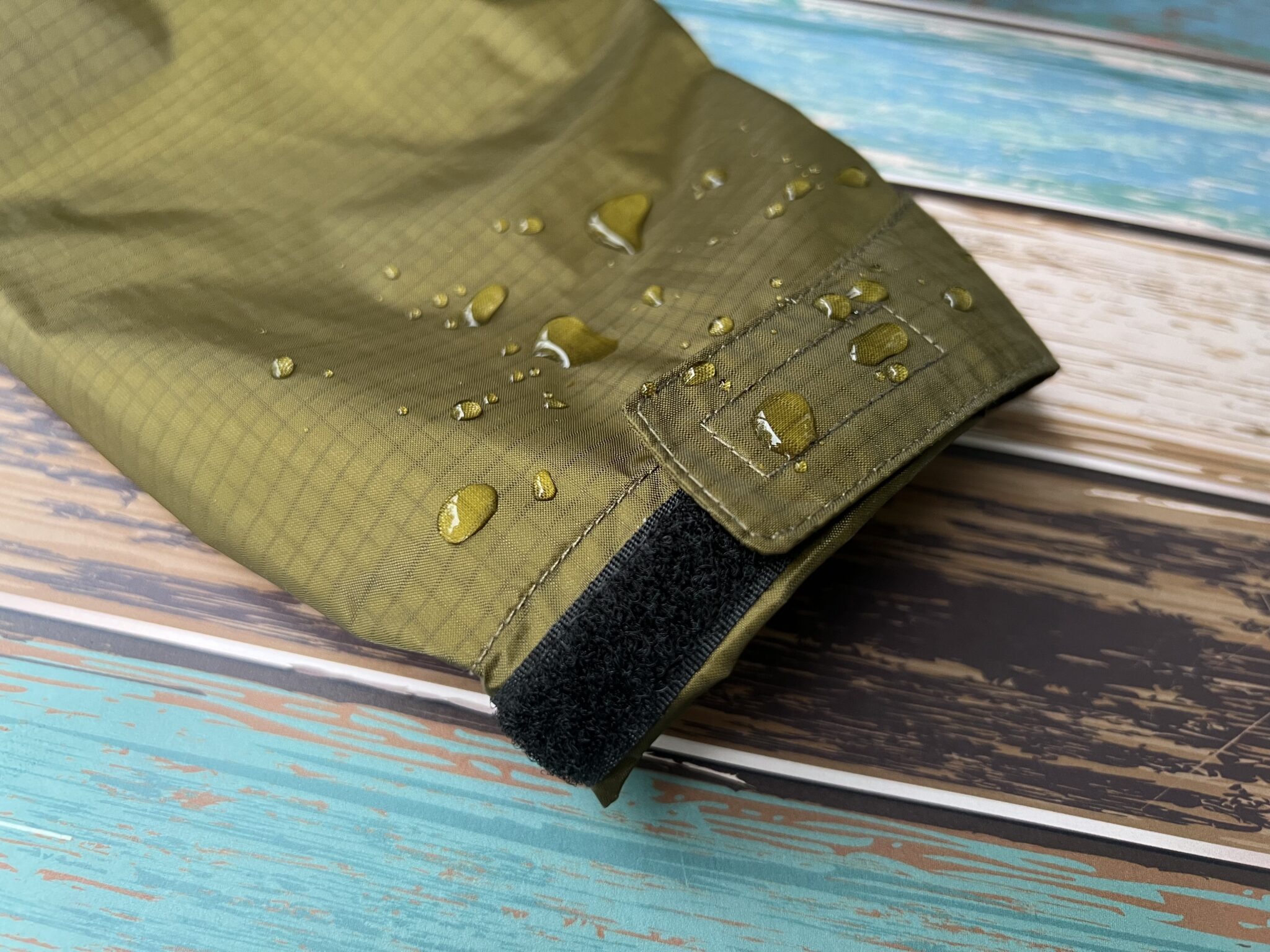 Waistband
The bottom hem can be cinched tight via a stretch-cord with a cord lock.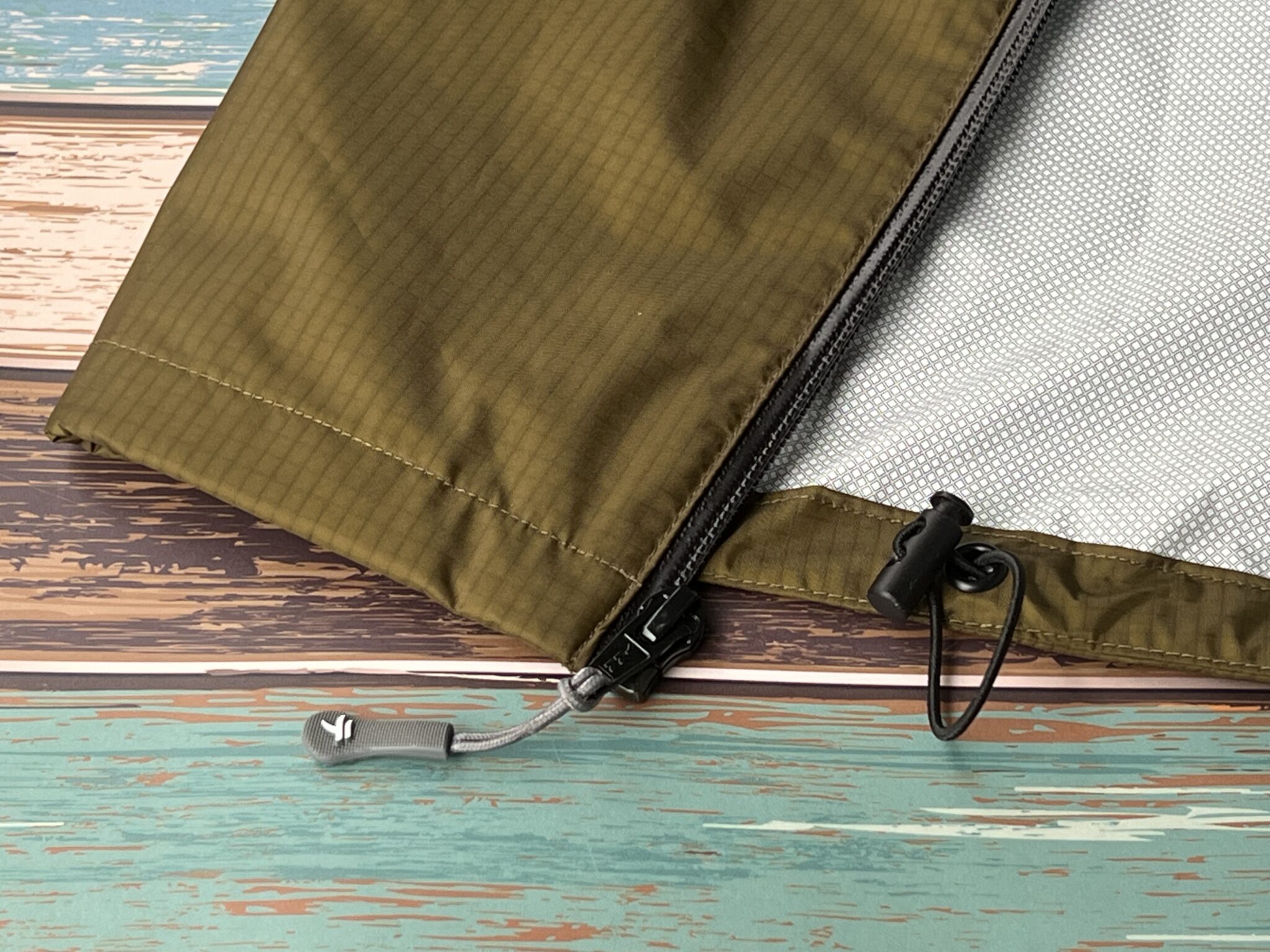 Vents
The term "breathable" is a dangerous moniker in the fabric industry. I was once invited by W.L. Gore (Gore-Tex) to their factory and testing labs in Philadelphia and learned a lot about waterproof/breathable fabric.
If "waterproof and breathable" sounds like an oxymoron, that's because it is. It's impossible to make a fabric that's 100% waterproof and 100% breathable so manufacturers have had to find a balance–a happy compromise.
Even the most breathable of fabric will still develop condensation due to the differential between your body heat and the ambient temperature. This topic could be a whole article in itself, but the takeaway is that vents are your friend.
The Fly Weight sports two "pit-zips" with water-resistant zippers to give you ventilation. This is a common feature on many hiking and cycling jacket and those who use them love them. My previous jacket didn't have any kind of ventilation so I'm eager to see how they work when I encounter the right conditions.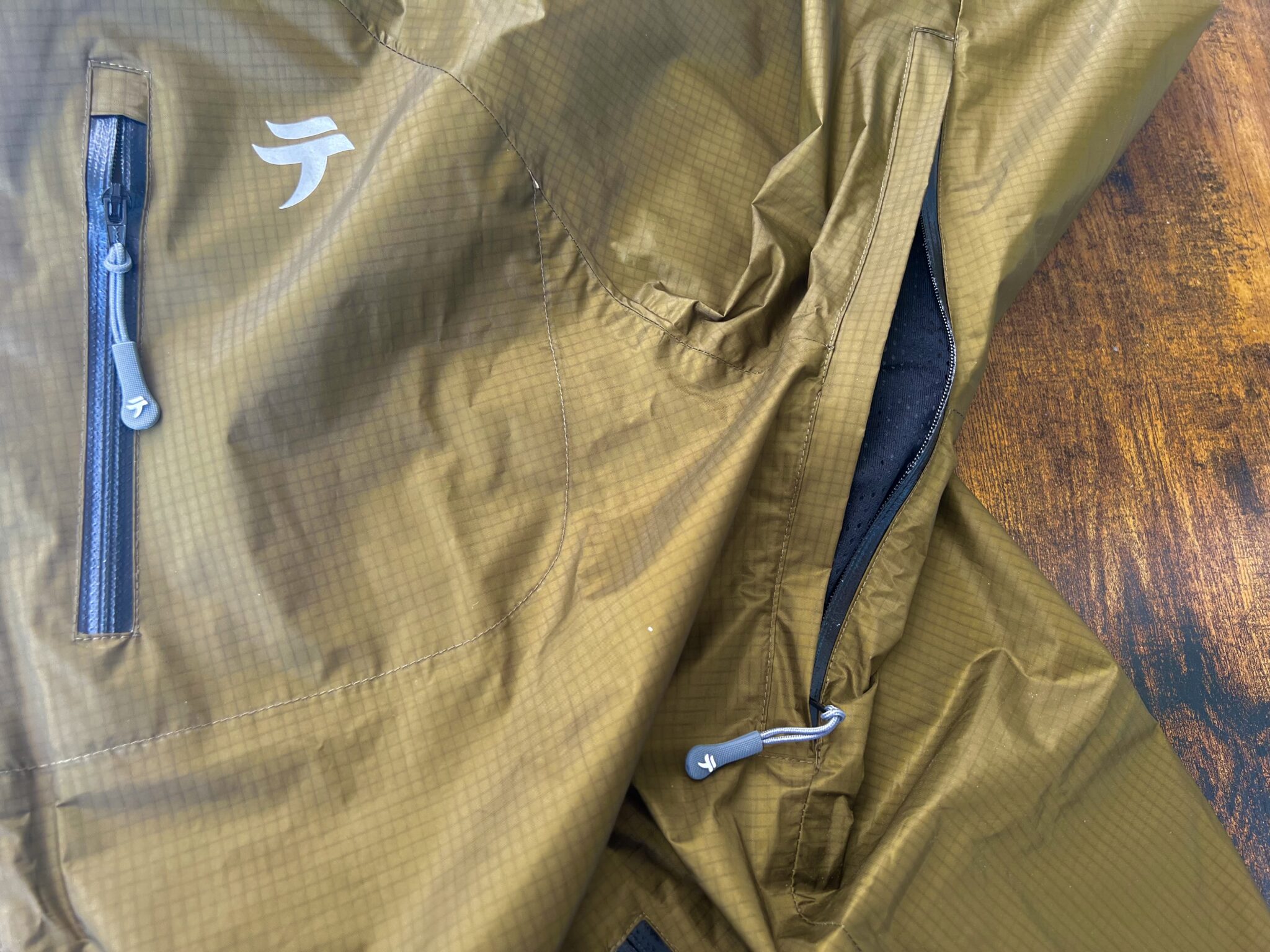 Hang Loop
There's a convenient hang loop on the inside label.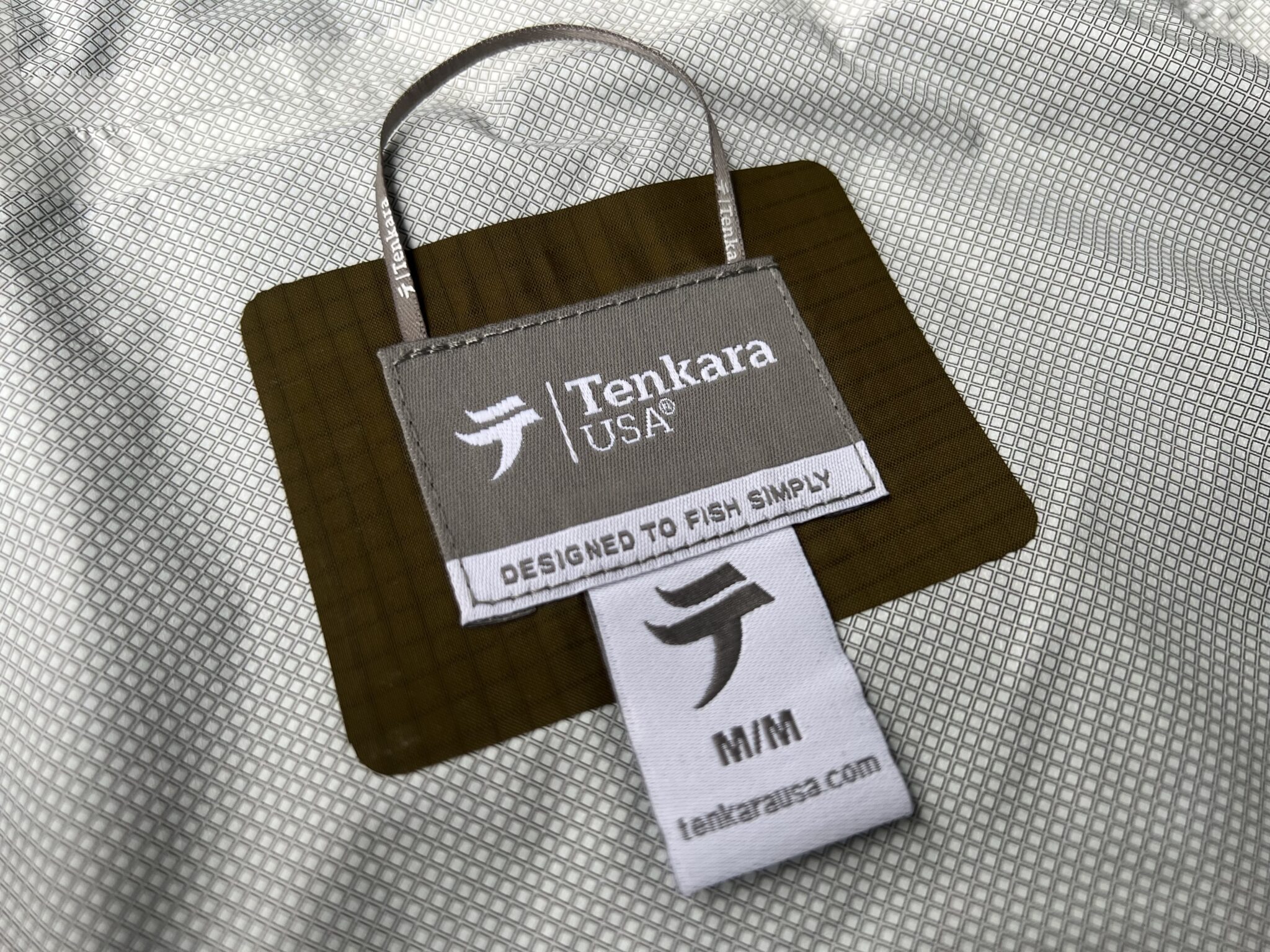 Compactness
Another clever feature is that the jacket stuffs into its own built-in pocket for compact storage. It would easily fit in your glove box, backpack, sling pack, or even pocket without taking up too much space.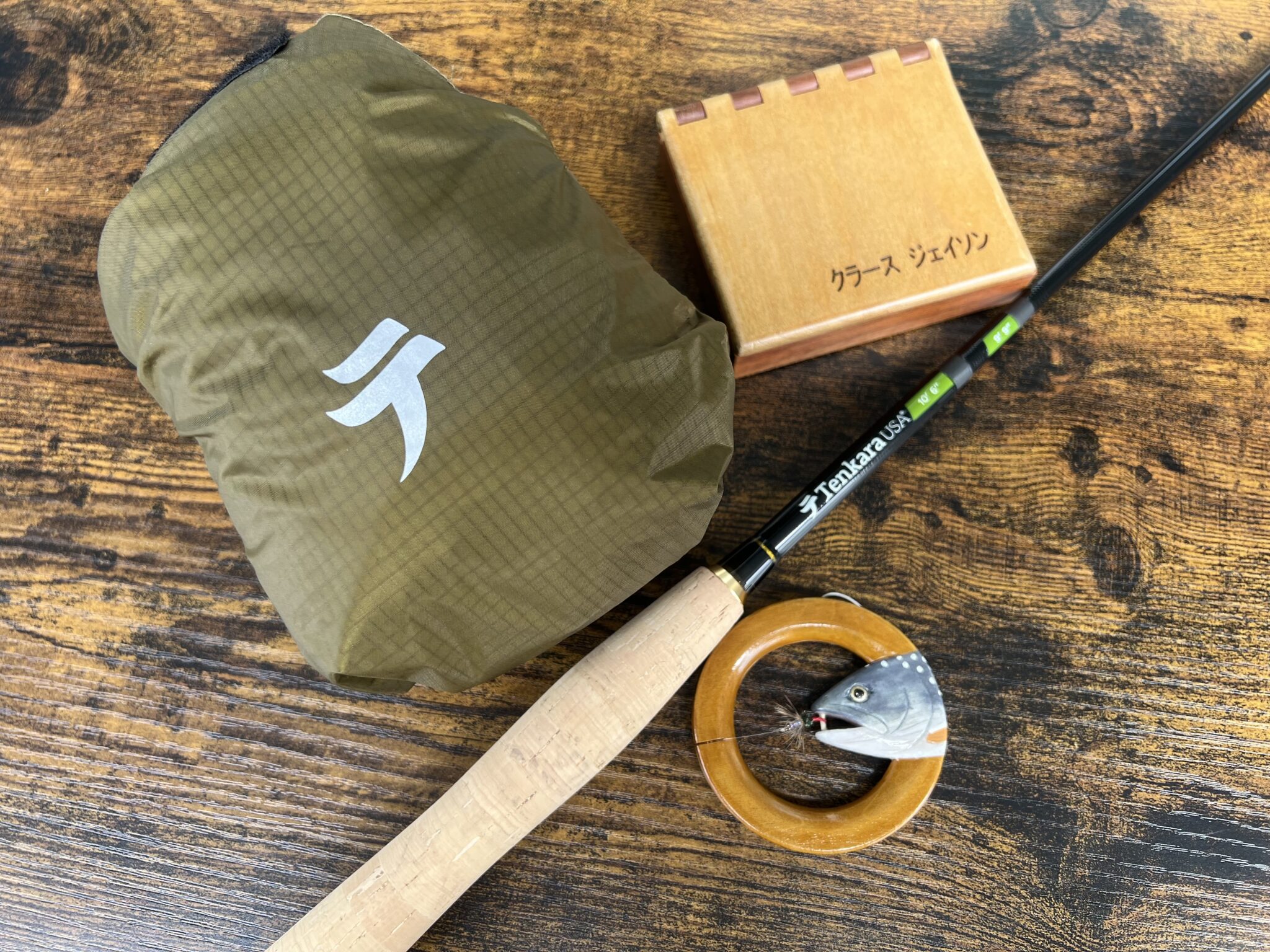 Overall Quality
The moment I unboxed it and felt the fabric in my hands, I could tell the Fly-Weight is top quality–just as I'd expect from Tenkara USA. I'm already familiar with the fabric so I can attest to its performance and durability but in addition to that, I could tell TUSA put a lot of thought into the design.
It's the little details that make this a great jacket: the pockets, the Velcro and cinch-cord adjustments, the built-in stow pocket, its light weight. The Fly-Weight checks all the boxes for me and it will now take the place of my old faithful REI jacket.
It will obviously be my fishing rain jacket, but also my EDC for around town, hiking, biking, and travel.
If you're looking for something similar, I highly recommend you check out the Fly-Weight.
Given all the great features and how light and compact it is, I think you'll be impressed. Now … wait until you see the price!