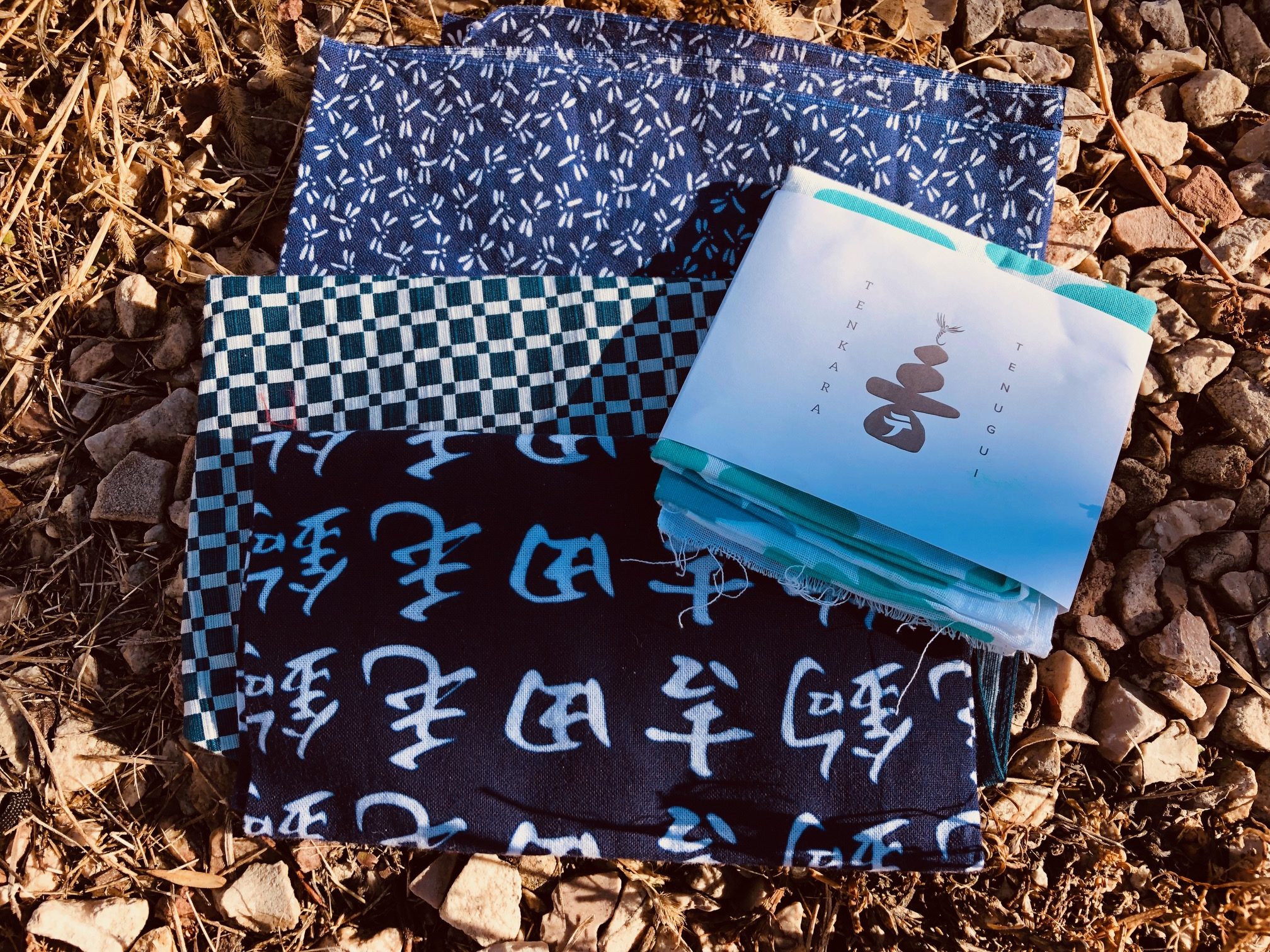 When I first started researching tenkara online, I noticed something peculiar. A substantial number of the Japanese anglers I saw in pictures and videos had towels wrapped around their neck. I was a little baffled at first. But having had a fair amount of exposure to Japan, and knowing that they're a thoroughly pragmatic culture, I knew there had to be a good reason. The sarcastic part of my mind was content to leave my curiosity with the conclusion that they must have just gotten out of the shower right before hitting the stream. But honestly, I didn't give it much serious thought.
Years later, when I was the first person in the U.S. to import and sell Tenkara no Oni rods, one day, he included a mysterious blue towel in my inventory shipment. That's when I remembered seeing the same kind in all those videos. But, I put it aside and forgot about it.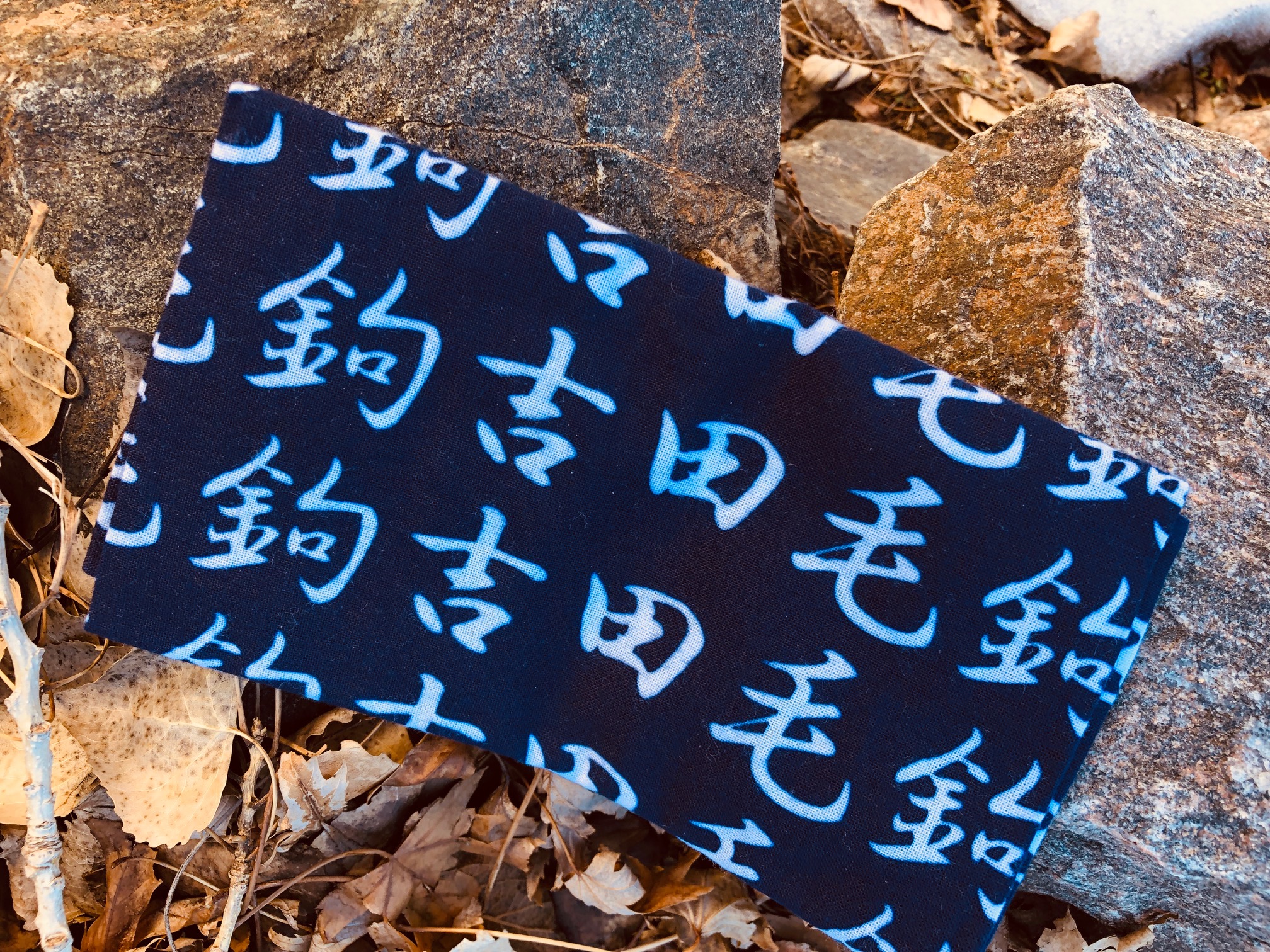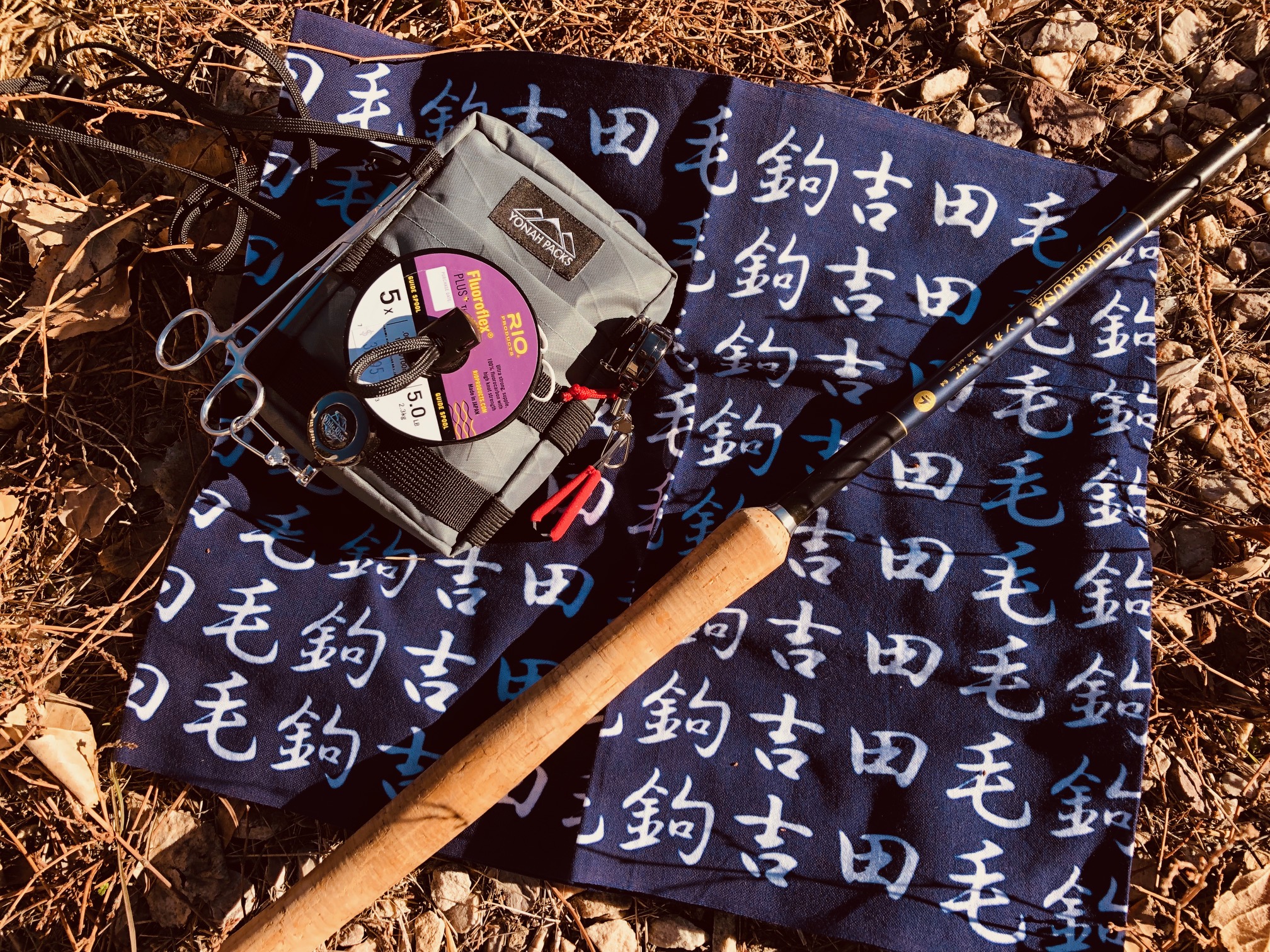 Then, in the next shipment, another one came. And then another. And soon, I had a small pile of these towels and still had no idea what they were for! Sure, I understood that you could use them to clean up if you spilled coffee all over yourself at the trailhead. But I had gone three decades fishing without a towel and never felt the need to carry one. Still, why start now?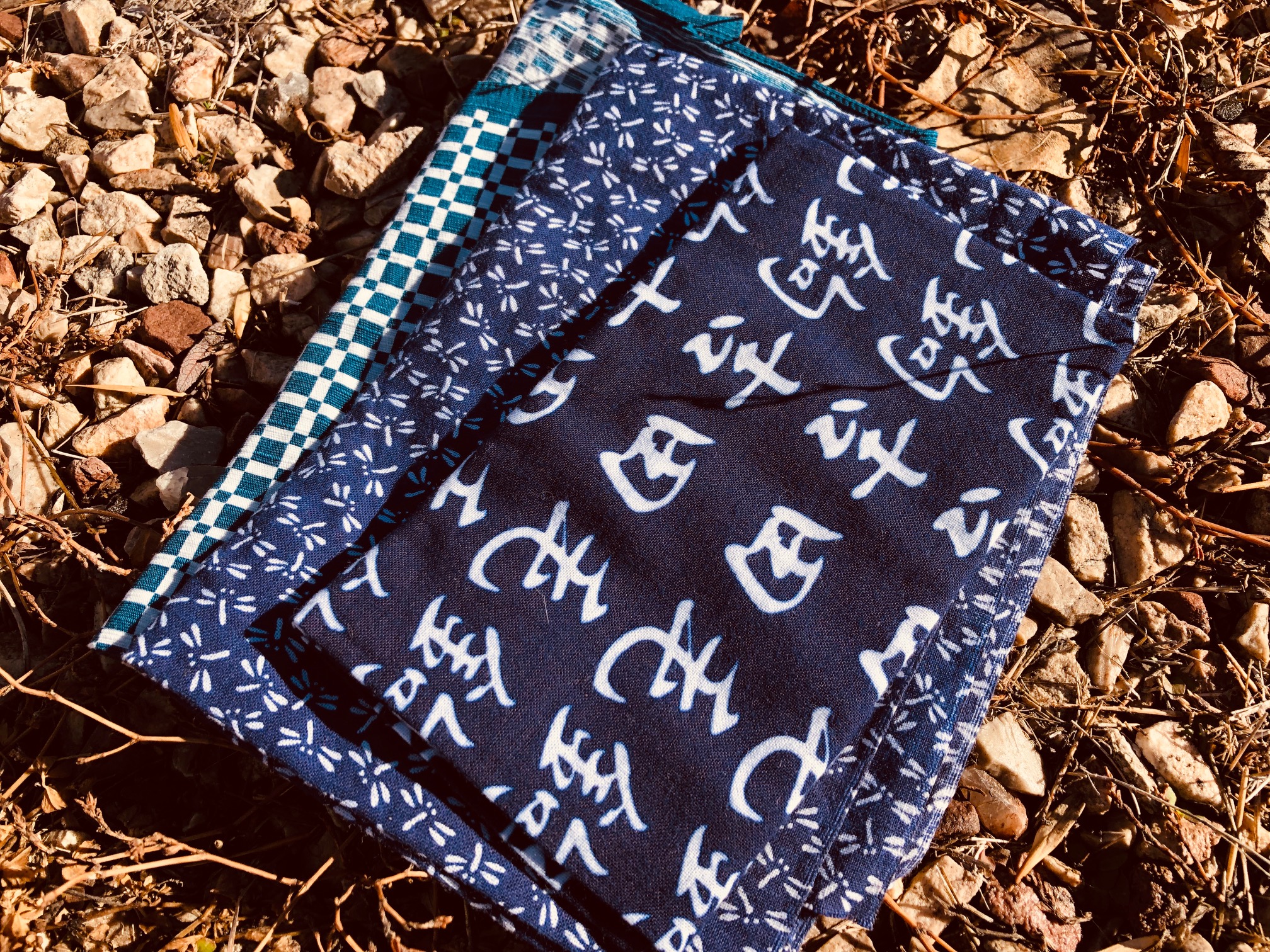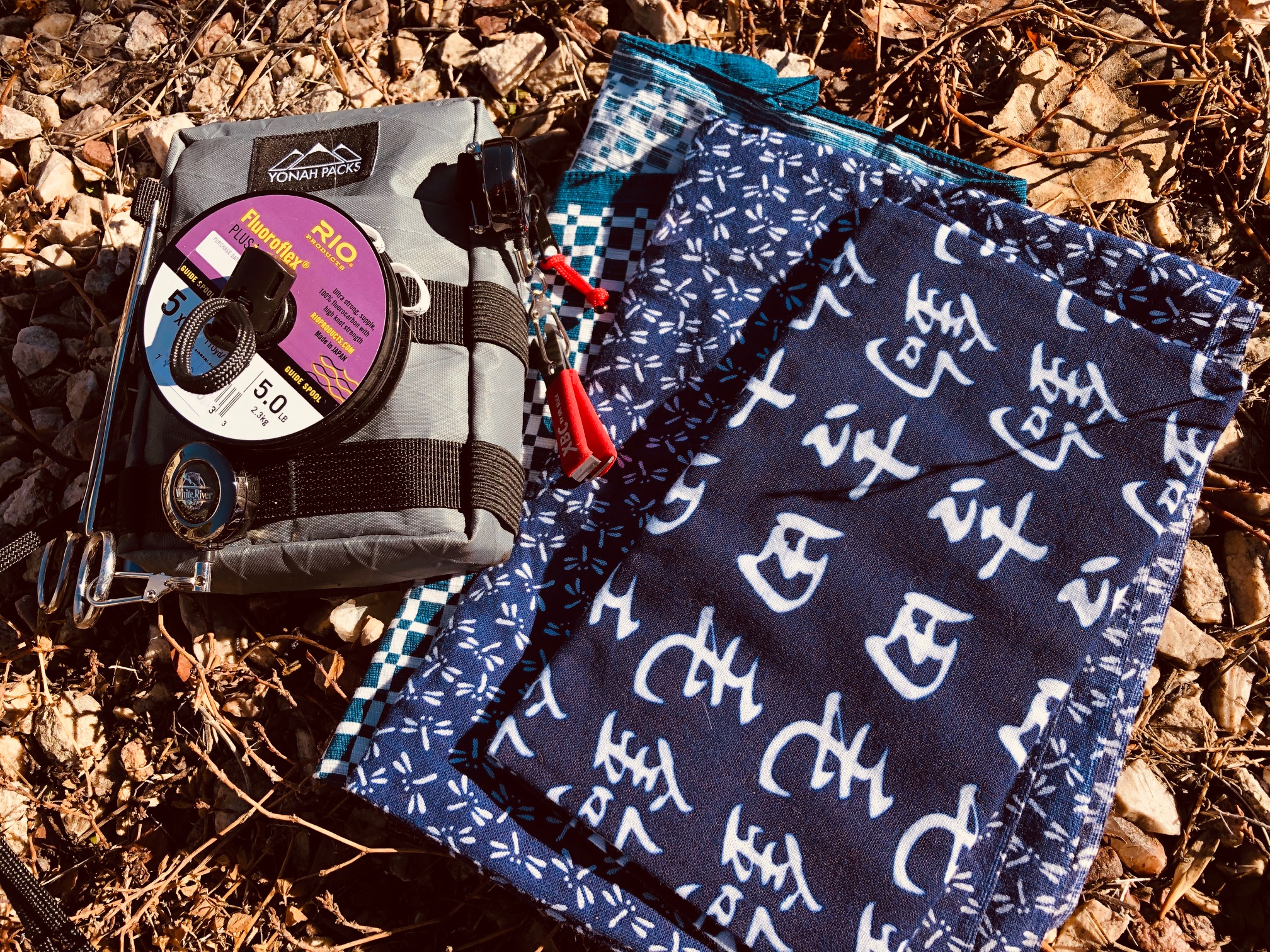 Then, at the 2019 Denver Fly Fishing Show, Daniel from Tenkara USA handed me a small folded towel which was labelled "tenugui". It looked like a modern version of the ones Oni sent me–but with contemporary, stylized graphics rather than the more traditional looking patterns on my others.

After reading the short description on the back, I finally got it. A tenugui is a long, thin towel (traditionally cotton) that is ubiquitous in Japan and is used for all manner of things (besides just soaking up your Starbucks latte from your new Simms waders). People use them in the kitchen, to wrap bottles, as decorations, souvenirs, and even as a head covering in certain martial arts.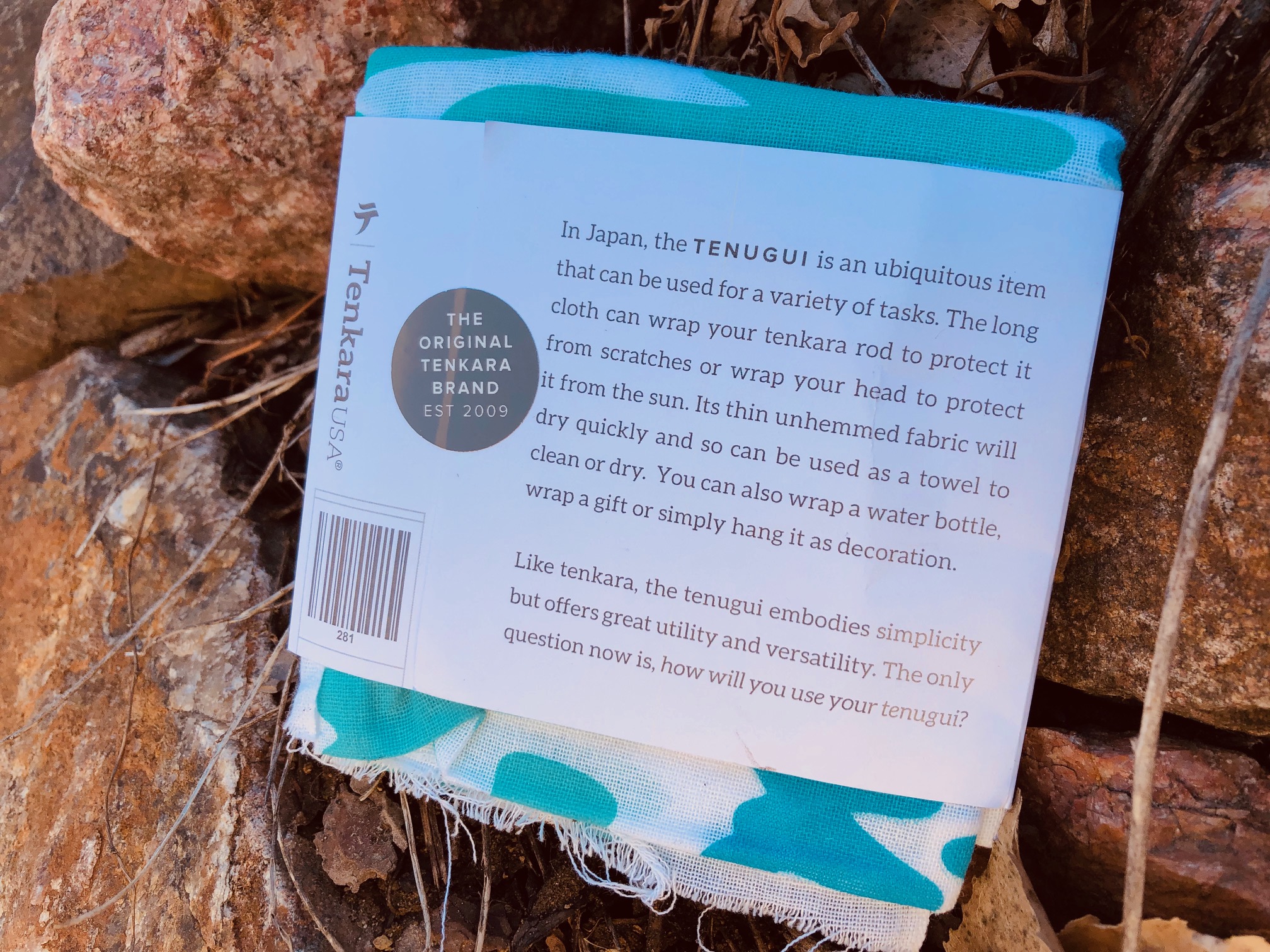 It didn't take long to put 2 and 2 together and realize that this was a multi-use piece of gear that could have many applications for the angler:
General-purpose towel (of course) for cleaning up spills
To dry yourself off when your waders leak (and they eventually will–trust me)
Clean sweat from your forehead
Wipe greasy sunscreen off your hands before you tie on a fly
Clean fish slime off your hands
Wet in the stream and wrap around your neck to cool off on hot days
Wrap around your neck or face or tuck in the back of your hat for sun protection
Handkerchief
Backup lens cloth for glasses/phone/camera
Emergency sling/bandage/tourniquet
Coffee strainer
Napkin for lunch at the tailgate
To tie things up (like tie multiple rods together, tie gear to your pack, etc.)
Wrap around your rod to prevent damage
Head covering (but it's not really my style)
etc.
There are probably many other uses I'm not thinking of but you get the idea. It weighs next to nothing and takes up practically no space so with so many uses, it would almost be senseless not to carry one. Pound for pound, it will probably be the most versatile thing you carry with you.
My friend Dennis has one and uses it as a decoration on his wall. I'll probably do the same with my tenugui from Oni because they were special gifts, but will keep the Tenkara USA one in my gear bag for sure. Now that I think about it, there were were many times when having such a towel would have come in handy and so now, I know I'll use it.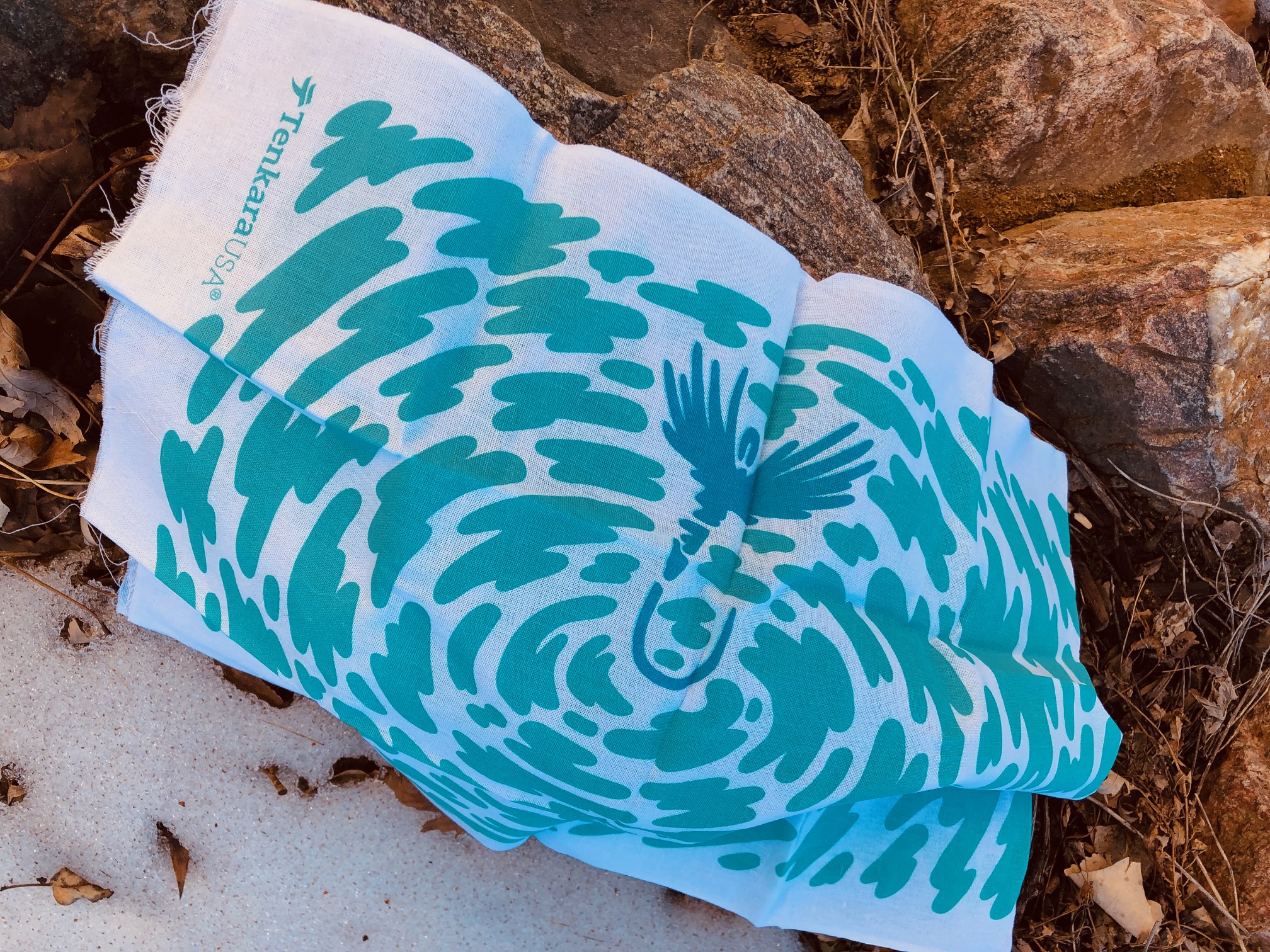 If you're looking for a modern take on a traditional tenugui, they're available at Tenkara USA. While contemporary tenugui are more frequently being made of terrycloth, this one is still made from the traditional cotton and measures 13″ x 36″ (33cm x 91.5cm). A "towel" certainly isn't the sexiest piece of gear, but when you really need one, you'll be glad you have one.
Do you carry a fishing towel?
If so, please share a picture of yours in the comments below and tell us what you use it for.