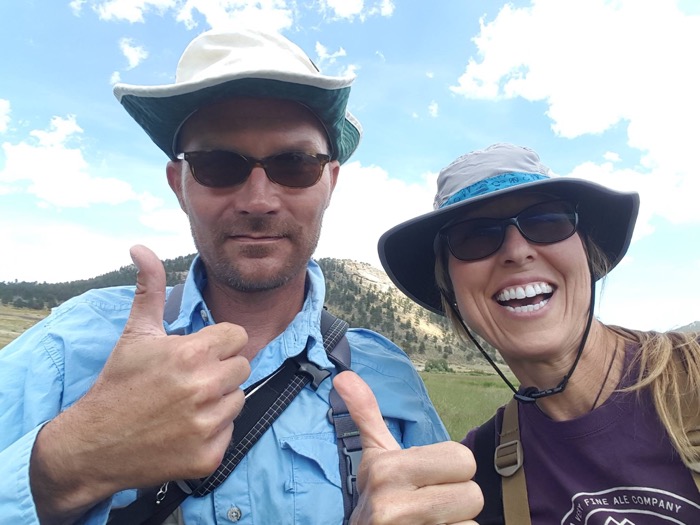 I rarely post trip reports unless there's something noteworthy, and today was one of those trips. I finally got to fish with Karin Miller of Zen Fly Fishing Gear. For those of you who don't know, Zen Fly Fishing Gear is a Colorado-based tenkara company that has been consistently producing quality, innovative gear since they first appeared on the western tenkara scene in 2012. In fact, they're about to become the first company to produce 100% U.S. made tenkara rods from head-to-toe–including blanks using their own custom-designed mandrels. And Karin is not only the owner, but the brains behind the whole operation.
She's a true, one-woman show–handling every aspect of the business including marketing, gear design, branding, coordinating trade shows, event planning, and more. I don't know how she does it all and still manages to take fly fishing trips to exotic destinations like Patagonia, but I'd love to know her secret.
Today was special because while Karin and I have met in person before and we've talked on the phone and Facebook several times, we've never actually fished together. I've always thought that you can get to know someone better in one day of fishing together than through 100 conversations.
We fished Moraine Park in Rocky Mountain National Park and, as always, the water and scenery did not disappoint. And neither did the weather (which often does). We had a sunny, bluebird day making it easy to spot fish. Of course, that also made it easier for them to spot us (as well as other predators) so we found most of the fish holding in deep pools and beneath undercut banks like this …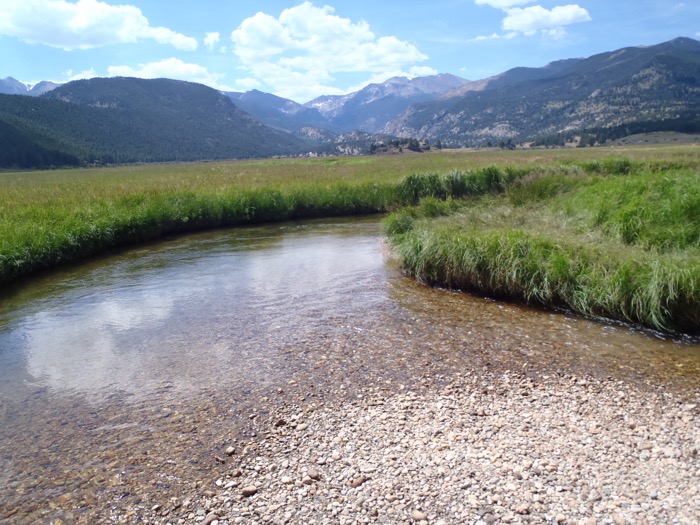 And this …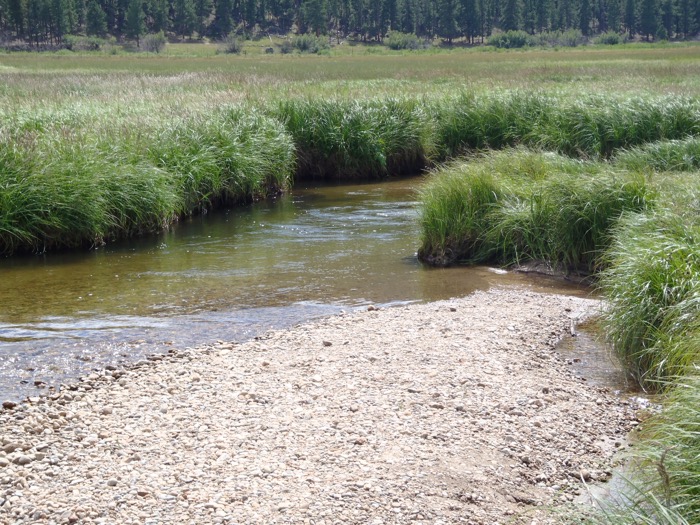 We both landed lots of beautiful fish but for the most part, they were small (which is typical of that area). The world needs more pictures of 6″ trout about as much as I need an appendix transplant, so I'll just post one representative picture of what the browns there look like. This guy was caught on a simple zenmai sakasa kebari with a loop eye and black starling hackle …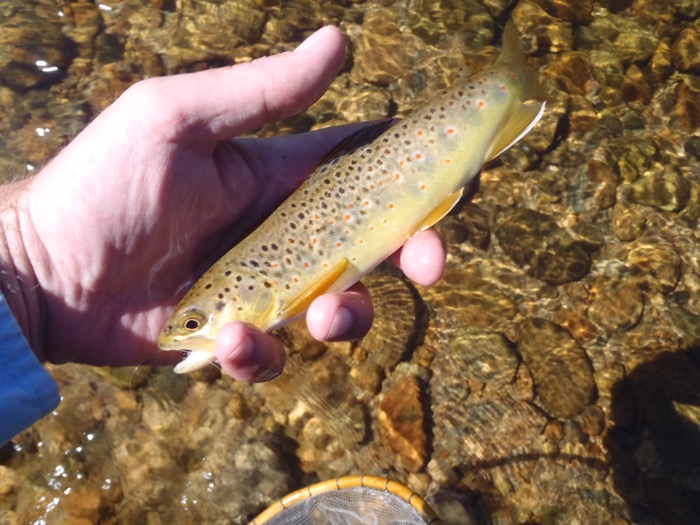 The one exception was Karin landing a nice 12-incher. It's hard to tell from the angle of the photo (completely my fault), but it was a nice fish and since she wanted to get it back in the water a.s.a.p., we didn't really have time to get a "hero shot".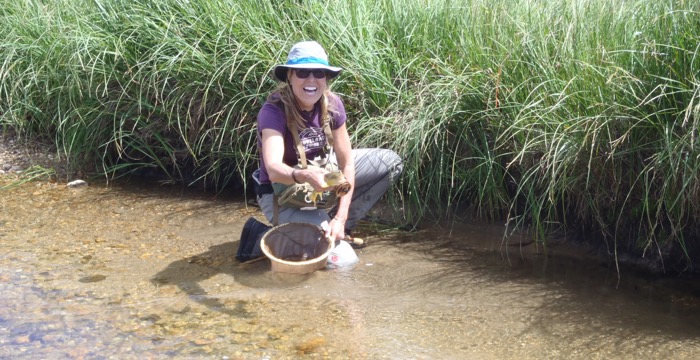 I also hooked a 12″ fish but the knot broke right as I was trying to net it. To make excuses and, avert my own incompetency, that knot and fly had been tied to the same tippet for probably about two months. So my defense is is that the terminal tackle failed. 🙂 Not my angling skills. But still, Karin landed the biggest fish of the day. It's likely due to her heron-like concentration …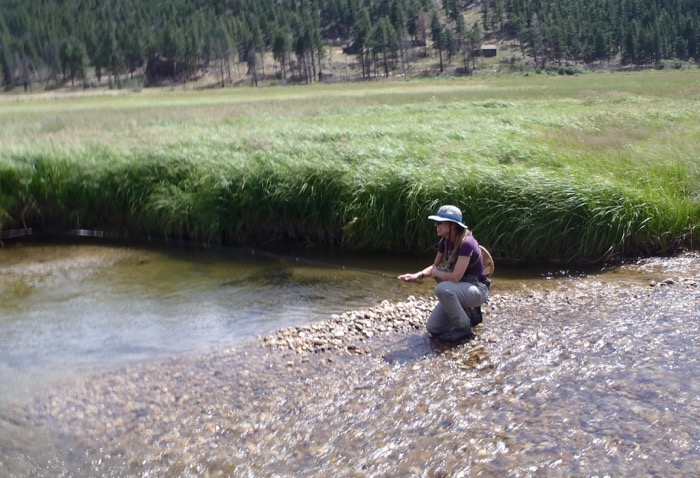 If you've ever been to RMNP and have gone in through the South Beaver Meadows Entrance, then you've probably stopped in that store that has everything–And I mean everything. It's a supermarket, gift shop, gas station, deli, etc. The name always escapes me, but I almost always stop there to pick up lunch, snacks, and water before heading into the park. She picked me up there in the behemoth Zen Tenkaramobile. You basically need a jetpack to get into the passenger seat, but it's big enough to serve as double duty as a camper. It reminded me of the Canyanero …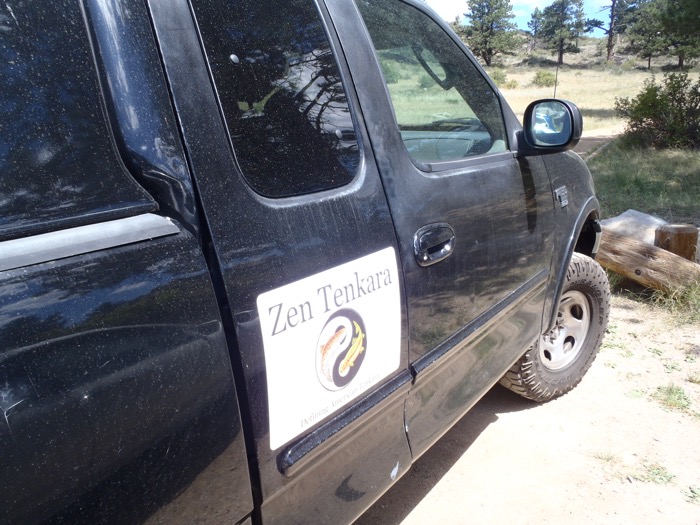 Before we left, I picked up a sandwich at the deli–Swiss cheese, sprouts, tomatoes, lettuce, pickles, and mayo. Plus a bag of chips. Yeah, that's my idea of shore lunch …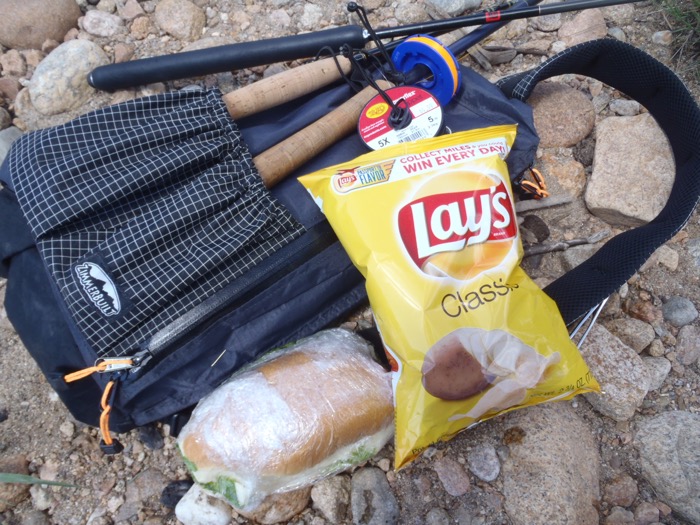 Karin prepping her tenkara stuff. She's got a really cool system. Much better than mine on the right which I really need to upgrade to something deeper. Of course, that means I'll need all new stickers to cover it with so if anyone wants to send me some …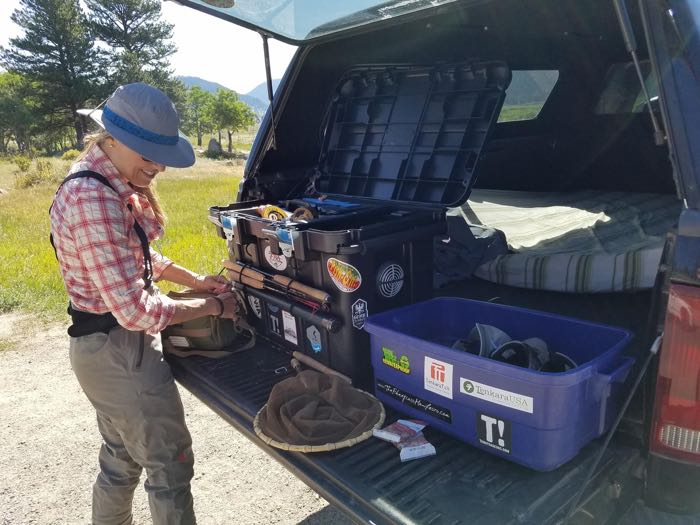 After lunch, I eventually lost the only zenmai fly I had with me on a snag so I switched to a simple #12 black & peacock sakasa kebari which seemed to work equally as well …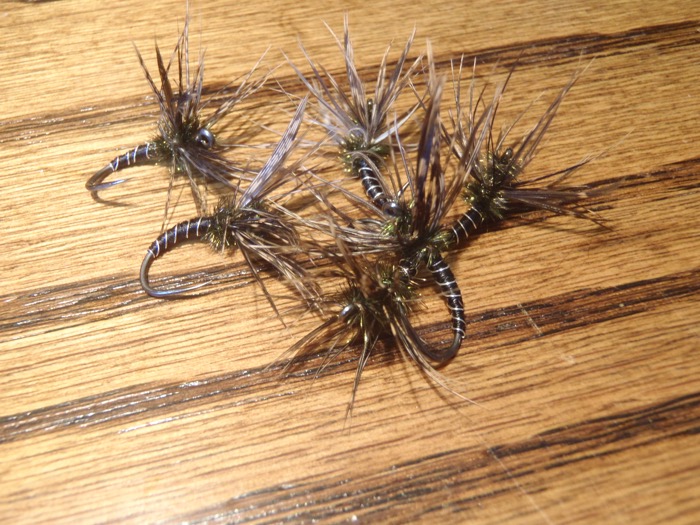 Most of the fish were small and casting became a little difficult when the wind picked up (which is to be expected on a meadow stream), but I think both of us agreed that you can't argue with the affect views like this have on your psyche. Even just a few hours in a place like this is like hitting the "reset button" on work, bills, taxes, illness, and the drudgery and stress of everyday life …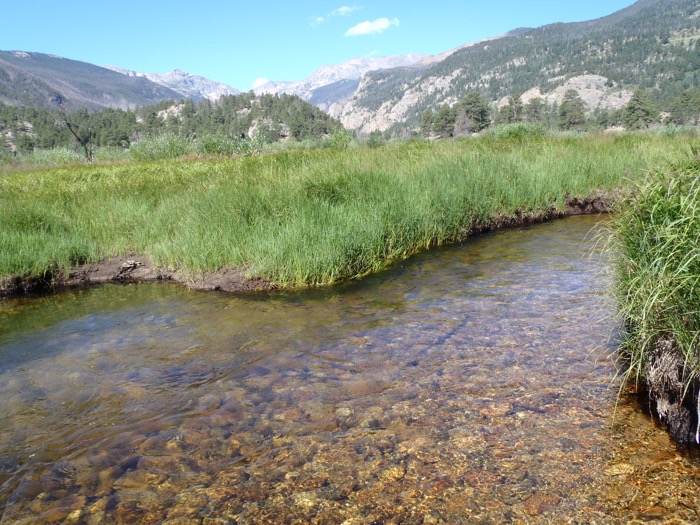 In addition to all the great fishing, views, and conversation, I was privileged enough to test out the new-ish Suzume rod (review coming), as well as learn about some other innovations Zen Fly Fishing Gear will be launching soon.
I took the hour-and-a-half drive home with a smile on my face the whole time and felt a great sense of rejuvenation especially after all the tough times I've had over the last few months. I think fishing more is going to prove to be better therapy than any drugs the doctors can give me (or at least compliment them).
I'm coming around to the conclusion that getting out more and tying more flies is doing more for my mental health than taking pills alone. It's not only re-engaging with a passion I became numb to for so long, but it's also about being with the right people and finding a connection to something beyond yourself–whether that be nature, fish, or people.