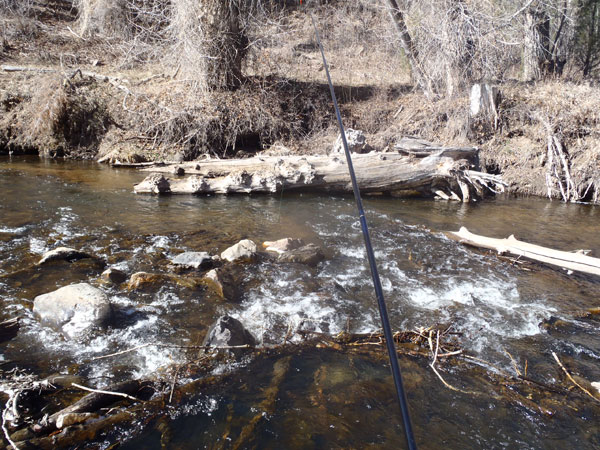 You've just found the perfect pool. It's full of fish that are actively feeding and you've got it all to yourself. You know you'll be able to pull at least a few nice ones out if you just fish it long enough.  It's one of those rare moments that you need to take full advantage of when it comes along.  You take your first cast and catch the eye of a nice rainbow.  It comes to your fly but you just miss him.  No matter, there are plenty of other fish in the pool.  Your excitement grows. But then, it happens.  You get snagged on the log on your second cast. You now have two choices. You can either wade in to retrieve your fly and put down all the fish in the pool, or break it off, re-rig, and continue fishing. But what if you could get your fly back and still be able to fish the pool without putting the fish down?  Thanks to a unique characteristic of tenkara, you can!
While every fly fisher faces this dilemma sometimes, tenkara anglers have a unique advantage that can save flies without having to ruin a good spot.  All you have to do is this:
Collapse your rod.
Pull the tag end of the line to remove it from your rod.
Make a mental note of where the snag is and let go of the line letting it gently drift downstream in the water.  It won't spook the fish and it won't go anywhere if it's snagged.
Now, attach another line, extend the rod, and fish the pool.
When you're done, wade in to the pool and retrieve your snagged line and fly.  If its brightly colored (as most tenkara lines are) and the water is clear and shallow enough, it should be pretty easy to find (f the water is off color or too deep to easily see the line, you might consider anchoring it to something like a tree or rock instead in step #3)
That's it!  Now, you've saved your fly (and tippet) without having to sacrifice a great fishing opportunity. This little trick can be a lifesaver especially when your fly box is running low on that one pattern that's producing that day and you can't afford to lose one (the one fly that's working always seems to be the one that snags the most, doesn't it?). Of course, this tip won't work in every situation, but it works on about 99% of the trout streams I fish. I usually carry a couple of extra lines pre-rigged with flies on me anyway and thanks to the quick change connection of tenkara, this switch only takes a minute or two.
Now, the next time you get snagged, you won't have to choose between losing your fly and fishing a great hole.
Like this article? You might also like these ...