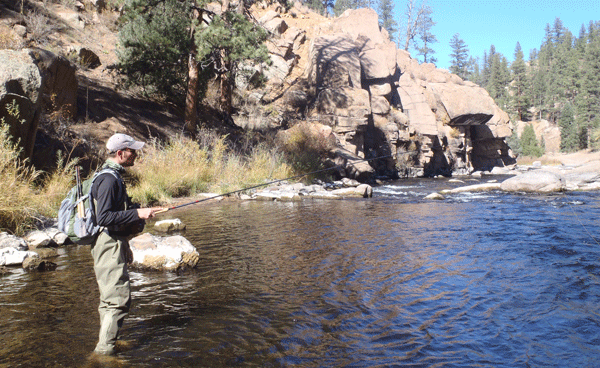 It might sound strange, but I have come to believe that fishless days can actually be a good thing (well, every once in a while, that is).  And I'll even take it a step further and add that ultimately, I think they make us better anglers and deepen our appreciation of the sport.  I've been particularly lucky this season with a number of stellar days on the water like this, this, and this so I'm a little distanced from the skunking phenomenon.  But I think there are at least four reasons why the occasional skunking is something to be embraced rather than cursed…
The last time I got skunked was last year on the South Platte with Daniel Galhardo of Tenkara USA and my good fishing buddy Karel Lansky from Tenkara on the Fly.  We fished the notoriously over-pressured Cheeseman canyon over a three-mile section.  We fished hard, but at the end of the day, only Daniel landed a fish, Karel hooked but lost one, and I was completely skunked.  Not a very encouraging day, but good company always seems to make up for that and I came away with a better understanding of how such days can affect our angling skills (for the positive).
Four Reasons Getting Skunked is Good
1.  It reminds us and confirms that there is skill in our sport.  The fact that we have access to a body of fishing knowledge that spans thousands of years, yet still occasionally can't catch fish, reaffirms the fact that our sport requires skill and grace.  If not, we'd be able to catch a fish every time without trying. Personally, I like the challenge and when I catch a fish, it seems more rewarding. Somehow, not catching fish every time validates the effort
2.  It makes good days feel even better.  If we did catch tons of fish every time we went out, I think the luster would wear off.  There's got to be some opposing force to the stellar days that makes them stand out by comparison.  I think that makes us appreciate them all the more.
3.  It forces us to reevaluatue our techniques.  A fishless day is a good time to rethink and improve our techniques.  Like a coach going over a video of a shut out game with the team, it gives us an opportunity to reevaluate our strategy.  What could I have done differently that might have worked?  What did I learn?  Sometimes, learning what didn't work is just as important as learning what did.  I have run through the play by play of many skunked days, returned to the same water later with a new game plan, and succeeded.  And that has improved my skills.
4.  It keeps the sport fresh.  If you catch fish every time you go out without even trying, I think something is lost.  You begin to approach the stream as a know-it-all and impose your will on the water rather than trying to engage and connect with it.  Instead, I think taking a humbler, beginner's mind approach is more enjoyable and tunes us into the environment more.  You have to observe, be focused, and be in the moment.  I learn something new every time I hit the water with this mindset.  I learn nothing when I approach it with overconfidence–even if I catch a lot of fish.
So what is the definition of "skunked" anyway?
I mentioned to Karel that I was going to write a post about getting skunked and he posed a pretty interesting question.  Basically, he asked if I considered hooking (but not landing) fish still being skunked.  Some people would argue that a fish doesn't "count" unless you bring it to hand or net.  But Karel thinks that the mere act of hooking them suffices and makes a good argument:
I feel that if I hook a fish, I am not skunked.  Our goal is to make them take our offering.  Landing a fish is a bonus–especially if you practice catch & release. – Karel Lansky
I can't say I disagree with that philosophy, but am still on the fence.  So I thought it would be interesting to open the question up to you…
How do you define getting skunked?