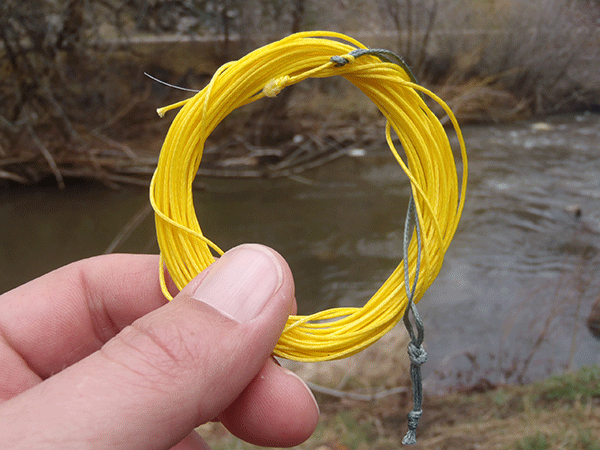 While I use fluorocarbon level lines for 99% of my fishing, I always like to experiment with different materials to see what applications they might have for tenkara. Last year, I wrote a post about using Cortland braided mono running line and many people seemed interested in it. However, I recently discovered that that line is being discontinued (rule: if it's good, it will be discontinued). Luckily, I recently got a small sample of Calcutta Ultrabraid from fellow tenkara angler David Walker and and after some experimentation, think it might make a good (possibly, better) substitute for those who like braided level lines.
Superficially, the Calcutta line looks a lot like the Cortland line. It's thick, yellow, and, well, braided. But a couple of things differentiate the two. First of all, I wrote in my review that the Cortland line was "kinky". You couldn't really get the kinks out even by stretching the line. The Calcutta line seems much suppler and doesn't kink.
Secondly, The Calcutta line floats. In fact, it floats almost as well as a PVC fly line. This is due to a coating that the company says is applied to add durability and prevent fraying. I don't know if the fact that the coating makes it float is an unintended consequence or not, but it sure does float well.
The line comes in a variety of diameters, but the one David sent me is 130 lb. test 0.024″ (0.61mm) and that seems to be a good general size for tenkara. And because of its thickness, it's extremely easy to see on the water.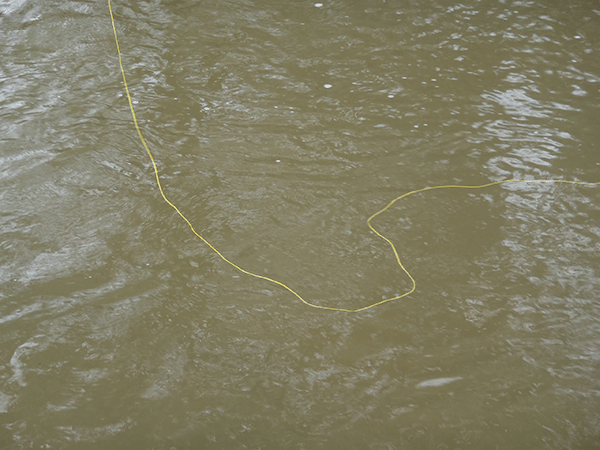 The line can easily be attached to the lilian with a simple girth-hitch connection.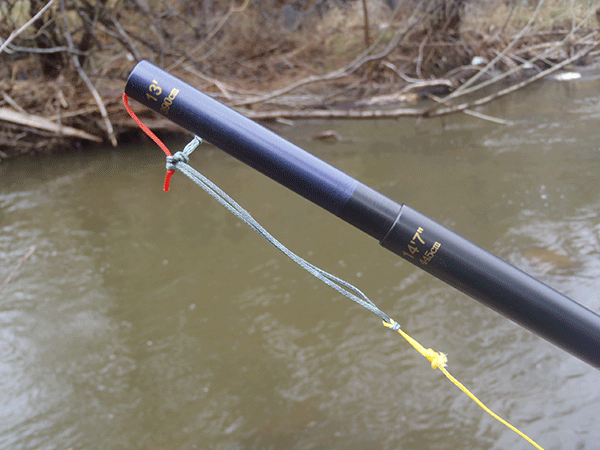 The Calcutta line casts very easily since it's heavier and thicker than other lines used for tenkara. The extra weight loads the rod more than a traditional furled tenkara line giving good haptic feedback during the cast; however, the added weight means that you can't keep line off the water the way you can with a fluorocarbon level line. So I think it's fair to say Calcutta Ultrabraid is more suited to people who like to fish more of a Western style but with a tenkara rod (think Yvon Choinard rather than Masami Sakakibara). Your line will be on the water and you'll need to make more of a Western 10 O'clock 2 O'clock cast than a traditional tenkara cast.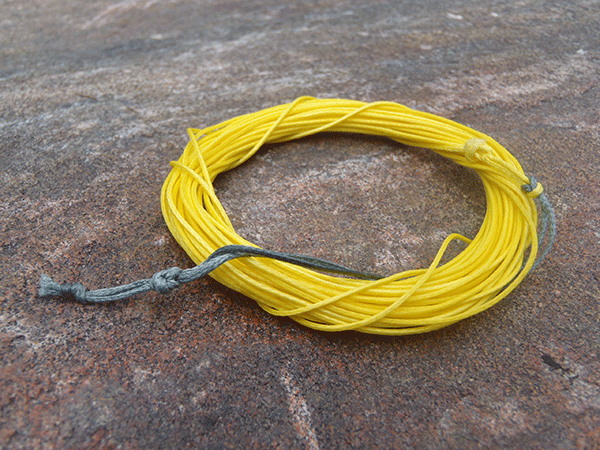 Overall, this is an interesting material that could have many applications for tenkara. I think it would be a good choice for those who want to fish dry flies, fish in stillwaters, or those who need a line with a little more punch to toss larger streamers.
Click here to see all the diameter options, color options, and for more info.