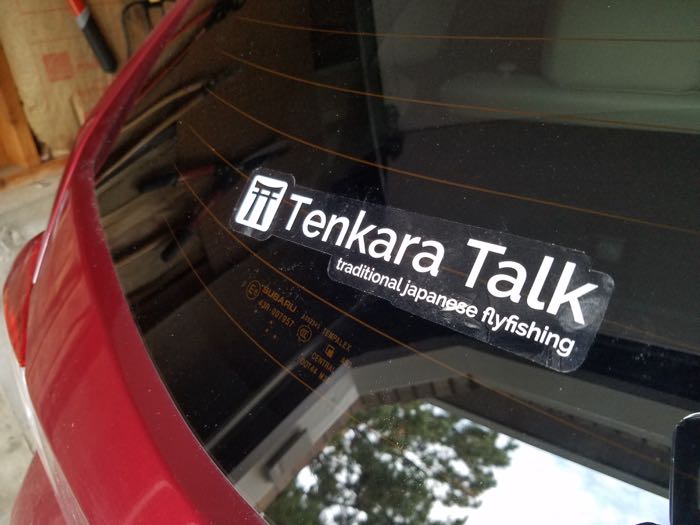 I just got my new batch of Tenkara Talk stickers, and they're bigger and better than the ones I've offered in the past. I realized my old ones were too small and weren't haloed (meaning they were just rectangles and weren't cut around the shape of the logo so they didn't look all that professional). This time, I had them cut to form just a small border around the logo and I think they look a LOT better. Plus, they're bigger for better visibility (don't judge the way they look from the pic of my Subaru that I haven't washed in 3 months).
The new dimensions are about 7″ wide X about 2″ tall meaning the car behind you at that stoplight will actually be able to read it and identify you as a proud tenkara angler. While they have white lettering and graphics with a transparent background and I primarily intended them to be window stickers for cars, they also look great on your favorite Nalgene water bottle, cooler, rod tube, or anywhere else you want to flaunt your tenkara pride against a darker background.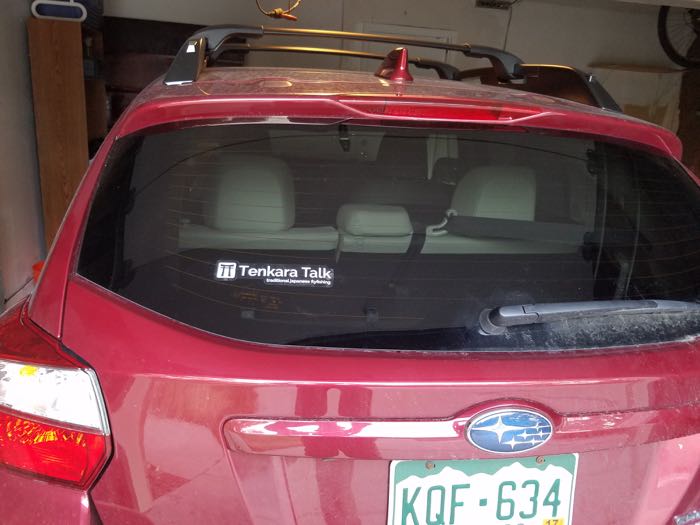 At first, I thought I'd charge something for these, but then I thought that would be too selfish. And I'd rather see my stickers on Facebook and streamside pull-offs more than getting back what I paid for them or profiting (maybe that's even more selfish). Some of you might know I've had some pretty severe medical bills to pay lately so I'm kind of over extending myself with the printing, postage, etc. this month. So, here's the deal. If you email me with your address (U.S. only), I will send you a sticker for free. No strings attached. But if you feel like making a small donation to help recover the costs (like $1 or $2), I would be very grateful. And international orders must pay a $3.00 shipping fee. In either case, you can just send me a PayPal payment to jmklass@gmail.com. You don't need a PayPal account. Just a credit card. It's easy.
Anyway, I hope you enjoy the new stickers as much as I do and find a good place to personalize your favorite gear with them. And for those of you who will be hearing my upcoming talk at the 2016 Tenkara Jam, I'll have some there too. Thanks for "sticking" around with me. 🙂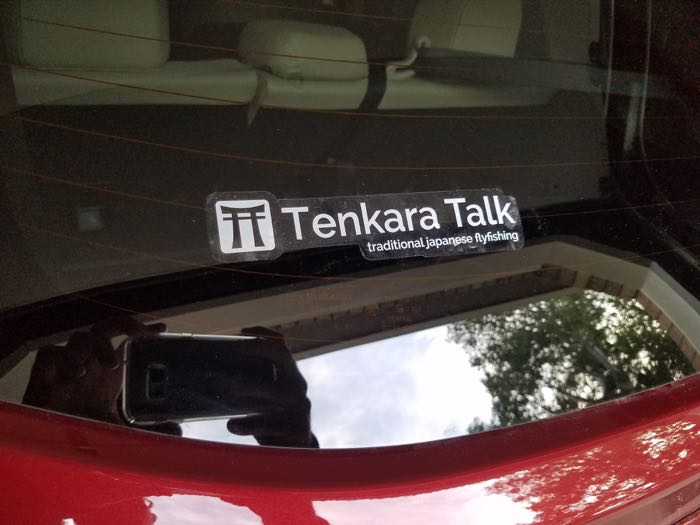 P.S., I'd love it if you sent me a pic of where you stuck your new sticker so I can post it on my Facebook page or Twitter.
Like this article? You might also like these ...