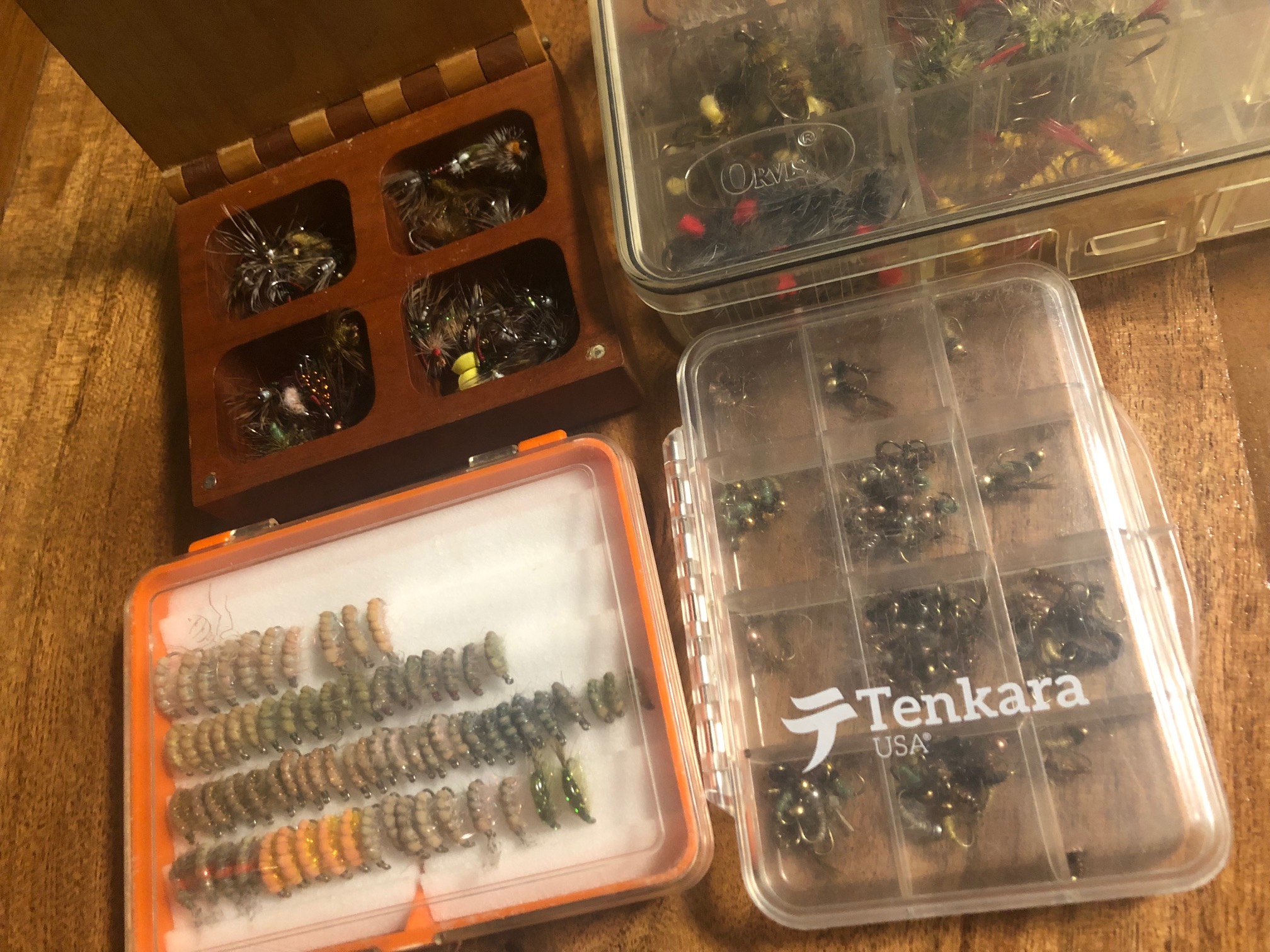 I recently read an article by one of my favorite fly fishing authors, Dave Hughes, in which he wrote something that gave me pause for thought …
Don't ever stick with a fly that trout have tipped up their noses against hoping they'll change their minds. They won't. You need to change your fly.
Had I read this quote in my pre-tenkara days, I would have agreed 100%. "Match the hatch" was my mantra and I thought the essence of fly fishing was to solve the puzzle of which species, size, and stage of insect the trout were keying in on. However, after over a decade of fishing tenkara exclusively for trout, I would now challenge that quote (or, perhaps more accurately, refine it).
You might be wondering who the hell I think I am to pull out a white glove against a fly fishing legend like Dave Hughes. But it's less that I refute the axiom than I feel it's a bit too narrow given empirical experience. Let me explain …
As I alluded, in my early days of fly fishing, I carried an astonishing array of patterns in every conceivable size, shape, and color and changed flies often. Sometimes it worked, sometimes it didn't. If I had to self-diagnose, I would say that the times it did work reinforced a belief that if the fish weren't taking your fly, then changing your fly must be the logical conclusion, right?
The only problem with that is that I've had much evidence to the contrary. Many years ago, I discovered the Ballon Caddis and it quickly became one of my go-to patterns. And when I first started fishing it, I got my first taste of what I call "presentation over pattern".
One day, I started fishing the Balloon Caddis in the standard upstream dead drift. I was getting plenty of window shoppers and false rises, but no takes. Then, I remembered seeing a video of the fly's originator, Roman Moser, "skating" it across and downstream. So merely out of desperation, I gave it a shot and hooked a nice brown on the very first try!
So, I continued to work my way downstream with the same presentation and ended up having a stellar catch that day. I never changed flies–only my presentation.
Slowly, my experience was giving me clues that I was all wrong about coaxing fish by changing flies. I hadn't seen the full picture yet, but looking back, there were all manner of instances where the conventional wisdom focusing on the fly didn't work, but switching up the presentation did.
I think it wasn't until I came to tenkara that it finally sunk in. I had read about how some tenkara anglers in Japan only use one fly (and by that, I mean one pattern exclusively) and alter their technique rather than "matching the hatch". I was still a little skeptical and continued to fish my staple western patterns but came to be curious about this concept and began to experiment by limiting myself to just one tenkara pattern.
I did this for one year just to test myself and the theory. I chose a simple sakasa kebari for my weapon of choice. To my surprise, I caught just as many fish as I always had! I won't say I caught more fish–that was an unverified claim early adopters of tenkara made when there was a vicious resistance to it among western anglers. I've never done a quantitive analysis to prove that I caught more fish, so let's just say at least as many.
I think part of this was due to the sakasa kebari's innate versatility. It can be dead drifted upstream, fished deep or just below the surface, swung across or downstream, pulsed to give motion to the hackle fibers, and even fished on the surface. In fact, you could make half a dozen different presentations with it in succession without ever switching it out for another pattern.
After that experiment, it made me wonder about how much time I'd wasted over the years changing flies and re-rigging when I could have spent that time actually fishing. I can't remember who said it now (it might have been Dr. Ishigaki) but the quote is, "the fly that catches the fish is the one in the water."
So in retrospect, if I were to edit Hughe's statement, it might read something like this:
Don't automatically give up on a fly that trout have tipped their noses against thinking they won't change their minds. Change their minds for them by changing your presentation before changing your fly.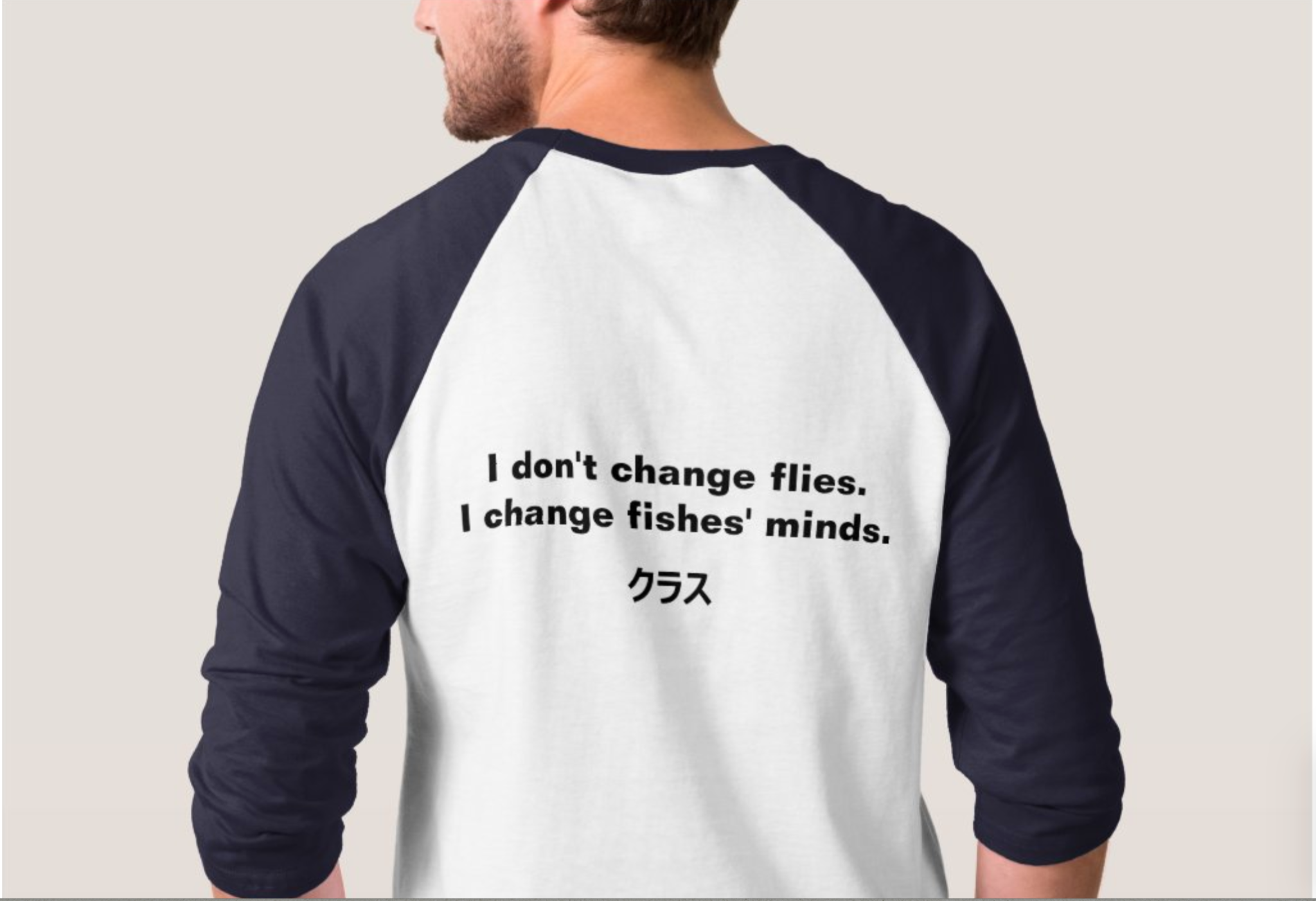 (BTW, you can get the above shirt here if you want one)
This revision doesn't contradict Huge's assertion. I just like the fact that it's a broader approach. I learned from saltwater fishing that using the same pattern under the same conditions, the same fish that ignores your fly on one presentation will attack if you switch up your retrieve. You just need to find the right trigger.
It took me  a long time to break free of my "match the hatch" indoctrination and realize all of this and ultimately believe in "presentation over pattern". And, indeed, the fly in the water is the one that catches the fish–not necessarily the next one you're going to tie on.