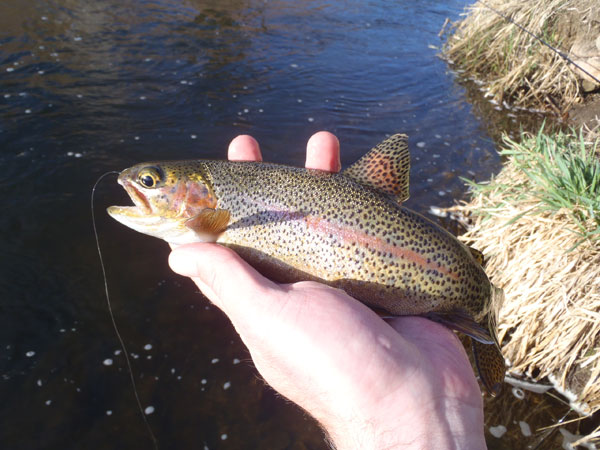 April Fool's day was no joke on Bear Creek this Sunday.  I had another stellar day–one of those sublime "lost track of how many fish I caught" days.  But aside from the great fishing, I learned a thing or two.  The days you catch fish (or don't) come and go.  But the lessons you learn on the water tend to stick with you throughout your fishing career.  And this trip definitely gave me some insights that will help me deepen my understanding of (and confidence in) traditional tenkara techniques.
I arrived early to beat the crowds and that turned out to be a wise move as the parking lot was full by 10:00 a.m.  The night before, I tied up some larger #8 sakasa kebari that I wanted to try and I knew just the pool I wanted to toss them into.  Knowing I wouldn't have the whole stream to myself for long, I headed straight for the pool and began casting.  I was presenting side and down stream, pulsing the fly, but with no luck.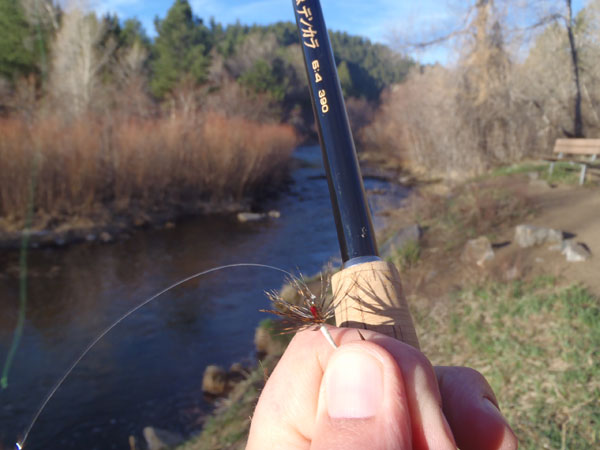 To get my confidence up, I decided to tie on a Utah Killer Bug since I had had great luck with it in the same pool a couple of weeks ago.  I dredged up a few small browns and rainbows and lost a few more.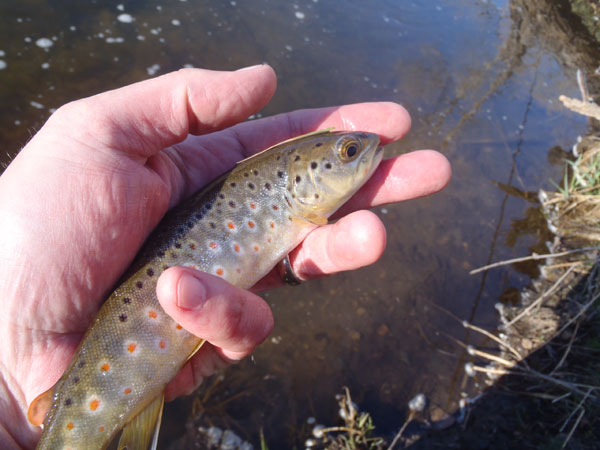 Soon, fish started moving up in the water column and began rising.  And I did something counterintuitive.  Rather than tying on a dry or emerger, I tied on a #12 Plain Jane sakasa kebari.  There were a lot of fish rising at the tail of the pool and I started making a downstream traditional tenkara presentation to them.  I landed about four or five fish and lost a lot more.  The interesting thing was that from the rise forms, I deduced that the fish were taking the small midges I could see bouncing off the water's surface.  So why were they hitting a fly ten times that size that was behaving like anything but a midge?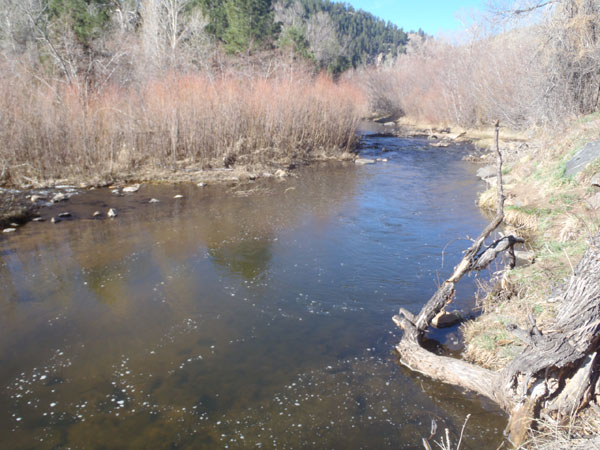 After fishing the pool out, I decided to move downstream and hit some pockets with the sakasa kebari.  I picked up a few more fish along the way until I came to another nice pool with rises everywhere.  Since I had already caught a bunch of fish on traditional tenkara, I felt it was time to feed my dry fly addiction.  After all, I still hadn't caught a fish on a dry in 2012!  I caught a few on a Griffith's Gnat and later switched to a Japanese Hammer.  I caught some, but was getting a lot of refusals.  The rises started dying down so I switched back to the Plain Jane sakasa kebari.  I landed a few more nice fish but they got wise to me fast.  So just to experiment, I tied on a smaller #14 horse hair sakasa kebari.  It's a little daintier than the Plain Jane sakasa kebari with much sparser hackle.  I wanted to see if switching sakasa kebari would make a difference.  And sure enough, the action heated up again just as quickly as it had cooled down.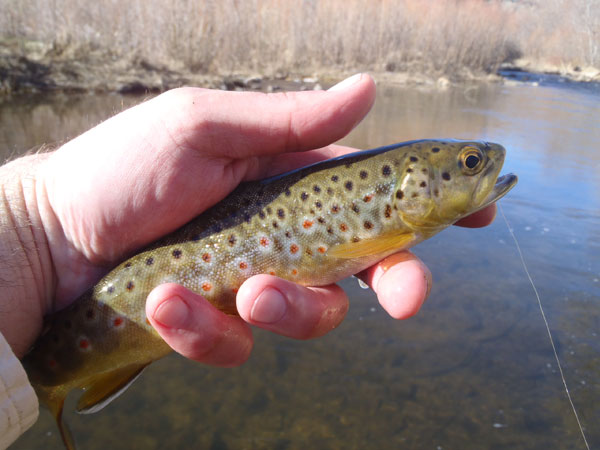 Just switching to a slightly different sakasa kebari made a big difference.  Needless to say, this got me thinking about the "one fly" approach.  Behind this approach is the theory that it's not the actual fly that matters, but the angler's skill.  Yet, in this case, switching flies clearly made a difference even though the conditions didn't change and I was using the exact same presentation.  This experience was timely since I'm working on an article about the one fly approach vs. matching the hatch.  I won't go into it here, but let's just say it gave me some insights about how fish respond to different flies during a hatch that I'll certainly incorporate into my article.  Stay tuned for that.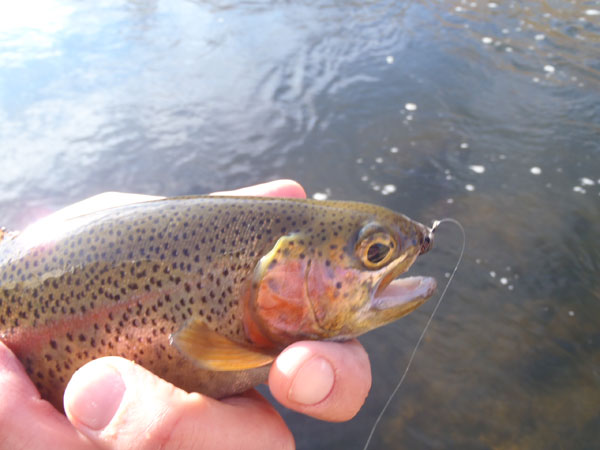 Another perk of the day was the chance to meet Joseph Egry, an accomplished angler and fly tier who was trying out tenkara for the first time.  Joe is a great guy and I was happy to hear that he had already caught his first fish on tenkara by the time we met up.  I gave Joe one of the new TenkaraTalk bumper stickers and he immediately stuck it on the back windshield of his truck.  Way to instantly represent Joe!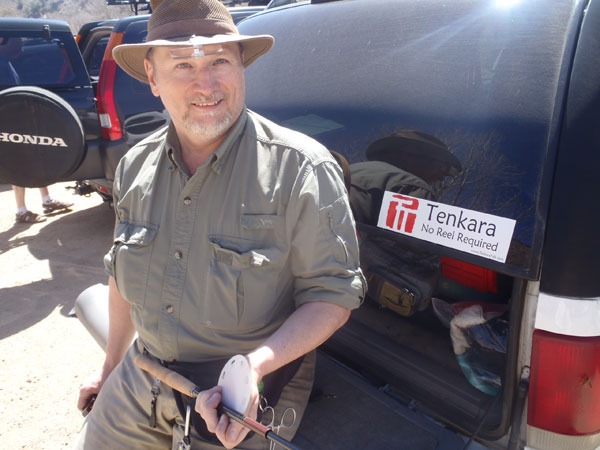 Joe fished his Tenkara USA Iwana while I fished my Nissin Prosquare rod and a TenkaraUSA #4.5 level line.  A #4.5 line might seem a little heavy but I'm coming to realize delicacy isn't always that critical when fishing a sakasa kebari (or any subsurface fly for that matter) and I really prefer the easier casting it offers.  Especially in the wind.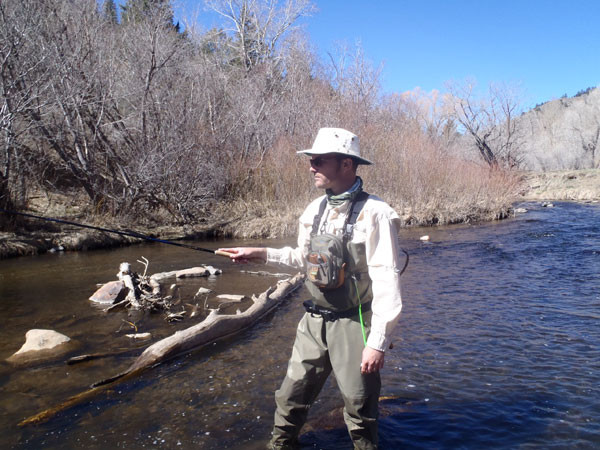 It was a great day and I learned a lot that I'll incorporate into my upcoming article.  Sometimes, people say they had a great day on the water and catching fish was just "icing on the cake".  On this day, I'm not sure whether the "icing" was the fish, or the lessons learned, but but I will savor it (especially the next time I get skunked).
Like this article? You might also like these ...