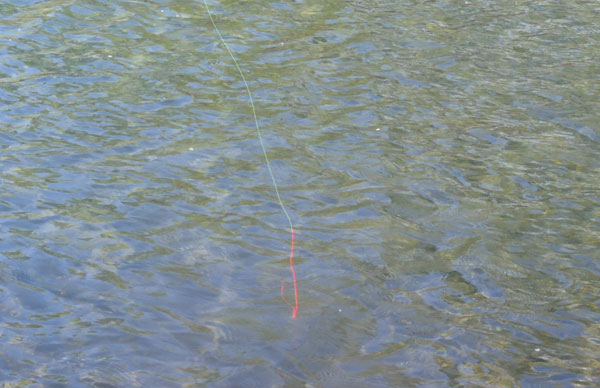 If you've been following tenkara for any length of time, you've probably seen some discussion on line visibility.  For traditional, furled tenkara lines, this isn't really an issue. They're pretty thick and are often brightly colored so they're almost as easy to see as western fly lines.  But for the thinner, fluorocarbon lines many tenkara anglers prefer, it's a different story.  Not only does their comparatively anorexic diameter aid in on-stream invisibility, their color and transparent nature can make them impossible to track in different lighting situations.  While it might not matter much for an angler fishing a dry fly or sight fishing, I argue that line visibility makes a big difference for those fishing wet flies in the more traditional tenkara method.

For strike detection, obviously, the best thing to watch is what is closest to the fish–which is always the fly. But often, you cannot see the fly when fishing subsurface. In those cases, the next best thing is to watch the line. And if you can't see the line, the third option is feel. Feel alone is the least reliable. I read somewhere (I think it was in a Gary Lafontaine book) of an experiment where a scuba diver watched someone nymphing underwater. When the diver came up he told the angler that several fish had hit his fly and spit it out. The angler didn't feel even one of the hits. I try to avoid relying on feel alone when possible. The time a tactile indication takes to reach the rod grip is too long and will likely lead to lost fish. Since the most immediate indication is what is closest to the fish, I think line visibility is important when you can't see the fly.  Therefore, line visibility matters.
But let me put a finer point on that. While I think it's important to see the line, it may not be important to see the whole line. If you think about it, you're watching the tip for a strike so you really only need to see the last few feet of line (I say a few feet in case some of it is submerged). So, if you're fishing something like the notoriously invisible titanium line, a 2 or 3 foot high-visibility sighter should suffice. I'd even argue that the same is true for using clear, non-tenkara specific fluorocarbon. That means you could even buy fluorocarbon from your local fishing store and simply add a sighter to the end.  I have done this and it works fine.  Just make sure you get a line that is 100% fluorocarbon and not one with just a fluorocarbon coating (it makes a big difference because the densities are different).
I can't think of any reason why you'd need to see the whole line. Some might argue that it helps your casting but if you look at the experts, they don't watch the line in the air. They focus on their arm and wrist movement. If their form is correct, the line does what they want. Of course for beginners learning to cast, I can see a value in being able to see the whole line so they can see if it's turning over correctly or not.
Since most of my fishing is subsurface and I usually can't see the fly, being able to see the end of the line is crucial for strike detection.  I don't care about the rest of the line.
So if you've got a tenkara line you like but can't see it, don't fret. Go get some Amnesia or other hi-vis material and add it to the end. Remember, you only need to see the line where it matters most.
What is your take on tenkara line visibility?
Like this article? You might also like these ...