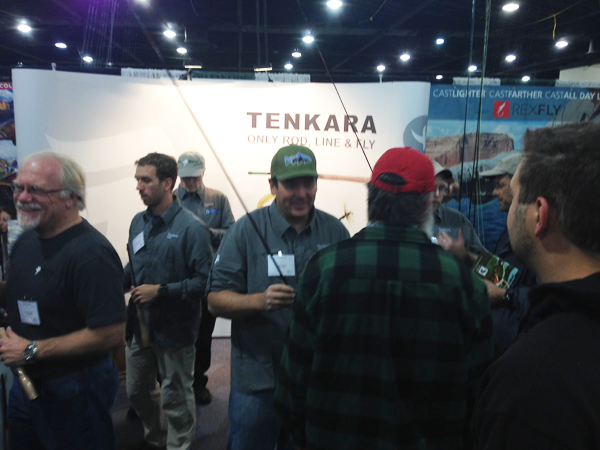 This weekend wrapped up the 2014 Denver Fly Fishing Show and while I didn't see much there that was innovative, I wasn't disappointed. This was for two reasons.
First, vendors have pretty much the same gear every year. I rarely see anything new or anything that surprises me so I go with pretty low expectations. But it's not the show's fault. In fact, the show is very well run and organized. The problem is that I think there is just a lack of innovation in the fly fishing industry in general. I'd really like to see gear companies start developing genuine purple cows, rather than brown cows merely painted purple. But that's another story.
The second reason I wasn't disappointed is because like last year, tenkara was all the rage. The Tenkara USA Booth was hopping, and like years before, tenkara was very well received. I was also happy to see a lot of familiar faces from the tenkara community, as well as have a chance to finally meet up in person with people I've only had contact with through the internet.
So, here is a brief rundown of some of the highlights of the show for me. I apologize for the blurry pictures but the lighting at this show (as with most trade shows) is horrid.
The Stuff
While I said above that this year was pretty much more of the same in terms of gear, there were a few things that caught my eye. In particular, there were some absolutely gorgeous wooden fly boxes from a local company called Finest Fly Tying Benches of Colorado.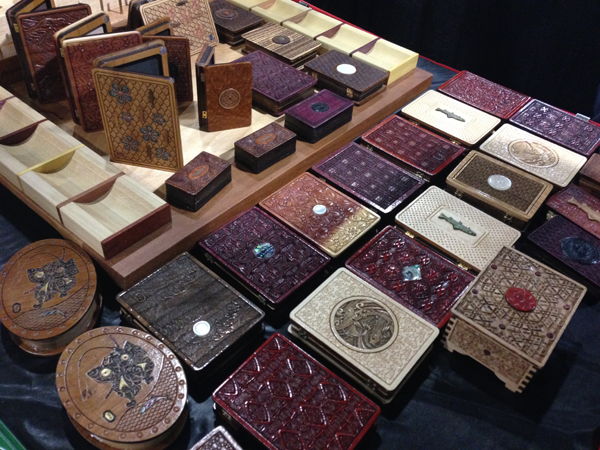 After drooling over the above boxes, I noticed they even had a small stock of boxes specifically designed for tenkara. Apparently, the owner's son is a pretty avid tenkara angler which prompted him to make some boxes with a tenkara slant.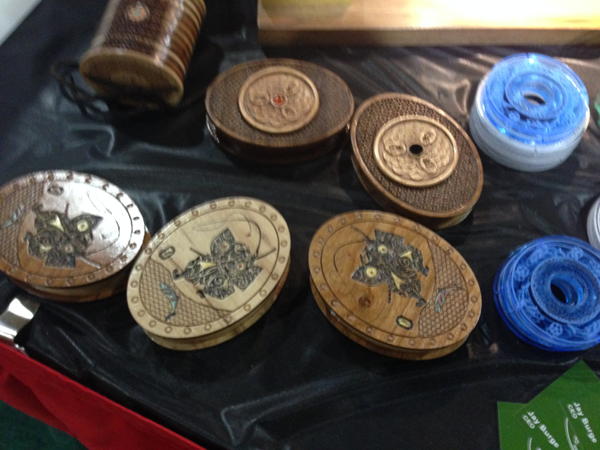 There was also some interesting flyfishing-specific camouflage clothing from Aqua Design. Normally, I would probably walk right by it, but the recent discussion surrounding camo for fly fishing that came about after my interview with Chris Stewart made me stop and take a second look. I thought it was interesting that they offer a variety of different camo to blend into different backgrounds such as the sky, rock, or various types of foliage.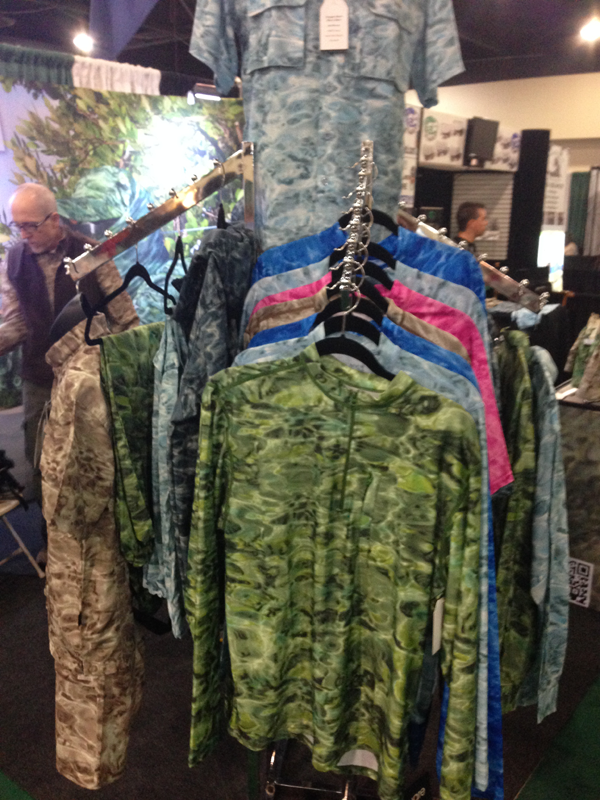 Though not a exhibitor, one person stopped by the booth with a very unique piece of gear. You may remember my review of a bamboo tenkara rod case from a while back. Much to my surprise, the guy who makes them (Richard Kolodny from Flyfishing Artwork) showed up carrying his latest design.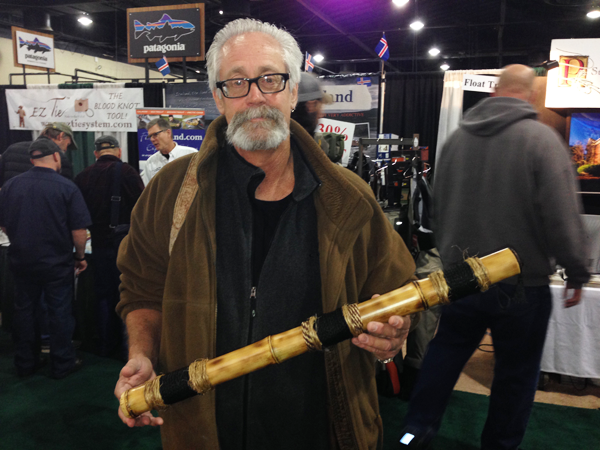 This new iteration of an already very unique and beautiful tenkara rod tube features some major upgrades including a more elegant cap closure rather than a bamboo node, a cork fitting for the cap, and a cord loop to hang the case on the the wall for decoration or just more practical storage. His latest design is very impressive and was the center of attention the entire time he was at the booth.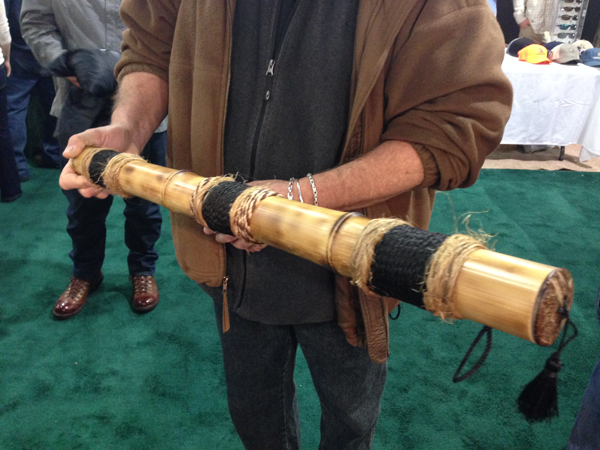 The Tenkara USA booth was armed with the their full line of rods including the Sato & Rhodo (which wowed everyone who wiggled them).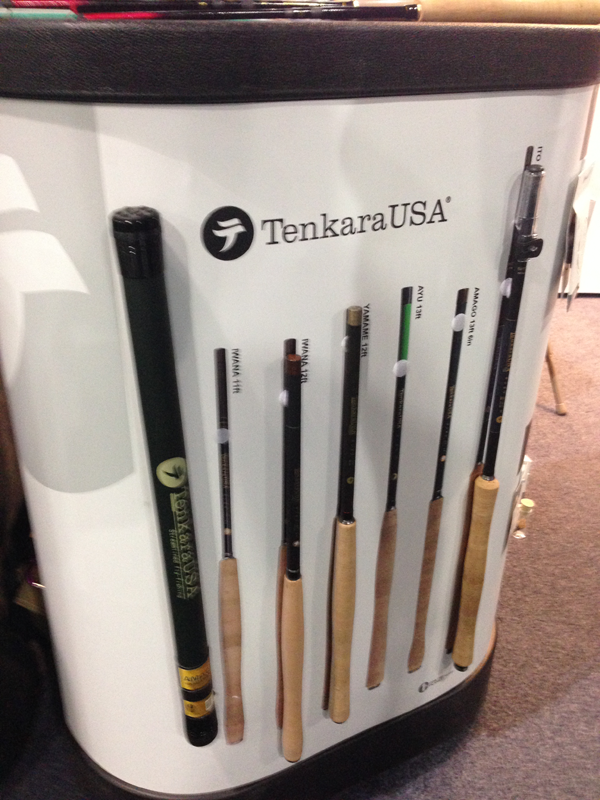 While the Tenkara USA booth wasn't selling tenkara rods at the show, their next-door neighbor RIGS Fly Shop was. They not only offered the full lineup of Tenkara USA rods, but also a few of their own specialty lines such as their floating tenkara lines and nymphing lines.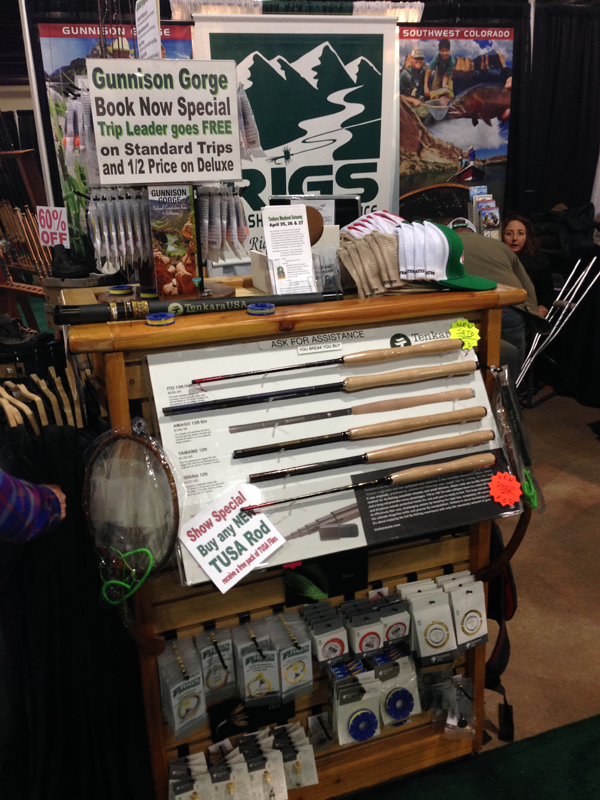 The People
On to the best part…the people. This is really main reason I go the show. The gear companies may not be churning out a lot of new things to see, but the show does attract the best and brightest in the flyfishing world and I love rubbing elbows with fellow tenkara anglers, bloggers, and big names in the industry. I think the thing I appreciate the most is that when we all come together in person, there is no ego–just a shared interest in our sport and genuine desire to share our experiences about it. Here are just a few of the people I bumped into at the show…
Cameron Mortenson form the Fiberglass Manifesto (left) & Jason Klass …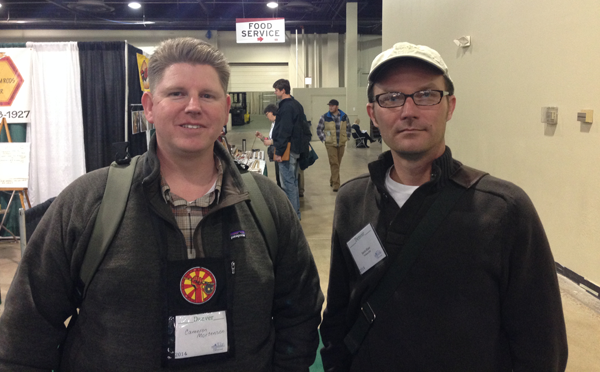 Karel Lansky from Tenkara on the Fly checking how much backcast room he's got behind the casting pool. Tenkara rods are long. The ceiling at the Denver Merchandise Mart is low. It's the perfect combination for a broken rod or line snagged in the rafters …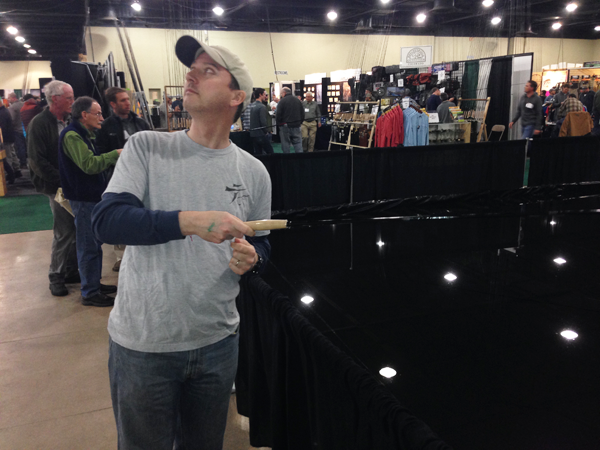 Joe Egry's fly tying booth. His website is Dragon Flyfishing and as far as I know, he was the only tenkara fly tier at the show …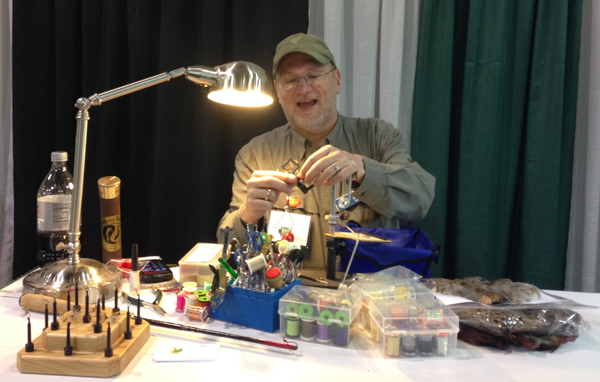 Paul Vertrees of the Tenkara Tracks blog taking a picture of me, taking a picture of him taking a picture of me, taking a picture of…well, you get the idea …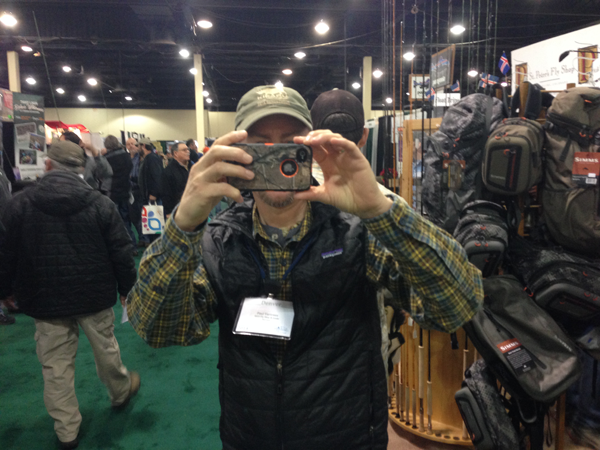 Daniel striking a Richard Nixon pose at his booth. Thank god it wasn't twerking!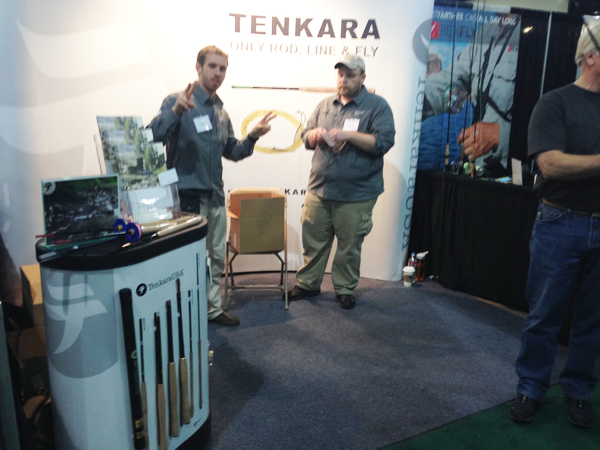 Daniel's tenkara presentation on the casting pool always draws a good crowd …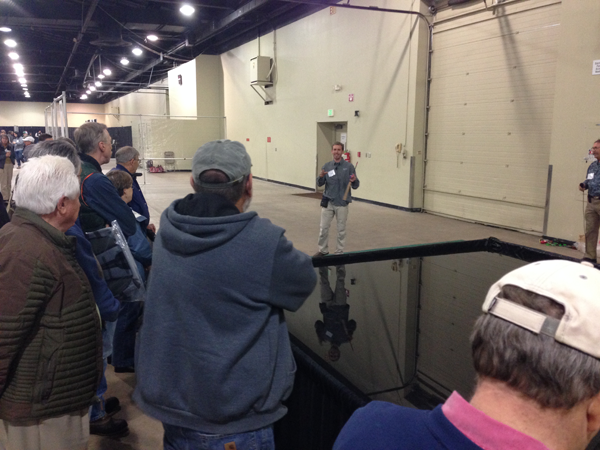 Will I be at next year's show? Yes. But not for the gear. I'll be there to connect with the growing tenkara community that continues to amaze me. Thanks to all of you who continue to visibly support tenkara at events like this. We're showing the mainstream that we're not a just a bunch of weirdos, separatists, or cult members. We're proving that tenkara is a valid form of fly fishing that can (seemingly paradoxically) not only provide fresh challenges to the experienced angler, but also remove the barriers to entry to new ones. And both are good for our sport.