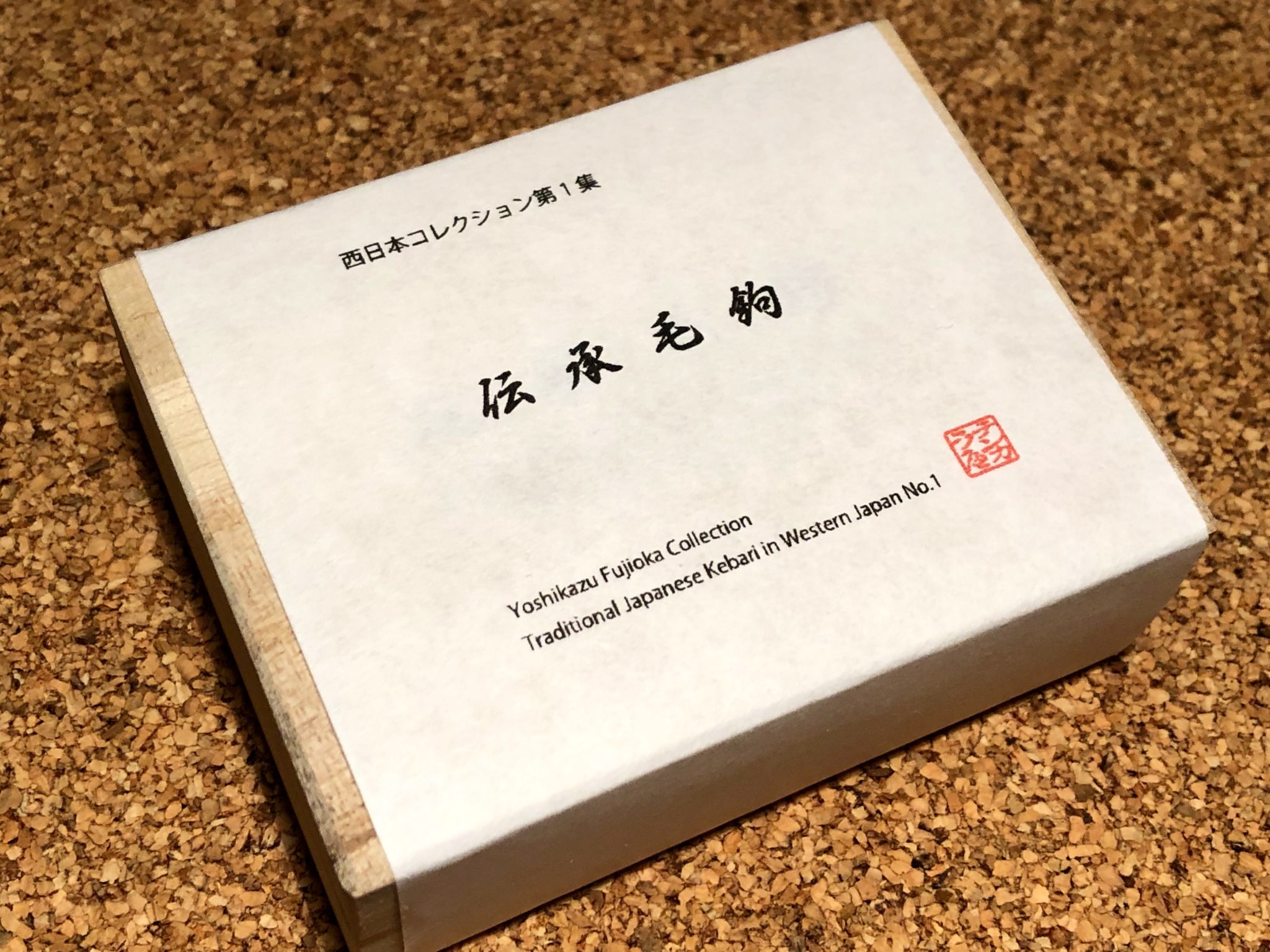 Ever since my passion for tenkara was kindled, I had the idea to somehow document the path of its "new" history as it would inevitably develop in the West. Early on, I started collecting what I saw as soon-to-be artifacts that would one day serve as markers of modern tenkara's coming of age outside of its homeland. To date, I have amassed a small collection of tackle that I think is growing into a good representative sample, including flies by Hisao Ishigaki, Masami Sakakibara (Tenkara no Oni), line spools from the likes of Masami Tanaka, a watercolor from Kiyoshi Ishihara, and much more. Today, I added a new piece to my collection … an assortment of traditional flies from western Japan.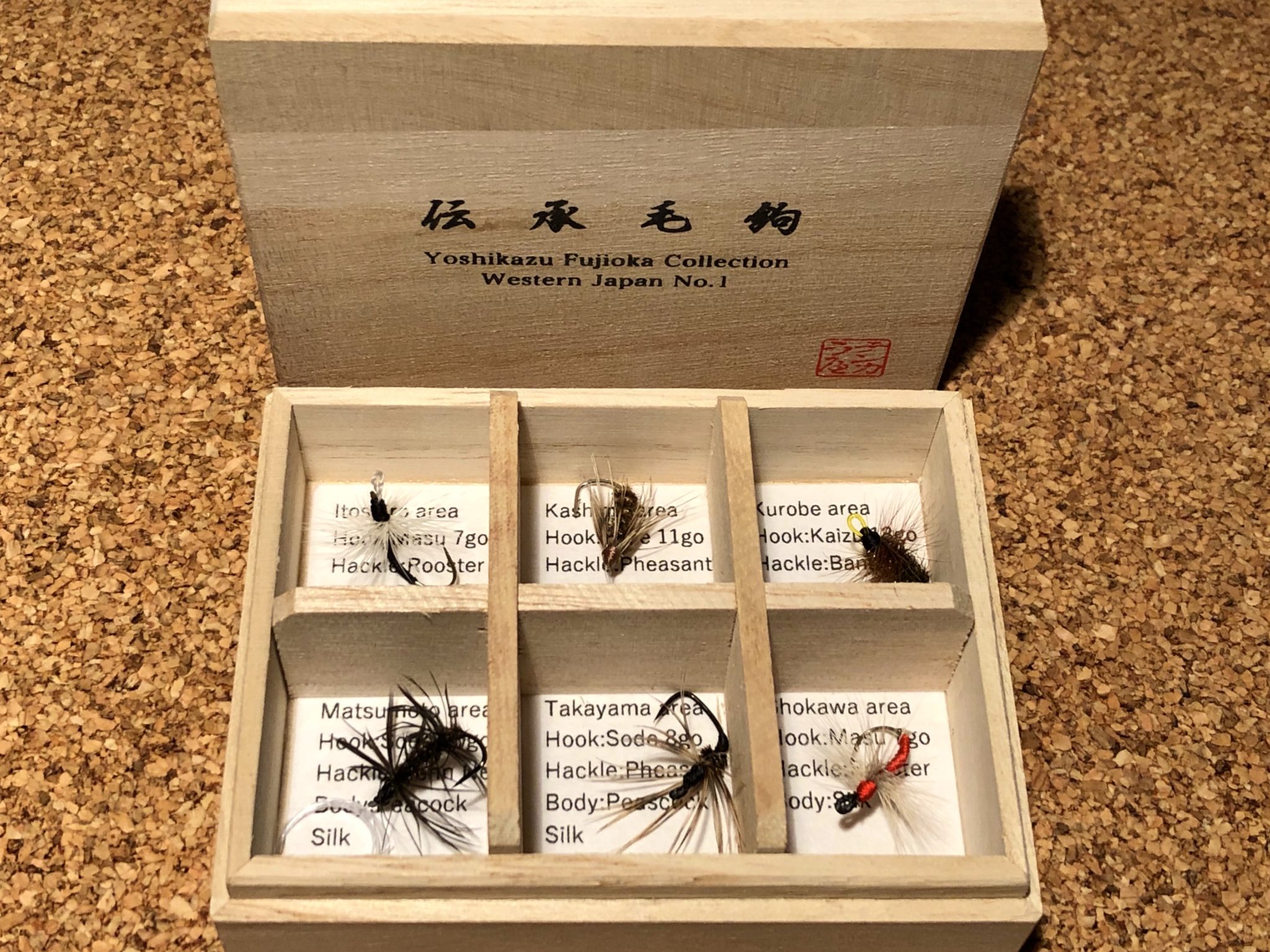 These flies were curated by Yoshikazu Fujioka who has done much research on traditional Japanese flies and is well known for his extremely detailed and fascinating website on the subject, My Best Streams. The collection is comprised of six flies from various regions, packed in a traditional kiri bako wooden box with each compartment listing the recipe for each fly.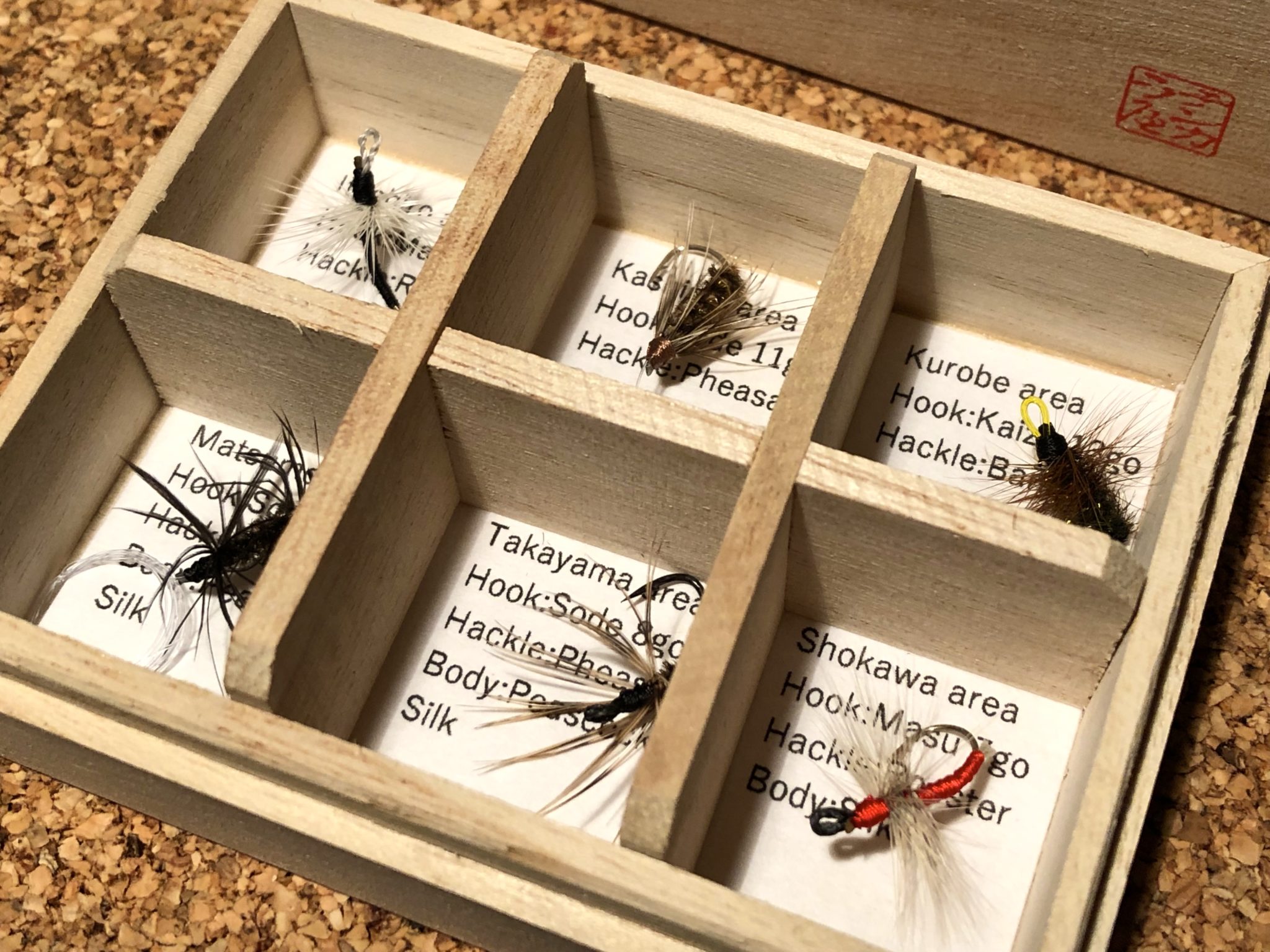 These flies weren't tied by Fujioka-san himself (although I'm working on getting some of his), but by expert tyer Hiroki Iijima who is the only tyer authorized by legendary angler Yuzo Sebata to commercially tie his Sebata kebari. Here are the flies by region and their recipes …
Itoshiro Area Kebari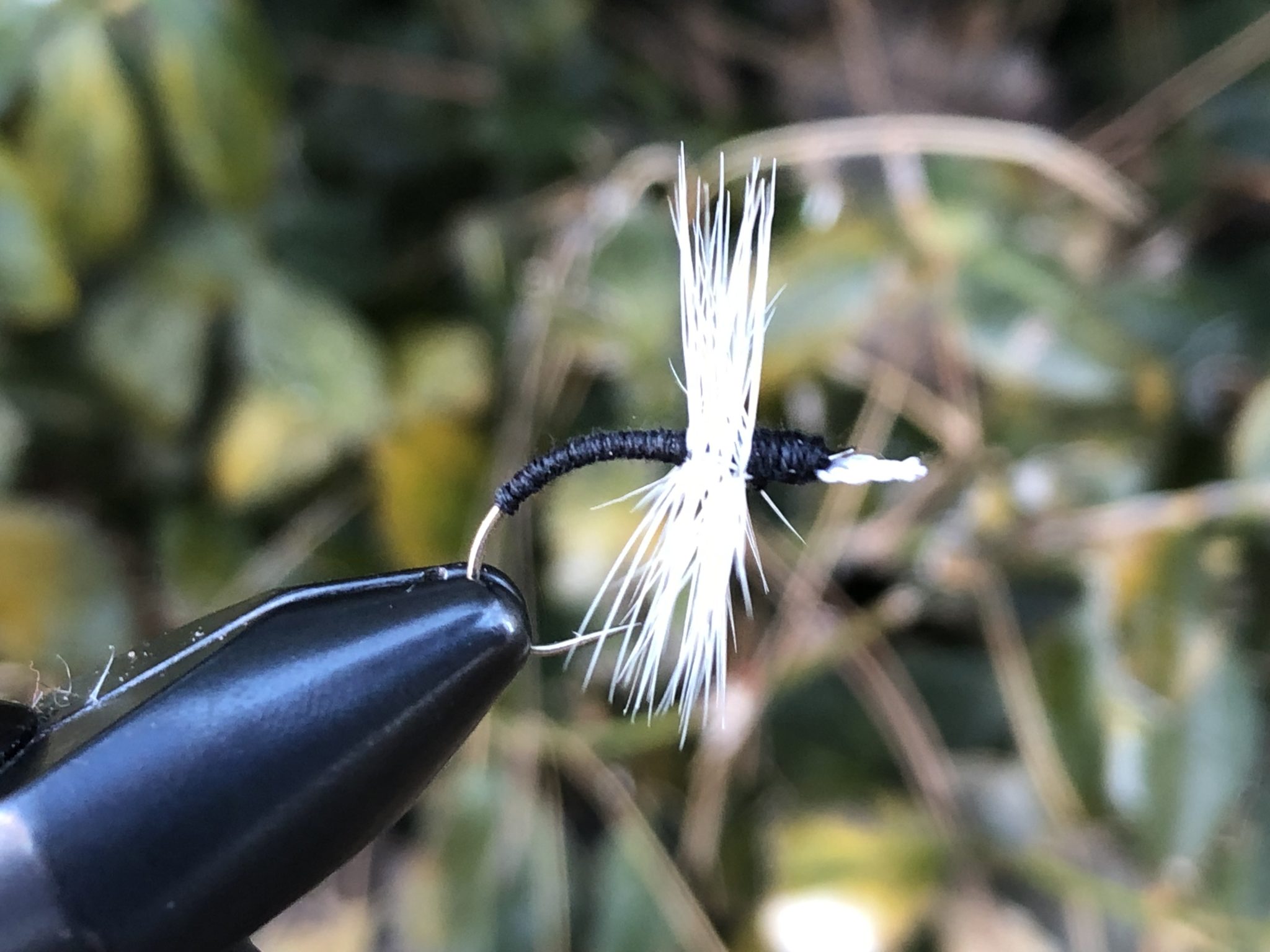 Used in the Itoshiro River, north part of Gifu prefecture this kebari was used like western dry fly fished in a dead drift.
Hook: Masu #7
Hackle: White rooster
Body: Black cotton thread (sewing thread)
Kashimo Area Kebari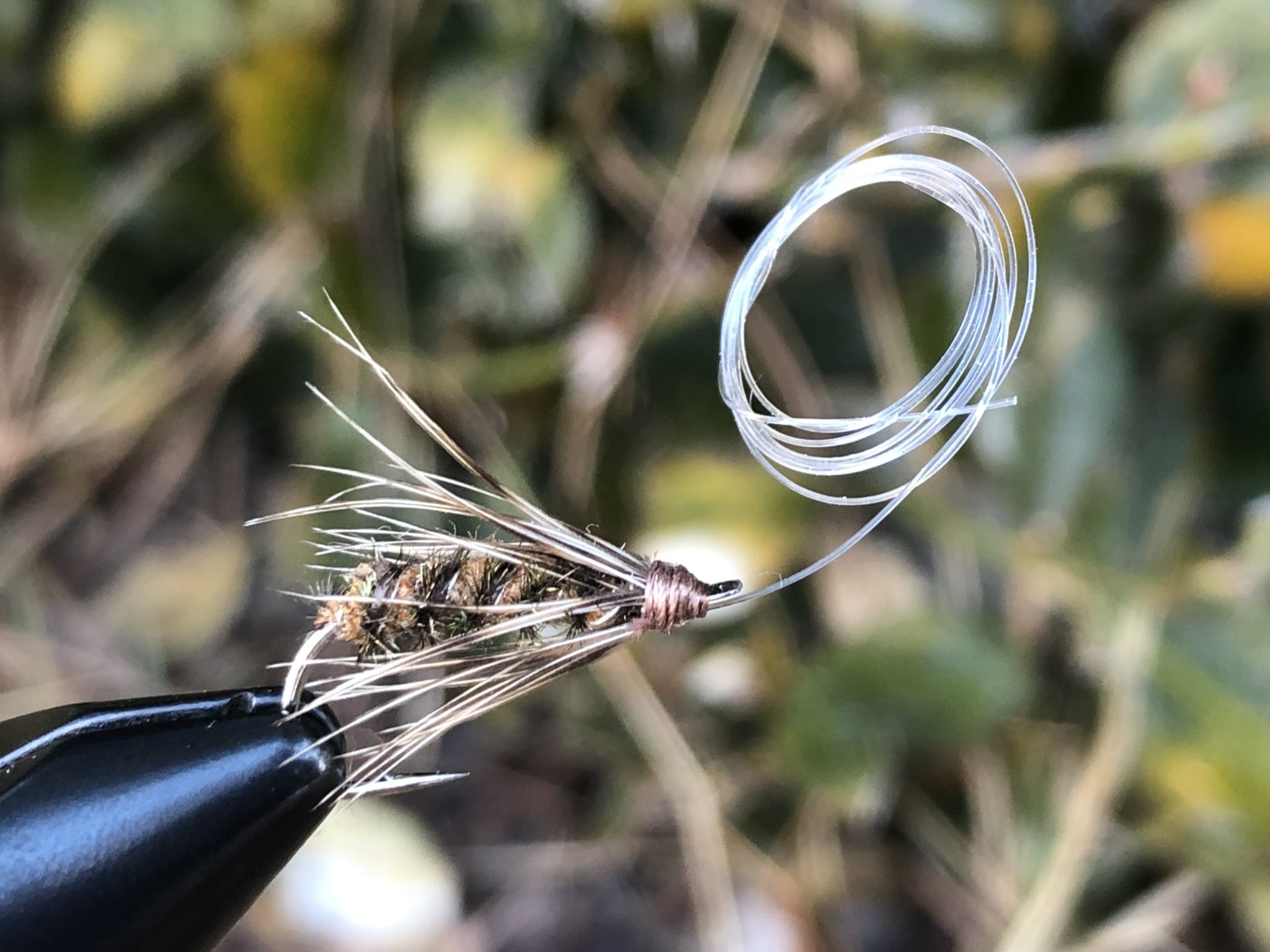 From Urakiso Kashimo-mura village in Gifu prefecture.  The rib is formed by twisting the wire around the peacock herl to reinforce it. Also note, this is tied on an eyeless hook and snelled as per the traditional style.
Hook: Sode #11
Hackle: Hen pheasant neck
Body: Zenmai
Ribbing: Peacock herl & silver wire
Snell: 2x nylon
Kurobe Area Kebari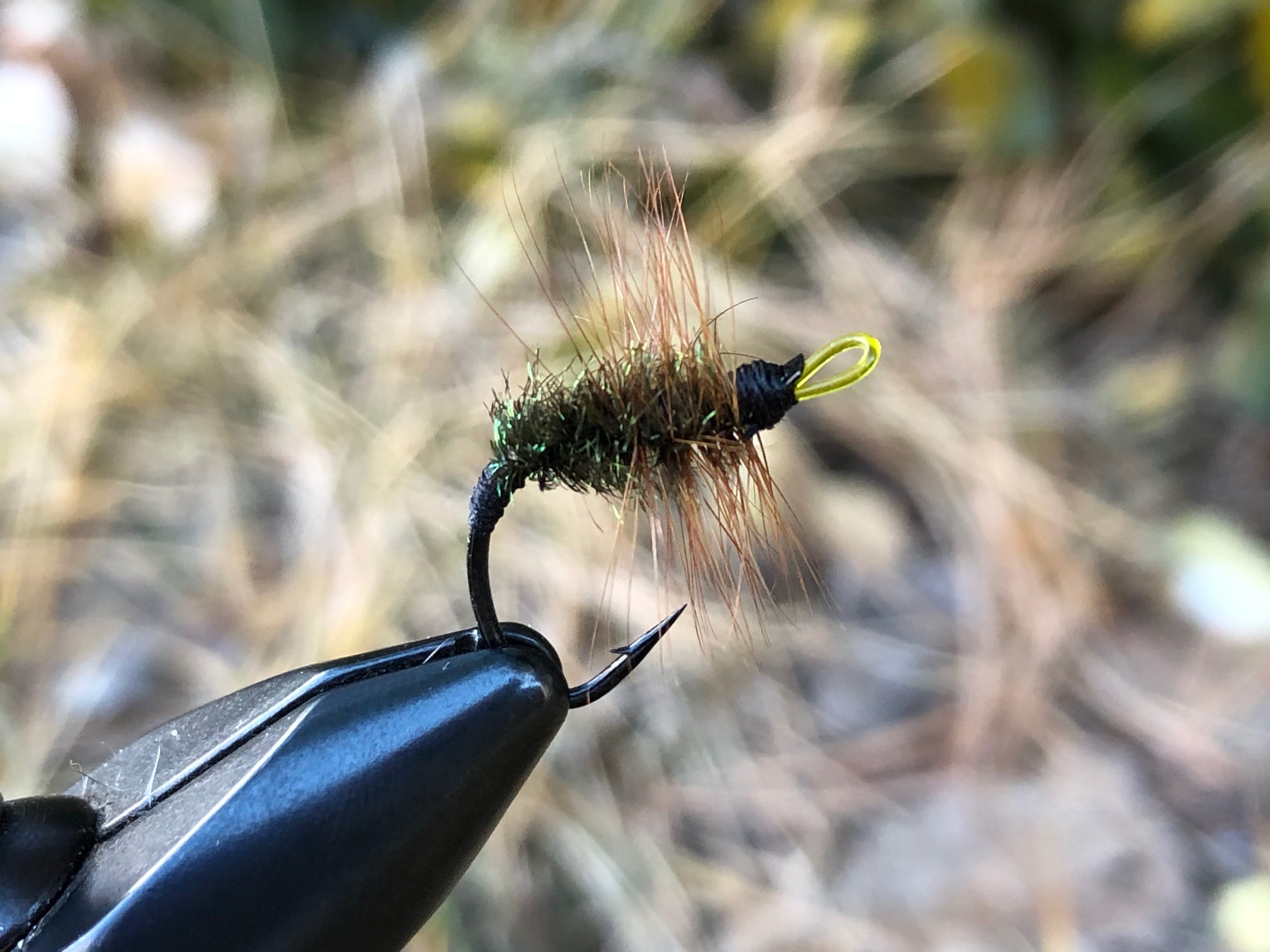 A pattern used by commercial fishermen in Kurobe in the Northern Japanese Alps on the border of Toyama and Nagano prefectures. The body is formed by a thicker underbody built up with thread with the peacock wrapped over. The eye is made from the string of a shamisen–a traditional 3-stringed musical instrument typically used in kabuki theatre. If you wanted to replicate this fly, you could substitute yellow nylon or fluorocarbon.
Hook: Kaizu #13
Eye: Shamisen string
Hackle: Brown rooster neck
Body: Peacock herl
Matsumoto Area Kebari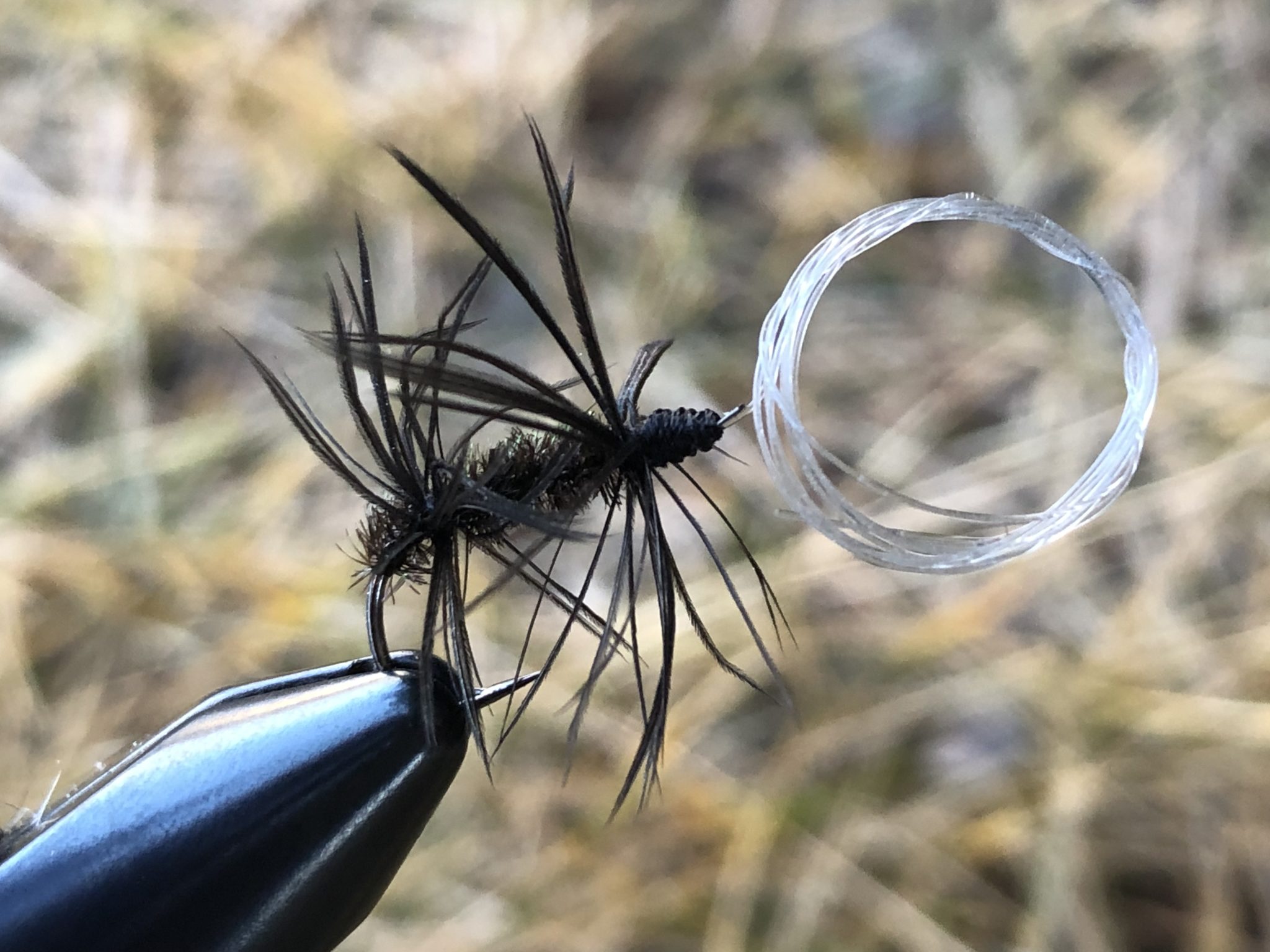 This is a rare double-hackled style fly that has been used a long time around Matsumoto in Nagano prefecture as well as the on the Azusagawa,  Saigawa, Kisogawa, and Naraigawa rivers. Like the Kashimo kebari above, it is also tied on an eyeless hook and snelled.
Hook: Sode #10
Hackle: Black hen neck
Body: Peacock herl
Snell: 30cm of 2X nylon
Takayama Area Kebari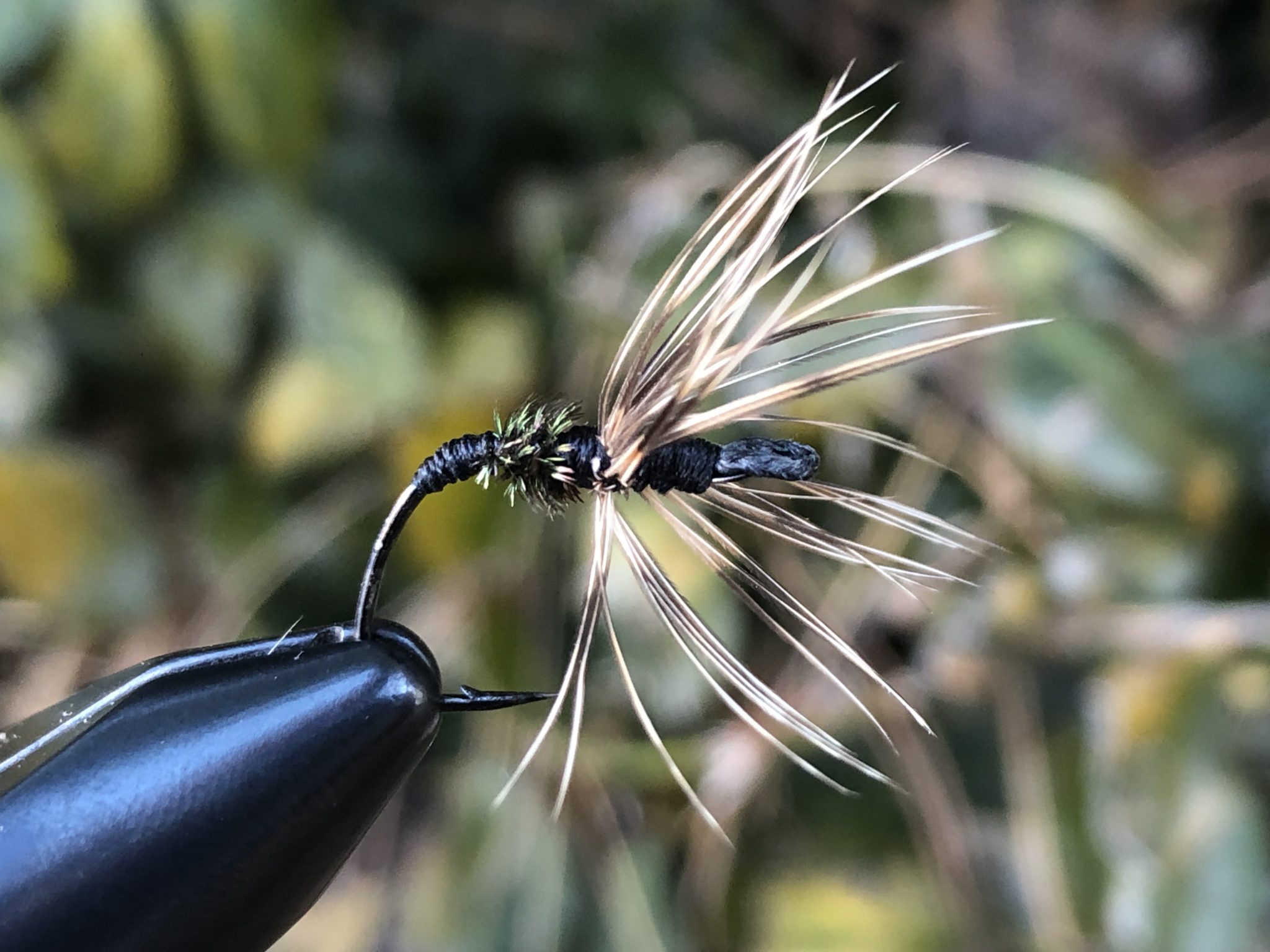 From the Miyagawa river system of Gifu prefecture, this is probably one of the most recognizable sakasa kebari in tenkara, and it's one of my confidence patterns–though I tie it with red thread and often with glass beads at the head.
Hook: Sode #8
Hackle: Hen pheasant
Body: Black Thread and peacock herl
Eye: Black silk yarn
Showkawa Area Kebari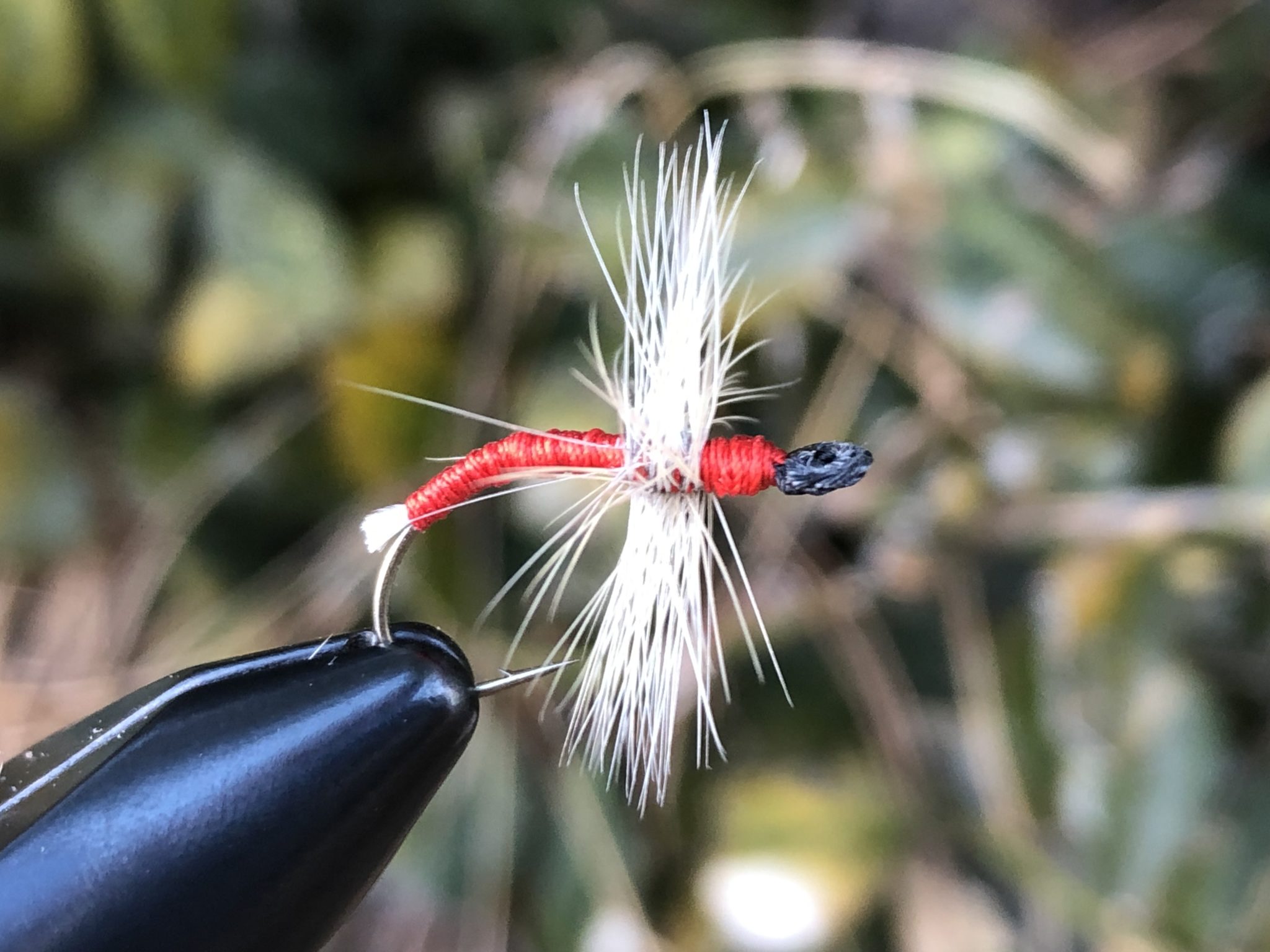 Shogawa is a river flowing from northern Gifu Prefecture to Toyama prefecture, and this is a simple thread-bodied stiff hackle fly which should be familiar to most modern tenkara anglers.
Hook: Masu #7
Hackle: Ginger rooster neck
Body: Red silk thread
While I don't really think of myself as an official curator of tenkara culture per se, I do think that one day, future tenkara anglers will be glad that some of us are preserving such artifacts now. I know there are at least a handful of us doing it such as Adam Trahan of Tenkara Fisher and John Vetterli of Team Oni USA. And who knows? Maybe it will eventually culminate in the creation of tenkara museum, like I first dreamed about in 2011.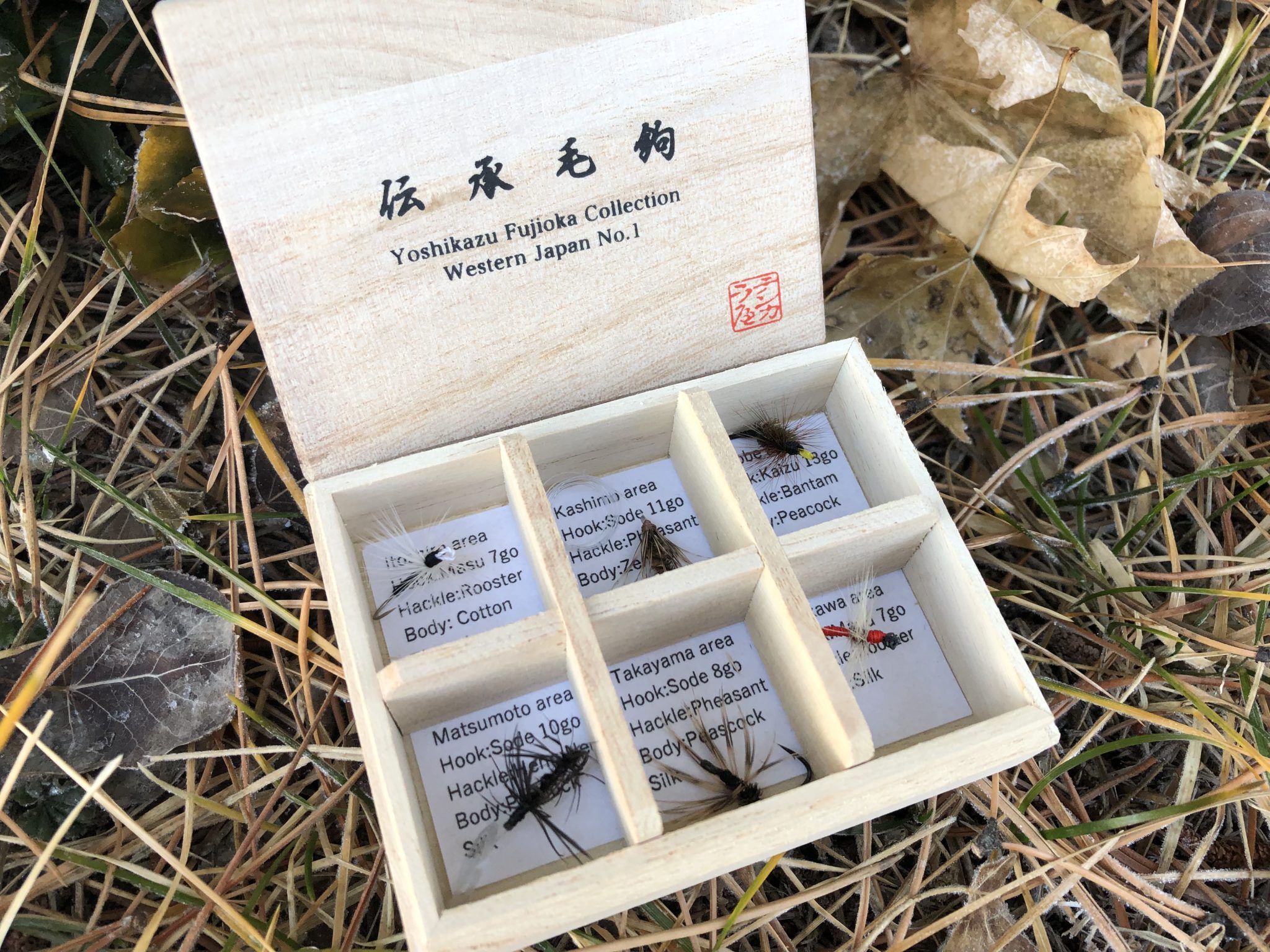 This assortment of flies and another version of eastern traditional Japanese flies are available in a limited run from Tenkara-Ya. Whether you want to charge yourself with the task of preserving the history of our sport, or just like esoteric flies, this will make an excellent addition to your collection.